But we all know that's just not the case.
Craig William Rogers, 49, was originally arrested on suspicion of controlled substance possession, possession of drug paraphernalia and unlawful distribution, manufacturing, dispensing of a controlled substance, according to Colorado court records. Rogers was released Wednesday on $15,000 bond.
When he was arrested Tuesday, he told police that he was creating a "healthy meth substance." When police got inside the lab after receiving a tip, they began surveying the home. 
When Rogers left in a black pickup truck, authorities initiated a traffic stop and pulled him over around 2:30 p.m. When police asked, Rogers admitted to having meth inside a pipe in the center console of his truck. Then he told police that what he was making was a "healthy meth substance."
According to Rogers, what made it healthy was the fact that there were acai berries in it. The pictures that were taken corroborated this and Rogers was then arrested. According to Longmont police Deputy Chief Jeff Satur, investigators found a berry like substance inside the lab.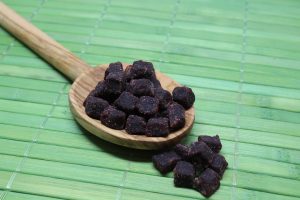 Satur clarified later that Wednesday that there is no possible way to make meth, healthy. "No amount of meth is safe, whether it has a berry in it or not," Satur said. "It's a highly addictive, life-destroying drug."
After the arrest, Longmont police executed a search warrant for the lab. The department was assisted by Boulder County Hazmat Authority, which includes personnel from the Boulder Fire Department, Longmont Fire Department, Mountain View Fire Protection District, Lafayette Fire Department, Louisville Fire Protection District and the Boulder Rural Fire Protection District. 
Police said that Rogers had enough supply in the lab to make up to an ounce of meth a day, though authorities aren't sure how often Rogers was using the lab. They never found any meth in the garage, but everything needed to make it.
Rogers is scheduled for a formal filing of charges Friday in Boulder District Court. Others in his rental were cooperative when questioned by police and officers do not believe that anyone else had anything to do with the meth lab.
"I know this was a big disruption to their day and neighborhood and we appreciate everyone's patience, kindness and understanding," Satur said.