Three men to be exact, and this is why.
There is a difference between bringing a hiking snack, and bringing a whole ass chicken to see if you can cook it in the geysers at Yellowstone. Yup, that's what these men did.
The three men have been temporarily banned from the national park for attempting to cook whole chickens in the park's famous geysers. The incident took place on August 7th. 
The ranger received reports that a group was "hiking with pots'' towards Shosane Geyser Basin. The ranger caught up with the group and discovered that they had a burlap sack with two whole chickens.
There was also a cooking pot nearby.
Eric and Dallas Roberts were ordered to served two days in jail. They also paid a $540 in fines and fees. 
The third man was Eric Romriell, 49. He was forced to pay $1,250 in fines and fees.
All three men are banned from the park, for the time being. They are not allowed at Yellowstone National Park for two years, as they are to serve two years of unsupervised probation.
When the men were asked what they were doing at the park, they replied simply that they were trying to "make dinner." Guess that never happened.
Yellowstone has about 10,000 "thermal features" and hundreds of geysers. The Shosane Geyser Basin contains several geysers and small springs, all with water temperatures that range from 180 to 196 F.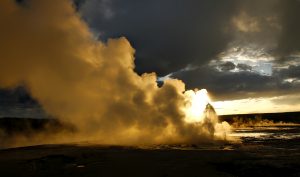 "Water in hot springs can cause severe or fatal burns, and scalding water underlies most of the thin, breakable crust around hot springs," said the park in a statement.
It's illegal to touch thermal features or to throw objects into the hot springs or any of the other features of the park. Visitors are asked to stay on the boardwalks or other marked and designated trails. 
According to one of the men, attempting to cook chicken at Yellowstone for dinner was a group decision.