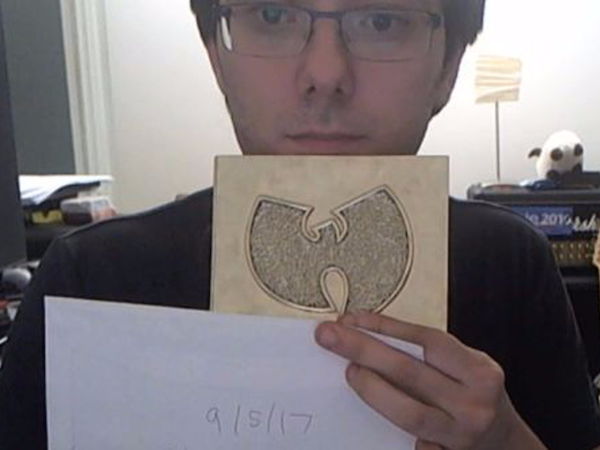 Juror No 59: "Your Honor, totally he is guilty and in no way can I let him slide out of anything because…"
The court: "OK. Is that your attitude toward anyone charged with a crime who has not been proven guilty?"
Juror No 59: "It's my attitude toward his entire demeanor, what he has done to people."
The court: "All right. We are going to excuse you, sir."
Juror No 59: "And he disrespected the Wu-Tang Clan."
As of this writing, Martin "Pharma Bro" Shkreli sits in jail awaiting sentencing for two counts of fraud and one count of conspiracy for misleading investors in hedge funds he once ran. The outspoken former founder and CEO of Turing Pharmaceuticals has been all but silenced—his bail was rescinded after he baited followers on social media with $5000 for a lock of former presidential candidate Hillary Clinton's hair. And it appears he's due for further just desserts—the Wu-Tang Clan's self-professed biggest fan may have been duped by the band itself.
The idea behind Wu-Tang's one-album-only release of Once Upon a Time in Shaolin was, as things of elusive origins often are, said to have been conceived in an exotic locale—in this case, at an art event in Marrakesh. Moroccan producer, RZA protégé, and Wu uberfan, Cilvaringz claims he hatched a plan with RZA atop the Great Pyramid of Khufu to create a work of art with lasting impact—the audio version of a Renaissance masterwork.
But some say that's not how it may have gone down at all. Rumors began to emerge—even before Shkreli purchased the album—that the whole thing had been a fake from the very beginning.
Cilvaringz had no real music business experience and was ill-equipped to produce a Wu-Tang record, but hung around the band so much that they considered him family. A musician himself, he put together his own album, and the band helped him out, with the finished result sounding a lot like early Wu-Tang work. But when all was said and done, it quickly became apparent it wouldn't have much of an audience (sure, it sounds like the Wu-Tang Clan, but isn't, after all), and Cilvaringz wouldn't have been able to put out the album without a stamp of approval from RZA. The band's de facto leader wouldn't want the best "Wu-Tang" album in years to be produced by someone else—particularly as it would have ended up competing with A Better Tomorrow, the legit Wu-Tang album RZA was working on at the time.
The solution? The duo decided to tour the album as a museum piece, with the hope of selling it to a single buyer when its exhibition days were done. This way, everyone involved would make the most money possible, without the release being in direct competition with other (real) Wu-Tang releases. To further cement the cultural and financial importance of the record, Cilvaringz's role was downplayed, while RZA's and The Wu's were solidified.
With the best-laid plans often abandoned, the museum tour idea went bust, and the record was put up for auction with a stipulation that the buyer will be unable to release it commercially for 88 years. No one—in our lifetimes anyway—was to hear the album, save for the purchaser.
Enter Shkreli, by now "the most hated man in America." He purchased Shaolin in November 2015, just weeks after he bought the rights to Daraprim, an anti-parasitic drug used in the treatment of AIDS and cancer, and hiked the price up from around $13.50 per tablet to $750. He spent $2 million on the album, and his bragging rights were sealed—and brag he did. He and the band have been locked in a war of words ever since.
Almost immediately after the sale, Wu-Tang Clan members distanced themselves from Shkreli, saying, "The sale of Once Upon a Time in Shaolin was agreed upon well before Martin Shkreli's business practices came to light. We decided to give a significant portion of the proceeds to charity." Glib, he tweeted in response, "If there is a curious gap in your favorite artist's discography, well, now you know why." (He has since been banned from Twitter for his harassment of journalist Lauren Duca.)
Wu-Tang member and rapper Ghostface Killah attacked Shkreli, calling him a "shithead… a "fake-ass supervillain…the man with the 12-year-old body" and "PeeWee Shkreli." The disgraced businessman shot back, calling Ghost, "an old man who has lost his relevance."
Shkreli also pulled out his big guns and went after RZA—and that almost cost him his life. He said, "This guy is f**king full of himself, talking about how his s**t is the best ever… I'd encourage him to shut the f**k up before he goes a little too far. We'll see what happens. I think he's a smart man. He definitely acts like his s**t doesn't stink and he invented rap."
Cyrus Bozorgmehr, author of the book, Once Upon a Time in Shaolin: The Untold Story of the Wu-Tang Clan's Million-Dollar Secret Album, the Devaluation of Music, and America's New Public Enemy No. 1, said from that point on, Shkreli was a marked man. "There had to be retaliation for this … maybe even bullets from a Staten Island crew who wouldn't let the Clan get dissed by this f**k."
Shkreli remained blissfully unaware that he was a target, and with his arrest, in the early hours of December 17, 2015, the feds may have saved his life. The beef didn't end there, however—over the next few months, Shkreli, out on bail, would defy the terms of the sale of Shaolin by allegedly playing it on a live stream. He then put it up on eBay with the following description:
"I decided to purchase this album as a gift to the Wu-Tang Clan for their tremendous musical output. Instead, I received scorn from at least one of their (least-intelligent) members, and the world at large failed to see my purpose of putting a serious value behind music. I will be curious to see if the world values music nearly as much as I have. I have donated to many rock bands and rappers over the years to ensure they can continue to produce their art when few others would.
At any time I may cancel this sale, and I may even break this album in frustration. I will donate half of the sale proceeds to medical research. I am not selling to raise cash—my companies and I have record amounts of cash on hand. I hope someone with a bigger heart for music can be found for this one-of-a-kind piece and makes it available for the world to hear."
Bids came fast and furious, but Shkreli was jailed mid-sale, following the aforementioned Facebook posts about Hillary Clinton's hair. While his incarceration has put the eBay auction in jeopardy, the final bid—submitted by one Darby Welch of Colorado for a total of $1,025,100—may not have been legitimate either. To make matters worse for the maligned businessman, members of the Wu-Tang Clan have pretty much admitted the album was indeed a Cilvaringz project.
"It's not an authorized Wu-Tang Clan album," says Domingo Neris, the manager of the rapper U-God, a charter member of the Clan. "It never was."
"When we did the verses, it was for a Cilvaringz album," says James Ellis, manager of Method Man, another core member of the group. "How it became a Wu-Tang album from there? We have no knowledge of that."
Today, as Shkreli sits in jail, awaiting his court-ordered psychiatric evaluation, he'll be happy to know the Wu-Tang Clan has immortalized him in a song—"Lesson Learn'd" from their forthcoming album Wu-Tang: The Saga Continues—that is, if he doesn't listen too closely.
Want to tell your strange story?
Tell us about it
and it could be featured on Oddee. You can remain fully anonymous.