But he contends he's done nothing wrong.
You know those old men you cannot help but love? You know, the ones that are sweet and remind you of your grandpa? Well this guy was not one of them. He was a creepy old guy who wasn't even that old, but when you're 37 and hitting on a 16 year old barista, you'll get called old.
So this guy flirted with a teen barista, and got banned from the Starbucks location. Then he claimed ageism.
Lucas Warner, 37, is a resident of Washington and the legal age of consent there is 16. So to him, he did nothing wrong.
Creepy side fact though: Werner has a website and Facebook page regarding his belief that younger women produce healthier babies with older men. So, to his readers and followers, it would be nothing new or weird that when he encountered a teen barista at Starbucks, he asked her out.
Werner describes himself on Facebook as a scientist without a degree in science. But this is what happened when he tried to date the barista, and Starbucks stands behind their decision 100%.
Werner says that the teen told him he was funny. He finished his hot chocolate and approached the barista again.
He handed her a note asking her to dinner. The next day when he went to the store, police there told him he was banned from the premises.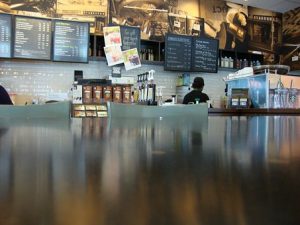 Werner is claiming ageism, that is that he was age discriminated against. This is when he brings up the age of consent as 16. He says there was nothing creepy about asking out the teen.
He claimed that per the state law, the teen is an adult and therefore he did nothing wrong and thus should not have been banned.
How do you feel about it? Technically the law says it's ok. But what a great company to work for. Go Starbucks!
Want to tell your strange story?
Tell us about it
and it could be featured on Oddee. You can remain fully anonymous.