1

World's biggest mall (China)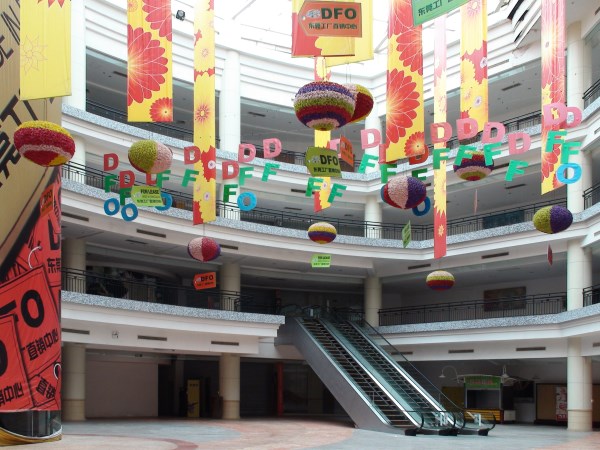 The New South China Mall in Guangdong Province opened in 2005. With 5 million square feet of shopping area, the mall can accommodate 2,350 stores, making it the largest shopping center in the world in terms of leasable space -- more than twice the size of the Mall of America, the biggest shopping center in the United States. At the outdoor plaza, hundreds of palm trees blend in with a replica Arc de Triomphe, a giant Egyptian Sphinx, fountains, and extensive canals with gondolas.
The only problem is that the mall is virtually deserted. Despite the bombastic design and grand plans, only a handful of stores are occupied. Walking among shattered shops, with dusty corridors and escalators covered in soiled sheets, is like a walk through a ghost mall. Rubbish is piled up along the sides, paint is coming off of the walls, and store signs and advertisements have faded. The mall's indoor amusement park staff lay half asleep over counters, or kill time chatting with each other, while the 1,814 foot roller coaster roars above.
2

Centro Financiero Confinanzas (Venezuela)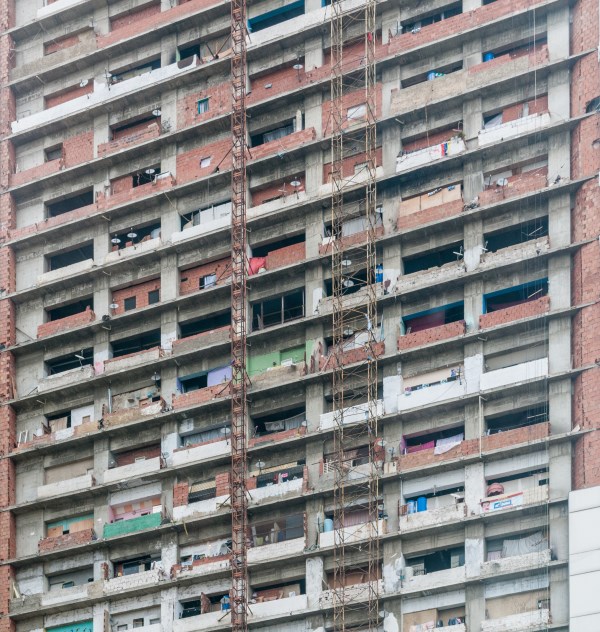 To those unaware of its history, the Centro Financiero Confinanzas looks like any other unfinished skyscraper. It is the eighth tallest building in Latin America at 45 stories, and is located in the financial district of Venezuela's capital, Caracas. Its glass façade glimmers in the sun, a projection of wealth and economic prowess that was intended to house national and international businesses. Inside, however, hides a rather different reality. That's because, while the "Torre David," named after its main investor David Brillembourg, may look like the newest high rise addition to the Caracas skyline, it is actually home to over 700 families, a "vertical slum" that is a truly fascinating example of reappropriation of space in an urban environment.
Construction started on the tower in 1990, yet the death of Brillembourg in 1993, as well as the Venezuelan banking crisis one year later, meant that construction ground to a halt. It lay unoccupied and unfinished, an ironic symbol of financial failure that was intended to represent the unstoppable march of Venezuela's petro-fueled booming economy. To this day it is a shell, a skeletal construction whose bare structural bones became, in October of 2007, a remarkable opportunity for an intrepid group of squatters, families whose economic and social situation led them to seek a new life. The views were incredible but deadly, with a god-like view of a city that had failed to accommodate its newest inhabitants.
3

Sci Fi Structures (Yugoslavia)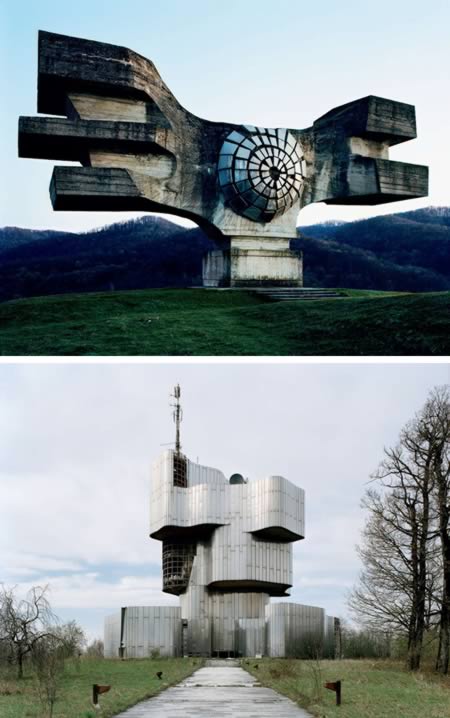 These structures were commissioned by former Yugoslavian President Josip Broz Tito in the 1960s and 70s to commemorate sites where WWII battles had taken place (like Tjentište, Kozara and Kadinja?a), or where concentration camps stood (like Jasenovac and Niš). They were designed by different sculptors (Dušan Džamonja, Vojin Baki?, Miodrag Živkovi?, Jordan and Iskra Grabul, to name a few) and architects (Bogdan Bogdanovi?, Gradimir Medakovi?...), conveying a powerful visual impact to show the confidence and strength of the Socialist Republic. In the 1980s, these monuments attracted millions of visitors per year, especially young pioneers for their "patriotic education." After the Republic dissolved in early 1990s, they were completely abandoned and their symbolic meanings were forever lost.
From 2006 to 2009, Kempenaers toured around the ex-Yugoslavian region (now Croatia, Serbia, Slovenia, Bosnia and Herzegovina, etc.) with the help of a 1975 map of memorials, presenting before our eyes a series of melancholy yet striking images. His photos raise a question: can these former monuments continue to exist as pure sculptures? On the one hand, their physically dilapidated condition and institutional neglect reflect a more general social and historical fracturing. On the other hand, they are still stunningly beauty without any symbolic significance.
4

The Ryugyong (North Korea)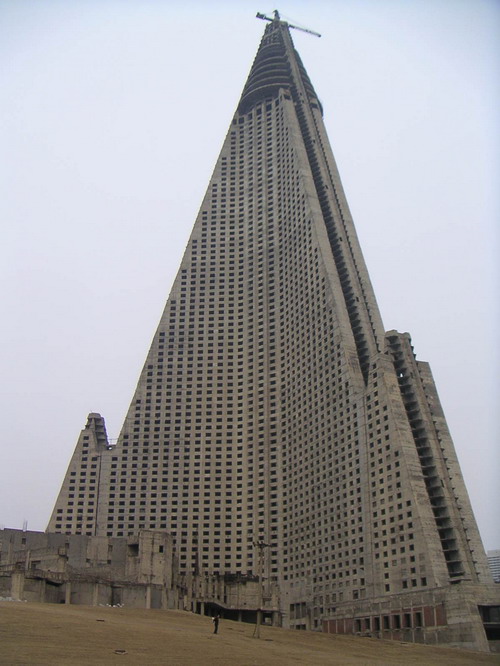 During the mid-1980s, North Korea wanted to change its image by building something massive, something that would be world-renowned. The project would symbolize progress for North Korea and introduce new, Western investors. The decision was made to build a hotel that was taller than any in the world, and in 1987 construction on the Ryugyong Hotel began. It was intended to be completed in 1989, in time for the 13th World Festival of Youth and Students, but developers would face nearly every conceivable hurdle, and by 1992 the project was abandoned.
In an effort to attract Western dollars, North Koreans drew up plans for a 105 floor hotel - the largest in the world - and promised a complete laissez-faire attitude in terms of oversight of the construction and planned hotel activities. Casinos, nightclubs, and fancy restaurants were encouraged. When the project was planned, the estimated cost to build the "largest hotel in the world" would be around $230 million.
Construction began in 1987, but by 1992 numerous delays and problems had driven the cost up to over $750 million, or 2% of North Korea's entire GDP. The building finally reached its full architectural height by 1992, but a broke government and a lack of foreign investors meant the project would be abandoned before completion. Had the hotel been finished as originally planned, it would have stood as the tallest hotel and the seventh tallest building in the world.
In fact, the unfinished Ryugyong was not surpassed in height by another hotel until 2009.
5

Sanzhi Pod House (Taiwan)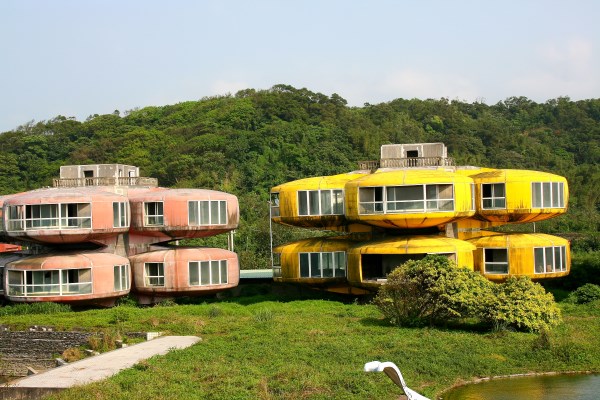 Nestled along a short stretch of coastline in Northern Taiwan used to lie a strange complex known as The San-Zhi Pod Village. This abandoned futuristic luxury vacation spot remains a complete mystery to locals and tourists alike. There are several stories surrounding the circumstances that led up to its abandonment, but no one seems to know exactly why or how the site fell into such a state of disrepair.
The wacky looking space village is located in San-zhi, on the outskirts of Taipei in Northern Taiwan. It was originally constructed for wealthy urbanites looking to escape the city on weekends. The most popular story of its eventual decline claims that a number of mysterious accidents, resulting in numerous deaths, led to the halt of all construction. Locals believe the area to be haunted.
The buildings were scheduled to be torn down in late 2008, despite an online petition to retain one of the structures as a museum. Demolition work on the site began on December 29, 2008, with plans to redevelop the site into a tourist attraction with hotels and beach facilities. As of 2010, all UFO houses had been demolished and the site was in the process of being converted to a commercial seaside resort and water park.
6

Hashima Island (Japan)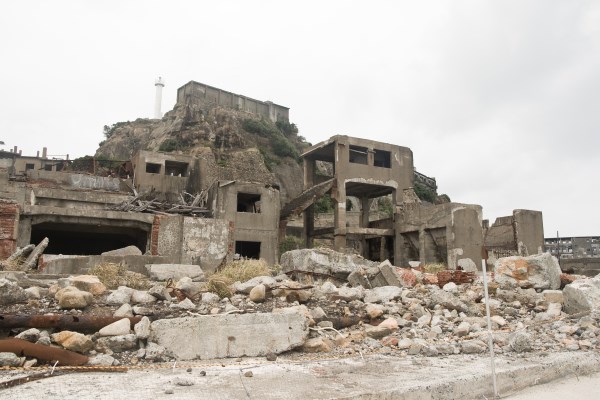 If you've seen the new James Bond film Skyfall, then you were probably impressed by Javier Bardem's portrayal of the villain, Raoul Silva. He's a bad dude, and his evil island lair seems a fitting place for him — a rotting heap of buildings sitting out in the middle of the ocean, populated with derelict buildings. It's so creepy that you think it can't be real.
But, here's the thing. The island is real. The island is known as Hashima, or alternatively as Gunkanjima ("Battleship") Island, and it sits about nine miles off the Japanese coast in the East China Sea. In the late 1880s, coal was found on the sea floor beneath the island. In the early days, Japan's Mitsubishi company, which was mining the coal, would ferry miners from Nagasaki to the work site. Then, the company decided it would be easier to just build houses for the workers and their families on Hashima itself. Giant, multi-story concrete apartment blocks went up. Schools, bath houses, temples, restaurants, markets, and even a graveyard were built, all on a space the size of a football field.
Once they reached 5,000 people or more out there, it was recognized as the most densely populated place on earth, ever. However, in 1974 the coal ran out and the Mistubishi Company told the people that they would have some work for them on the mainland, provided on a first come, first served basis. That's why people left so quickly. They left coffee cups on the tables and bicycles leaning against the walls.
A few years ago, actor Daniel Craig, who plays Bond, "discovered" the island and suggested it as a location for his next 007 movie. Skyfall only features external shots of Hashima. The scenes on the island were actually shot in a studio. That's because Japanese officials don't allow anyone to set foot on the island itself. Lately, interest in Hashima as a grisly tourist site has grown. A boardwalk has been built around half of the island, but that's about as close as you can get.
7

World's Largest Abandoned Park (China)
In Chenzhuang Village, China, about 20 miles northwest of central Beijing, the ruins of a partially built amusement park called Wonderland sit near a highway, surrounded by houses and fields of corn. Construction work at the park, which developers had promised would be "the largest amusement park in Asia," stopped around 1998 after disagreements with the local government and farmers over property prices. Developers briefly tried to restart construction in 2008, but without success. The abandoned structures are now a draw for local children and a few photographers, who encounter signs telling them to proceed at their own risk. Photos by David Gray/Reuters.
8

Battersea Power Station (England)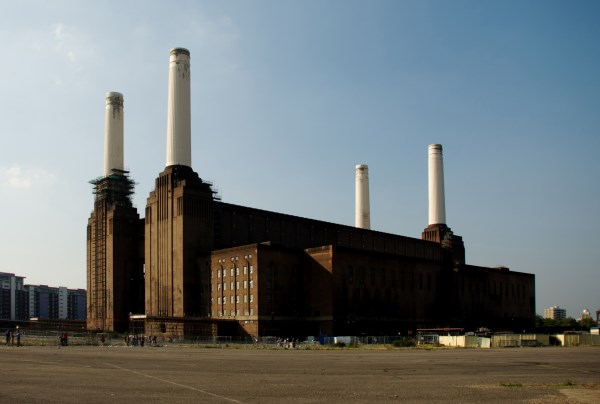 Battersea Power Station is a decommissioned coal-fired power station located on the south bank of the River Thames in Battersea, an inner-city district of Southwest London. It comprises two individual power stations which were built in two stages in the form of a single building. Battersea A Power Station was built in the 1930s, and Battersea B Power Station, to its east, was built in the 1950s. The two stations were built with an identical design, providing the well-known four chimney layout. The station ceased generating electricity in 1983, but over the past 50 years it has become one of the best known landmarks in London and is Grade II* listed. The station owes much of its celebrity to numerous cultural appearances, which include a shot in The Beatles' 1965 movie Help! and the cover art of Pink Floyd's 1977 album Animals.
Since the station's closure, the site has remained largely unused, with numerous failed redevelopment plans from successive site owners. In July 2012, the power station was sold to a consortium led by Malaysia's SP Setia for £400 million.
The station is the largest brick building in Europe and is notable for its original, lavish Art Deco interior fittings and decor. However, the building's condition has been described as "very bad" by English Heritage.