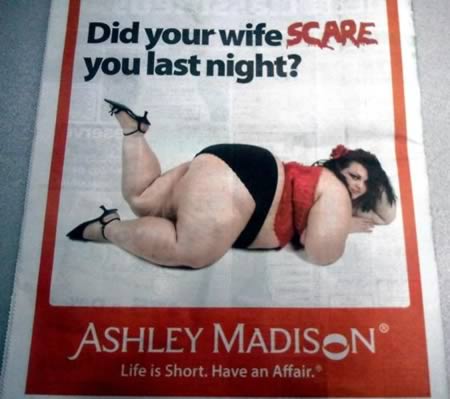 We understand the need to get attention in this media-saturated, 24/7 world. However, we're guessing that Ashley Madison didn't need to go this far. In 2011, Ashley Madison, a "married dating service for discreet encounters" (yes, such a thing exists), released an ad that mocks a plus-size model for her look.
The dating site, which seeks to connect married or "attached" individuals for affairs, released an ad stating, "Did your wife SCARE you last night?" with a photo of an overweight woman lounging sexily in lingerie. The logic, we presume, is that with a wife that frighteningly fat, the only solution is to seek sex elsewhere, specifically with married folks on Ashley Madison.
What irks us even more is that after the ad came out, the overweight model in question spoke out against the ads and requested that Ashley Madison not present her photo that way. Model Jacqueline, who runs a BBW ("Big Beautiful Woman") website called JuicyJackie.com, wrote a first-person essay for Jezebel.com, defending her body and condemning Ashley Madison's treatment of it. Not only is it personally offensive, Jacqueline wrote, but it sends the wrong message to viewers, particularly those who are overweight themselves.
What was Ashley Madison's response to Jacqueline's reasonable request? "The best thing that could've happened to this woman is that we used her in our ad. [...] if she can get great publicity from this, all the power to her," the site's CEO said.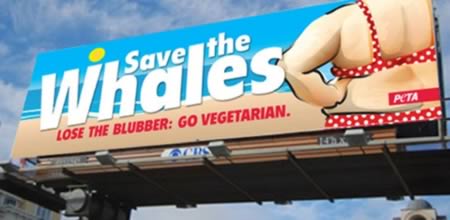 It's big and offensive. It's a bikini-clad, overweight beachgoer painted on a billboard sign in Jacksonville, Florida with the tagline "Save the Whales. Lose the Blubber: Go Vegetarian. PETA." The animal rights group says that they're only reminding people who are desperate to lose weight that becoming vegetarian will help them shed unwanted pounds.
"Trying to hide your thunder thighs and balloon belly is no day at the beach," says PETA Executive Vice President Tracy Reiman. Trying to hide the truth behind a veil of insensitivity is no better, PETA.
PETA wasn't trying to protect endangered marine mammals by saying "Save the Whales. Lose the Blubber" (whales need blubber to thrive after all). Their slogan was a hurtful jar at overweight people. "They're specifically targeting fat, white women," said Joanna Potter of West Palm Beach, who's seeking legal advice on suing PETA over the advertisement. "I'm a fat, white woman. It's horribly offensive."
Perhaps what's even more offensive is the inaccuracy of the campaign. Weight loss is about making healthy eating choices, not just switching to a vegetarian diet, and PETA knows this.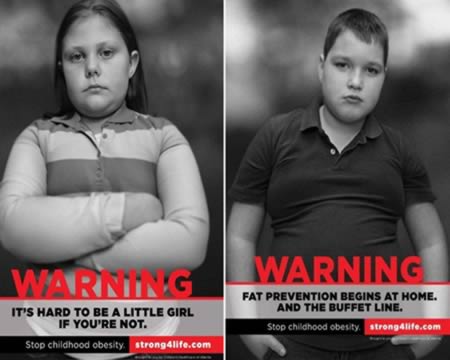 A number of high-profile bloggers have united in opposition to the Strong4Life Campaign, which features photos of obese children in their print and media ads with slogans like ""being fat takes the fun out of being a kid." The campaign has purchased billboard ads all over the State of Georgia and is also running a number of television commercials in an effort to educate Georgian parents about childhood obesity.
While most are in agreement with the goals of the campaign, many find the methods of the campaign, which uses photos of overweight children paired with negative slogans, to be quite offensive. Leah Segedie of Mamavation has organized a protest of the campaign, with several bloggers writing posts daily and taking part in a twitter event in the evening.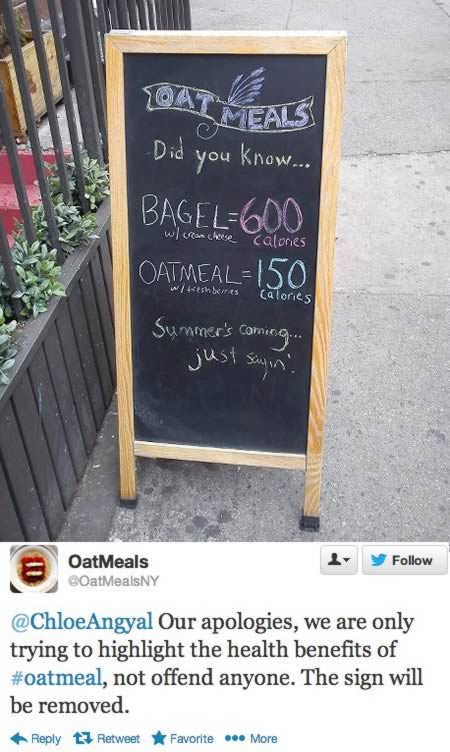 The last thing we want while walking down the street is to be shamed for our breakfast choices. That's why writer Chloe Angyal was disappointed to see a sign from Oatmeals NY doing just that.
However, after Angyal tweeted the company, telling them that the sign was "fatshamey and gross" and asking if they wanted to be associated with disordered eating, Oatmeals NY responded with an apology.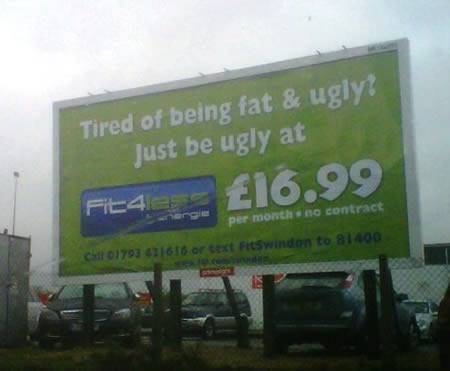 Because looks are all that matter.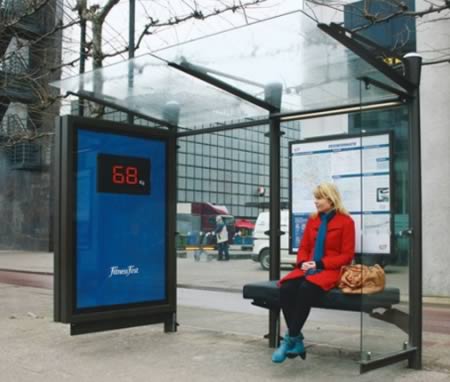 As if overcrowded public transportation was not irritating enough, the health club chain Fitness First has converted a bus stop bench into a scale that will display the weight of people sitting on it. This guerilla marketing campaign created by N=5 was seen in the Dutch city of Rotterdam.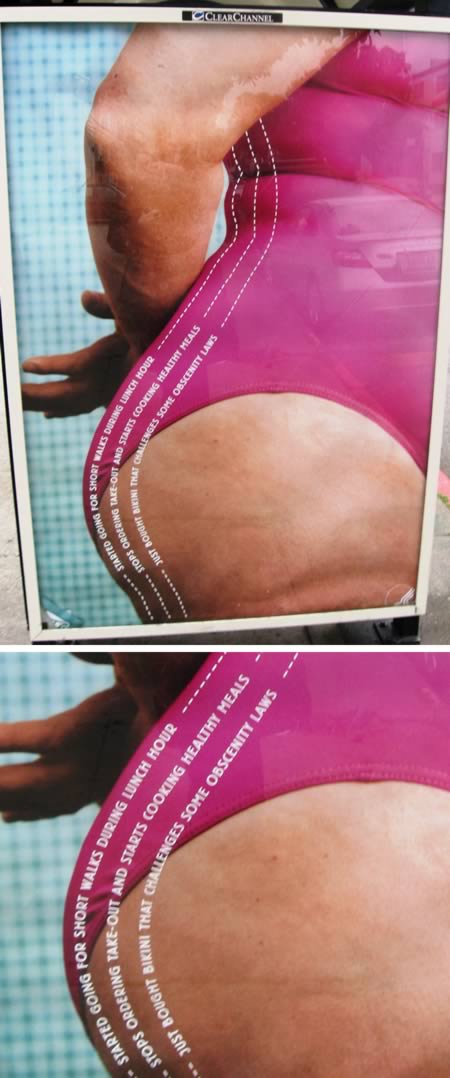 This ad was spotted in San Francisco in 2008, put up by some public health initiative.
The first dotted line says, "STARTED GOING FOR WALKS DURING LUNCH HOUR." The second line says, "STOPS ORDERING TAKE-OUT AND STARTS COOKING HEALTHY MEALS." The third line says, "JUST BOUGHT BIKINI THAT CHALLENGES SOME OBSCENITY LAWS."
The first two lines, of course, are there to show that if the fat woman makes positive health changes and stops "ordering takeout" (you know, as we all do), then she will lose lots of weight. It's the third line where things get more offensive–once she no longer has any "unsightly" lumps (please notice that the shape of the line changes, not just the size) she's "allowed" to buy a skimpy bikini. Isn't that the goal, after all?
Another one of PETA's misleading ads. According to their ad, being thin, fit, and sexy is the only way to love your body, and the only way to be thin, fit, and sexy is to go vegan. Essentially, what they're saying is that everyone else should be ashamed of their bodies.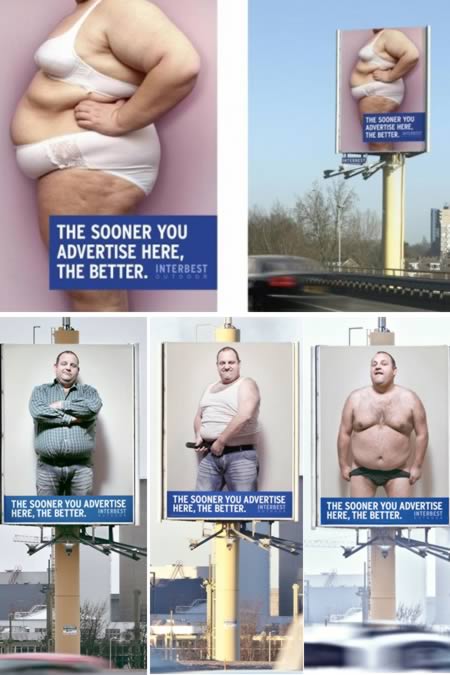 In 2010, this campaign was released by billboard advertising company Interbest Outdoor to recruit potential advertisers. "Your Ad Here" is out and "Give Us Money to Take Down These Disgusting Pictures of Fat People! Hurry! OMG Look at How Hideously FAT They Are! Buy an ad already!" is in.
So what we have here is an advertising ploy that tells people they should hurry up and buy that ad space before the fat guy takes all his clothes off. Not only that, but apparently it won some sort of award, and yes, the space was bought before locals got The Full Monty.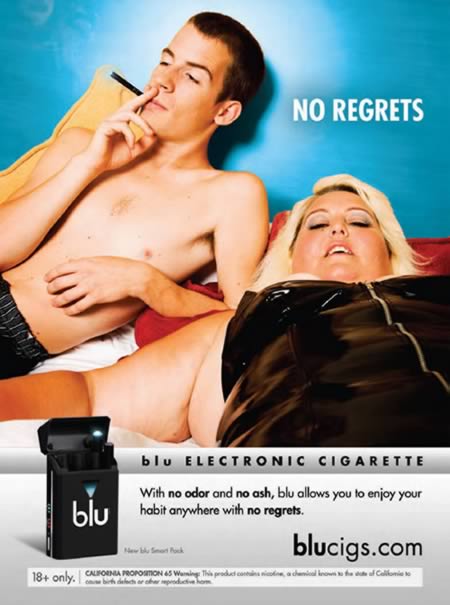 Blu Cigs are a popular electronic vapor cigarette in America and it's evident with Blu's new advertising wave in popular magazines. The Blu Cigs ad below was in Rolling Stone magazine. The slogan said, "No regrets." To drive that message home, they've pictured a slender man enjoying a "cigarette" in bed next to a BBW (Big Beautiful Woman) in a vinyl corset with an eerily believable just-been-sexed-up look on her face.