1

Jeremy Meeks – Street Terrorism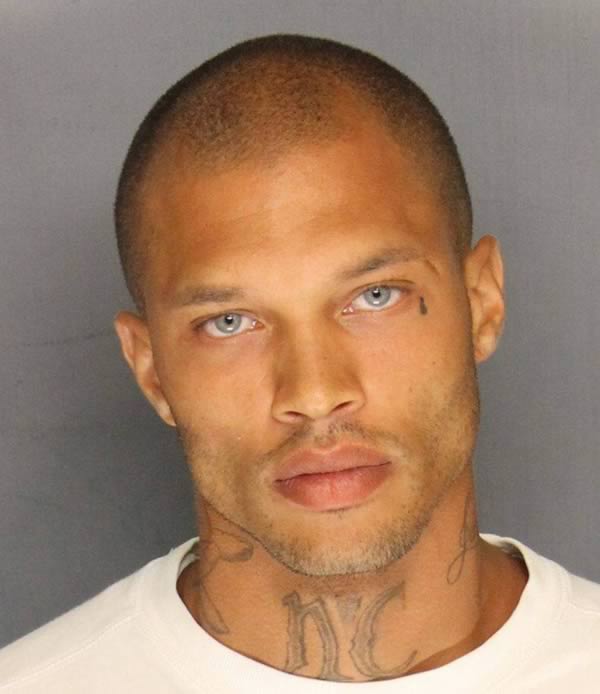 Jeremy Meeks (aka Hot Mugshot Guy) is a convicted felon who rose to fame after his sexy mugshot was posted on the Facebook page of the Stockton Police Department. He was arrested and charged on June 18, 2014 for a felony charge of street terrorism as well as for a misdemeanor charge of resisting/obstruction of justice. His mugshot got over 75,000 likes, 20,000 comments, and 10,000 shares. After his bail was raised to $1,000,000, his mother, Katherine Angier, started a GoFundMe page to raise money for his release. His mother is insistent that the gang-related charges stem from stereotyping due to his tattoos. He previously served a 9-year sentence for grand theft.
2

Angie Sanclemente – Ringleader of All-Women Drug Dang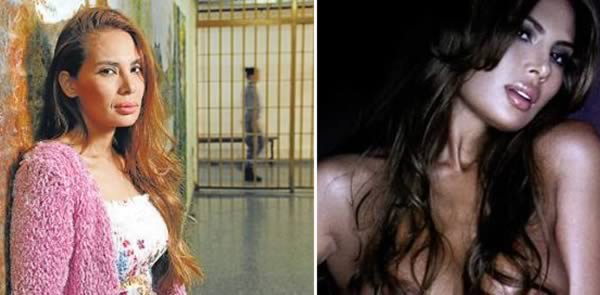 Angie Sanclemente Valencia is a former Colombian beauty queen and lingerie model believed to be the ringleader of one of the world's largest drug syndicates. Valencia, 30, was said to only hire glamour models to transport drugs from South America to Europe.
Valencia's operation is believed to be a "rival empire" to that of her former boyfriend, a Mexican drug baron known as "The Monster." She formed her own cartel after splitting with him. Valencia recruited other models, whom she is quoted referring to as her "unsuspicious, beautiful angels" as drug traffickers, paying them up to around $5,000 (£3,200) per trip to transport cocaine from Argentina to England by way of Cancún.
Her gang was exposed on December 13, 2009, when a 21-year-old woman, "Ariel L," was arrested with a suitcase containing 55 kg (121 pounds) of cocaine at Ezeiza International Airport, Buenos Aires, Argentina. The drug mule made no attempt to hide the cocaine in her suitcase because she'd been told no one would stop her at the airport.
Sanclemente remained in hiding for five months (actively engaging with journalists on her Facebook account) and changed her appearance. However, Argentine authorities found her in a Buenos Aires hostel in May 2010 and sentenced her to six years and eight months in prison. She was released from prison and deported back to Colombia in 2013 after serving only half of her sentence.
3

Sean Kory - Assault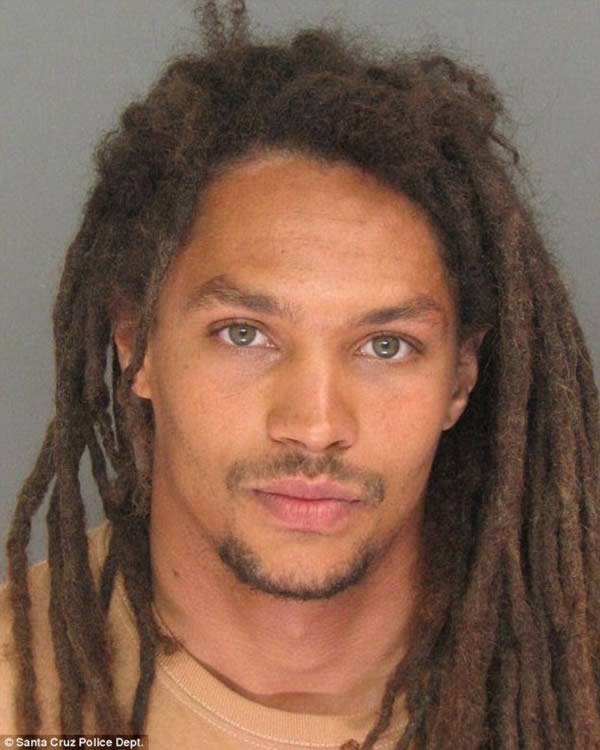 Meet Sean Kory, the latest hot crimininal. He's got long, beautiful dreadlocks and a hatred of Fox News. This 29-year-old beauty was arrested after beating a guy dressed up as a Fox News reporter with a tennis racket on Halloween night.
Sean Kory was in downtown Santa Cruz when he allegedly saw a person in costume and screamed "I hate Fox News" before grabbing their microphone prop. Kory then hit the innocent bystander with an aluminum racket he was carrying. It isn't known whether Kory was also in costume, or why he had a tennis racket.
After a short chase he was tracked down, restrained and arrested.
4

Stephanie Beaudoin - 42 Counts Of Breaking and Entering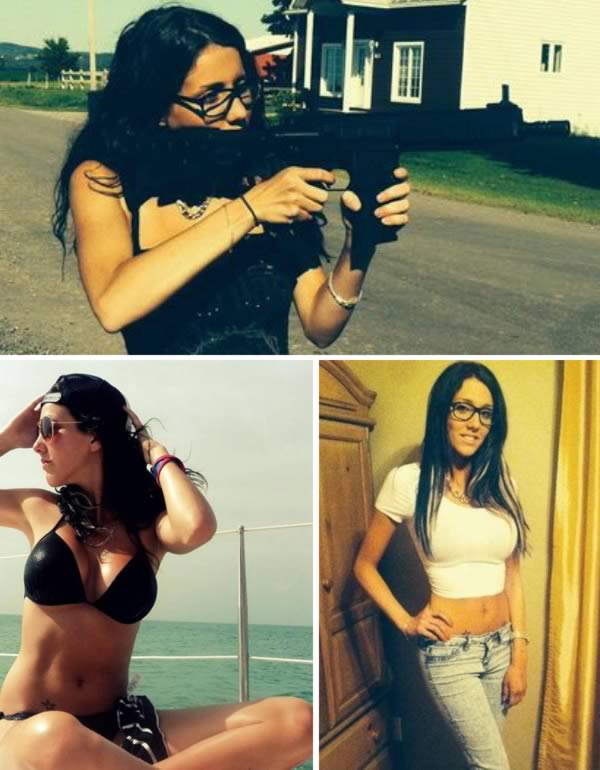 Meet Stephanie Boudoin – the "beautiful burglar." Boudoin is accused of breaking into over 40 homes in and around Victoriaville, Canada.
It's hardly the stuff of international news, but in the era of selfies, a picture can be worth a thousand clicks. In August 2014, the Montreal Journal published a photo of Boudoin in a bikini and the rest is history.
Boudoin has over 100 different charges filed against her. Since her pictures were published online, The Daily Mail reports that social media users have dubbed her the "newest world's sexiest criminal."
5

Angela Coates - Disorderly Conduct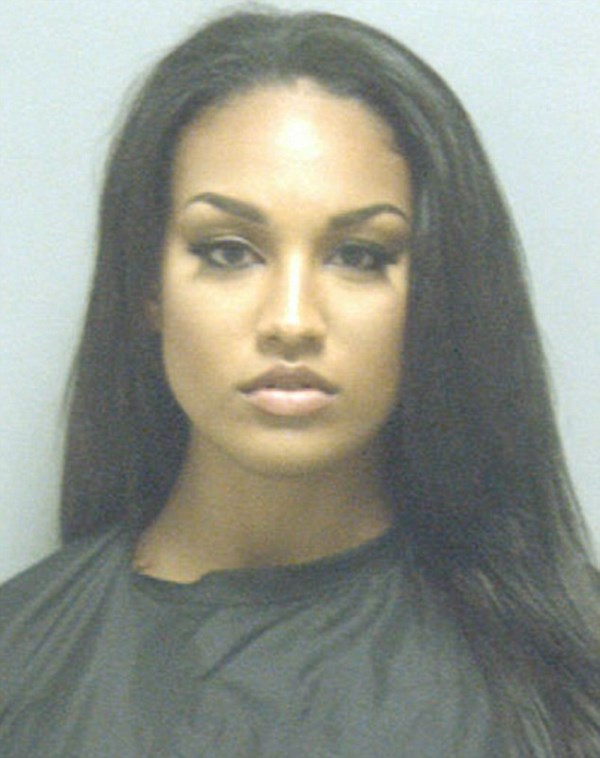 With glossy locks, full lips and perfectly shaped eyebrows, she stares willfully at the camera. This striking picture of glamour model Angela Coates has also been dubbed America's new hot mugshot. The 22-year-old, a former Jet Magazine "Beauty of the Week," was reportedly arrested for disorderly conduct in Dekalb County, Georgia, in August 2014.
Her mugshot has since gone viral, with hundreds of tweeters commenting on her good looks and offering to pay her $360 bail. Fortunately, she was released the same day and claims she was wrongfully accused.
6

Meagan Simmons – DUI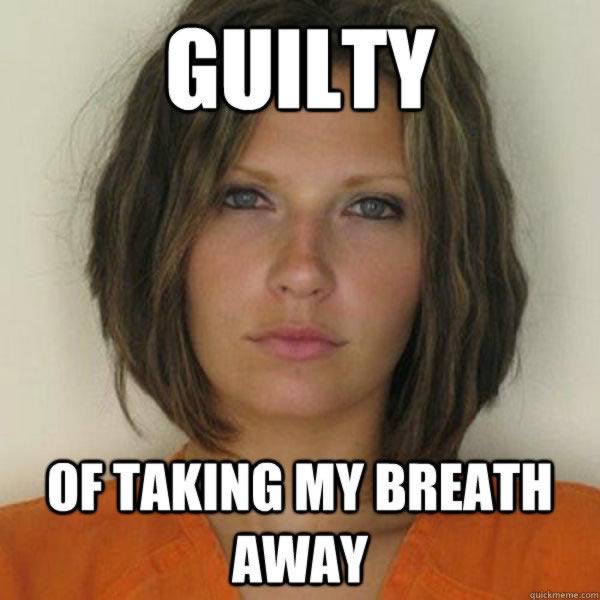 In 2010, she was the internet's favorite jailhouse stunner. She has since filed a lawsuit against a website for using her flattering mug shot in its ads without permission.
Meagan Simmons, 28, of Zephyrhills, FL, filed a lawsuit against InstantCheckmate.com for using her smoldering mugshot in its ads, but never paying her for it.
The hazel-eyed babe was busted for DUI in July 2010, and her fresh-faced photo soon morphed into a series of goofy internet memes, dubbing her the "hot convict." However, the young mom of four said InstantCheckmate.com went too far by plastering the pic on cheeky thumbnail ads for its service. One ad had the tagline, "Sometimes the cute ones aren't so innocent."
Her lawyer, Matthew Crist, claims the behavior was akin to Colgate using Tom Cruise's image to hawk toothpaste.
7

Monica Hargrove – Robbery and Kidnapping
Ok, she isn't exactly sexy, but she does certainly deserves the title of Miss Vanity. Monica Hargrove was arrested after she contacted police urging them to remove the picture from the force's Facebook page.
The wanted woman put her vanity before her freedom when she demanded police remove her mugshot from the web - because she didn't like the picture. Monica Hargrove, 34, contacted police in Colombus, Ohio, within 48 hours of the photo being posted online.
The image, which included Hargrove's name and information about her alleged crimes, had already attracted 64 shares and around 54,000 views.
Hargrove, who has since been indicted on robbery, aggravated-robbery and kidnapping charges, was so upset by the photo that she demanded it be removed.
8

Stefanie Woods - Girl Scout Cookie Money Theft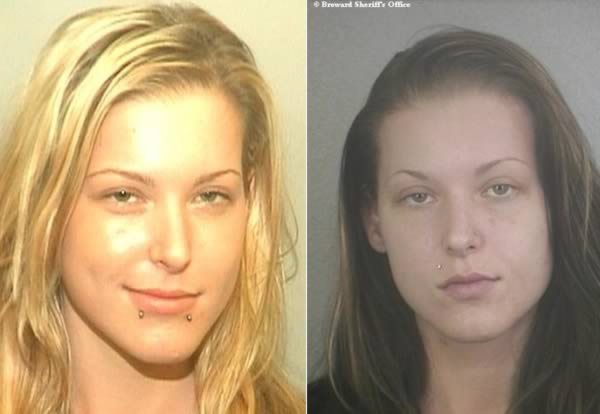 22-year-old Stefanie Woods, also known as the "Cookie Monster," was sentenced to 15 days in jail and additional 50 hours of community service for violating her probation. Woods was on probation for committing an armed robbery and kidnapping back in 2009.
On September 30 of that year, Stefanie Woods was behind the wheel with drug dealer Quincy Grant as her passenger when her boyfriend – Alexander Rill of Palm Beach – jumped into the back seat with another man and robbed Grant at gunpoint. They stole methadone and Xanax tablets from him. Because of that incident, Woods was placed on house arrest and probation after pleading guilty.
Before the robbery, Woods was arrested at Denny's for a dine-and-dash over $25 of food, but before that, she did something so ridiculous that it earned her the moniker Cookie Monster.
In 2008, Stefanie Woods and a friend stole $168 from a Girl Scout who was selling cookies at a Winn Dixie supermarket in Boynton Beach, Florida. The fact that she was a "monster" for stealing from a girl scout isn't as shocking as the video of her confession, taken shortly after the incident, in which she expressed absolutely no remorse whatsoever. The only regret she had was that she got caught.. and she didn't get to keep the money!