March is National Pasta Month, and this carb lover is going to celebrate. These are some of the most delicious and indulgent pasta dishes you have to try this month.
Chicken Pasta with Sun-Dried Tomatoes and Mozzarella
Sun-dried tomatoes add a slightly smoky flavor and tomato with a twist type of flavor to the dishes they're added to, and it's delicious. This pasta combines chicken, mozzarella, sun-dried tomatoes, and a couple other spices to easily and quickly create this delicious dish.
Chicken Garlic Alfredo with Broccoli
This alfredo is mostly garlic, less alfredo, hence garlic alfredo. Butter, Italian cheese, cream, pepper and all the garlic go into this sauce, to be poured over chicken, broccoli, and pasta. This is the best and most indulgent alfredo that I've ever consumed in my life and it's my absolute favorite. Roasting the chicken you add to this dish with salt, pepper, a bit of cayenne, oregano and basil before shredding it and adding it to the pasta will take it to the next level. And you can add your favorite vegetable to this pasta, but for me it' steamed broccoli every time.
Classic Spaghetti and Meatballs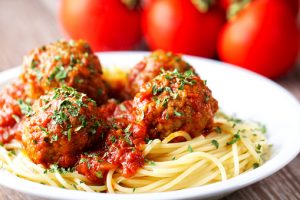 Did you know that this isn't even technically an Italian dish? The roots of the dish are Italian and the flavors, but traditionally Italians didn't eat much meat at all and if they did, it was smaller portions and not mixed with their pasta. But here in America, where this dish is rooted, we eat huge portions, along with lots of meat and cheese. So we pile 3-4 servings of pasta, 5-6 ridiculously huge meatballs, a literal cup of sauce and a heaping handful of cheese and call it dinner. And it is amazing.
Macaroni and Cheese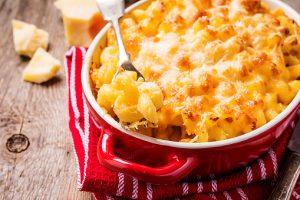 It's hard to find a bad mac and cheese if you ask me but others feel differently. Some swear by the baked stuff of their childhood while others like the stove-top kind better. Some even prefer instant mac and cheese for it's convenience and quick cooking style. A classic elbow noodle with milk or cream and Cheddar, a Gouda orHhavarti and a pinch of blue cheese at the end will give you one very tasty mac and cheese dish.
Red Wine Pasta
Literally red wine pasta is what it is. Whether you want to cover it in parmesan and garlic or to a full on baked pasta, using red wine pasta adds color and taste to anything you use it with. Some people even make this into a cream pasta, by adding a tablespoon of cream, though it does turn it like an Eastery pink color, it sounds delicious. It's also enjoyed as simply as topping it with grated cheese, grated basil, and chopped garlic. Yum, this is a great dish to try for National Noodle Month.
Vodka Sauce Pasta
The alcohol cooks out in this pasta leaving behind flavor, complemented by garlic, tomato, cream, salt and pepper, red pepper flakes, butter, and pasta. It's got a creamy base with a light, flavorful sauce and a hint of heat. You could easily add meats and vegetables to this dish but the pasta and sauce is delicious on its own.
Baked Pasta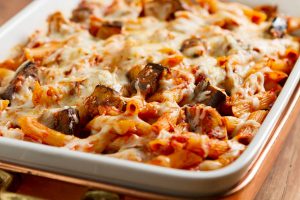 Use whatever kind of pasta you'd like for this casserole, they're all going to be delicious. Add in a bunch of stuff you love, like onions, garlic, sausage, noodles, sauce, seasonings, and cheeses. Add some ricotta pockets, too, and bake it all in the oven for a pasta pie.  Baked Pasta is perfect for National Noodle Month.
Real Alfredo Sauce
According to some, real alfredo sauce should never have cream in it, yet it should be an emulsion of grated cheese, melted butter, and starchy pasta water. Make your pasta to al dente and keep two of the cups of pasta water to help create the sauce. Transfer one cup of the water to a skillet and bring it to a gentle simmer, then whisk in butter slowly until it's melted. Keep whisking and add the cheese, melting it slowly until it's all been incorporated into the sauce. Add the pasta, toss and serve with cracked black pepper and shredded parmesan cheese.
Whether it's mac and cheese or red wine pasta, indulge in some extra carbs for National Noodle Month. What are your favorite ways to enjoy pasta?