A dream job or a professional nightmare? You decide.
Doing nothing at work is a divisive concept. To some, it's heaven, while others can't stand even the idea of sitting around with nothing to do.
But Japanese Shoji Morimoto is perfectly fine with the ennui. In fact, he's somehow managed to turn doing nada into a successful career.
The 38-year-old professional slacker peddles his non-existent work effort through social media. People can hire him to do his favorite thing — absolutely nothing.
You might be wondering why anyone would hire a man to sit around and do nothing. But Morimoto's "Do Nothing Rent-a-Man" service is surprisingly popular.
Morimoto told CBS News that he is almost always completely booked. For the deadbeat-for-hire's schedule, that means up to three appointments a day.
This means that thrice a day, the most effort he puts into work is going to wherever he's needed. Then he sits or stands around in his trademark blue cap and backpack until it's time to clock out.
Nothing more, nothing less.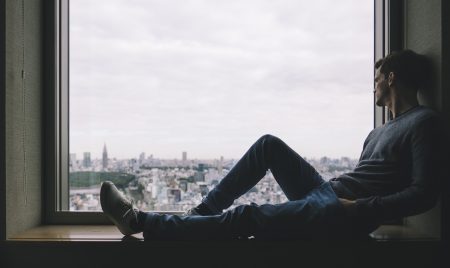 No Special Effort
But Morimoto still has to do something, doesn't he? Not really — the man gets paid to simply exist at a certain place at a certain time.
"I lend myself out to do nothing, which means I don't make any special effort. People use me in different ways," Morimoto explained.
"Some people are lonesome. Some feel it's a shame to go somewhere alone — they want someone to share their impressions with."
Morimoto's gigs have included accompanying people suffering from anxiety or agoraphobia while going shopping. He's also gone out for meals or drinks with people, or shared a birthday cake with a lonely person.
But even if you hired Morimoto for companionship, you'd better not expect a rent-a-friend service.
"I don't initiate conversation. I reply to chitchat, but that's it," he said.
Not engaging with anything doesn't mean Morimoto's job is always easy, though. On one occasion, he made an appearance as an audience for a street musician, standing for hours on the side of a road in freezing cold weather.
One of Morimoto's regular clients is a 30-something woman who often hires him to go out for coffee or a couple of drinks. She doesn't get any conversation, and that's perfectly fine with her.
The woman said she appreciates Mr. Rental — Morimoto's professional moniker — for his silence. The man doesn't judge or argue — he's just exists in her life for a while.
"Japanese women tend to worry about what others think, and about not burdening others. It's exhausting, so being freed of this obsessing is valuable," she said.
Morimoto goes to great lengths to ensure that his clients really don't expect him to put in any kind of an effort. He's rejected offers to help clean houses, do laundry, be a conversation partner, and even pose nude.
Stories to Share
Clearly, Morimoto knows exactly what he wants (or doesn't want) to do. And just the way he's been his whole life.
The man said that he's been called a good-for-nothing and a slacker all his life. Family, previous co-workers, and friends have all told him that he should at least try to take the initiative sometime.
Then, one day in 2018 while he was listlessly browsing job ads while unemployed, he did just that. If everyone only saw him as a slacker then that's just what he would be.
He opened his Twitter account and offered his non-services to the general public. He must be doing something right by doing nothing, because by now he's amassed nearly 250,000 followers.
Although he doesn't talk much, Morimoto said that the best part of his job is meeting so many different kinds of people.
"What's amazing is the huge variety of personalities, circumstances and situations. That's striking to me almost every day," the man mused.
Indeed, there's almost always a story behind someone wanting to hire a man to do zilch. Although most of his clients are women, Morimoto said the men that hire him usually have the most fascinating stories.
He highlighted an occasion when a young man, struggling in a go-nowhere job, hired him to sit with him on a swing at a playground for a while. Just for a moment, the man wanted to remember what it was like to feel alive again.
Another man, who asked Morimoto to join him for a meal at his home, told him that his mother had pressured him to become a criminal. He finally got caught for being involved in a robbery that killed a woman.
But despite it all, the lonely young man still missed his mother.
A Famous Idler
All the stories Morimoto has heard have inspired him to break his to somewhat slacking habits. After writing four books about his experiences — one of them a manga — he's now making a decent enough living from his bizarre non-profession.
In 2021, Amazon Prime even produced a 12-part TV show, based loosely on Morimoto's life. It seems the story of a man who does nothing resonates with the Japanese.
Despite the success of his venture, Morimoto insists that he doesn't work. According to him, he doesn't have a job — he just goes to places to do nothing.
And that's just the way he likes it.
"Nothing's more fun than doing nothing," said Morimoto.