1

Bathtub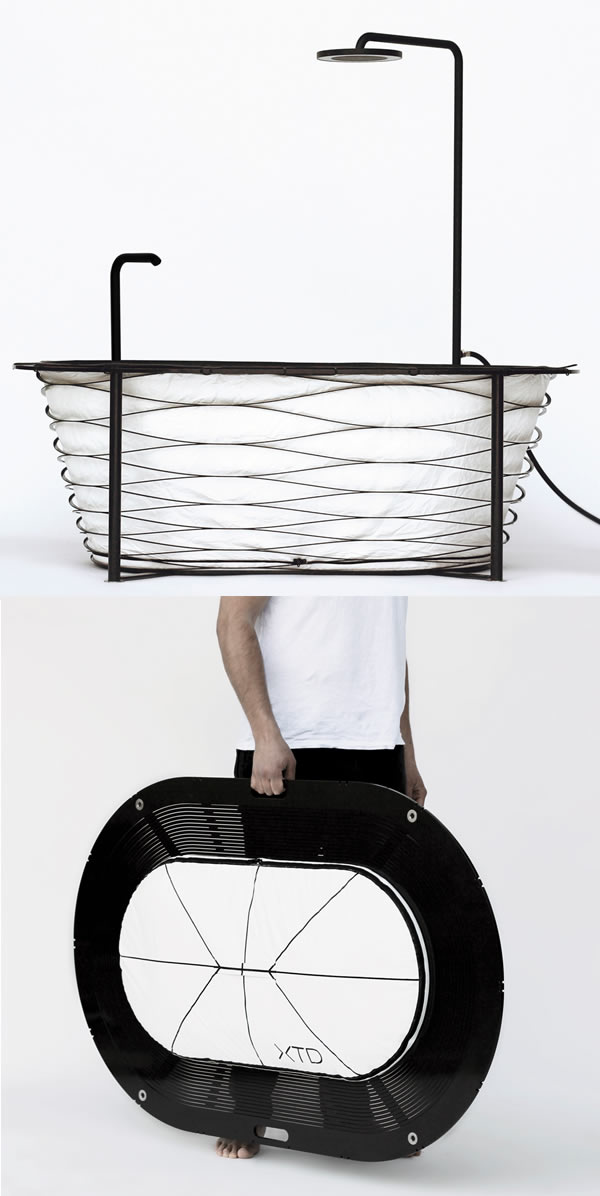 Soaking in a bubble bath is the epitome of relaxation, but for many, this is an unobtainable luxury, as bathtubs can be both expensive and space-sucking. One German designer, Carina Deuschl, has found a way to make the bath accessible to all with her award-winning pop-up, collapsible tub design called the XTEND.
Not only is the portable bathtub innovative, but the XTEND has been lauded as an example of exceptional design, craftsmanship, and digital manufacturing. The tub is made out of super light carbon fiber, cut using high-pressure water jet technology. The inlay is made out of a durable padded fabric that's also machine washable. It also comes with a detachable shower head.
The XTEND weighs only 15 pounds—when folded, it's just a third of an inch in height.
2

Fold-up Slide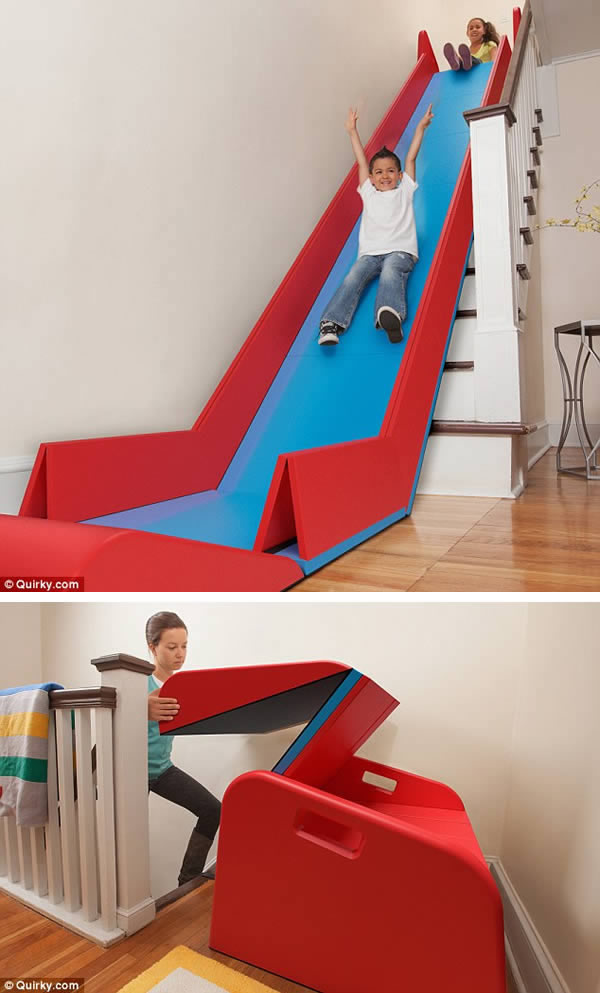 If you desperately want a slide in your house, there is good news— there's a quirky new contraption that turns stairs into an indoor slide. SlideRider, currently in the prototype stage, consists of multiple folding mats that can be laid over angular steps to create a smooth surface. The final mat is cushioned for a soft landing, and there are foldout "safety rails" to ensure children don't bump into banisters.
SlideRider is the brainchild of Trisha Cleveland from Minneapolis, Minnesota. She submitted her idea to Quirky.com and is now waiting to see if it will be picked up by developers. If it is, she envisions it will retail between $45 and $95.
3

Swiss Army Electric Bike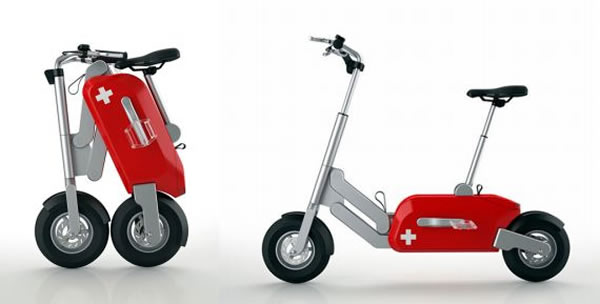 Swiss army knives pack a lot of useful tools into a small package. They contain a knife, a screwdriver, a bottle opener, a saw, and a flashlight. The Swiss Army Bike is built on the same basic principal as the knife—it's functional, and it folds up for storage.
4

Folding Napkin Table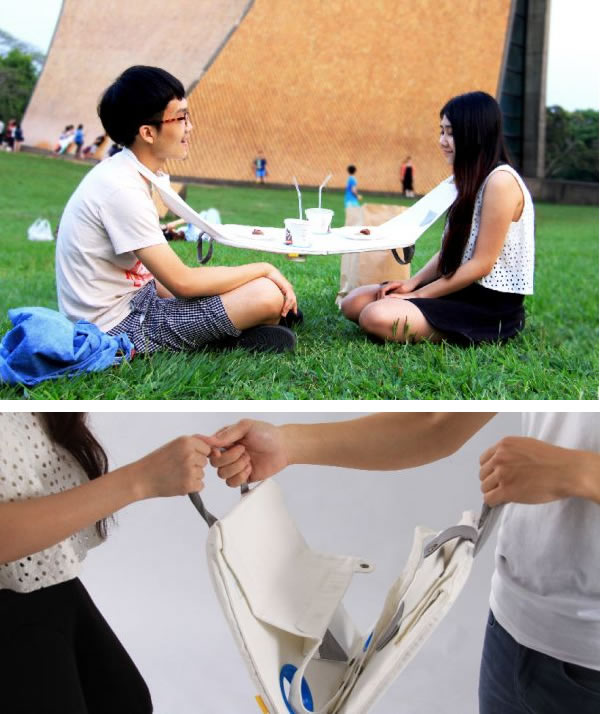 Michael Jan, an industrial design graduate from Tunghai University in Taiwan, developed a clever pinicking accessory—a table that stretches between the necks of two people with cupholders and a flat surface for plates. There are bibs on boths sides which serve as napkins.
When you're done eating, just fold up the table and carry it away.
5

Foldable Bassinet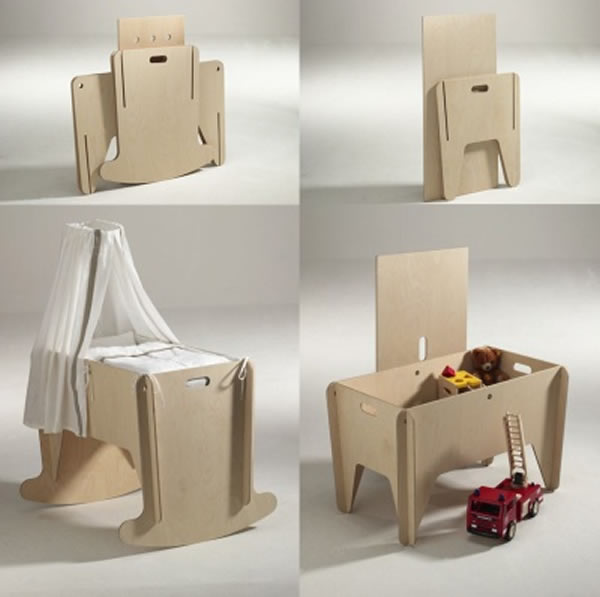 A new baby is a commitment for life, but unfortunately they don't stay small for too long. Who wouldn't want a foldable bassinet that converts into a toybox? What a great multifunctional use of materials.
6

Foldable Skateboard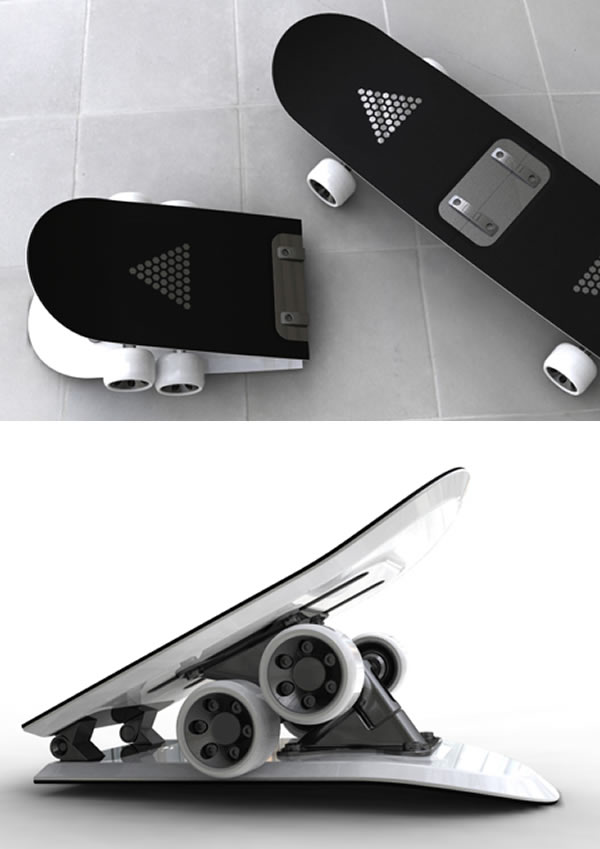 NYC designer Jin-Seok Hwang has created the folding skateboard.
The board is probably not meant for the daily hardcore skater, but it is portable, and you can just carry it in any backpack. Although it looks cool and is highly efficient, the center hinge looks like it will snap at any second!
7

Fold-Out Faucet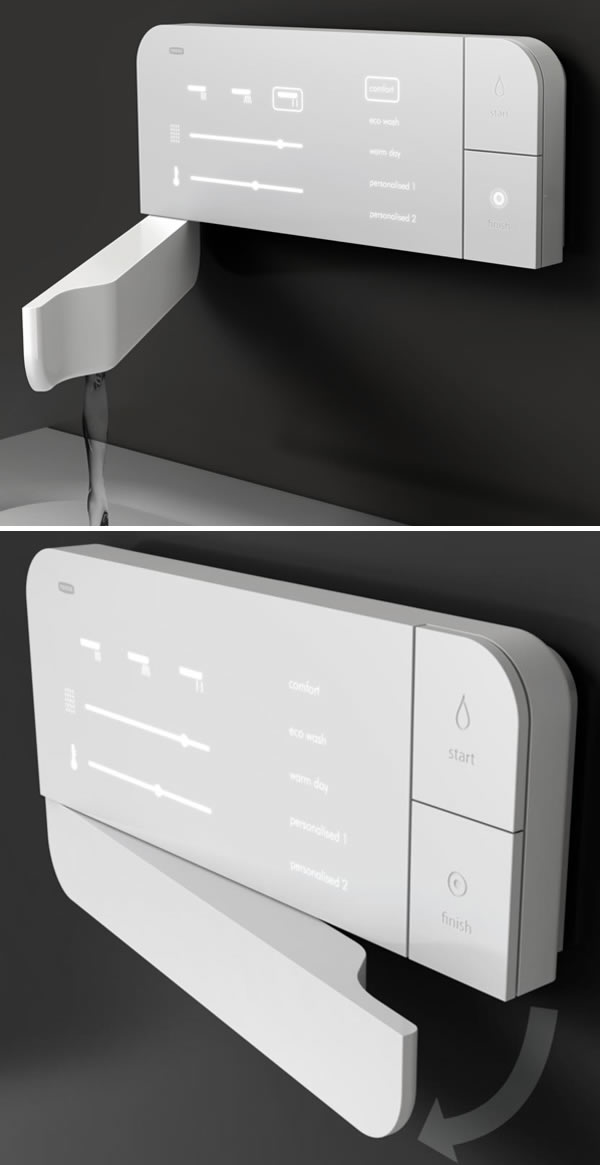 You may mistake the Flat-Fold to be a high-tech mirror of some kind in a bathroom or even a cabinet, but a faucet? Most definitely not! The tap fits flush with the base of this discreet wall mount and comes with digital technology, plus a capacitive touch sensitive panel, so you can personalize the flow of the water and have it set to taste. The Flat-Fold, by designer Min Kong, is a Reece Bathroom Innovation Award Finalist.
8

Fold-up Cardboard Furniture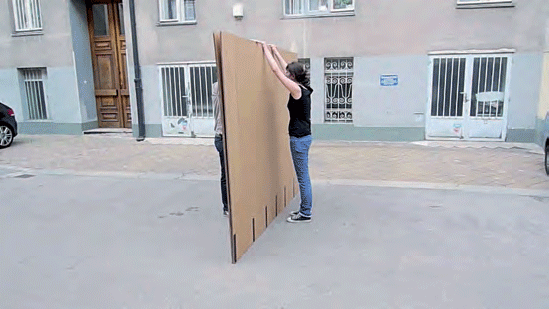 Watching these life-sized pop-up desks spring into existence is extremely satisfying. The cardboard furniture sets designed by Liddy Scheffknecht and Armin B. Wagner can be opened and closed like a book, offering up a makeshift office or dining room nearly anywhere with ample square footage.
9

Fold-Up Picture Table
Ivy Design specializes in furniture design and cult objects. Their picture table, as its name implies, can be used as a frame for a picture, while it's not used as a table and is the perfect solution for saving space in a small interior. The table is attached to the wall with metal supports and magnets help to keep the legs in place.
10

Wall Mounted Barbecue Grill
If you thought you'd have to choose between room to play and room to grill, this may be the best invention yet—a folding barbecue grill. The wall-mounted grill folds down when you're entertaining a group (or are just entertaining the thought of a mouth-watering meal!) and folds back up when not in use.
The grill can be mounted at any height and is ideal for those with special needs. This is a great gadget for small yards, balconies, decks and awkwardly shaped spaces. Now, you can barbecue to your heart's content!