1

Stary Rynek Square in Poznan (Poland)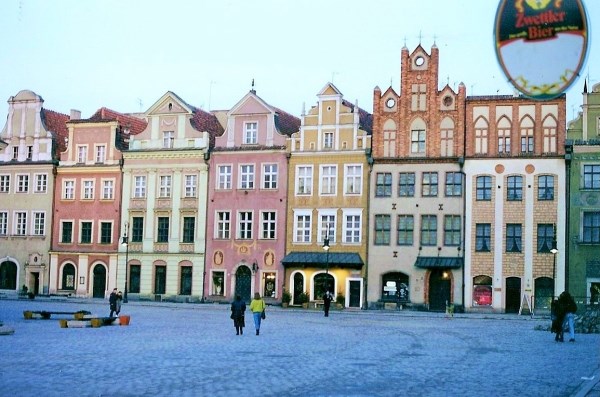 The main square of any city is usually considered its heart. Here you are guaranteed to find an array of museums, grand architecture, street performers, and a plethora of bars and restaurants. Stary Rynek, the main square of Poznan, is no exception.
The most spectacular aspect of Stary Rynek is, of course, the strikingly colorful buildings. It's one of those places that transports you somewhere magical and revives childhood wonder— Stary Rynek is no common urbanized city center, but a place inside a Walt Disney film. No two buildings have the same design or the same color, so strolling around and whittling away the hours admiring each is a pleasurable way to spend time. Whether it's a mural or elaborate portico over a doorway, there is something to enjoy in every direction.
2

Low income neighborhood turned into a giant mural (Mexico)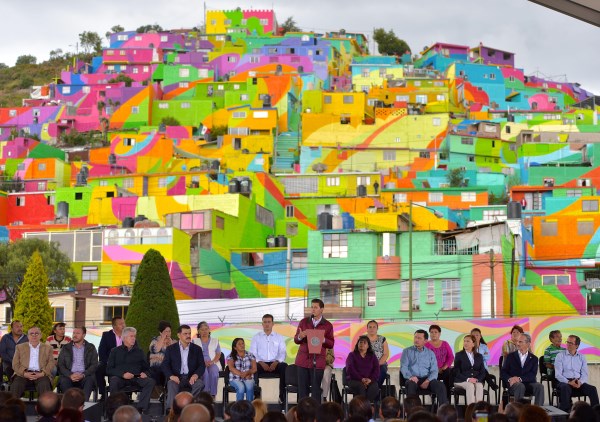 While most governments devote some of their resources to ridding the streets of graffiti, Mexican authorities invited one local street art collective (German Crew) to create what they claim is the country's largest mural.
Over 209 houses on a hill in the depressed neighborhood of Palmitas in Pachuca, Mexico, were painted in an effort to reduce violence among young people. The mural covers some 20,000 square meters—the collective used around 20,000 liters of paint to create the impressive piece, entitled "El Macro Mural Barrio de Palmitas."
3

Most colorful bridge - Alkaff Bridge (Singapore)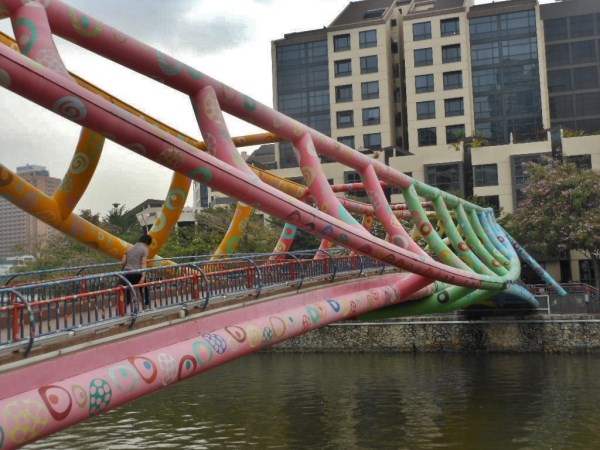 Singapore's Alkaff Bridge was built in 1997. Its design resembles a tongkang (a large flat-bottom barge). It was named after the Alkaff family. In 2004, the Filipina artist Pacita Abad covered this pedestrian bridge in 900 liters of paint in 52 different colors.
4

Most colorful hotel - The Saguaro Hotel (California)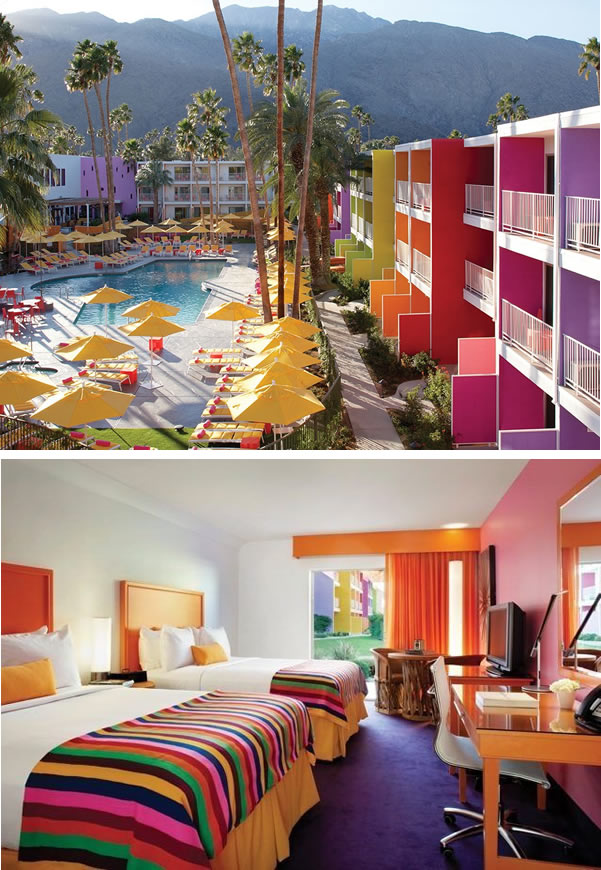 The Saguaro Palm Springs opened its right and colorful doors in 2012. Formerly a Holiday Inn, the architecture is courtesy of New York-based Stamberg Aferiat Architecture. The Saguaro has 245 rooms, 7,500 square feet of meeting space, a pool, two whirlpools, a spa "with a menu of indigenous treatments," a fitness center, and a restaurant and two bars.
5

Most colorful slum - Santa Marta Favela (Rio de Janeiro)

Probably the most famous favela in Rio since 1996—Michael Jackson filmed part of his video for the song "They Don't Care About Us" here—Santa Marta is also the steepest and the most colorful slum in Rio. With its great views and vibrant atmosphere, it attracts many international celebrities, and it's worth taking a tour (guided by locals) to all its hidden attractions.
6

Buenos Aires' Most Colorful District - La Boca (Argentina)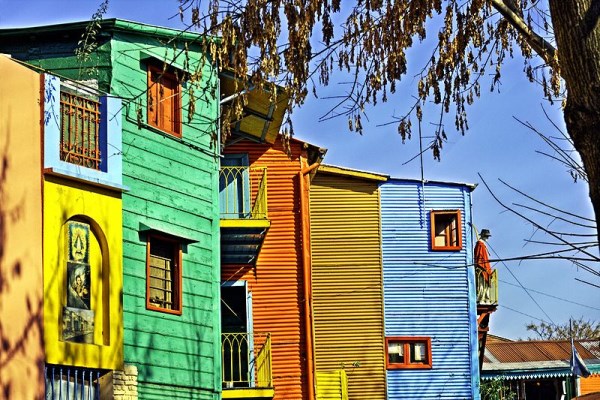 La Boca, the Buenos Aires' neighborhood famed for its colorful houses, its tango, and its soccer team, is the one spot that's on every visitor's to-do list. The centerpiece El Caminito—the one-time railway route is lined with the bright facades that make La Boca postcard perfect. The pedestrians-only street, named for a 1926 tango song, features an outdoor fair where artists sell their wares, and tango dancers prance along the sidewalk in between photo ops with tourists.
7

Most photographed street in Copenhagen – Nyhavn (Denmark)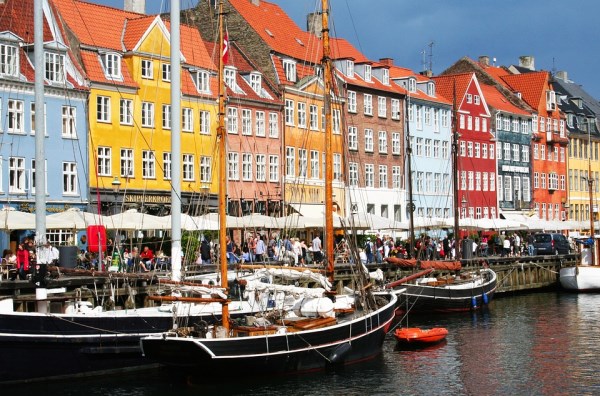 The Nyhavn (New Harbor) area of Copenhagen dates back to the 17th century. By the early 1900s, it had become a run-down waterfront but is now a modern entertainment precinct full of famous restaurants. Once frequented by sailors and packed with seedy taverns, Copenhagen's harbor has a history as colorful as its present-day buildings. Today, Nyhavn is a modern hub where locals come to relax and families mix with designers and artists.
8

Little India (Singapore)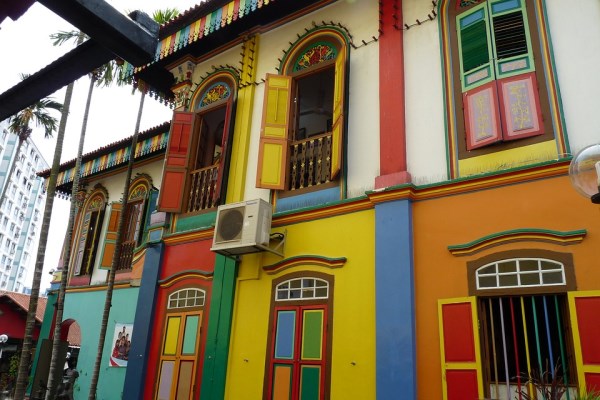 Singapore's 'Little India' is known for its colorful buildings. The House of Tan Teng Niah, which sits proudly in the center, is a standout piece of architecture. The popular tourist attraction was built in 1900 as an eight-room villa for Tan Teng Niah's wife. Eating fish head curry is another popular activity for visitors to this district, but it's not a dish for the squeamish, with more or less everything consumed apart from the eyeballs.
9

Nuuk (Greenland)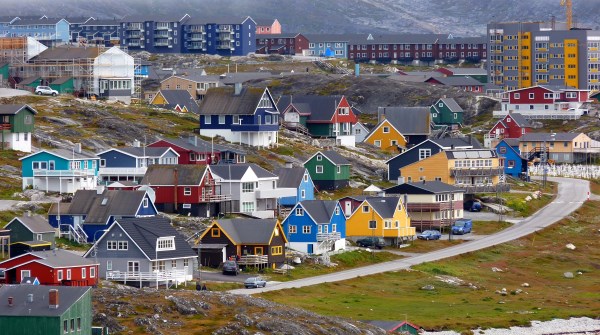 Modern and traditional blend in the beautiful capital of Greenland. When we say colorful, we mean very literally that you will be exposed to the diverse and contrasting colors of the city as well as the indescribable colors of nature.
10

The Venetian island where every house is a different color (Italy)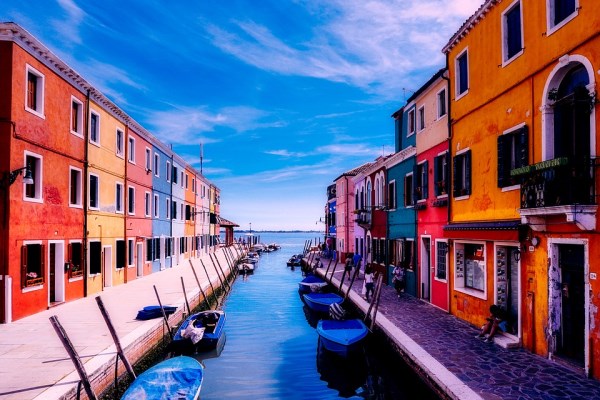 With all the houses painted to make each street look like a rainbow, this Venetian town could be the most colorful in the world. Burano's traditional industry is fishing—as a result, there were lots of fishing boats sailing in and out of its harbor on fishing expeditions. Legend has it that population began painting their homes in luminous colors so that the fishermen could see them in in thick fog and avoid crashing into the shore after a voyage at sea.
But the town's unique look is actually the result of a rigidly controlled color scheme. If you wish to paint your house, an application must be submitted to the government and it must fit with the town's requirements.