1

The snowman that stopped a train in its tracks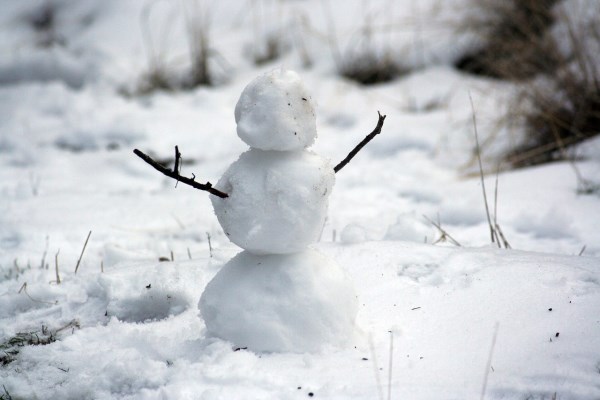 As inclement weather continued to bear down on Germany in January 2017, a snowman caused panic on a train line between Wesenberg and Mirow in the northern state of Mecklenburg-Western Pomerania.
The train was forced to complete an emergency stop as the driver bore down on a figure built on the tracks because he was unable to distinguish whether it was a person or a snowman. The sudden stop caused €5,000 ($5,300) worth of damage to the vehicle's braking system. While no injuries have been reported, the three unknown pranksters who built Frosty are in a bit of trouble with the law.
2

A snowman that set a world record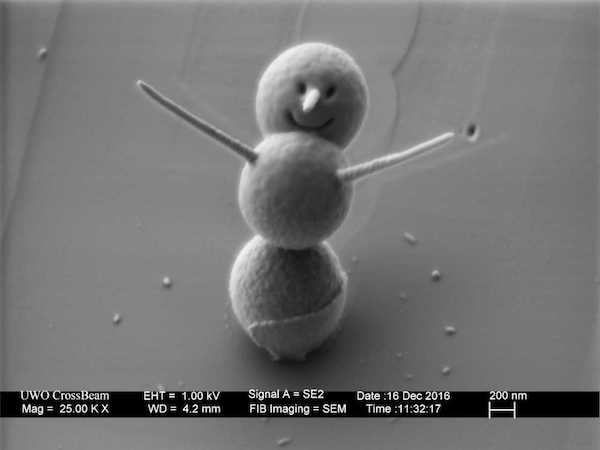 Ladies and gentleman, meet the world's smallest (and possibly cutest) snowman.
This snowman is not made of snow but was created with a scanning electron microscope. Todd Simpson, the instrument's operator at the nanofabrication facility at Western University in Canada, claims the tiny sculpture is just 3?m tall.
Simpson built the diminutive snowman by accident while creating isolated silica spheres in 2005. It's reminiscent of one created back in 2009 by David Cox, a National Physical Laboratory research fellow at the University of Surrey, UK. His was made in a similar manner, but was substantially larger than this new one, at almost ten times the size (a little under 30?m).
3

Father and daughter build a snowman in homage to a popular Star Wars character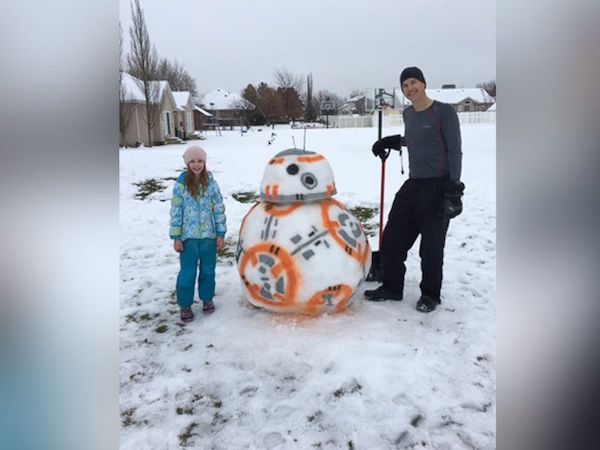 Hey Star Wars fans—check out this 4-foot-tall BB-8 snowman Tony Francis and his daughter, Gwen, built in the backyard of their Highland, Utah, home.
The father/daughter duo spent two hours rolling a "big ol' ball" into the BB-8 shape, then used a butter knife to mold the top layer into the perfectly edged semi-circle. The entire project cost $8 (for the orange spray paint).
Tony's daughter is a Star Wars fanatic, which is something this proud papa can certainly get behind. "For Halloween, she wanted to be Rey," he said, referring to the lead character in The Force Awakens. I love it because Star Wars is full of strong female characters for her."
4

An elderly patient gets her wish to build a snowman with the help of hospice staffers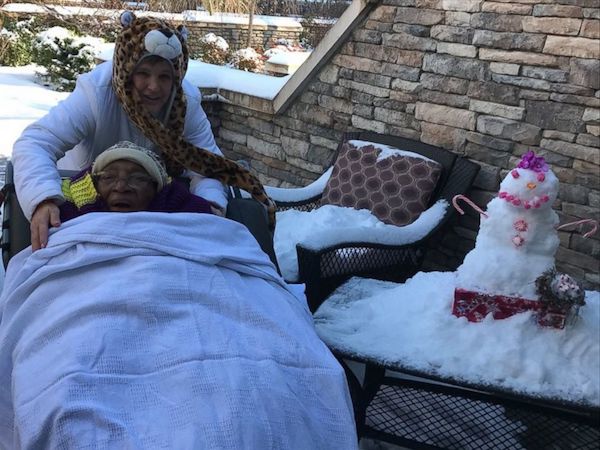 87-year-old Ionia Moore got to build her very own snowman, something she'd been wishing for since Thanksgiving.
The senior woman had the help of two staff members at Testa Family Hospice House in Kings Mountain, North Carolina. "She hasn't been able to go out or be out in the snow or anything," Moore's daughter, Cathy Stephens, a nurse at the hospice center, said. "She's had several strokes and the last stroke took the ability for her to walk or feed herself or do any of those things."
Moore, who also has dementia, never forgot her desire to get out to play in the snow and build her very own snowman. Once outside, she "just grinned and giggled the whole time." Staff members even put her snowman right outside her window so she can see it anytime she likes.
5

The man who sells snowmen for $50 a pop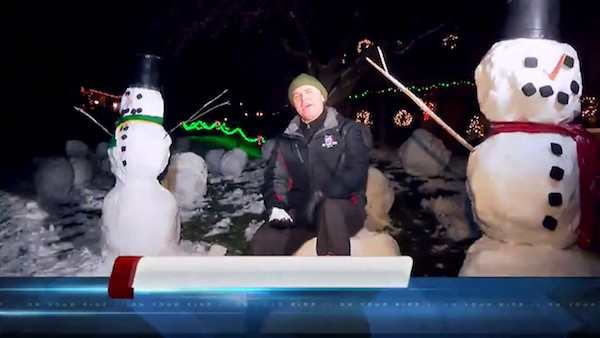 Don't have time to "roll your own" and live in the Boise area? Let entrepreneur Keith Anderson build one for you.
Anderson was making a snowman on his property with his 3-year-old when inspiration struck—he decided to charge $50 to have a snowman delivered and built on client's lawns. The budding businessman said he loves winter sports, and he loved making snowmen as a kid. He believes whether you buy or build your snowman, you should do it for the memories that will never melt away.
6

A boy who built a snowman to mirror his foster family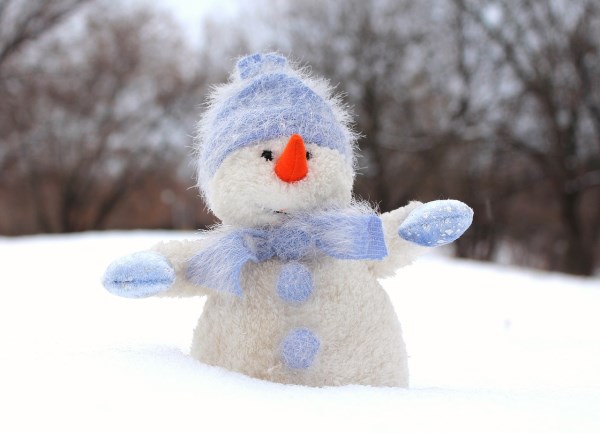 A snowman in Toledo, Ohio is melting hearts worldwide. 16-year-old Joe Smith built the round, wheelchair-bound snowman for his siblings and foster siblings. "I just decided to have a wheelchair, and every time they look out the window they can see [themselves]," he said.
His parents, Sue and Jerry Smith, have fostered children for about 40 years and have concentrated on those with disabilities and serious medical needs. They have 13 children, 11 of them—including Joe—adopted through the foster system. They are currently raising four foster children. Joe said he had one of his foster siblings, a 5-year-old boy with cerebral palsy, in mind when building the snowman and the family wheeled him outside to see Joe's creation. Needless to say, "he loved it. He had a big smile on his face and was laughing. He looks out his bedroom window and sees it, and just laughs."
7

White House staff plays on Obama's irrational fear of snowmen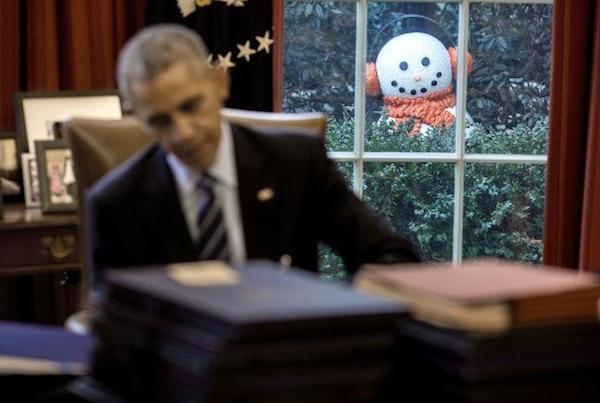 Soon-to-be-former President Barack Obama has irrational fears just like the rest of us. He recently admitted he had a slight fear of snowmen, saying, "There's a whole kind of Chucky element to them. They're a little creepy."
White House staff decided to prank the president, with help from official photographer Pete Souza, who shared a photo on Instagram of Obama hard at work in the Oval Office while a sinister-looking snowman can be seen lurking in the garden behind.
"For the past three weeks, there have been four snowmen on display in the Rose Garden," he explained in a caption. "We've been joking that we should move the snowmen a few feet closer to the Oval office every day to see if anyone noticed… Finally, this morning before the President came to the office, some helpful staff—I won't say who—moved all the snowmen, so each one was peeking through a different window into the Oval. This photo was taken this afternoon as the President signed end-of-the-year bills."
8

Woman faceplants in altercation with a snowman
Snowmen aren't for everybody. Just ask President Barack Obama (above), and this woman, who was caught on surveillance getting her just rewards for knocking one over.
9

The snowman that was found in an X-ray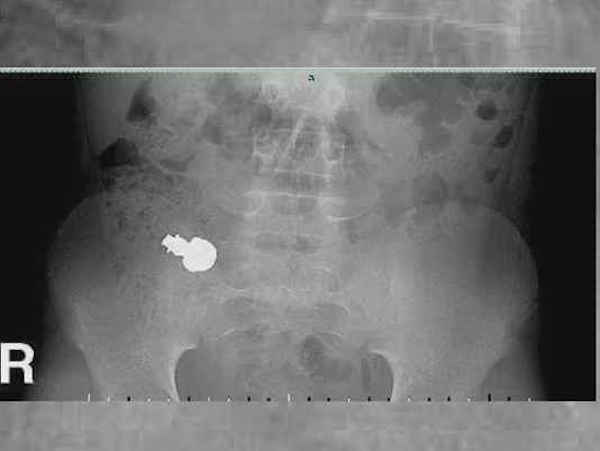 12-year-old Aiden Tilley from East Tennessee accidentally swallowed a snowman figurine over Christmas.
Aiden was messing around with the one inch tall and a few millimeters thick snowman in his room when the accident happened. "I put it in my mouth, and I was going to spit it out, but it's a lot heavier than I thought, and it got stuck in my throat," he said.
He rushed to tell his mom and dad, and after a series of calls to emergency rooms and doctors' offices, medical staffers decided an X-Ray was needed. Sure enough, there was a tiny, top-hatted snowman in Aiden's abdomen.
Doctors explained that the snowman shines so bright in the X-Ray because it is made of metal, and because it is so small, should pass easily. The family plans on commemorating this "funny accident" by making it their Christmas card in 2017.
10

The father who built a 20' tall snowman for his delighted family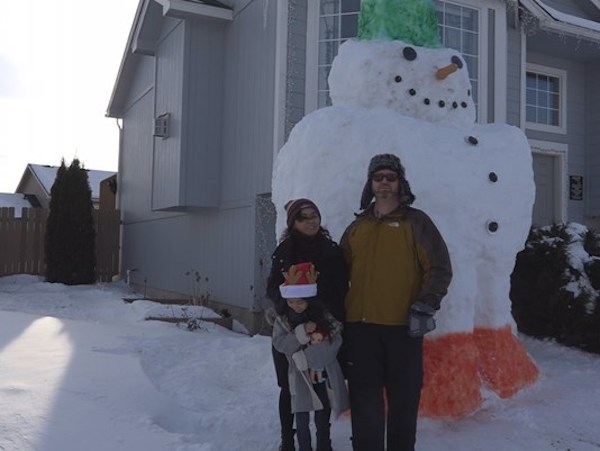 Check out a snowman that is Obama's worst nightmare!
Chay Moore of Spokane, Washington, to the delight of his family, made a snowman that is almost 20' tall.
Last year, the family snowman was just 8', but Moore figured this year, bigger was definitely better. He spent 60-70 hours packing snow and shaping the massive beast, which has carrot nose, top hat, and coal eyes as tradition requires. He used water and food coloring to change the color of the snow in some spots.
Although he knows Frosty will one day melt away, he is holding out hope for a little magic. "I'm hoping he just comes to life and walks into the cold country," Moore said.