Presents are definitely the best part of Christmas. Except for those ugly Christmas sweaters. But while physical presents are fun, sometimes it's a different type of gift that ends up being the best thing a person ever received.
Check out these 9 amazing Christmas gifts.
1

The mother who was accused of spoiling her kids with a mountain of presents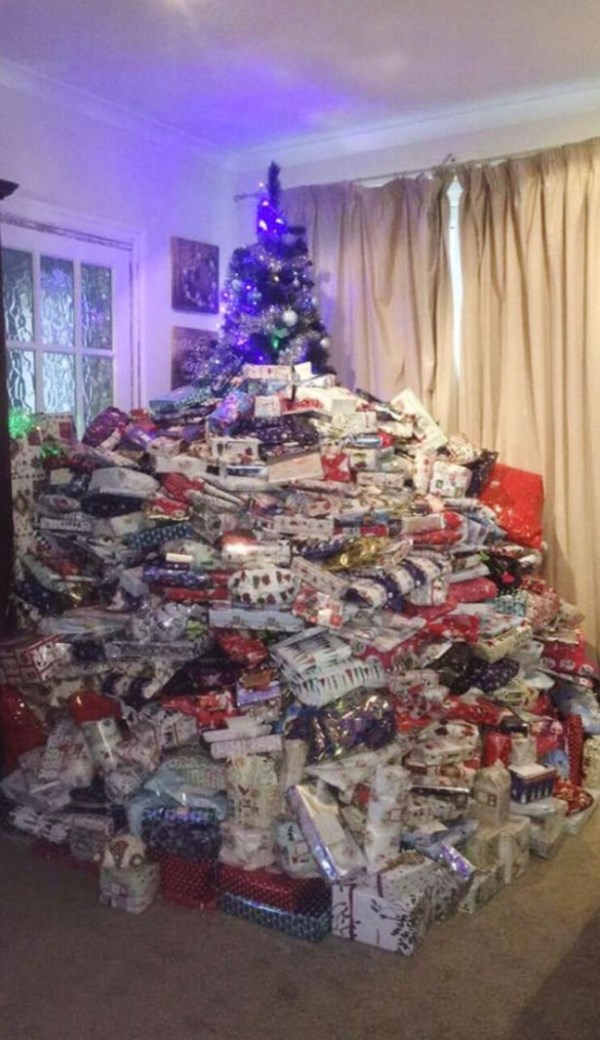 Emma Tapping, a mother-of-three from the Isle of Man, first made headlines in 2015 when she was accused of spoiling her children by getting them 87 gifts each. Undeterred, this year, she bought even more presents—96 for each kid.
When Emma had posted a picture of her tree buried in a mountain of gifts, it made the rounds online with the caption "Nearly time for all the materialistic parents to compete and broadcast how many presents their kids have on Facebook! Just remember, some children don't get much." After being approached by the media about her gift-giving habit and the effect it has on her kids, Emma said that she only spoils her children on Christmas, because she loves seeing the joy on their faces when they're opening presents.
Emma, who runs a bed and breakfast, started buying Christmas gifts in July, and by the end of November, she had already finished packaging everything. She said she is always "tempted to buy more," but made herself stop at a whopping 96-presents per child.
2

The son who made his parents cry with the best gift ever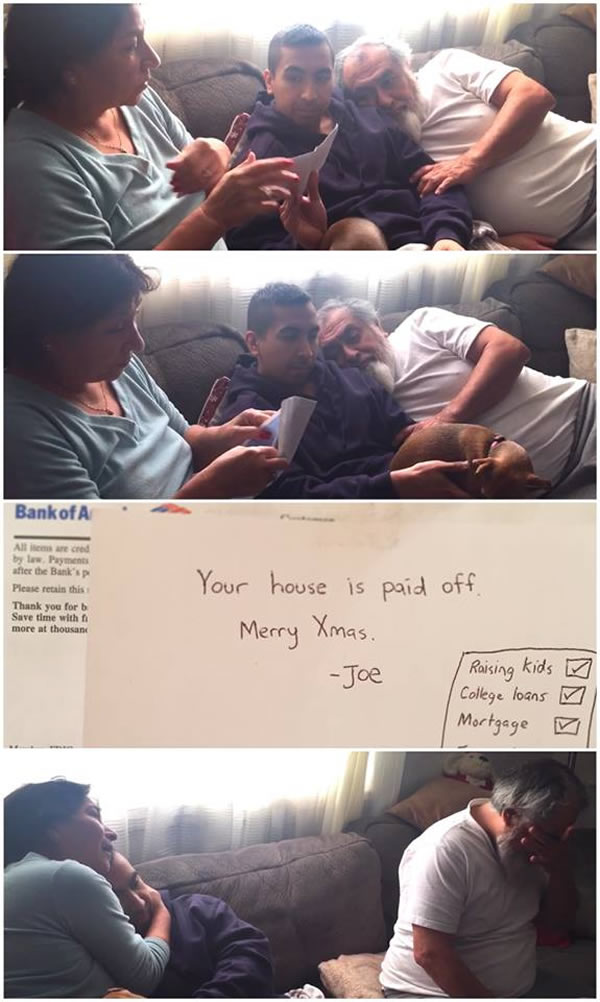 Some Christmas gifts are hysterical, and some are downright tragic, but the most touching I've seen so far is the one Joey Trombone got for his parents.
After all the other gifts had been handed out, the family sat back to relax and enjoy the rest of the holiday. But Joe had one more present to give—he pulled a folded, unmarked envelope from his pocket and handed it to his mom. He said, "Sometimes the best gifts come in the lamest packages" as she pulled out what appeared to be a bill. But it had a note attached. At first, mom and dad didn't make sense of what they were reading, and then it hit them. Watch this beautiful interaction below and grab some tissues!
3

The guy who perfectly trolled his brother with a gift

Trolling family members with fake presents can be fun, as long as feelings aren't hurt and the victim of the prank gets a present in the end. But Christmas gift trolls should bow down to the master, Imgur user Lictalon's brother James, who has turned gift trolling into an art.
Lictalon was presented with a guitar-shaped gift, which he found odd since he's "the least musically talented dude on Earth." But as he tore into it, he found something too good to be true inside: The Legend of Zelda: Breath of the Wild. Cool! But the game isn't set to come out until sometime in 2017. Acutely aware of this, Lictalon said "confusion set in...nah...can't be," but took the bait anyway. James completed this trolling triple play with a specially made insert, earning him a place in the gift trolling hall of fame.
4

The woman who got a lame lottery ticket as a gift... except it was a winner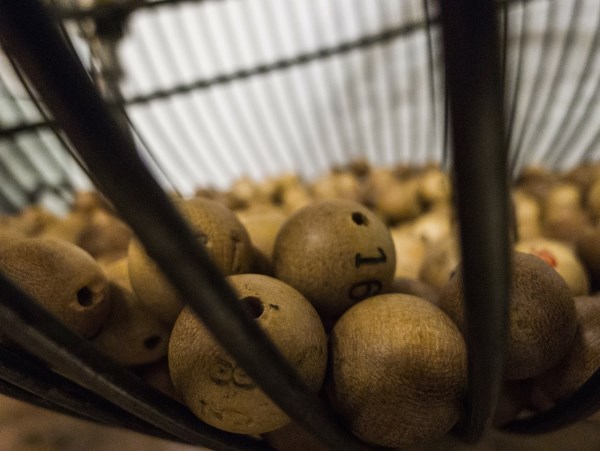 A Rock Island woman's holiday gift turned out to be a $25,000 winner.
Mechelle Woolison, 45, said she received Iowa Lottery scratch tickets as for Christmas. One of them, a $2 "Holiday Season Bingo" ticket, ended up winning the third of the game's seven $25,000 prizes.
"I checked the numbers like three times," Woolison said, as she claimed her prize at the lottery's regional office in Cedar Rapids, "then I asked my partner to check it, and she checked it like three times." Woolison is an occasional lottery player and was still in disbelief when she claimed her prize from the lottery.
5

The UPS man who delivered an assault rifle instead of a toy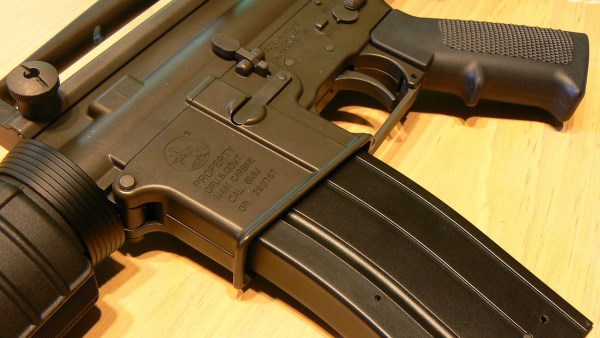 A New York couple was horrified when a UPS delivery that they thought was a Christmas present turned out to be an assault rifle.
Joel Berman opened the keyboard-sized case in front of his wife and 6-year-old granddaughter in Oceanside, on Long Island. Instead of a toy plane they were buying for their friend's son, they found a semi-automatic rifle, scope, stand, ammo clip, and copies of an Arizona man's driver's license and concealed-weapons permit.
They hustled their granddaughter out of the room and called police, who picked up the weapon. UPS says it's investigating the "highly unusual incident" and says it accepts legal shipments of some firearms, but shippers must meet certain requirements.
6

The man who was attacked by his cat while opening a gift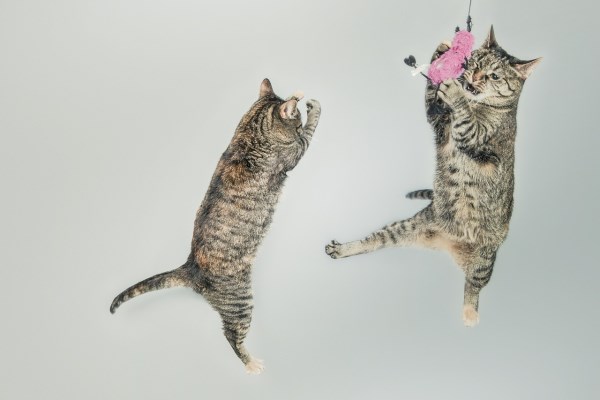 Not everyone can handle someone getting a better gift that they did. A Georgia man's Christmas joy quickly turned to pain as his cat scratched his face and neck as he opened his gift. Jessica Freeman shared a video of the man tearing into a present containing a Playstation 4 and raising the video game console above his head when a cat lunged toward him and began scratching. "Y'all, this is what pure joy looks like," she wrote. Also terror. Merry Christmas!
Freeman shared photos of the man's wounds which she said required a trip to the doctor for stitches, but they laughed at the bizarre situation. The video quickly went viral, gathering hundreds of thousands of comments, including several claiming the animal was provoked or mistreated, to which the man said that the cat wasn't abused, but just a "jerk."
7

The jilted woman who used the Cowboys tickets she bought for her ex-fiance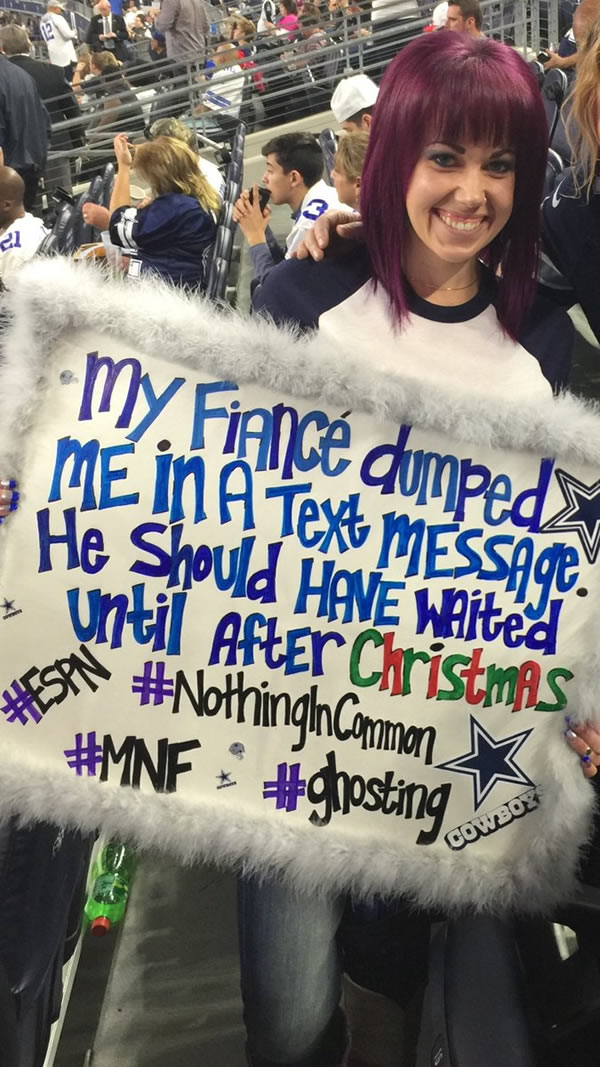 A Texas woman is gaining attention after she used her ex-fiance's Christmas gift—tickets to a Dallas Cowboys game—and detailed their breakup with a sign.
Brenna Canton's revenge was photographed at a game between the Cowboys and the Detroit Lions. She held a sign explaining that her tickets had been intended as a gift for her fiance before he broke up with her via text. (Nice guy.) The late-October message, which came just four months after they became engaged, claimed the couple had "nothing in common." Clanton said the couple did, however, share one commonality—they are both huge Cowboys fans. Clanton's sign read, "My fiance dumped me in a text message. He should have waited until after Christmas. #NothingInCommon #Ghosting #ESPN #MNF". Brilliant.
She and the sign went viral after being was photographed by Alex McDaniel, an editor for the Oxford Eagle, and posted to Twitter.
8

The Arizona waitress who received a Christmas gift from God
Sarah Clark has been waiting tables at the Pita Jungle for the past seven years. It's a good job, and the customers are more than generous when it comes to tipping. Sarah is about to give birth and her fiance is recovering from knee surgery, so money is tight. So, the young waitress has been putting in as many hours as possible before she goes on maternity leave.
So what happened to Sarah—well, it's just one of those moments that makes Christmas the most wonderful time of year. She was clearing a table when she noticed the customer had given her a $900 tip on a $61.30 check! The diner had written a note on the receipt: "This is God's money. He gave it to us so we could give it to you."
Sarah's tears started flowing as she contemplated her good fortune. And, even better, she will have her own Christmas story to tell her baby when she gets older.
9

The little boy who parents gave him the gift of a sibling in a Christmas cracker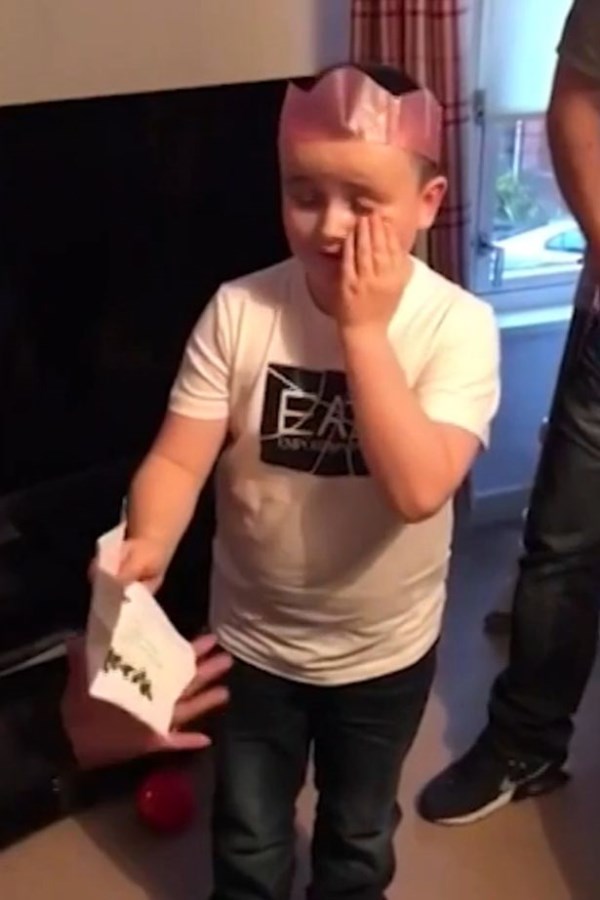 Sean Brown, 9, had been hoping for a little brother or sister for years. This year, his wish finally came true. His parents, George and Frances, decided to break the news of a baby to Sean in a special way—they hid the all-important news inside a Christmas cracker and filmed the magical moment.
The whole world has been touched by Sean's emotional reaction to the news after the video posted on Facebook started to go viral. Posted by his proud grandfather, George, the sweet family moment has racked up more than 100,000 views already.