1

The burger restaurant that is offering free burgers for life for clients willing to have a tattoo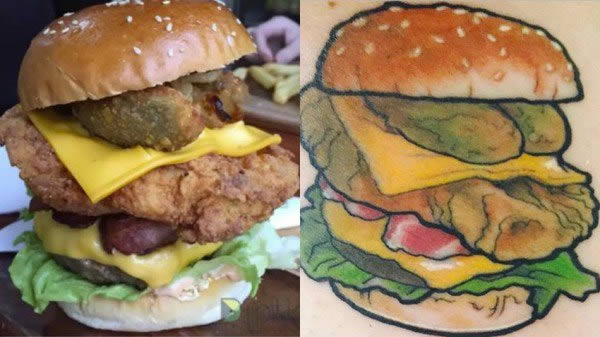 Cafe 51, a favorite burger joint in Melbourne, Australia, is offering anyone the chance to receive a free burger a day for the rest of their lives, if they get a scale tattoo of one of their delicious burgers, anywhere on their body.
"Tattoos are for life, so why shouldn't burgers be free for life too, right?" the #freeburgersforlife campaign page on the Cafe 51 website states. "It's simple. Pick a burger, any burger, from our current menu and get it tattooed anywhere on your body. You are then forever part of our #burgerfamily, and you qualify to get this burger absolutely free every day for the rest of your life. Coz we reckon that since you love us enough to join our #burgerfamily by getting a tattoo of one of our burgers, we love you enough to give you a free burger every day for the rest of your life!"
Cafe 51 plans to take registrations all through October. Considering all the media attention the campaign is getting, the number of applicants will probably reach into the tens of thousands.
2

The employees who got tattoos of their company logo in exchange for 15% raises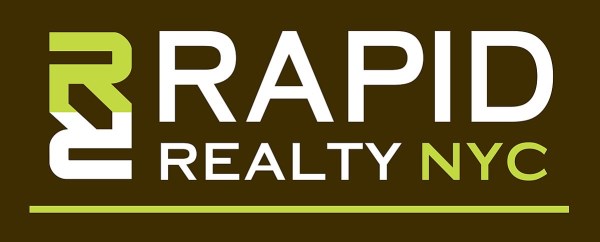 Get scarred for life for a little extra cash! That's the tempting offer floated by New York City's Rapid Realty, which is offering employees 15% raises if they get the company's logo tattooed on their person. Some 40 employees have already done so — either because they love the firm, need the money, or both.
There are no size or placement restrictions — one apparently ashamed employee got a small tattoo behind her ear — and the design isn't terrible. Rapid Realty owner Anthony Lolli pays for the tattoos, which cost up to $300 each. But, perhaps tellingly, he has yet to get one himself.
3

The famous tattoo artist who is offering to ink people for free if they agree to put their arm in a hole for a surprise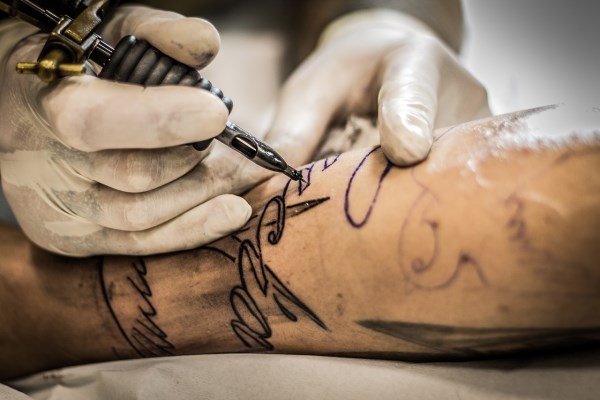 Scott Campbell, a well-known tattoo artist, based in Williamsburg in Brooklyn, New York, has created the ultimate test of trust in his work —  he offers free tattoos to people as long as he gets to choose the design and not show it to them until it's done. The name of his project is "Whole Glory."
The trust these people place in him when they stick their hands through the wall for a free tattoo isn't unfounded — Campbell has tattooed celebs like Marc Jacobs, Orlando Bloom, and Penelope Cruz. Nonetheless, he does thank each person for their trust in him and his art.
4

The man who won a car for tattooing his penis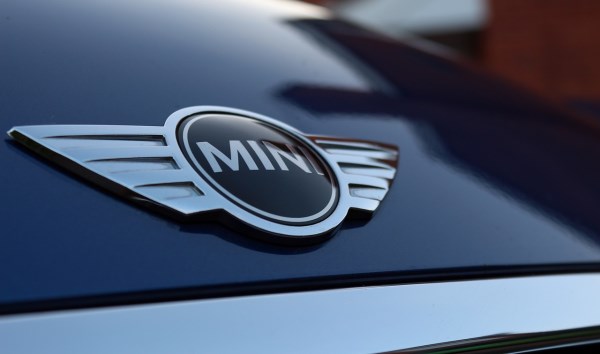 A German man didn't have to hand over a dime for a new car, but he did have to pay in ink.
Andreas Mueller won a silver Mini Cooper by pulling off a crazy stunt during a radio show contest — he got a tattoo of the word "mini" on his penis. Listeners heard Muller shriek as he received the tat on his man part while a female host watched. "Once I'm sitting in the car, it won't matter anymore," said Mueller, 39.
5

The man who tattooed a train logo for free rail tickets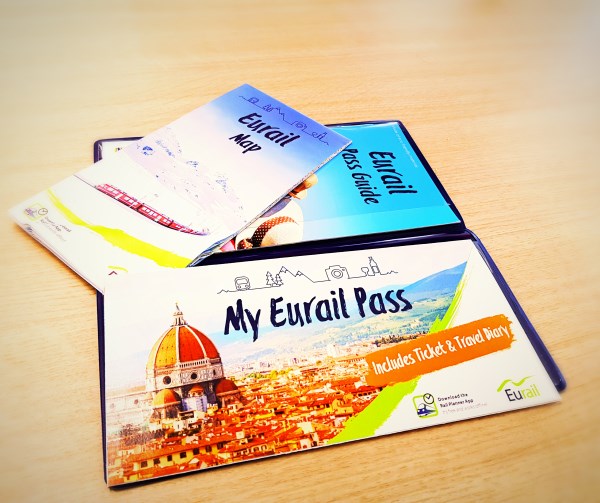 An Aussie man has had a train company logo tattooed on his back, so his parents can get free rail travel around Europe.
Grant Burton had wanted to get his parents something special for their 40th wedding anniversary, but he was unemployed and didn't have much cash to spare. Knowing his parents always wanted to go to Europe, Grant contacted EuRail and asked them if they would give him two passes if he did something crazy to promote their brand. He offered to have their logo and website permanently tattooed on his back. Amazingly, they said yes. Now Grant has to get used to telling this story every time he takes his shirt off.
6

The tattooists who are offering free ink for Trump and Bernie fans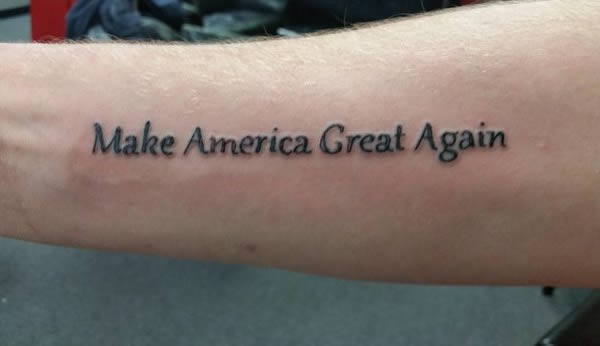 After hearing that a business owner in New Hampshire was giving customers free Trump tattoos, a Vermont tattoo parlor began offering free tats of Democratic presidential candidate Bernie Sanders.
Initially, the deal from Aartistic Inc. in Winooski came with a catch— customers could only get a free tattoo of Sanders if they were using it to cover up a Trump tattoo. The offer has since been extended to any pro-Sanders ink, parlor owner Tyre Duvernay claimed.
Bob Holmes, who owns three tattoo parlors in Seabrook, New Hampshire, said he has given 27 people with free tattoos since starting the offer. Duvernay said he has seen similar demand.
7

The brothel that offered free entry to men who had its name tattooed on their arm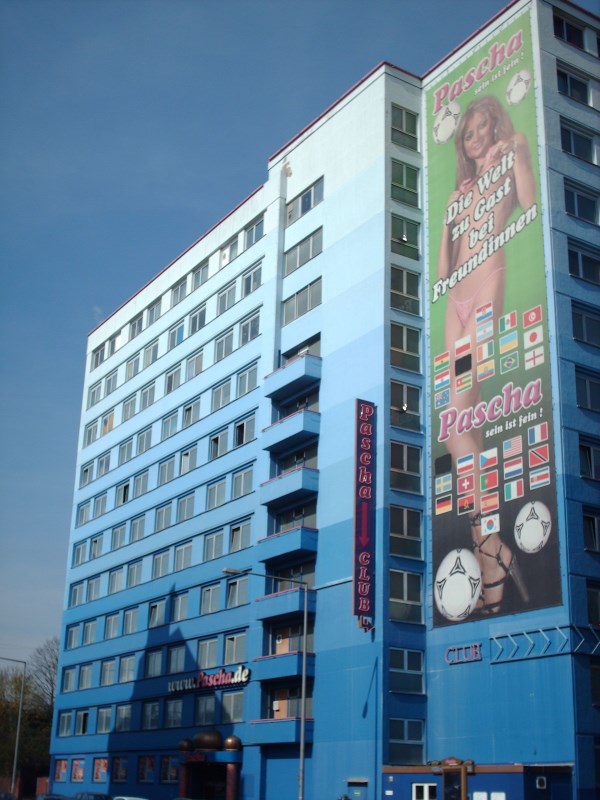 The manager of Pascha, which houses more than 120 prostitutes, did not expect any takers when he put up posters advertising the tongue-in-cheek promotion. But more than 40 men have already come forward to have the brothel's name tattooed on their arms in large blue letters, and the tattoo artist has to work extra shifts to keep up with demand.
Herbert Manske, 46, was among the dozens of clients who queued up to undergo the procedure on the first night at the brothel in Cologne, Germany. Men who have the tattoo will skip the brothel's €5 entry fee for life and get discounts on other services like lap dances. (They'll still have to pay for their time with the prostitutes who are self-employed and independent from the brothel.)
8

The pizza place that is offering free pizza if you get a tattoo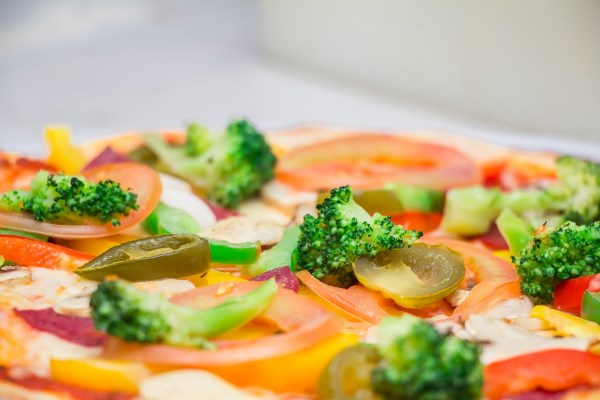 As part of its annual customer appreciation party in 2014, the Pi Pizza food truck offered its most fanatical fans free pizza if they agreed to get a pizza-themed tattoo permanently etched onto their skin.
The year before, the bravest fans of Calleo's Pizza could select a piece of pizza-related tattoo flash to get inked into their skin. In return, Calleo promised a free slice a day each day that his truck was open. A year later, he tweaked the promotion using a raffle system.
9

The college student who nailed a year's free club entry for getting a tattoo on his bum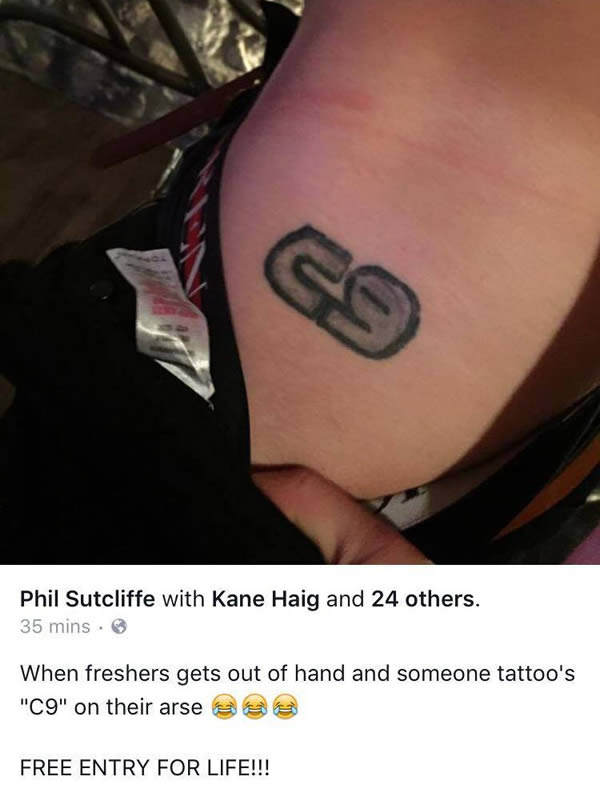 A York St. John student has bagged himself a year's free entry to all C9 club nights simply by getting a tattoo. The unidentified clubber got the logo of events company Crowd 9 tattooed on his bottom and will be able to keep his money in his pocket on nights out this year.