1

The man who got stuck with a 47-year flight connection and got the best customer service response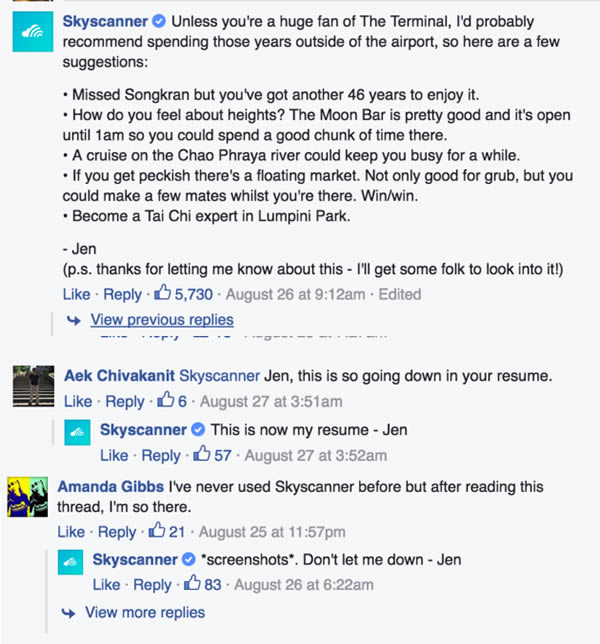 Skyscanner is an airline search engine that, according to its website, "compares millions of flights to find you the cheapest deal, fast."
Jen, Skyscanner's social media manager for the U.K. and Ireland, became a sensation among customers after user James Lloyd had noticed the site suggested he take a 413,786-hour, 25-minute layover on an already exhausting trip from New Zealand to London. "Just wondering what you'd recommend I do during the 47-year layover your website has suggested?" Lloyd posted on Skyscanner's Facebook page.
Jen not only offered to look into the mistake, but she also offered some very valid options for Lloyd to consider during his extended layover in Bangkok  — a river cruise on the Chao Phraya or he could "become a Tai Chi expert."
Social media, of course, was quick to have a field day with the cheeky response. Jen appeared to have a hilarious kickback for every commenter, including those with less-than-flattering remarks — there's one in every comment thread, right?
2

The coffee shop owner's hilarious response to a customer who posted s bad review on TripAdvisor moaning about the price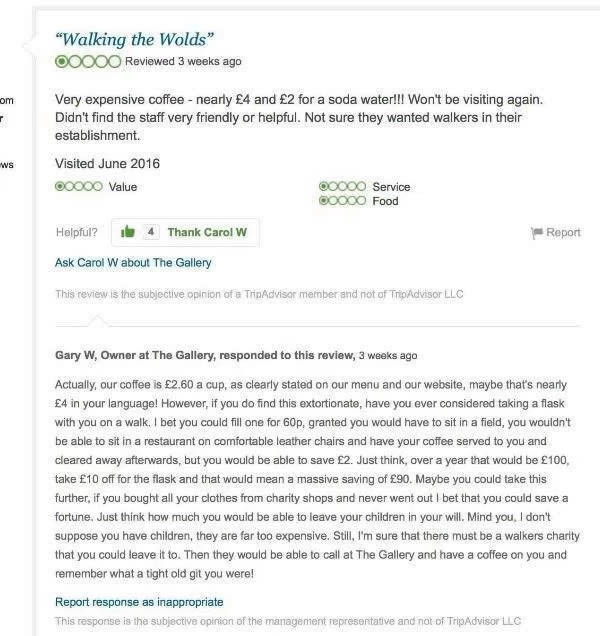 A restaurant owner hilariously hit back at a customer who posted a bad TripAdvisor review calling her cheap. Gary Wells, 63, took to the review site to tell "Carol W" to take a flask of coffee out with her in the future after she moaned about the price of coffee.
Carol stated The Gallery in South Cave, East Yorks., which has 200 'excellent' rated reviews, has coffee which costs "nearly £4" and was "very expensive." Gary responded by calling her a "tight old git" and even recommended a few money-saving tips for Carol.
3

The hilarious response from Tesco to a customer's garlic complaint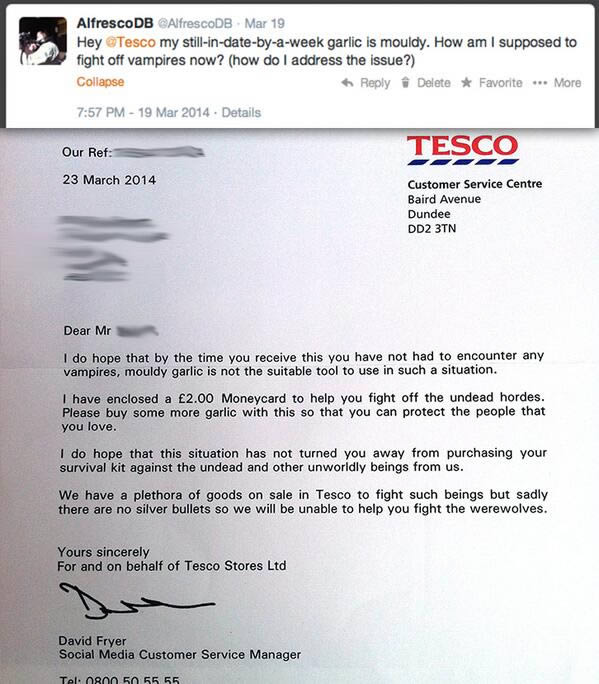 When a Tesco customer complained about moldy garlic on Twitter, he may have been hoping to get a laugh or a refund. However, he couldn't have expected the brilliant letter he got back from the company.
The customer, who goes by @AlfrescoDB, contacted Tesco to complain that although his garlic was still in-date, it had gone moldy. He added: "How am I supposed to fight off vampires now?" In response, the supermarket sent him a letter, which began: "I do hope that by the time you receive this you have not had to encounter any vampires, moldy garlic is not the suitable tool to use in such a situation."
The grocer provided a gift card loaded with £2 to enable him to buy more garlic to "fight off the undead hordes" and "protect the people that you love," adding "I do hope that this situation has not turned you away from purchasing your survival kit against undead and unworldly beings from us." Tesco also apologized for not stocking silver bullets in order to help fight werewolves.
4

The company that renamed a bread thanks to a 3-year-old's letter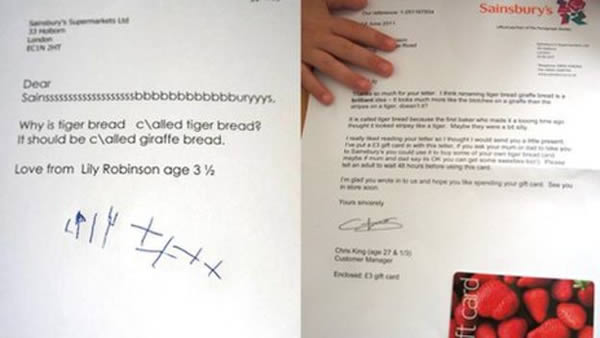 Sainsbury's renamed its tiger bread when a letter from a three-year-old girl saying the bread looked more like a giraffe went viral. In May 2011, Lily Robinson wrote to the supermarket, suggesting that the bread should be called giraffe bread.
She received a letter back saying her idea was "brilliant.".
Lily's letter said: "Why is tiger bread called tiger bread? It should be called giraffe bread. Love from Lily Robinson age 3 and 1/2".
Chris King from the Sainsbury's customer services team wrote back: "I think renaming tiger bread giraffe bread is a brilliant idea —  it looks much more like the blotches on a giraffe than the stripes on a tiger, doesn't it? It is called tiger bread because the first baker who made it a looong time ago thought it looked stripey like a tiger. Maybe they were a bit silly." He included a £3 gift card, and signed the letter "Chris King (age 27 & 1/3)."
5

The World of Warcraft customer service rep that helped with math homework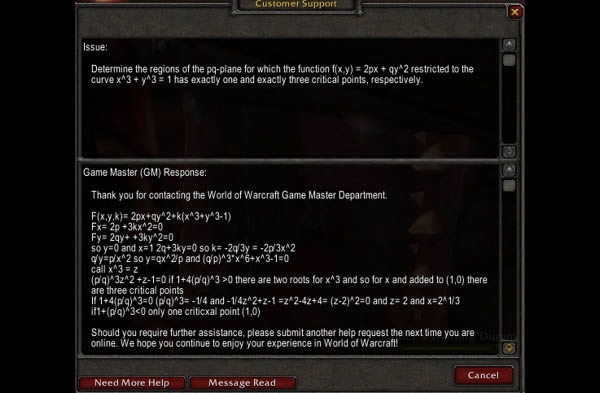 This is an actual screenshot from a kid who sent World of Warcraft in-game customer support a calculus problem he needed to finish before he could get his game on, and the response he received. Is it correct? I have no clue on that, but World of Warcraft online customer service appears to be exceptionally helpful.
6

The man who complained about crooked bread and got a perfect response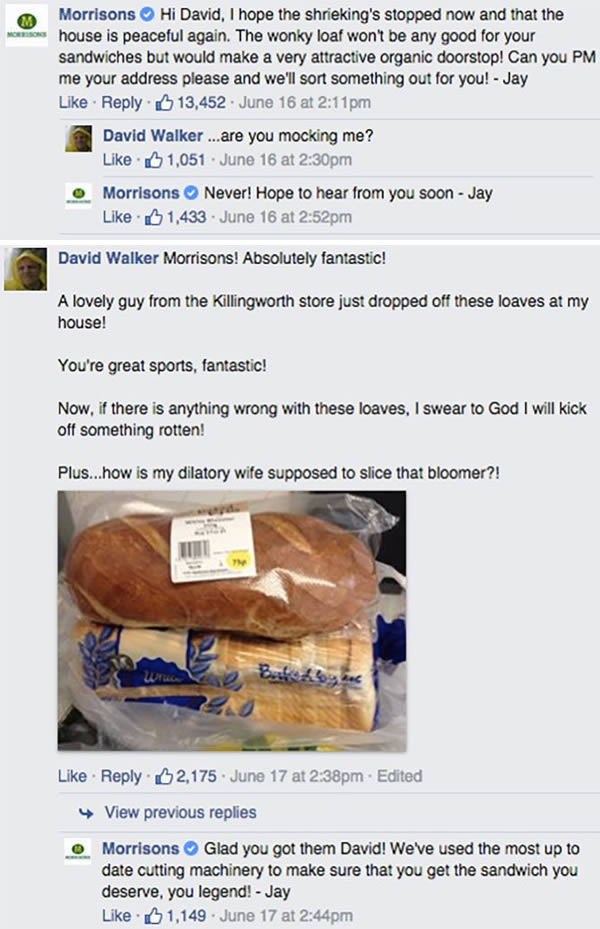 Newcastle upon Tyne resident David Walker was so disturbed by the wonky slicing of a loaf that he took to Facebook to vent his outrage. As you can see, Brits feel strongly about their bread. Instead of responding with a dull corporate reply, Morrisons used some quick wit to show they have a sense of humor.
7

A supermarket's hilarious reply after a client's complaint about a bacon pack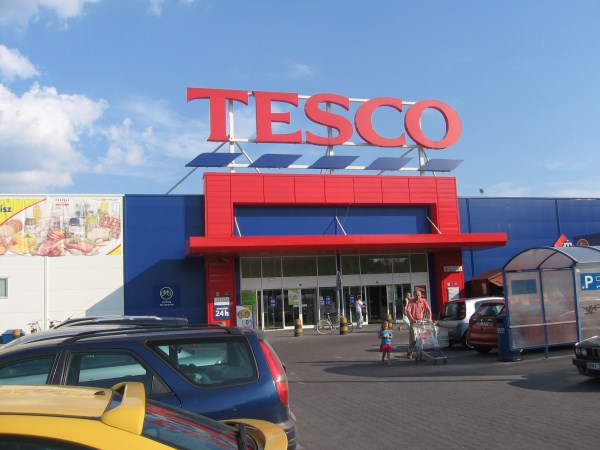 A Tesco customer was astonished by the supermarket's hilarious reply to his complaint after he found only six slices of bacon in a seven pack.
Ben Roberts, 24, from Derby, posted a tongue-in-cheek comment on the retail giant's Facebook page after buying the bacon for his traditional Sunday breakfast. Rather than reply with the usual apology, Tesco poked fun at the situation and the customer care assistant said he understood Robert's 'unadulterated shock and anger.'
8

The customer service rep that checked to see if a woman was still trapped in a lift — seven months later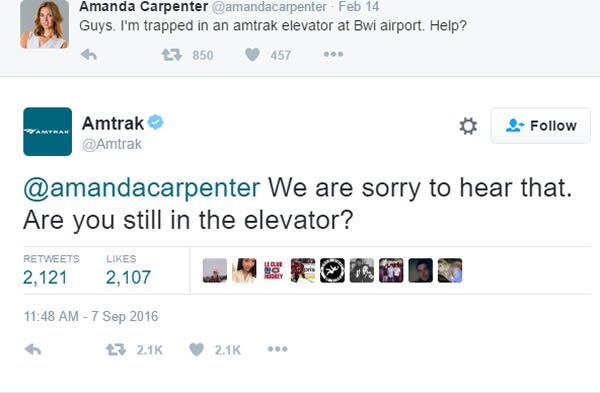 It's important to give credit to the hard working customer service representatives of the world, tirelessly going above and beyond to make sure everyone is happy with the service they receive. In February 2016, Amanda Carpenter found herself trapped in an Amtrak elevator at Baltimore-Washington International Airport. Desperate to escape, she tweeted for help. Nearly seven months after that fateful day, someone from Amtrak's Twitter account noticed Amanda's desperate cry for help. Yes, Amanda escaped from the lift months ago. She's fine. Amtrak later explained that Amanda's plea had recently been retweeted, which lead to the mixup, and they offered her a free train ride to make up for the mistake.
9

The woman who fell in love with the manager of a bookstore's Twitter account and married him 5 years later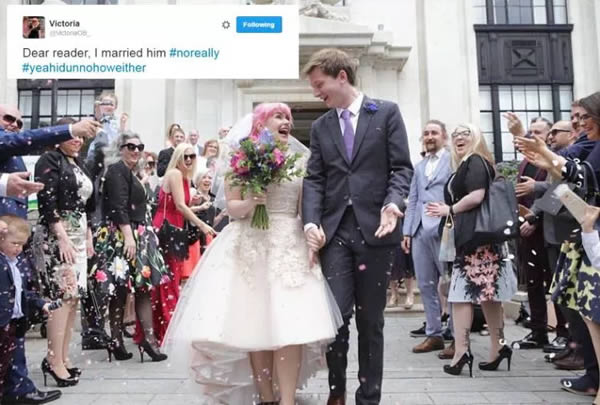 This is the story of Victoria and Jonathan O'Brien, and it will restore your faith in romance.
Back in November 2012, Victoria Carlin replied to a tweet (ironically, about Pokémon) from the Waterstones Oxford Street Twitter account, and developed a bit of a crush on the person behind the tweets. 'I was on tour performing with a show, and the tweets really made me chuckle,' Victoria said. 'They were always topical, clever and I just constantly retweeted them.'
well I'm in love with whoever is manning the @WstonesOxfordSt account. Be still my actual beating heart.

— Victoria (@VictoriaOB_) November 20, 2012
This time, she got a reply.
@WstonesOxfordSt pffft. Book nerds > dreamboats. #girlfacts

— Victoria (@VictoriaOB_) November 20, 2012
Victoria's Twitter crush turned out to be Jonathan O'Brien, a bookseller who was manning the Twitter account at Waterstones. After a few ignored tweets and a tour to Australia (for Victoria) Victoria and Jonathan finally met up. "He responded that he was already 'married to the books' a few times, but I felt it was worth another go!' recalls Victoria. She explains, "I brought doughnuts into the bookstore and presented them to him."
Jonathan had some initial reservations, but the doughnuts won him over. "At first, I thought it was a little odd, but then I realized I had doughnuts which went a long way to alleviating my worries. This goes against everything I learned in school about strangers," he claimed. They went to a cocktail bar for their first date and "haven't stopped talking since." And, almost four years on from that very first tweet, they got married at Islington Town Hall.
10

A man's hilarious complaint about a defective biscuit that got a deliciously funny response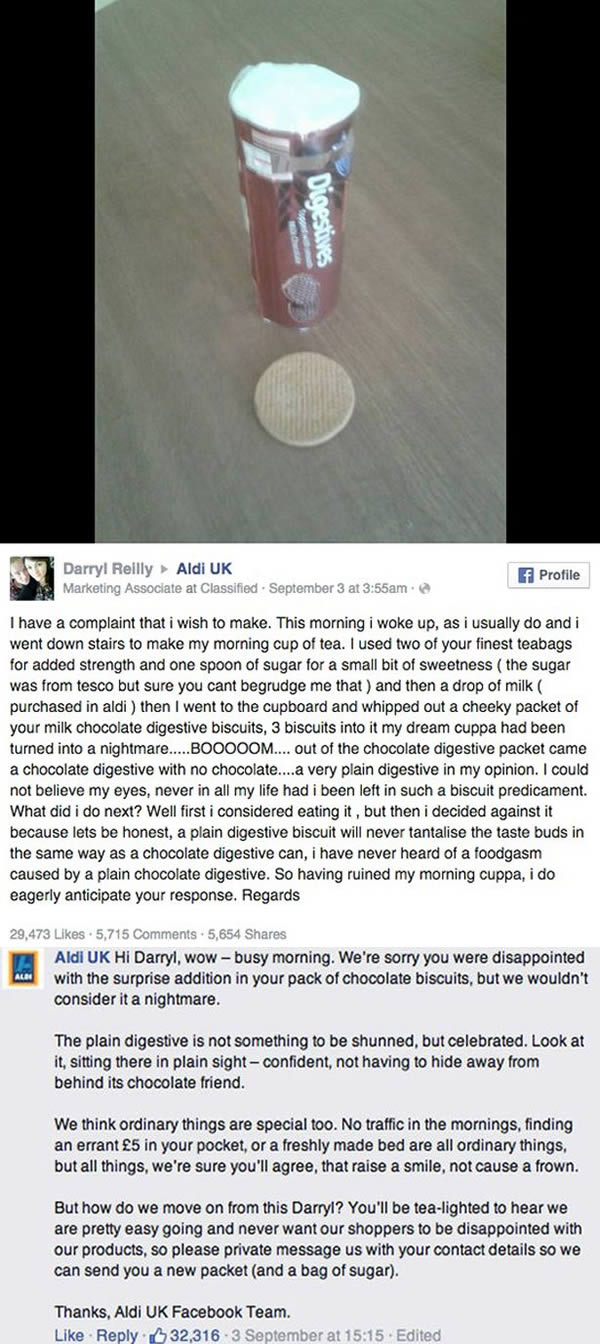 Is there anything more annoying than buying a packet of chocolate biscuits and then discovering one of them is lacking its tasty topping?
Not according to Darryl Reilly, who was so incensed when that exact scenario played out on his tea break. He took to Facebook to complain to Aldi. What he didn't reckon on was the supermarket showing off a tasty sense of humor and providing him with a hilarious response that took the biscuit for slick customer service.
Darryl, from County Mayo, Ireland, kicked off the rib-tickling to-and-fro when he posted a photo of his biscuit dilemma on the retailer's Facebook page, explaining how he'd made his morning brew with teabags and milk purchased from Aldi, and some sugar from Tesco.
He might have expected a simple apology, but the Aldi social media team clearly had an appetite for fun. They responded with equal humor and with that they promised to send Darryl a new packet of biscuits, plus a bag of sugar too.