1

A Boeing 747
Leave your insecurities at the door and take off in the biggest "art car" Burning Man has seen to date. Artist collective Big Imagination Foundation gutted a Boeing 747, tricked it out with lights and lounges, and transported it over 500 miles to Black Rock City. They raised over $86,000 on Indiegogo for the endeavor, and are hosting events there throughout the week.
2

A Bear Made From Pennies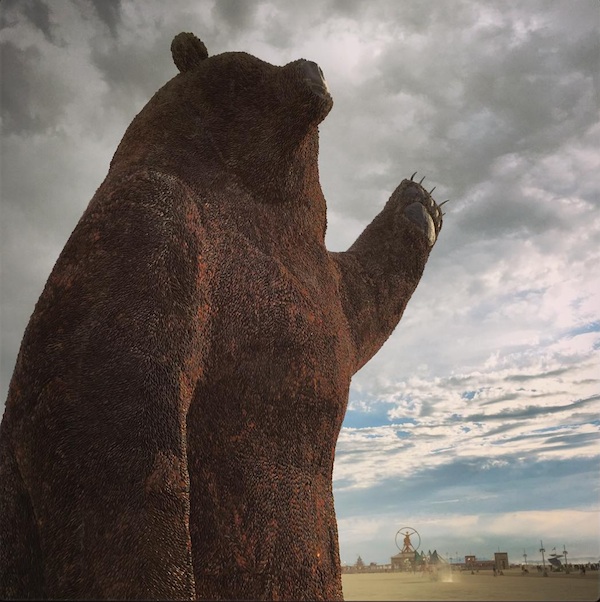 A 14ft-tall bear named Ursa Major made entirely of U.S. and Canadian pennies by the design team of Mr. and Mrs. Ferguson, as seen by Instagrammer @themightyjimbo.
3

Lord Snort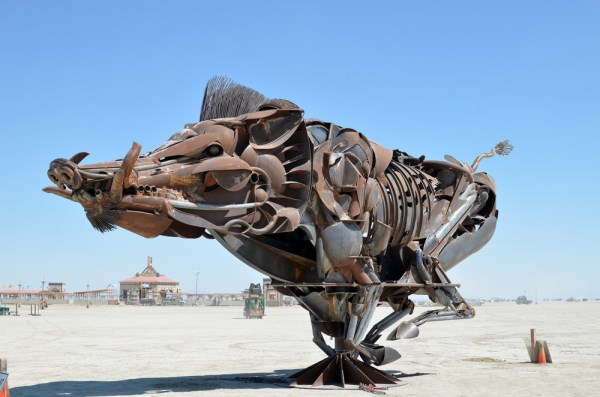 Built out of steel, and standing 20-feet tall and 30-feet wide, this massive sculpture resembles a mechanical boar. Artist-sculptor Bryan Tedrick has whimsically dubbed his creation "Lord Snort." Snort is balanced on a giant shaft and designed to rotate 360 degrees.
4

La Victrola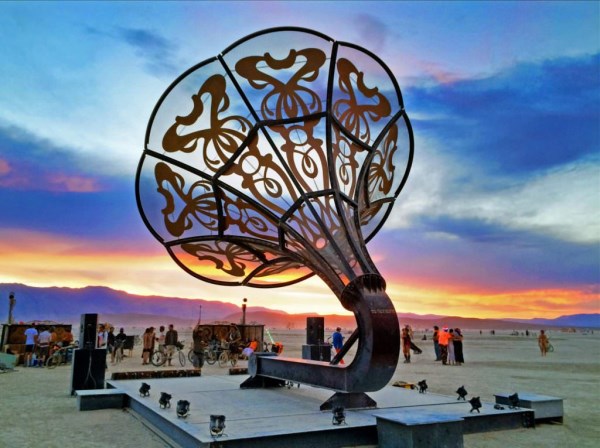 Standing about 35 feet high,"La Victrola" is named for the crank up turntables that played records in the early 20th century. The base of the gramophone is used as a stage for acoustic performances, but unlike a real Victrola, the horn of the massive sculpture won't amplify the music as it once did. Nick Fynn, one of a trio of Burning Man regulars who conceived the project, said, "We used perforated steel for the horn. We need to let a lot of air pass through, because out on the playa, we get extremely high winds. Otherwise, the horn could turn into an extremely dangerous, heavy sail." The playa is prone to gusts of up to 70 miles an hour.
5

Renaixement (Renaissance)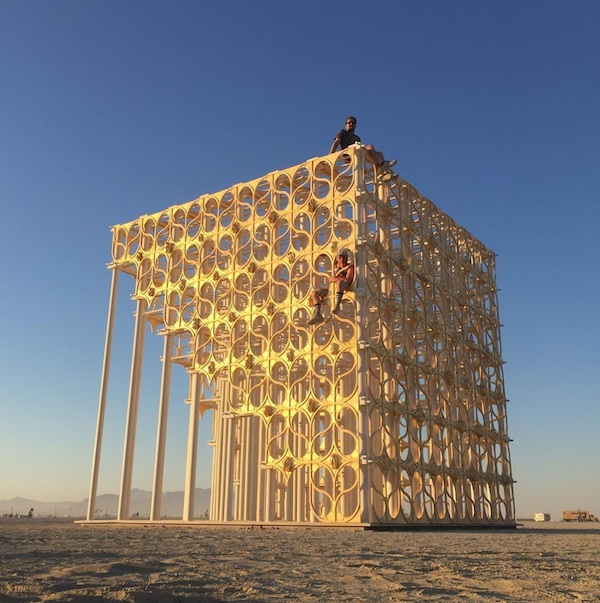 "Renaixement (Renaissance)" brings the aesthetic of Las Fallas, Spain to Black Rock City. This "falla on the playa" uses a contemporary language in its external appearance, but also expresses the essence of Valencian culture and the Fallas tradition. The piece is a cardboard tube structure with over 50,000 pieces, and a mosaic floor.
6

Leonardo da Vinci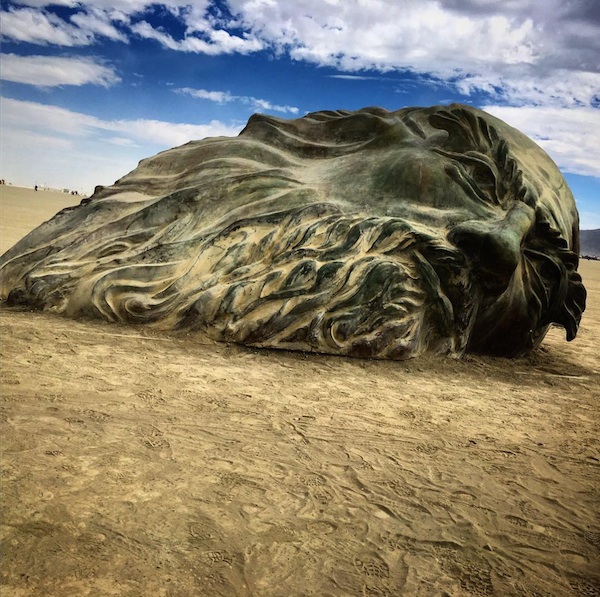 This year's Burning Man art theme is "Da Vinci's Workshop." Above is the head of the great man as seen by Instagrammer @pierrelucmoeys.
7

The Black Rock Lighthouse Service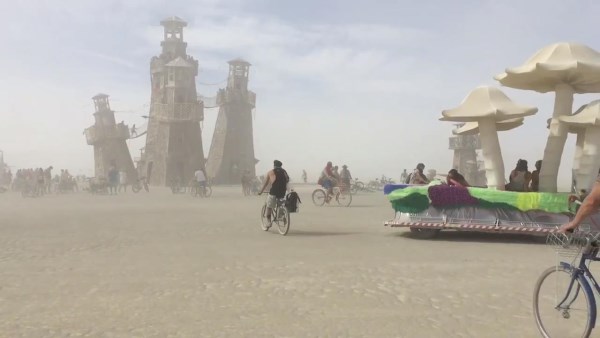 An outcropping of lighthouses, 30—65 feet tall, are physical manifestations of the goddesses Artemis, Brigette, Coco, Durga & Elie.
The lighthouse project is truly a family affair, led by father and son team Max & Jonny Poynton. A community driven project, the structures were built primarily with reclaimed materials by a tight-knit core crew of just 20 members.
8

The Space Whale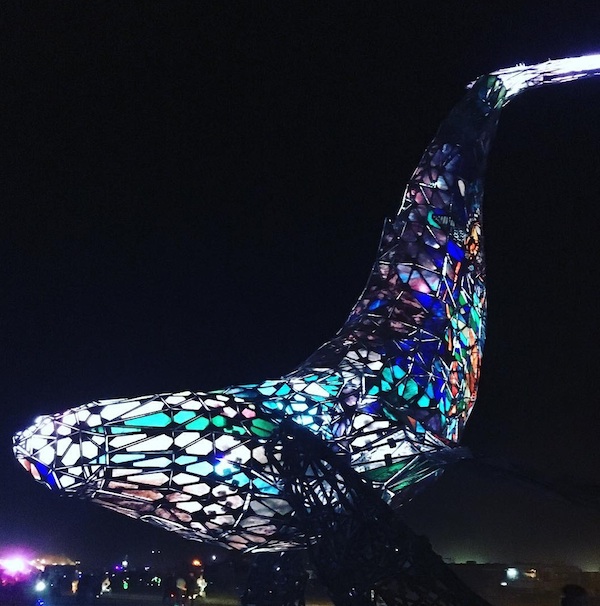 The Space Whale consists of two stained glass life-sized humpback whales, one a mother and one a calf, weighing 30,000 pounds altogether and reaching 50 feet high. Artist Matt Schultz dreamed up the Space Whale project in 2008, after swimming alongside whales on a vacation in the Philippines.
9

Hybycozo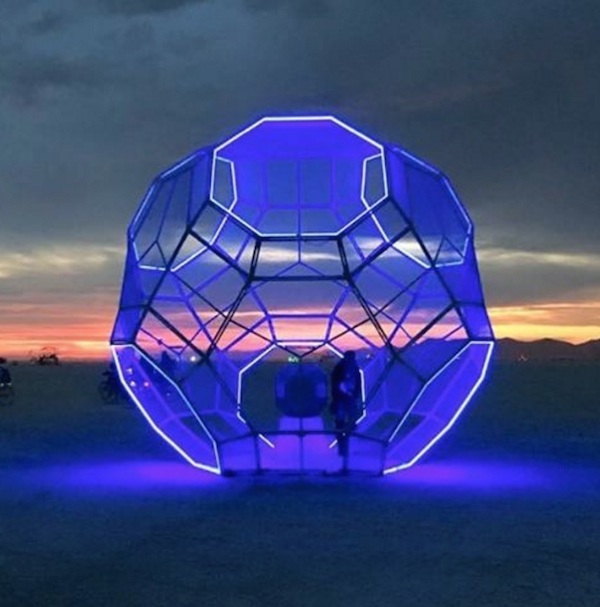 One of three three glowing balls by the duo known as Hybycozo. The project is described as, "A series of geometric sculptures based on Leonardo da Vinci's drawings that play with your sense of perspective and warp your perception of the inner and outer dimensions of the self."