1

Hamilton Pool (Texas, US)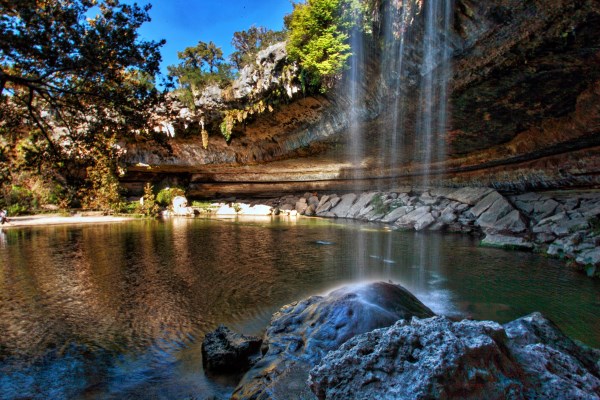 Hamilton Pool Preserve is a natural pool that was created when the dome of an underground river collapsed due to massive erosion thousands of years ago. It is located about 23 miles west of Austin off Highway 71.
Since the 1960s, Hamilton Pool has been a favorite summer swimming spot for Austin visitors and residents. It consists of 232 acres of protected natural habitat featuring a jade green pool into which a 50-foot waterfall flows.
2

To Sua (Samoa)
To Sua Ocean Trench is located in the village of Lotofaga (population: 1,089) on the south coast of Upolu island in Samoa. An all-natural swimming hole with a giant ladder and small dock, visitors pay a fee ($15 for adults, $6 for children 7-15, free for kids under 7) to access the 30 meter (98 ft) deep hole.
The island of Upolu was formed by a massive basaltic shield volcano. With an area of 1,125 km2 (434 sq mi) and a population of 135,000, it is the second largest geographic area and the most populated of the Samoan Islands. Samoa gained its independence from New Zealand in 1962.
3

Dean's Blue Hole (Bahamas)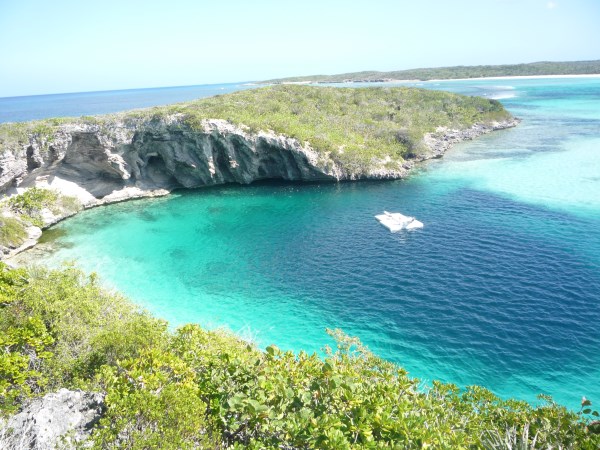 Currently, the world's deepest sea hole at 663 feet, Dean's Blue Hole is "almost twice as deep as any of the other blue holes in the Caribbean that were formed when limestone chambers caved in from above."
Dean's Blue Hole is roughly circular at the surface, with a diameter ranging from 25-35 meters (82-115 ft). After descending 20 meters (66 ft), the hole widens considerably into a cavern with a diameter of 100 meters (330 ft). Some water-filled sinkholes are deeper than Dean's Blue Hole; Zacatón in Mexico (335 meters, 1,099 ft) and Pozzo del Merro in Italy (392 meters, 1,286 ft) among them. However, Dean's Blue Hole is the deepest known sinkhole with an entrance below sea level.
4

Marieta Island (Mexico)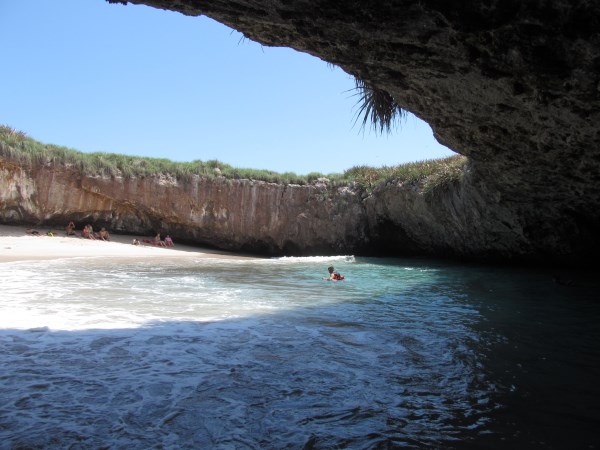 With crystal clear waters and sandy beaches, the origins of this idyllic paradise come as a surprise — it is, in fact, the world's most picturesque bomb site. This secluded strip of sand is believed to have formed when it was used as target practice by the Mexican government in the early 1900s. Where you might expect to find ruins and devastation; here, instead, is a sensational, deserted beach on the Marieta Islands in Puerto Vallarta.
To reach this secluded marvel, visitors have to swim through a short tunnel which opens up into the spectacular beach, which is teeming with rare wildlife.
5

Jellyfish Lake (Palau)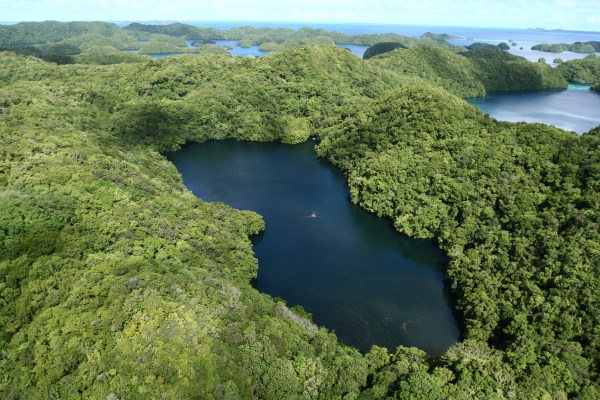 Located on an uninhabited rock island off the coast of Koror in Palau, Jellyfish Lake is one of 70 saltwater lakes on this South Pacific archipelago that were once connected to the ocean but are now cut off.
Some speculate the jellyfish were trapped in the lake 12,000 years ago after a rise in sea levels post-Ice Age. Feeding on quick-growing algae and with no predators to keep them in check, they completely pack the small lake, and although do have stingers, they are too small to be felt by humans.
Swimming in the lake is safe and permitted, but scuba diving is not as it may disturb the ecosystem.
6

The Zacatón Sinkhole (Mexico)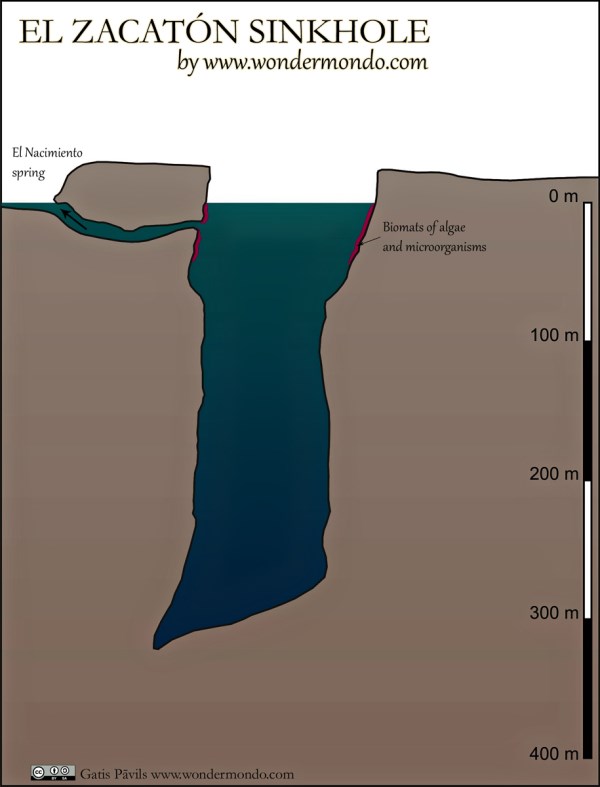 Zacatón (El Zacatón) sinkhole is a thermal water filled sinkhole in the Zacatón system — a group of unusual karst features located in Aldama Municipality near the Sierra de Tamaulipas in the northeastern state of Tamaulipas, Mexico. It is the deepest known water-filled sinkhole in the world with a total depth of 339 meters (1,112 ft).
Dr. Ann Kristovich set the women's world depth record of 554 feet (169 m) during a 1993 dive into the sinkhole.
7

Big Hole (Kimberly, South Africa)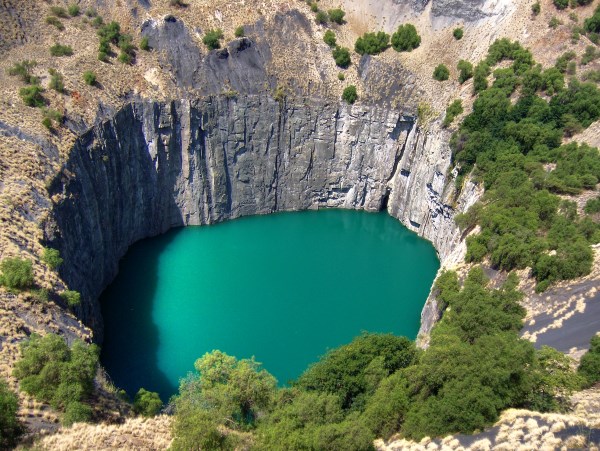 Kimberley Mine is the largest hole excavated by hand and is located in Northern Cape, South Africa. It is an open pit and underground mine which yielded nearly 2,720 kgs of diamonds and also goes by "The Big Hole," "Groot Gat," and other names.
8

Giola (Thassos, Greece)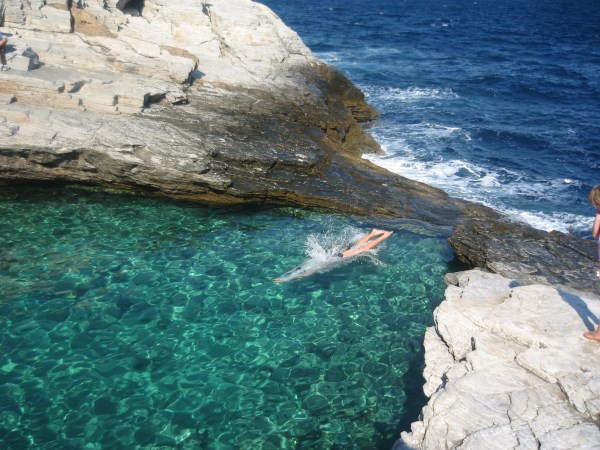 On the beautiful island of Thassos, Greece lies Giola, a secluded lagoon near the village of Astris. This seaside gem is apparently quite a trek, but for those willing to make the journey, they are rewarded with an incredible natural pool to soak in the gorgeous views of the sea.
9

Toquerville Falls (Utah, US)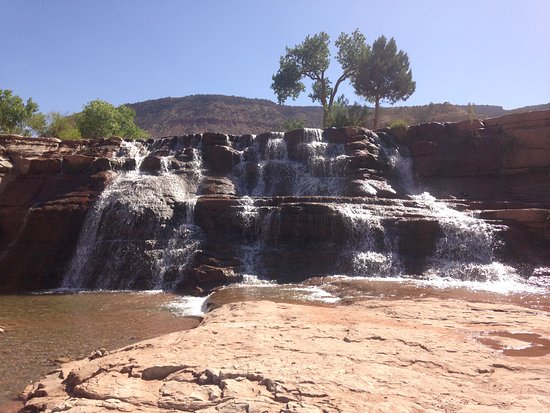 Located just outside of Zion National Park in a secluded area, Toquerville Falls is the ultimate desert oasis. Here you will enjoy the mix of waterfalls and pools on a hot southern Utah day.
10

Laguna Cejar (Atacama Desert, Chile)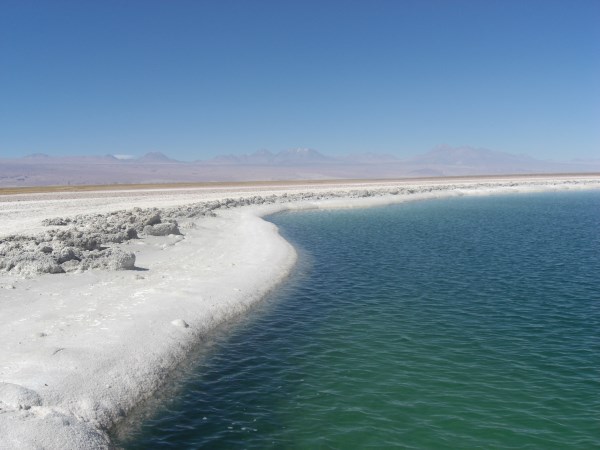 The Laguna Cejar is a sinkhole lake in the Salar de Atacama, the largest salt flat in Chile (18 km from San Pedro). It has a salt concentration that ranges from 5-28% (50-280 parts per thousand) and produces a floating effect like you would find at the Dead Sea.