1

Strange Products

Don't be fooled into thinking that lazy eggs are by any means the strangest thing for sale at the con. Like Sailor Moon, but wish she was a little more manly and smelled like bacon? Then, enjoy a Sailor Bacon plush from Least I Could Do comics. Think Shia LaBeouf should be in every role? Then get Brandon Bird's poster showing the actor as every Doctor from Doctor Who. Perhaps you're worried about getting carpal tunnel from playing too many video games, but you also want something that turns you on. Then look no further than these sexy mouse pads, with designs for both boob and butt lovers.
2

Absurd Exclusives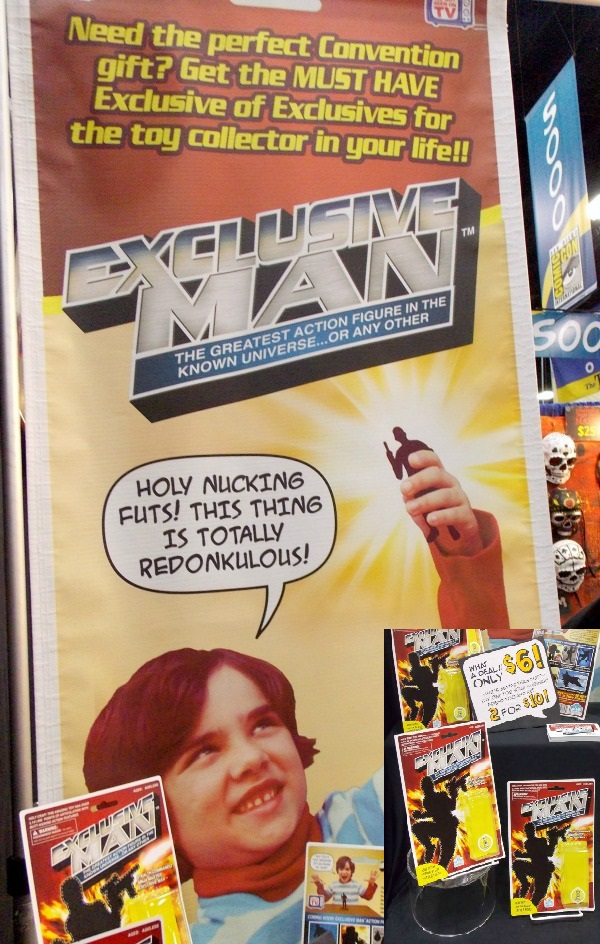 Even Comic-Con exclusives have gotten ridiculous. The lines often make obtaining an exclusive toy impossible, but the toys themselves have also gotten weird (This Mars Attacks Vs. Baracula toy from 2014 shows how far they've gone).
As a response to the absurdity of so many past exclusives, Applehead Factory Inc. released their own "Exclusive Man." It's just fancy packaging with nothing inside. Sure it's empty, but it's still more fulfilling than waiting in a line to get a raffle ticket that may or may not earn you the right to buy an exclusive toy, assuming it doesn't sell out before you get there.
3

Incredible Kindness
Perhaps the biggest surprise to most first time visitors is how friendly people are at the convention. Everyone is in a great mood and people want to help each other out. The entire downtown area seems like a utopia. While it's hard to find a picture to encapsulate this great sense of community, this cosplay repair guy is a great example, and he was by no means the only volunteer out there trying to help those in a a snag.
4

Insane Cosplays

Ronald McThor? A Nazi Hello Kitty Fan? Darth Maul the sports fan? These are just a few things you probably would have never imagined seeing, but at Comic-Con, you won't be surprised by how "out there" some of the cosplays will get.
5

Cosplays of Everything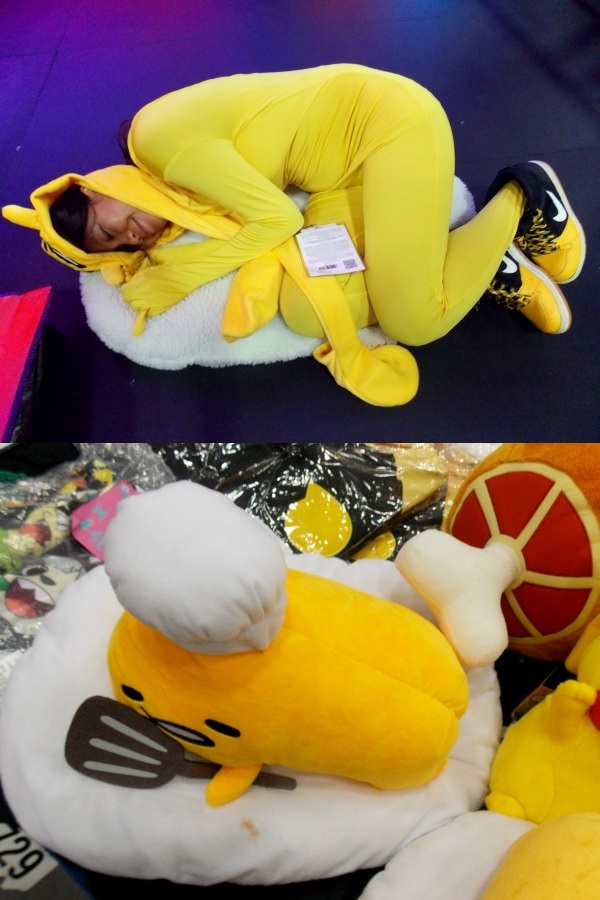 Some people get tired of cosplaying as traditional superheroes or movie characters and want to do something that no one has ever done before. Unfortunately, with so many cosplayers out there, it's hard to be original. For just about every character created, there's a cosplay to compliment it.
At Comic-Con, the newest Sanrio character, Gudetama (which means "lazy egg"), was introduced. If the idea of a egg plushie with a butt isn't weird enough for you, maybe this cosplayer will be.
6

Cosplay Reflecting Someone's Deep-Seated Opinions

Most costumes say nothing more than "I like this show/movie/comic/etc.," but some cosplayers have something a little deeper they want to get accross. These costumes often end up being some of the most hilarious at the convention. A few examples include this Donald Trump Joker and Moses commanding us to respect that Han shot first.
7

Amped Up Geek Style

It would be an overstatement to say that Comic-Con is a geek fashion show since most people dress that way every day. That said, some people might not choose to cosplay, but still want to impress others with their geekiest clothes and accessories. I'm pretty sure these gents had their outfits custom made.
8

Memes Brought to Life

9

Absurd Protest Signs

Since at least 2010, Christian protesters have made a yearly appearance at the San Diego Comic-Con, reminding weary attendees that "the wages of sin is death." Attendees have now started bringing their own protest signs to the event, though they often are meant to be jokes more than anything else.
This year's strange protest signs included arguments against pterodactyls (in support of the horror film Terrordactyl), asking Rick and Morty fans to "show me what you got," and to save the world with love.
10

Everything Zombies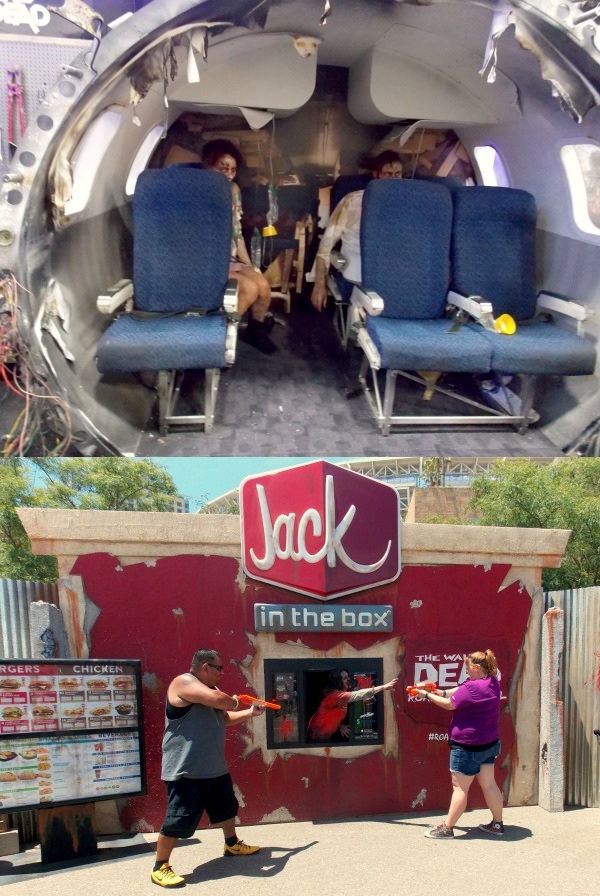 Aside from the staggering popularity of The Walking Dead, Comic-Con attendees have long been obsessed with zombies. In fact, the convention has held an unofficial zombie walk for over ten years, and it's never surprising to see a zombie or two shambling around on the floor. What does seem a bit odd is to see a downed plane filled with the undead or a Jack-In-The-Box restaurant staffed with walkers.
11

Weird Street Signs
Usually, these street signs are another marketing tactic, although there have been some that don't relate to anything at all. Even signs with a target audience tend to be fun because they're never overtly commercial. A lost robot dog flyer and a flier for a fictional computer repair company are perfect examples.
12

Bizarre Street Marketing

The Jack-In-The-Box and Mr. Robot signs also serve as examples of some of the strange marketing you can expect to see at Comic-Con, but perhaps the weirdest promotion out there was KFC's. To push their equally fantastic comic book (depicting the Colonel traveling through multiple parallel universes so he can recover his secret recipe), KFC put a selection of bizarre statues downtown including the two pictured above.