1

The Vertty Towel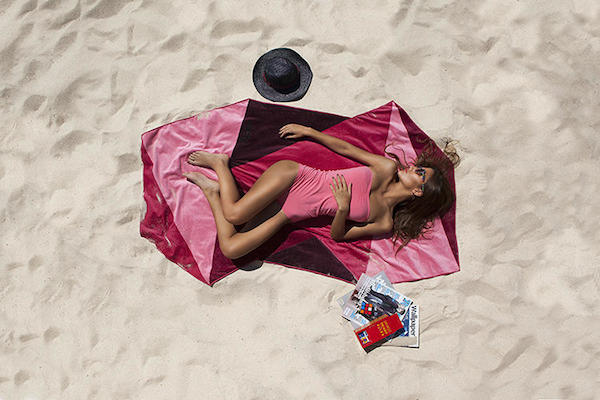 The Vertty towel, defined by its colorful hide and zigzagging profile, is made of sustainable and synthetic materials that work to keep water away from the cloth fibers. If that's not enough, it also looks good.
Ketten, Vertty's innovative fabric, forms the core of the towel and prevents it from getting too wet. With less cotton in the blend, it is 30% lighter and can dry in no time. The triangular motif also makes it easy to fold and store.
2

The Sand Towel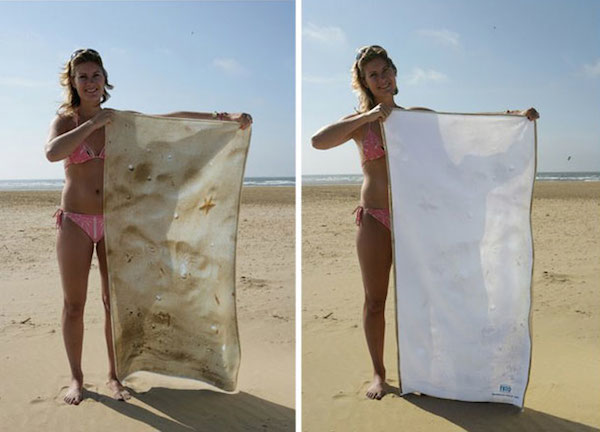 Created as part of a campaign by DDB Needham, Netherlands, the Sand Towel was an incentive for people who took out travel insurance. Just an ordinary white towel at first glance, it has a photo of sand printed on the back to camouflage your valuables with when you go swimming. This ingenious device perfectly protects your stuff so you can swim without worry—unless somebody walks over your iPhone.
3

hi-Fun hi-Sun Beach Towel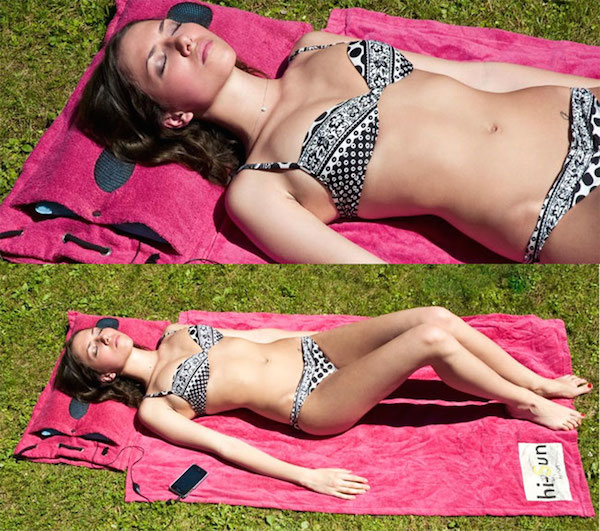 Why lug a separate towel, pillow, and speakers to the beach? The hi-Fun hi-Sun towel/backpackincorporates four summer essentials in one.
Simply unroll the hi-Sun and it transforms into a fluffy towel for lying comfortably in the sun. Inflate the integrated pillow and connect your iPod, iPhone or any other MP3 player to the universal 3.5 mm jack, then lie back, relax and enjoy! The hi-Sun's speakers are amplified and their ultra-long-lasting lithium battery will keep your favourite tunes playing for hours. Recharged via USB, the speakers can also be taken out of the towel for washing.
4

The Instakilt Beach Towel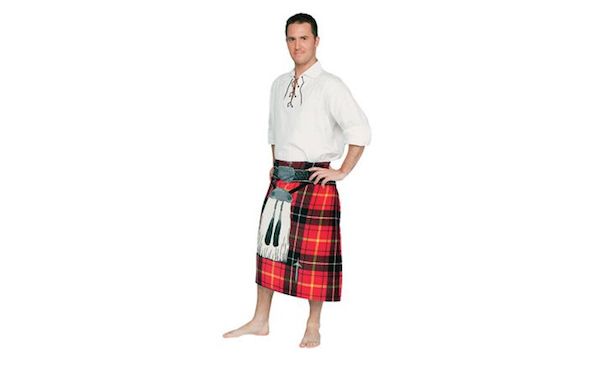 Complete with the image of a sporran and tassels on the front, the Instakilt Beach Towel has all detail that you'd find in a traditional Scottish outfit. This traditional, plaid cover-up is 100% cotton and offers a soft and absorbent surface with which you can comfortably dry your wet skin.
5

The Wearable Towel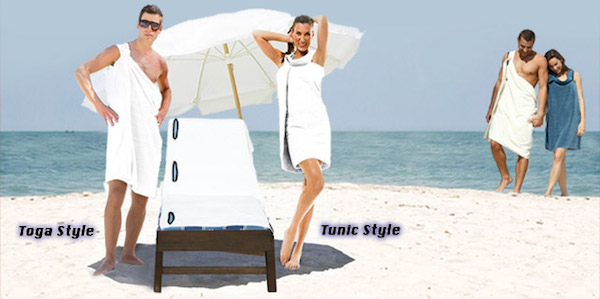 Just think of it as a Snuggie for the beach! This "as-seen-on-TV" product is unisex and can be worn in either a tunic or toga style. It has three arm openings placed along the side and does not employ the use of any fasteners. Want one? Click here , or the check out the infomercial below.
6

Coffin-Shaped Towel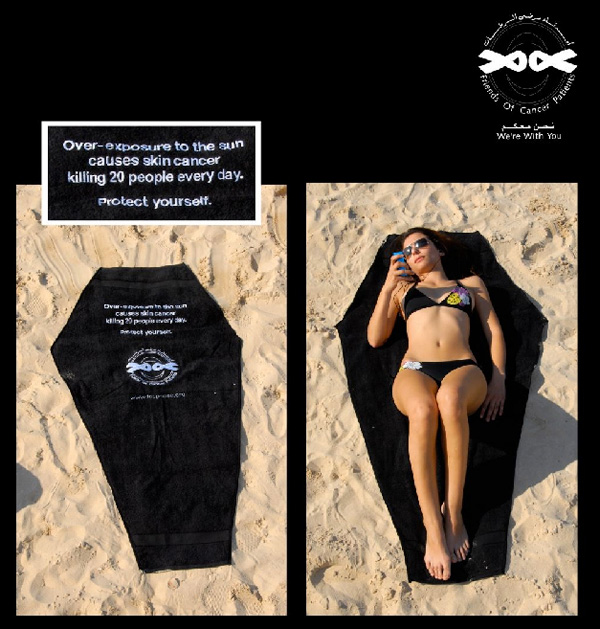 Over 20 people a day die from skin cancer. In 2009, one non-profit, Friends of Cancer Patients, campaigned to raise awareness that staying too long in the sun can indeed be deadly. Together with J. Walter Thompson Worldwide, the organization made beach towels shaped like coffins and distributed these among the public.
7

The Dick Towel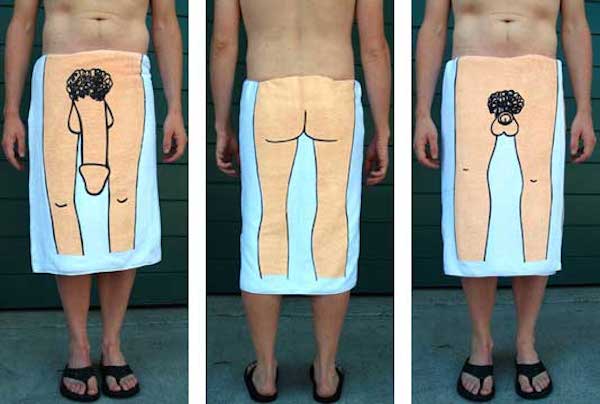 As invented and worn by Mac on It's Always Sunny in Philadelphia, this replica towel features all of the detail seen on the show. Three different nude images are printed on the front, including well-endowed, small, and a pair of butt cheeks that are sure to crack up friends & strangers alike.
Find the towel and its variations on Amazon.
8

Beach Towel by Misael Soto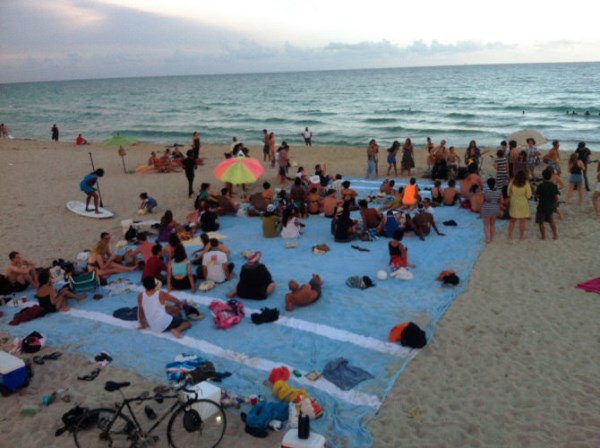 With a towel that seats 400, you're bound to either make a lot of friends or a lot of enemies at the beach.
The performance art project, called Beach Towel, debuted in Miami in June 2012. Artist Misael Soto's massive towel weighs 250 pounds and measures 59 feet by 30 feet.
The towel has since made the rounds on various beaches in the U.S. and has even played match-maker. "I know a couple who met Memorial Day on my beach towel. I don't know if that would have happened otherwise," Soto said.
9

Fancy's Vibrant Beach Towel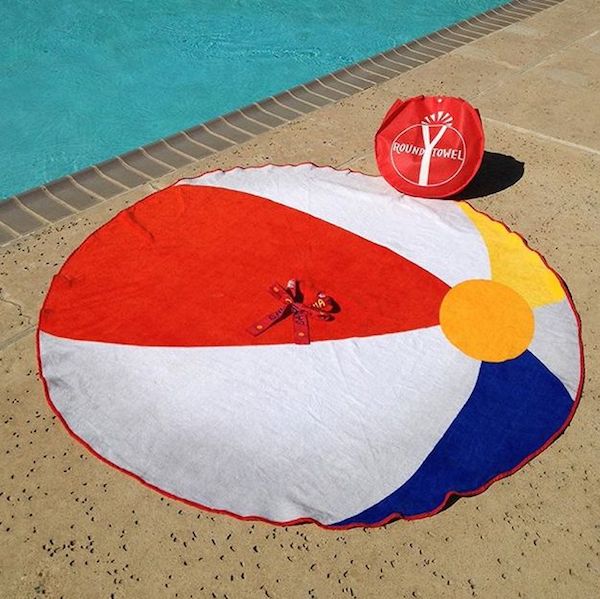 Designed to resemble a beach ball, this vibrant accessory will be hard to miss at pool parties or on carefree beach days. Relax on your very own specialty towel that is displayed in a color palette of white, red, yellow and blue tones. Priced at an affordable $30, you can find it here.