1

Bo Gilbert (age 100)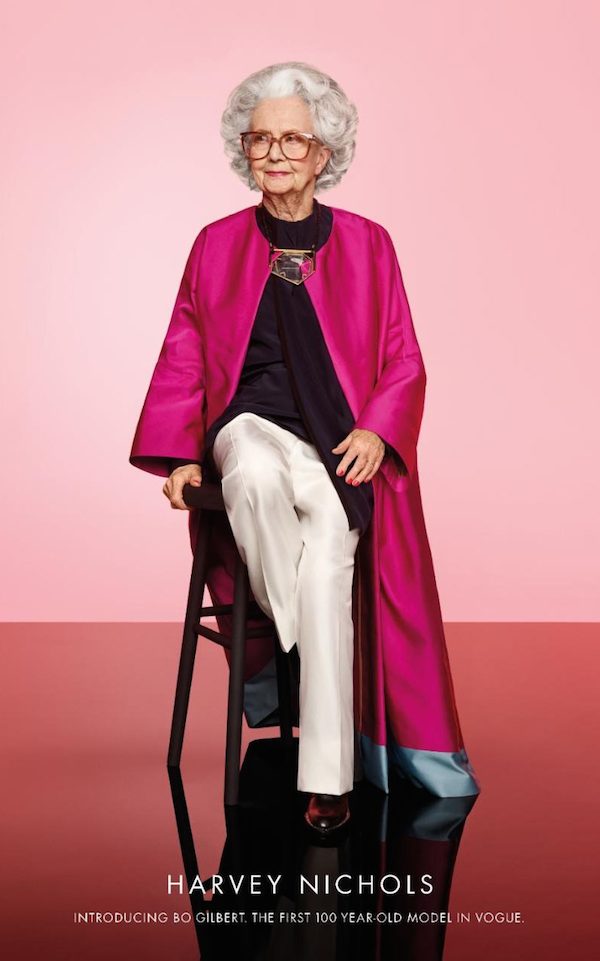 2016 marks 100 years of British Vogue, and what better way to celebrate than to feature a model the same age as the magazine itself?
Department store chain Harvey Nichols had stepped in to do the honors, casting centenarian Majorie Gilbert, known as Bo, in an exclusive ad campaign.
Bo has no previous modeling experience and has spent the last 26 years in a supportive housing facility. She was spotted by Harvey Nichols' advertising agency, Adam & Eve, after an article celebrating her 100th birthday appeared in her local paper, The Evesham Journal.
Bo was born in the midst of the first world war on January 12, 1916, and has always loved fashion. "I dress for myself; I never dress up for boys." A woman after our own hearts!

2

Daphne Selfe (age 87)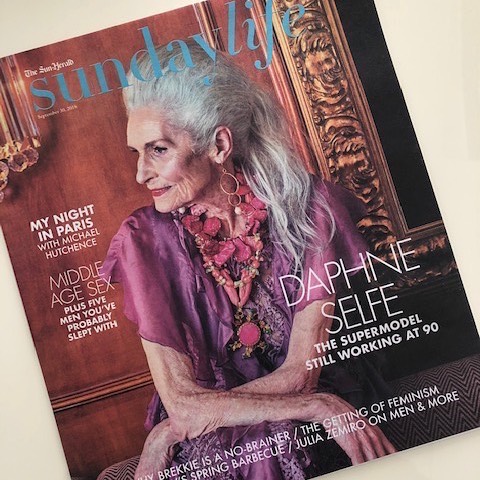 Daphne Selfe's modeling career began when she entered a competition to be the cover girl of a local London magazine at age 20 in 1949. Since then, she has appeared in several publications including Vogue, Harper's Bazaar and Vanity Fair. In 2015, she was awarded the Guinness World Record title for the world's oldest working supermodel.
Daphne, who lives in Baldock, Hertfordshire, England, credits her parents for her looks (she hasn't had any plastic surgery) as well as a regime of gardening, yoga, and walking.
Although her modeling career began in 1950, her big break came ten years ago when edgy label Red or Dead asked her to do a catwalk show. It propelled Daphne into the national spotlight as the face of so-called "granny chic" and she's been going nonstop ever since.

3

Baddie Winkle (age 87)
In 2015, 86-year-old Instagram star Baddie Winkle turned up in DimePiece's "State of Mind" campaign.
The sassy senior was shot by Nikko La Mere for DimePiece in their badass streetwear—mesh tunics, oversized jerseys, sexy swimsuits, and more. A caption on one of Baddie's Instagram photos says the campaign aimed "to prove that you're never too old to be the baddest bish in the room." We couldn't agree more!

4

China Machado (age 85)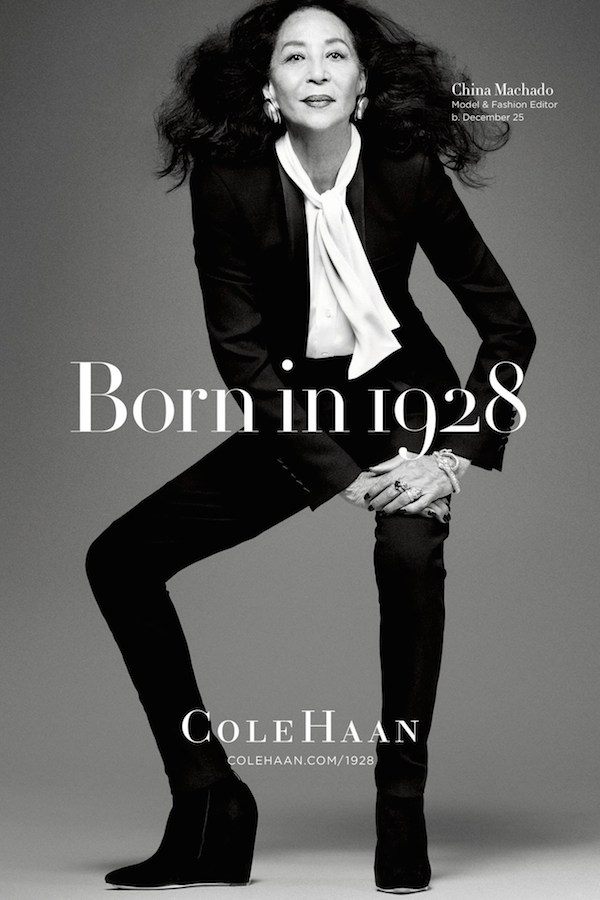 China Machado is best known as the first non-Caucasian model to be featured in a leading fashion magazine—the February 1959 issue of Harper's Bazaar.
Born to multiracial parents in Shanghai, Machado's family lost their home and money when the Japanese invaded in 1937. They fled to the US by boat, but were turned away in New York due to immigration quotas, and wound up in Buenos Aires, then Lima. Machado was working as a stewardess when she was swept away at age 19 by the famous Spanish bullfighter Luis Miguel Dominguín.
When the relationship ended, she moved to Paris and found work modeling for Hubert de Givenchy. During this time, she became the highest-paid runway model in Europe, earning $1,000 a day.
At 83 years old, Machado shot Cole Haan's latest campaign, titled "Born in 1928," in honor of the company's 85th anniversary (shown above). And while she is modest about her lengthy career ("I'm not a model anymore, for Chrissakes"), she is represented by IMG and has booked numerous jobs since her 80th birthday, including a spread in W magazine and a Barneys ad.

5

Carmen Dell'Orefice (age 84)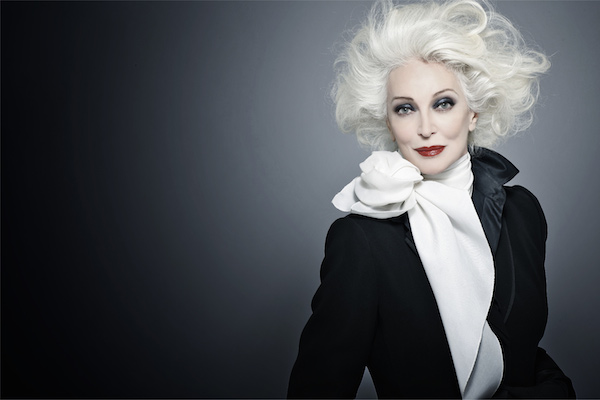 Supermodel Carmen Dell'Orefice's modeling career has spanned nearly 70 years. She posed for Salvador Dali, was on her first Vogue cover at 15, and is said to have commanded $300 an hour by the 1950s. While she retired from the industry in her late 20s, she made a comeback in the '70s and continues to be featured in fashion magazines and on the runway to this day.
Dell'Orefice recently revealed that she's worked more in the past 25 years than ever before and claims she is still "figuring out how to do the job." Perhaps she's just being modest.

6

Wang Deshun (age 80)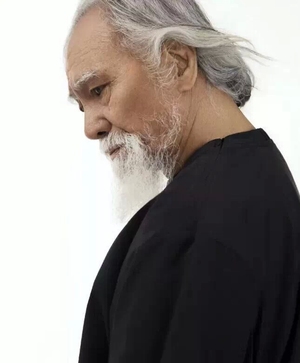 Chinese actor Wang Deshun, 80, stole the show when he made his catwalk debut at China Fashion Week in Beijing on March 25, 2015.
A shirtless Deshun showcased an enviable physique as he presented the Autumn/Winter 2015-2016 collection by designer Sheguang Hu. He remained humble as he commented on social media that he started hitting the gym at the age of 60 and because he needs to be in good shape for his work.

7

Veruschka von Lehndorff (age 76)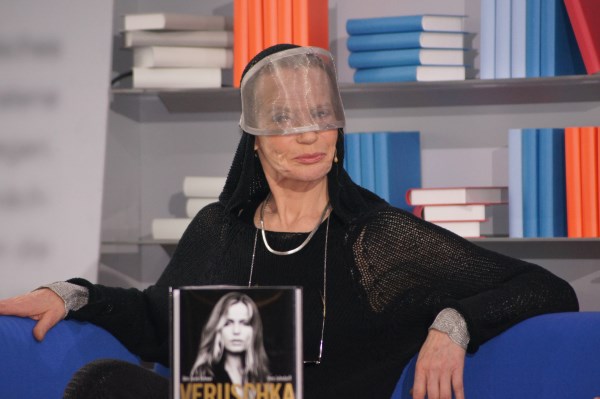 Veruschka von Lehndorff was the first superstar model of the 1960s. Her thin, six-foot frame, with its improbably long limbs, was revolutionary, ­following the curvaceous shapes of the models that came before her.
Director Michelangelo Antonioni cast Veruschka in Blow-Up, the fashion movie that defined swinging London. (She played a model who cavorts in front of the lens of the ­character based on photographer David Bailey.) The part was only a cameo, lasting no more than five minutes, but it made her famous.
By 1972, when asked by Mirabella and Condé Nast editorial director Alexander Liberman to try a new look ("to cut my hair and be more like other models"), she realized it was no longer her moment and decided not to work in fashion again. Now 72, Veruschka still appears on catwalks and in magazines—she even sauntered onto the Spring 2011 Giles runway during London Fashion Week.


8

Maye Musk (age 68)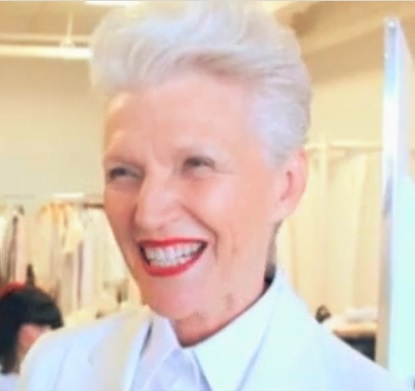 Elon Musk is famous for being the handsome entrepreneur, inventor, and engineer behind Tesla Motors, an aerospace manufacturer (SpaceX), and the CEO of PayPal. But his mother, Maye Musk, is a star in her own right.
The baby on our list, Maye has been a model since was a 15-year-old growing up in South Africa. She graced Time magazine in the nude in 2010; was the graying pregnant lady (also nude, and with a fake belly) on a New York magazine cover in 2011; appeared on the cover of Elle Canada in 2012; and starred in campaigns for Target and Virgin America. Earlier in 2016, she caught the eye of IMG and joined the roster of the mega-agency, whose clients include Christie Brinkley, Carolyn Murphy, and Gigi Hadid.
This week she will be attending her first Met Gala, wearing a gown by Korean designer Yuna Yang and accessorizing with Elon on her arm. Of her success, she says, "I'm 68 now, and I'm just starting my career. It's such a big surprise. When I was 15, I was told that at 18 I'd be done."