1

The student who was fed up with apartment living and chose to live on a train instead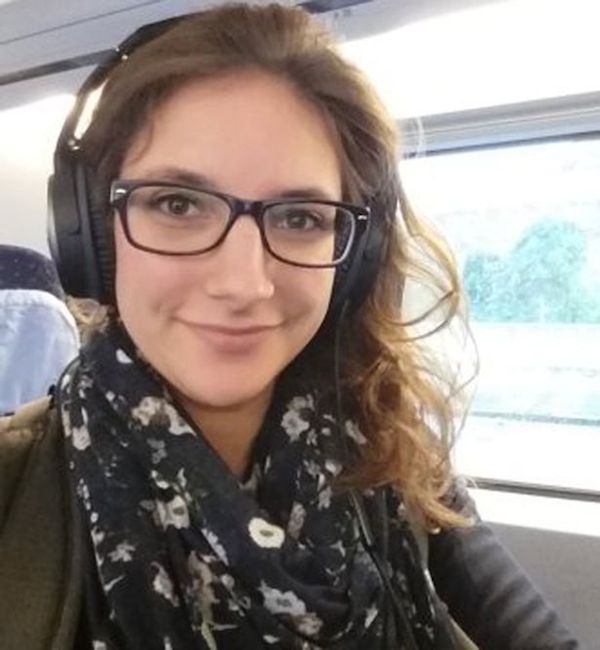 A German student was so fed up with her landlord—and high rent in general—she decided to live the life of a nomad and now calls a train home.
Leonie Müller, 23, gave up her apartment in spring 2015. "It all started with a dispute I had with my landlord. I decided I didn't want to live there anymore, and then I realized—I didn't want to live anywhere anymore," she said.
Müller pays £240 for a monthly train ticket. Her last apartment cost £290 a month. She carries all her possessions—including her clothes, tablet computer, and books—in a backpack and washes her hair in the on-board bathroom.
Her train experience has formed a crucial part of her education. She has been documenting her experiences in a blog, and her lifestyle is also the subject of her undergraduate dissertation. She said, "I want to inspire people to question their habits and the things they consider to be normal. There are always more opportunities than one thinks there are. The next adventure is waiting just around the corner—provided that you want to find it."
2

The woman who lives on sailboat to avoid paying high rent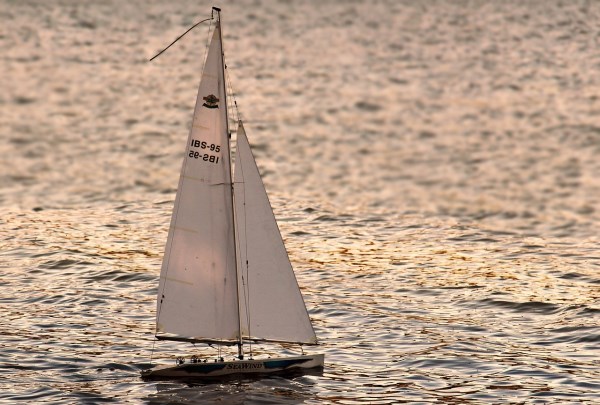 Rent is so extortionately high in San Francisco that residents have been forced to become creative with their living arrangements.
The median rent for a one-bedroom apartment in the city is currently $3,500. That's more expensive than in New York City, where it costs about $3,150 and approximately twice the price for the same type of property in Los Angeles.
23-year-old Sarah Carter—who recently moved to San Francisco for a new job with a large e-commerce company—figured out a creative solution to this real estate conundrum. Rather than settling into an overpriced apartment, she moved onto a sailboat.
She bought a boat on Craigslist for $9,600 (which equals about five months' rent on the apartments she was considering). Docking at the marina and having a parking space close by costs her about $350 a month.
Carter, a sailing enthusiast, is happy she doesn't have to deal with renting for the near future: "It's essentially like owning a home. It takes me out of the stressful rental situation, which I am grateful for."
Carter commutes 45 minutes to work, but it's not a daily hassle—she also has the option of working from the boat, which comes complete with a tiny closet, a bathroom, and a kitchen outfitted with a stove, refrigerator, and toaster oven. The one amenity missing is a shower, but there's one on land that residents of the marina can use, and one at Carter's office.
Carter doesn't know how long she'll be in San Francisco, but she's documenting her adventure via Instagram, @sarahdenaecarter.
3

The man who commutes from Barcelona to London
In October 2013, blogger Sam Cookney worked out that he could save money on London's astronomical rents by commuting 1,500 kilometers from Barcelona, but no one thought he would ever consider such a big move.
They were wrong.
With London rents spiraling higher than ever—a two-bed apartment in his neighborhood of West Hampstead now averages £2,137 ($3,318) a month—Cookney took the plunge. He now lives in a two-bed apartment in Barcelona with a roof terrace and pays just €800 a month (around $875). With his additional bills coming to around $125 a month, and his regular flights that usually cost him less than $150 for each return journey, he's STILL saving money.
Door to door, his commute takes around five and a half hours. That's a lot of early starts, but Cookney doesn't mind. He insists "everything about the lifestyle is better."
4

The man who lived in his office for 500 days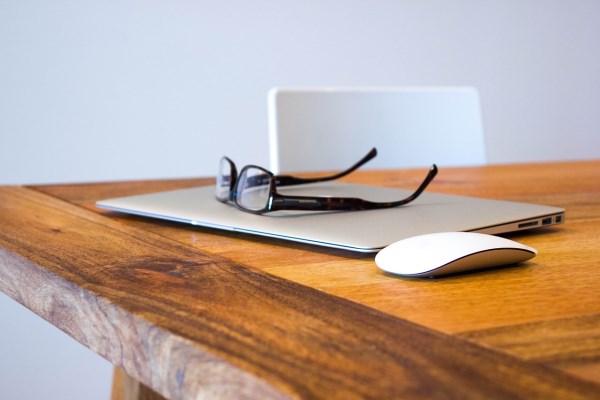 An anonymous LA man lived in his office for 500 days because he could no longer afford to pay rent.
In the summer of 2012, "Terry K." left his Venice Beach apartment and moved into his office. Average rent in the Los Angeles area is about $1,600 a month for a one bedroom (and rising). And forget about buying—it's estimated that to purchase a median-priced home, you would need an income of $89,500 a year, making the area one of the most expensive in the U.S.
Terry told Salon: "I'd been working two jobs—60 hours a week—to keep an apartment I rarely had time to enjoy. Then, disaster struck. Company raises and bonuses were frozen. My identity was stolen. I got a hefty hospital bill for surgery earlier that year. With existing student loans, a car payment and my rent set for its maximum allowable annual increase under the California law, I started to wonder: What happened to my American Dream?
I had little left to sacrifice. Without money, I had two choices: Give up my dreams of working creatively or surrender my time working even more. Either way, the outlook was gloomy. Until I remembered my ace in the hole."
His "ace in the hole" was his office. It was closed and quiet at night. During the time he was living there, he was able to save $20,000. He had more free time than ever before. At his annual performance review, his boss even complimented him on his work and noticed that he also seemed happier.
Everything must come to end, and when the company downsized, Terry lost his job and home all at once. But with the money he had saved, he was able build a tiny house attached to his truck. He now works a few part-time jobs and writes. He says: "I finished building it (the home) before I left the office. Everything I needed—a plywood base of shelving housing a tiny fridge, a portable butane stove, a sturdy water jug, a paper towel rack—I was fortunate enough to purchase while money was good. Mostly, I stay local, picking up odd jobs while writing, pursuing the career I'd always wanted but never had the time to try. It's a different routine from the office. It's Henry David Thoreau meets Henry Ford."
5

The Google employee who lives in his truck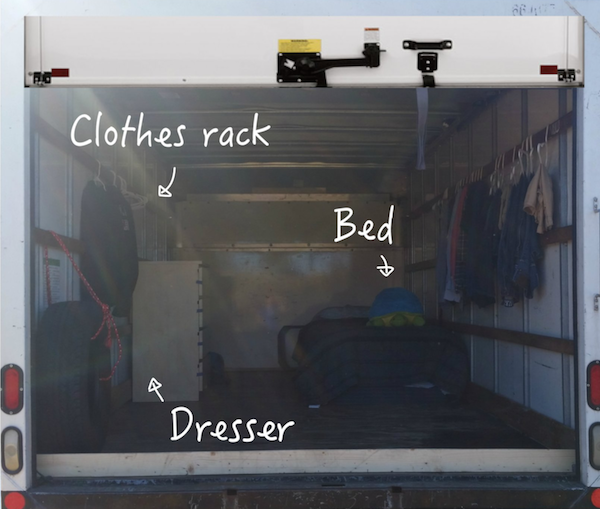 A 23-year-old software engineer at Google moved into a 128-square-foot truck to save money on outlandish rent prices in Silicon Valley.
In spring 2015, "Brandon" moved to the Bay area and bought his new home—a 2006 Ford truck—for $10,000. He parked it on the Google campus and has been living there ever since. Brandon has confirmed that he uses Google's perks—gourmet food, a 24-hour gym with showers and a bathroom, and arcade games—to supplement his truck's scant amenities and says he's only in the truck when he's sleeping.
And what do the powers that be at Google think of this? Well, he's not the first to do it, and while the company hasn't endorsed the idea of living in a truck parked in the company parking lot, security hasn't kicked him out either, and it doesn't appear that there are plans to. After all, he may live in a box, but he still thinks outside of one, and that's a trait Google has cultivated for years.
6

The Brooklyn brownstone where you can live with 18 other people—for $1950 a month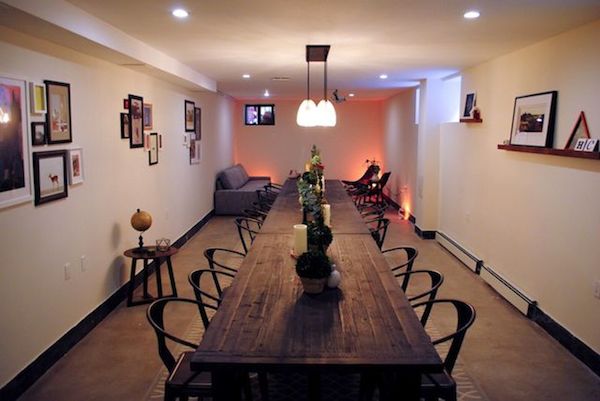 Want to feel like you've never quite left college? A 19-bedroom commune geared toward millennials has already been roundly skewered by the internet, despite not being open yet.
In an ambitious plan that stands to speed up gentrification of Brooklyn's Crown Heights neighborhood, Common, a New York-based startup, is angling to convert more than a dozen residential buildings over the next year into shared housing units like this. The idea is to provide flexible housing options for on-the-go millennials whose work and study situations are increasingly fluid and unpredictable.
A room in this shared brownstone (roughly five people per floor) costs between a $1,800 and $1,950 a month (which is still cheaper than most places in New York). Crazily enough, the start-up dwelling—located at 1162 Pacific Street, across the street from a 350-bed homeless shelter—has already received several hundred applications.
7

The young professionals who live in a village of shipping containers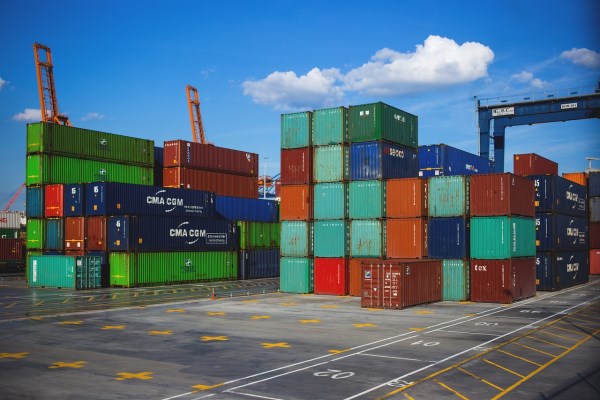 Would you live in a shipping container? Some young professionals in the San Francisco area are doing just that. In an attempt to avoid the crippling costs of city living, residents have flocked to nearby Oakland where a bizarre shipping container village is growing.
For Luke Iseman and Heather Stewart, the cost of renting just didn't add up. Fed up with spending most of their income on rent, they bought a $2,300 shipping container from the nearby Port of Oakland, rented a half-acre of land and moved in.
While it is still basic, their home offers a surprising amount in such a tiny space. It boasts a custom-built shower, queen-size bed, and glass windows while the solar panels allow them to power an adapted freezer. A giant rooftop dish also gives them internet.
They began buying more shipping containers to offer up as cheap rentals and also purchased an abandoned lot for $425,000 as a haven for people looking for an affordable way to live. Unfortunately, Containercopia was not zoned for residential occupiers, so when a neighbor complained, Iseman and Stewart were forced to move the containers into a warehouse. (The lot is currently being used to grow vegetables for the village.) For just $600 a month, residents of Containercopia get a 160-square-foot metal box, which can be modified however they like.
Iseman stands by Containercopia and hopes to inspire others to follow his innovative solution to the housing crisis.
8

The New York City man who lives in a 100-square-foot windowless apartment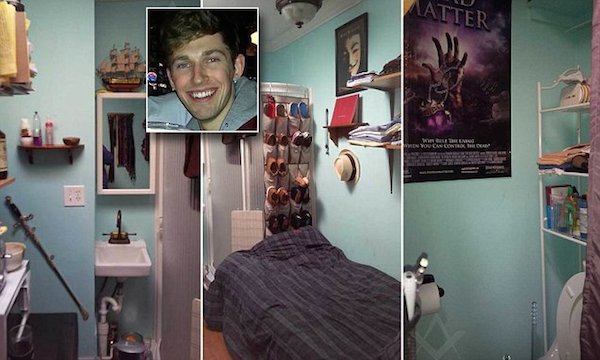 A fresh-faced transplant to New York City was universally ridiculed in spring 2015 for his 100-square-foot Manhattan apartment when photos of its achingly close quarters first started to make the rounds online.
Grayson Altenberg recently relocated to the Upper West Side from Wisconsin to work as a chef at nearby Lincoln Center. While the apartment does have amenities like a shelf, a shower stall, and small toilet area, it lacks windows, and there isn't even room for a chair. Also, the $1,100 per month pad on West 71st Street has no kitchen in which he can practice his trade.
Altenberg remains nonchalant, saying: "I do miss having my big kitchen, but I have a giant kitchen at Lincoln Center, and my living room is Central Park."
9

The Craigslist ad offering an RV for rent at $850 a month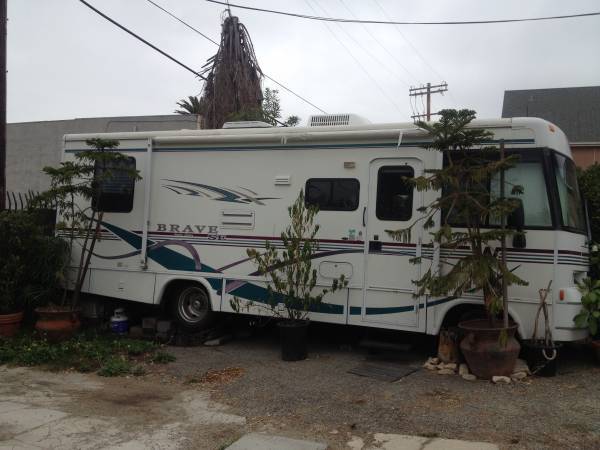 We're not entirely sure how legal this is, but a Craigslist ad posted in October 2015 offered a "unique rental" in the Echo Park area of Los Angeles—a Winnebago that's 215 square feet and advertised as a one bedroom, one bathroom "apartment."
The $850 price tag seems a bit hefty, considering the home is on wheels. However, the ad also mentions amenities including "off-street parking in the parking lot next door for $50, a furnace, A/C, full bathroom with a shower stall, a small bedroom with a queen sized bed, full kitchen, dinette, and linoleum/carpet combo. All utilities and WiFi included. Washer & dryer on site (laundry room attached to the main triplex). Hot tub on site as well. Basement storage also available in addition to rental."
Juan Hernandez, a clerk at the Housing Authority of the City of Los Angeles, said it was, in fact, illegal (we thought so) to rent out an RV in the parking area of a home. It has to be in a trailer park, but hey, they tried!