Elvis Presley is still as popular as ever. The world-renowned music legend has sold over a billion records and is worth over $300 million decades after his death.
Elvis also has one of the most loyal and intense fan bases of any artist. It is estimated that there were about 170 Presley impersonators when he died in 1977. Today, there are upwards of 250,000.
TCB and read on!
1

The Elvis fan who built his own Graceland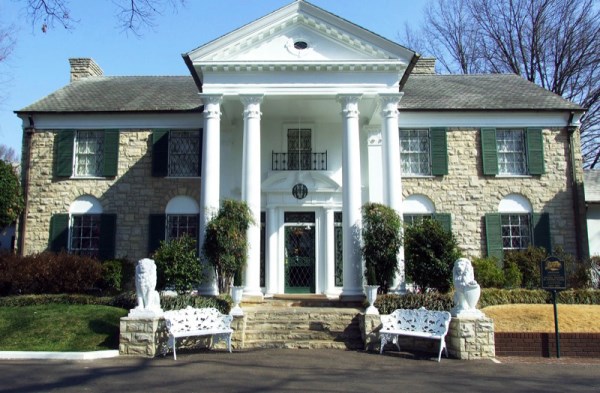 Everybody knows that the King's palace was Graceland, but for a time, there was a fan-made Graceland Too.
If "imitation is the sincerest form a flattery," Graceland Too took it to a whole new level. Paul MacLeod (also known as McLeod) became a fan of Elvis' after seeing him perform in 1954, and his obsession with the King never waned. About halfway between Presley's birthplace of Tupelo, MS and the real Graceland in Memphis, TN, this uber fan built his Graceland museum filled with Elvis memorabilia.
The museum had a record room with several hundred 45s tacked to the walls. This was only a fraction of MacLeod's collection of 35,000 records and 25,000 CD's (he had four of every one Elvis ever made.) Visiting the museum was even a right of passage for University of Mississippi students.
Everything changed on July 15, 2014 when 28-year-old Dwight Taylor forced his way into the Graceland Too and demanded money. MacLeod shot him in the chest. Taylor was pronounced dead, but McLeod cooperated with authorities and was not charged with anything.
But the stress of the incident was too much for MacLeod. Two days later, he was found dead, slumped in a chair outside of his beloved Graceland Too.
Like the real Elvis, both MacLeod and Graceland Too have "left the building." After the museum's closing, the thousands of Elvis items that were in the museum went to auction.
2

The Chilean miner who said Elvis helped him through his ordeal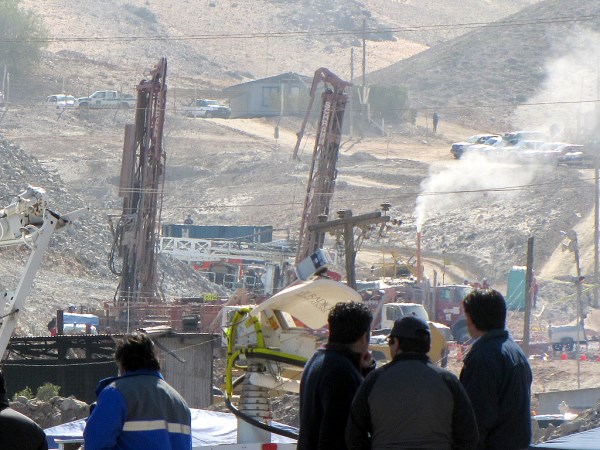 One of the biggest news stories of 2010 was the Chilean mine accident, also known as the Copiapó mining accident. For 69 days, 33 men were trapped 700 meters underground in the collapsed 121-year-old San José copper–gold mine.
One of the 33 men, miner Edison Peña, said that the music of Elvis Presley helped him through the 10-week ordeal before he and his co-workers were eventually rescued on October 13. Pena, 34, led his fellow miners in sing-alongs of Elvis hits as they awaited rescue. When Graceland officials heard about their predicament, they arranged to have a care package, including a CD box set of remastered Elvis classics, and a poster of The King sent down into the mine.
Peña's love for Elvis hasn't waned since his ordeal. Later that year, he appeared on Late Night With David Lettermen singing "Suspicious Minds" while swiveling his hips like his idol. In January 2011, he visited Graceland to help participate in Elvis' birthday celebrations amongst a big media brouhaha.
3

The actor who was such a big Elvis fan, he married the King's daughter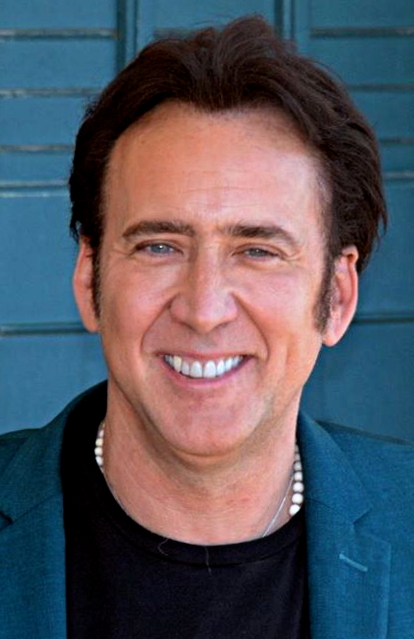 The list of Nicolas Cage's run of classic movies is quite impressive: Valley Girl, Peggy Sue Got Married, The Rock,Con Air and National Treasure to name a few.
It's also well known that Cage is a huge Elvis Presley fan. So much so, in 1990, he used Presley as the inspiration for his character in David Lynch's Wild at Heart. Cage even recorded two of Elvis' classics— "Love Me" and "Love Me Tender" in the film. He also portrayed his idol in a memorable skit on Saturday Night Live as "Tiny Elvis," and is the proud owner of the King's 1959 Cadillac Eldorado.
There are some who say that Cage was so Elvis obsessed, that was the reason he married Presley's only daughter, Lisa Marie, on August 16, 2002 (also the 25th anniversary of Elvis' death). However, after just three months of marriage, they checked into "Heartbreak Hotel" when he filed for divorce. The short marriage did have its perks, however – Cage is the only person outside the immediate Presley family to have ever been inside Elvis' Graceland bedroom.
4

The Elvis impersonator who was in a 30-hour standoff with the police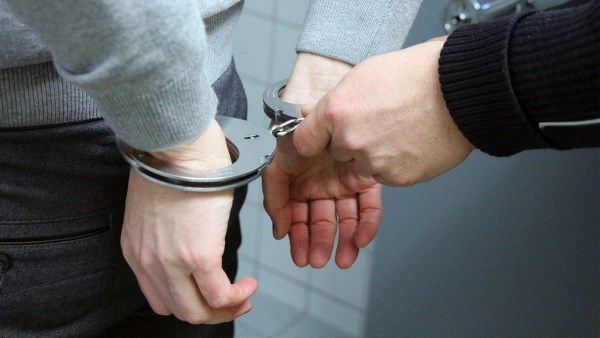 Generations of fans know that Elvis starred in the iconic 1957 film Jailhouse Rock (named after his classic song). However, Elvis impersonator Michael Reed (a.k.a. Micky King) was in a 30-hour standoff with police that no doubt resulted in him doing a bit of real-life "jailhouse rocking."
On April 13, 2013, Reed allegedly called authorities asking for assistance with a dispute. When they showed up, he appeared to be agitated. They immediately noticed he had a weapon, and the counterfeit King was soon yelling at officers and fired at least one shot at them. They returned fire as Reed retreated into his home.
Police negotiated with Reed for 30 hours, and eventually coaxed him out to the front porch. "Elvis" then "left the building" when police used a Taser on the entertainer shortly after midnight.
It is not known if Reed started to incorporate Elvis' 1958 hit, "I Got Stung" into his act following the arrest.
5

The day the Killer gatecrashed Graceland to visit the King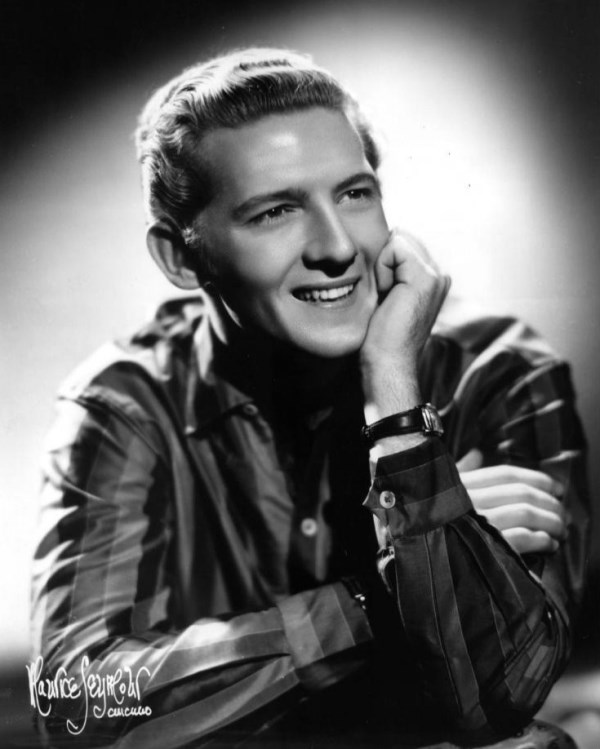 Jerry Lee Lewis, Elvis' musical contemporary and friend, proved that he did indeed have "Great Balls of Fire."
In 1976, he decided to visit Graceland in the early hours of November 22 but was told that Elvis was asleep at the time of his visit. He left, but almost 24 hours later at 2:50 am, Lewis again pulled up to Graceland in a new Lincoln Continental. This time, his manner was markedly different. He was angry and seemed inebriated. "He was outta his mind, man. He was screamin', hollerin', and cussin," recalled Harold Lloyd, a security guard on duty at the gates of Graceland.
Jerry Lee (known as the Killer) also had a gun in his possession and demanded to see Elvis. He told Lloyd to "Get on the goddamn phone. I know you got an intercom system. Call up there and tell Elvis I wanna visit with him. Who the hell does he think he is? Tell him the Killer's here to see him!"
Lloyd made the call, but to the police. Moments later, Elvis himself called the security booth and asked what was going on. After Lloyd had informed him about the incident with Jerry Lee, Elvis responded saying, "Oh, I-I-I don't wanna talk to that crazy sonofabitch. When they get there, tell 'em to lock his butt up and throw the goddamn key away. Okay? Thank you, Harold."
The police soon arrived and arrested Lewis. He was charged with public drunkenness and carrying a pistol.
Lewis' account of the incident was a bit different. He portrayed himself as just wanting to check in on his old friend. When he was asked about the gun in his possession, Jerry Lee told the guard at the gate that he wasn't about to kill anyone, so the guard should "chill out."
6

The King's crown that went on tour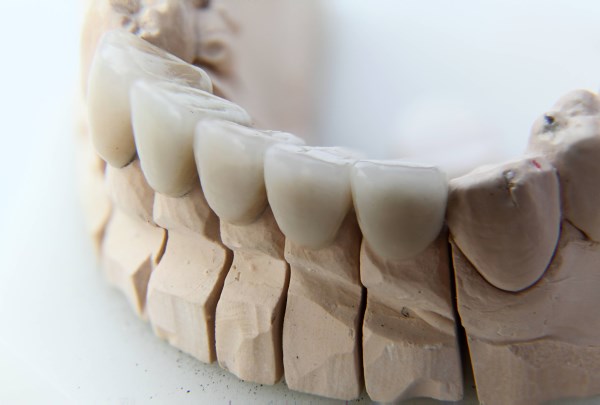 So Elvis can't go out on tour anymore for the obvious reasons, but the King's crown is indeed back by to popular demand. However, it's not exactly the kind of crown you're thinking of.
In 2014, Elvis' dental crown was sent on a tour of the UK to a dozen dentists hosting Elvis Day. The objective? To promote awareness of mouth cancer.
The crown even caused a bit of controversy on its U.K. tour. It was meant to arrive by FedEx on May 28th at the Bracknell's Appledore Dental Clinic but went missing. Needless to say, this disappointed fans waiting to see the tooth. However, the package was quickly located, and (thankfully) made the next stop on the tour to the delight of eager Elvis enthusiasts.
Michael Zuk, a collector of celebrity teeth, bought Elvis' crown at auction in February 2012 for $11,000.
7

The Elvis fans that won the lottery and went to McDonald's on their way to Graceland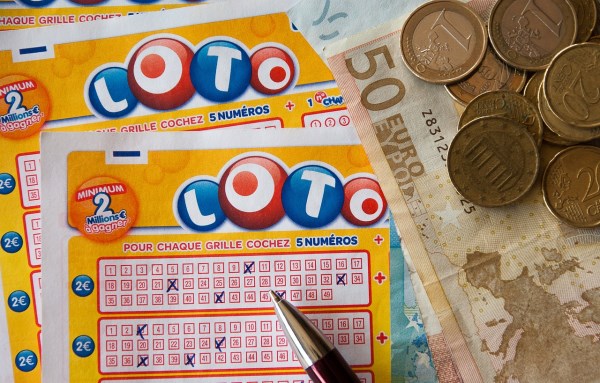 Elvis fans David and Donna Hendry, from Edinburgh, Scotland, won the £4 million jackpot in the triple rollover draw on what would have been the King's 80th birthday (January 8, 2014).
After winning the lottery, the Hendry's took their son, Lewis, to McDonald's for breakfast and started plotting on how to spend their winnings. They are planning to move to a new house, and hopefully take a trip to Memphis. As David Hendry told the press, "I love Elvis so maybe a trip to Graceland could be on the cards."
8

The most fascinating pieces of Elvis memorabilia that went on the auction block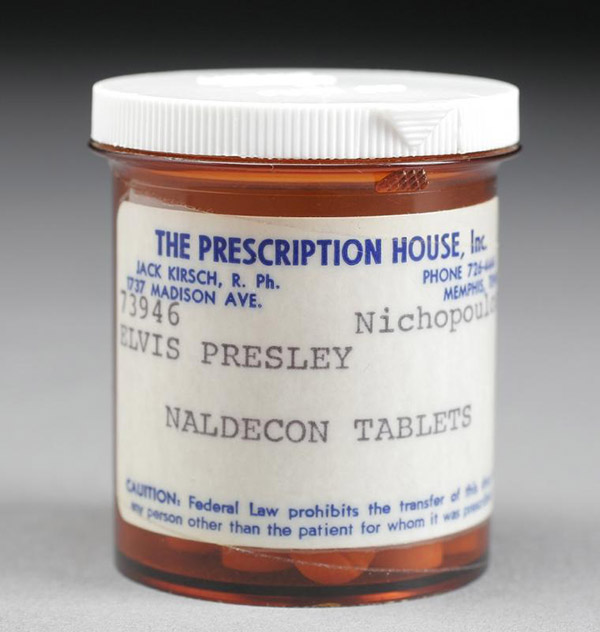 Elvis memorabilia is big business. Just recently, musician Jack White (who portrayed Elvis in Walk Hard: The Dewey Cox Story) bought an acetate of Elvis' first recordings that he did for his mother for a cool $300,000.
At a 2009 auction in Chicago, a lock of Elvis' hair from collector Gary Pepper's collection fetched $18,300. The hair itself wasn't DNA tested, but the clippings were deemed authentic by a celebrity hair "expert."
Perhaps one of the most bizarre and morbid pieces of Elvis "memorabilia" will be going on the auction block soon: Elvis' prescription bottles. The Property From the Life & Career of Elvis Presley auction at the Hard Rock Cafe New York included Elvis' Stutz Blackhawk automobile, contracts, jewelry and Dr. George Nichopoulos' (a.k.a. "Dr. Nick) collection of Elvis' prescription bottles. You can even bid on Dr. Nick's™ (yes, he trademarked his name!) medical bag that once carried Elvis' supply of medication.
9

The prime minister who was escorted on a tour of Graceland by a president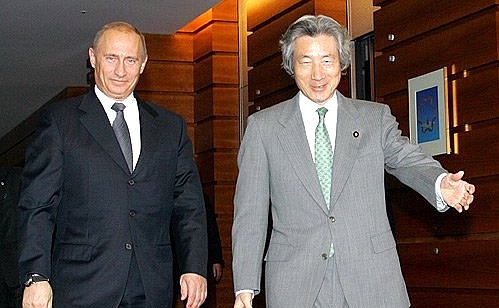 Former Japanese Prime Minister Junichiro Koizumi is a longtime Presley fan and even released a CD of his favorite Presley songs with commentary. He also helped finance a statue of the music legend and was able to fulfill one of his biggest dreams when he made a visit to Graceland in June 2006 with former President George W. Bush.
Escorted by Elvis' ex-wife, Pricilla, and daughter, Lisa Marie, the two political leaders posed for pictures in the infamous Jungle Room of Graceland. Koizumi burst into Elvis' classic "Falling In Love" while wearing a pair of the King's sunglasses.
Although President Jimmy Carter had also visited Graceland, George Bush's visit marked the first time a sitting president went to the famous singer's home.
10

The superhero that Elvis modeled himself after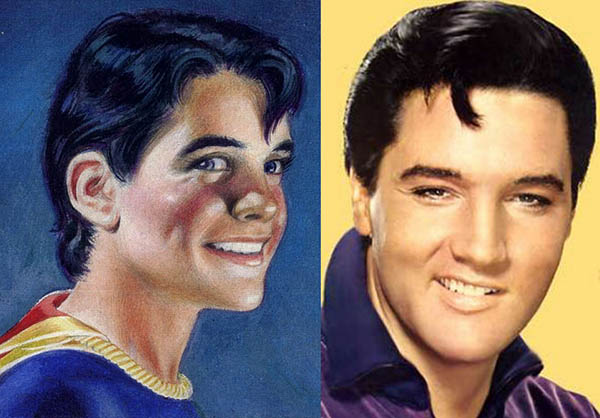 Sure, Elvis fans have come in all shapes and sizes for many years, but who did the King idolize? Would you believe a comic book character?
In his younger years, Elvis was a huge fan of Captain Marvel Jr. Captain Marvel, also known as Shazam, was one of the most popular superheroes of the 1940s. It's widely believed that Presley modeled his signature look after the superhero, including his hair, his sideburns, and even his Las Vegas era caped jumpsuits.
Elvis even adopted Captain Marvel Jr.'s lightning bolt symbol as part of his famous TCB logo. In addition to making rings and necklaces with the logo, Elvis plastered it on his private plane, the wall of his TV room, and on his trademark 1970s era glasses.
The writers of more recent Captain Marvel Jr. comic paid tribute to Elvis with a character they named King Marvel.
11

The masked Elvis soundalike that fooled many fans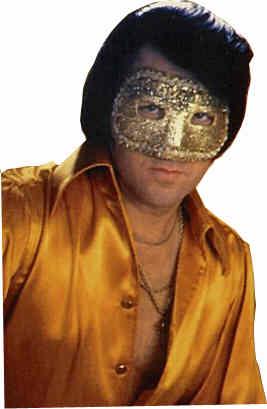 Throughout the career of Jimmy Ellis (aka Orion), his voice and looks would constantly be compared Elvis Presley's. He tried to make it as a country singer, but his career never really took off. One of his early singles was called "I'm Not Trying To Be Elvis."
After Presley died, Ellis finally resisted the Elvis comparisons, donned a jumpsuit and mask and called himself "Orion," named after the title character of a book about a rock star that fakes his own death.
Orion was even signed to Elvis Presley's original record label, Sun Records. The masked man's voice sounded so much like the real thing that he fooled many fans into thinking that Elvis faked his own death and now performed as Orion.
Ellis continued to perform as Orion until the early 1990's. He died in 1998 when he was gunned down in a robbery of his convenience store in Selma, Alabama.