1

Rocking X-Wing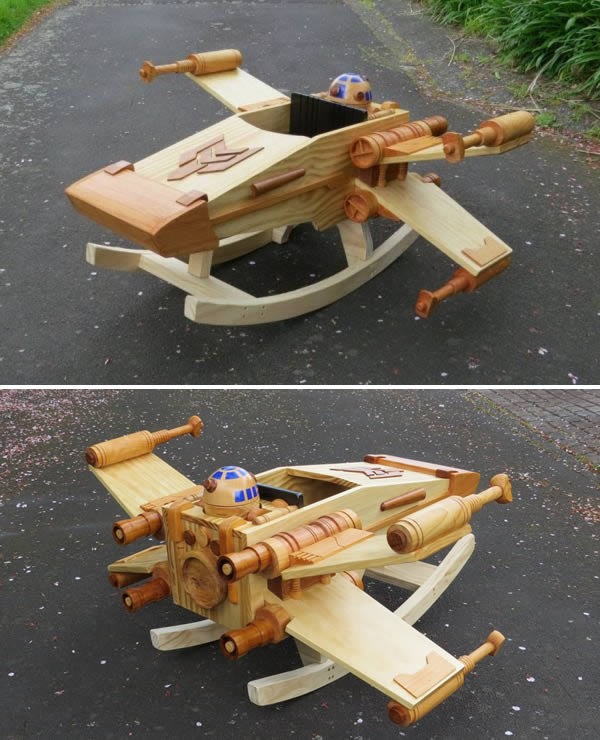 Get your little X-wing fighter pilot started on his flight training with this variation on the classic rocking horse. DeviantArt member Steveswoodentoys made this beautifully-crafted ship. It measures 45 inches long, 47 inches wide, and 25 inches tall. Pine, macrocarpa, and rimu were used and the fighter comes with a removable R2 droid.
2

Jaws-Inspired Baby Bed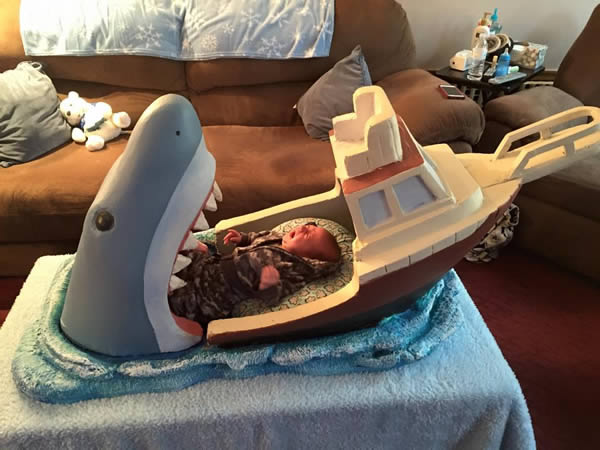 A Jaws-inspired baby bed that looks like a shark eating a boat. By the looks of that baby, he wasn't too happy about it!
3

Dr Who Crib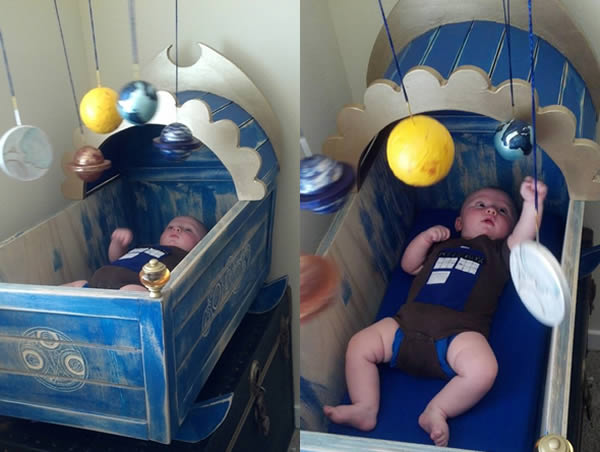 The king of cribs award doesn't really exist, but if it did, it would go to this Doctor Who Crib. Look at cute, little Andred Gallafraigh enjoying his blue world. I can picture full-grown nerds wanting to get their hands on this crib or a bigger, but similar looking bed that can fit them.
4

iPad Baby Chair
Fisher Price is selling this iPad Apptivity Seat, a baby chair with an iPad holder, so newborns will never have to interact with the world around them. Just strap that little hanger-on into the chair, fire up the iPad, and go do whatever the hell you want. Sure you're little bundle of joy will probably grow up to be complete sociopath, but robots or aliens or whoever is next will have already taken over the planet by then and destroy people like you, so it's all good!
5

Space Invaders Mobile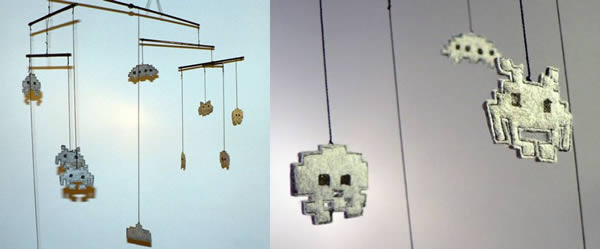 This Space Invaders mobile (created by Chicago artist pixelparty) turns the usually innocent mobile into a geeky retro (and slightly creepy) art piece. It's made from wool felt, dowels, cord and features nine individual "invaders" as well as one "laser base." It was listed for $70 on Etsy , but it's not available anymore. Is this the perfect gift for a gamer's baby, or is it too geeky to put in a child's room?
6

AT-AT Stroller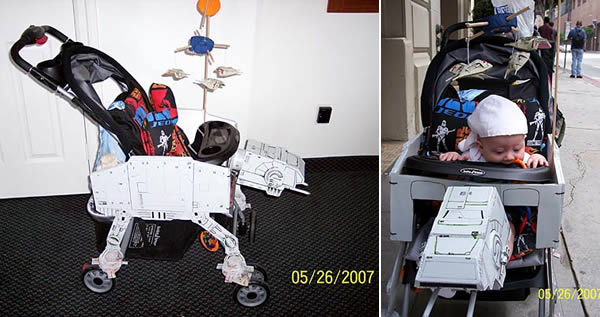 Whether you're crushing the remnants of rebel forces or taking your baby out for a stroll, this AT-AT Stroller has you covered. Created by Mr. Rick Russo, a UPS driver based out of South Florida, this stroller is just an awesome display of Star Wars fandom.
The stroller is actually a modified "Baby Trend Trendsport Lite" which sounds a lot less cool than "Heavily Armored Killing Machine." Rick put together the design originally using cardboard cutout templates to show how the leg panels and other parts would fit together. Once the practical issues were decided upon, like whether the kid could see over the AT-AT body or how they were going to have the AT-AT feet clear the stroller wheels, Rick got to work. The stroller is put together using foam board and zip ties. Pretty simple, right? All of the details were drawn by hand using a variety of books and game pieces as inspiration. The head is made up of "spongy-foam stuff," and the neck was constructed from a tube roll left over from a box of shrink wrap.
7

Vespa Rocking Horse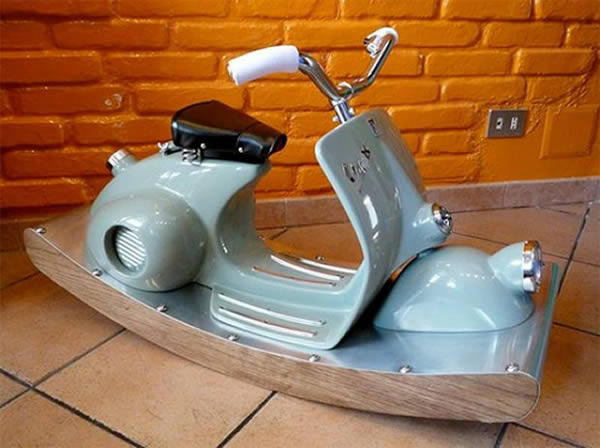 8

Diaper With Tweeting App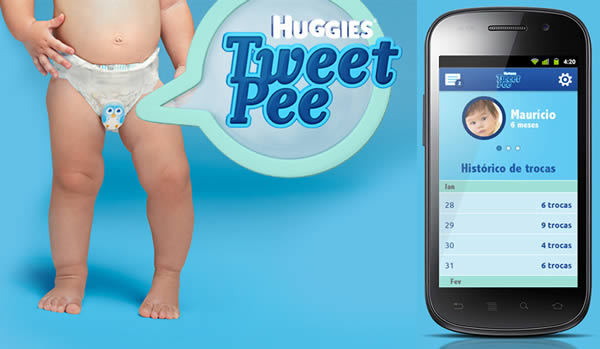 Are you a new parent who can't hold your baby and phone at the same time? This has become a growing problem in these technologically advanced times and something should be done about it!
Enter Huggies! The diaper manufacturer made it so parents won't ever be seen holding their phone and baby at the same time. They can now just put down the baby and really focus on their phone. But how?
Huggies Brazil created a humidity sensor that can be clipped to the front of a baby's diaper and monitored on Twitter. The TweetPee App lets you know that you should probably get off your phone for a damn minute and change your kid's diaper. The app also helps you track how often you should buy diapers… which isn't a problem I've ever heard parents complain about, but who cares?!
Technology is awesome! Even technology that may or may not prove to be harmful to your baby's genitals!
9

My Neighbor Totoro Sleeping Baby Bag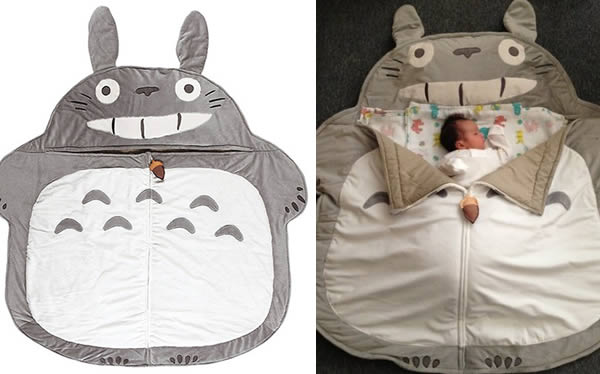 Your baby will just love sleeping on the comfortable fur of Ghibli's classic giant character, Totoro. Even if your little one is not familiar with the anime classic My Neighbor Totoro, they will instantly adore this cuddly sleeping bag and pillow.
My Neighbor Totoro is a 1988 Japanese animated fantasy film written and directed by Hayao Miyazaki.
10

Smartphone Holder for Strollers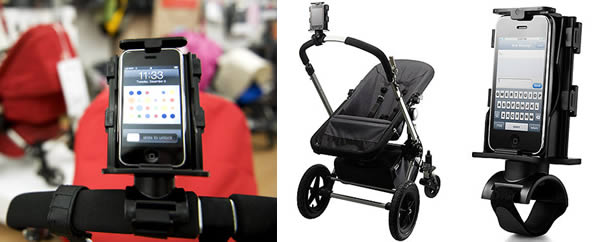 Texting while driving is illegal in many states, but texting while pushing a stroller is still totally legal! It's just difficult, unless you have something to mount your phone on. The Texthook is a $26 device fits many size phones and stroller models and lets you text and push at the same time. Not just compatible with strollers, you can use the Texthook on shopping carts, bicycles and treadmills, too. Now your child is no longer an obstacle to getting your text on. Just don't expect to be winning any prizes for Parent of the Year.