1

The crazed gunman who announced revenge killings on social media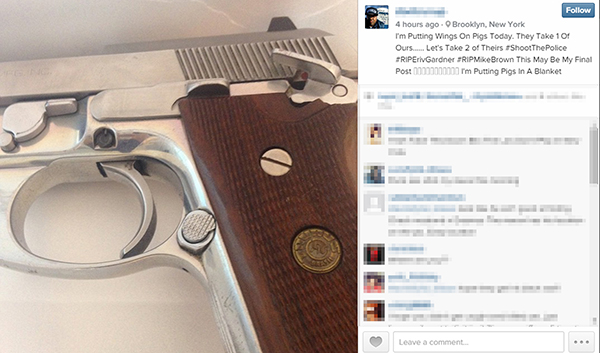 Before assassinating two NYPD police officers, Ismaaiyl Brinsley, 28, took to his ex-girlfriend's Instagram account and stated that he had planned to avenge the deaths of Michael Brown and Eric Garner.
Brinsley left a chilling post on the photo-sharing site just three hours before he opened fire on two police officers. The post read, "They Take 1 Of Ours......Let's Take 2 of Theirs. #ShootThePolice This May Be My Final Post. I'm Putting Pigs In A Blanket."
Brinsley shot and seriously wounded his ex- girlfriend at her home in Baltimore before heading to New York City to hunt for cops.
Baltimore authorities were tipped off to the Instagram posts by his the victim's mother. They in turn alerted the NYPD and other agencies that Brinsley was in the area and posed a danger to police.
It was too little, too late. Just as word was coming in, Brinsley had already found Officers Rafael Ramos and Wenjian Liu sitting in their patrol car in front of the Tompkins Houses in Bedford-Stuyvesant. He walked up to the car's passenger side door and fired his weapon multiple times through the passenger window, striking both officers in the head. He then fled on foot, down the street and into the subway where he then turned the gun on himself.
The Instagram postings are the subject of multiple investigations into what motivated him to come to New York City and murder two police officers. NYPD Commissioner Bill Bratton said, "That part of our investigation will be to determine what was the motivation, to the best of our understanding. We'll also seek to go back over time into this suspect's life as to whether there were other postings, whether he had accounts of his own."
2

The paramedic who is in hot water for a racially charged Instagram post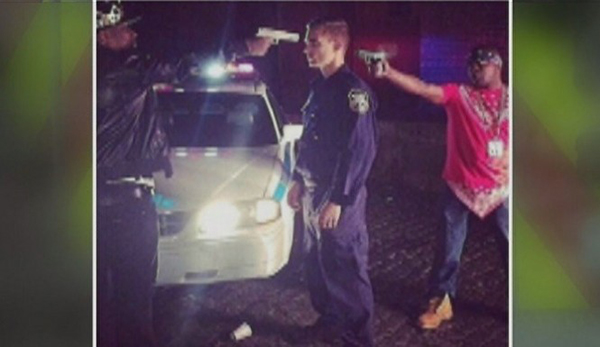 A Philadelphia paramedic is in hot water after making a racially charged post to his Instagram account.
The paramedic, Marcell Salters, posted a photo of two African American men pointing their guns at a white cop. While the photo was indeed shocking, the caption was even more disturbing, especially since Salters works at Medic 23, which is located in the same building as the Philadelphia Police Department's 19th Precinct. The post read, ""Our real enemy. Need 2 stop pointing guns at each other and at the ones that's legally killing innocents."
Another post followed: "There are numerous crooked and corrupted cops (mostly white) & mostly they harass, beat or kill innocents (mostly blacks)."
Philadelphia Police Union Chief John McNesby found the post to be defaming and that it is "a brotherhood" in regards to police departments and paramedics doing the same line of work.
Salters has since issued an apology and said he acted out of anger in response to the deaths of Michael Brown and Eric Gardner. There is no telling what, if any, disciplinary action will be taken, but McNesby doesn't want to see him fired during the holidays. He said, "You don't want to see anybody lose their jobs especially around the holidays. But if the charge of stupidity was in their handbook, he'd probably get a life sentence."
3

The Instagram account that attempted to out people who cooperated with law enforcement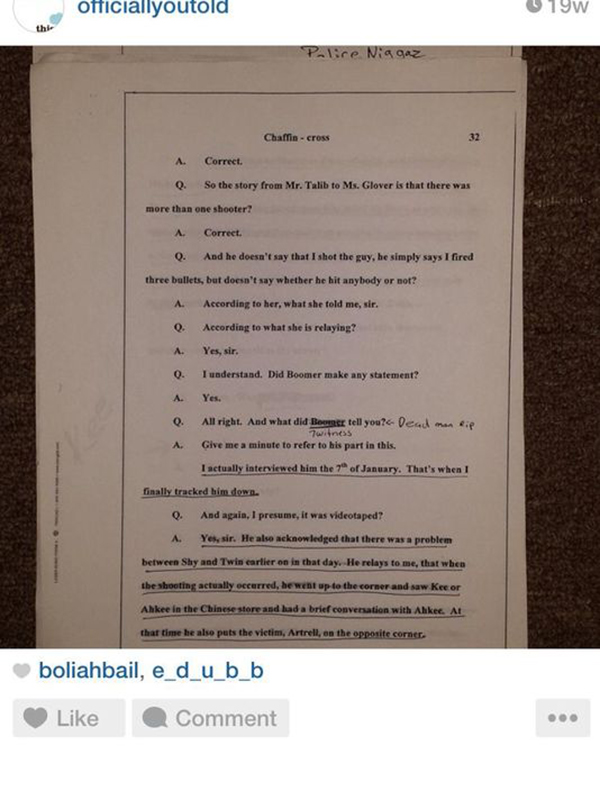 An Instagram account with the username, "officiallyoutold" has posted court and police records that reveal the names of people who have spoken with police or testified to Wilmington and Delaware authorities about crimes from shootings and drug busts to property damage and harassment.
The account, which aimed to shame and scare people in not cooperating with law enforcement, also featured internet memes related to ratting out criminals.
The account was the second of its kind. A previous account, which went by the username "wilmington_snitches" posted pictures that showed handwritten names of people who had cooperated with authorities, including their addresses.
After a few press inquires regarding "officiallyoutold," the account was removed from Instagram. A Delaware state law passed earlier in 2014 increased the likelihood of prison time for those found guilty of witness intimidation.
4

The soccer player whose racially insensitive post cost him to be suspended and fined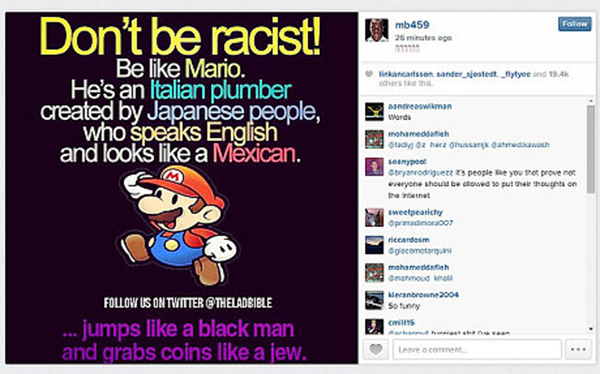 Liverpool striker Mario Balotelli posted a racially insensitive Instagram photo which forced his suspension from at least one game. He was also fined £25,000 by the English FA.
Balotelli, who is Italian and nicknamed "Super Mario," posted a a picture of the video game character Super Mario overlaid with text that said, "Don't be racist! Be like Mario. He's an Italian plumber, created by Japanese people, who speaks English and looks like a Mexican." The text on the bottom portion of the picture read "jumps like a black man and grabs coins like a Jew."
Balotelli apologized and said he was shocked to find the image was offensive because, out of sheer naiveté, he had not understood the implication of the comments which appeared on the image. Balotelli also said he had suffered from racism on a great number of occasions. He added he is of Ghanaian heritage and his maternal grandmother was Jewish and had escaped Nazi Germany.
The Football Association would have recommended a three-match suspension had it not been for what they felt was Balotelli's sincere apology.
5

The man who taunted police with his Instagram account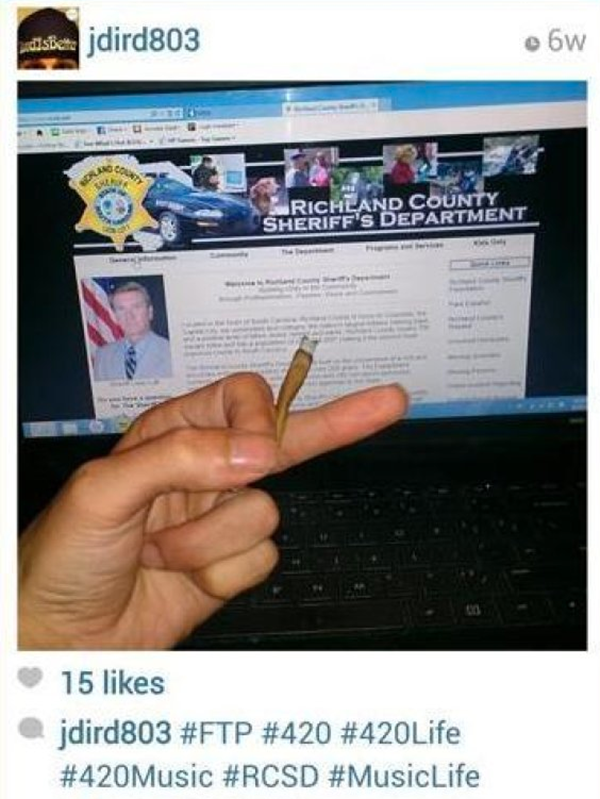 It's probably not a good idea to taunt police from your Instagram account. In March 2014, 30-year-old Jeremy Clayton made this discovery the hard way after he was arrested for trying to sell marijuana to undercover police officers. Cops were soon hot on Clayton's trail after he posted photos on Instagram with one appearing to show him holding a half-smoked joint while "flipping the bird" at a picture of the local police chief.
Sheriff Leon Lott of Richland County, South Carolina said he became aware of the "disrespectful" pictures by a concerned citizen who had sent them in. Undercover officers then managed to track him down. He offered to sell them cannabis on three separate occasions and was eventually arrested at his home for distribution of marijuana, alongside a 24-year-old woman who was arrested for possession.
Clayton's Instagram account had dozens of pictures of him smoking joints, pipes and bongs while posting hashtags such as #Rastafarian, #LikeABoss and #StayHigh. Those photos have since been deleted.
6

Feds bust 350 dealers in one weekend after viewing their Instagram accounts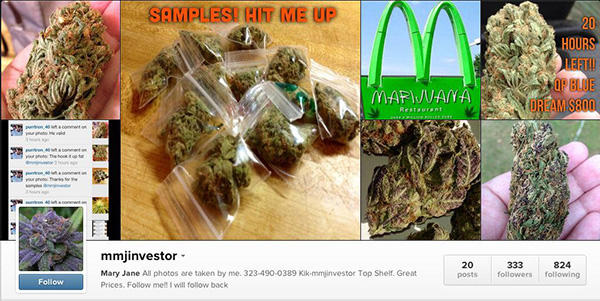 In April 2014, the DEA and FBI busted over 350 dealers and seized over $7 million in drugs and cash by using Instagram and other social media sites to aid them in sting operations.
After viewing various social media accounts, the Feds seized over $2 million cash, $500,000 in stolen goods, 300 pounds of harvested marijuana, 400 marijuana plants, and over 50 pounds of cocaine.
One dealer, Tyrell Jones of Minneapolis, posted photos of a remote warehouse where he stored his drugs and bragged that he was "moving weight" in the caption. Unfortunately for Jones, he unknowingly geotagged the location of the photo, leading police directly to him. The data provided law enforcement officials with a map directly to the location of the drugs. Jones was inside as well, and was taken into custody without incident.
7

The criminal charged with 142 felony counts after police discover his Instagram account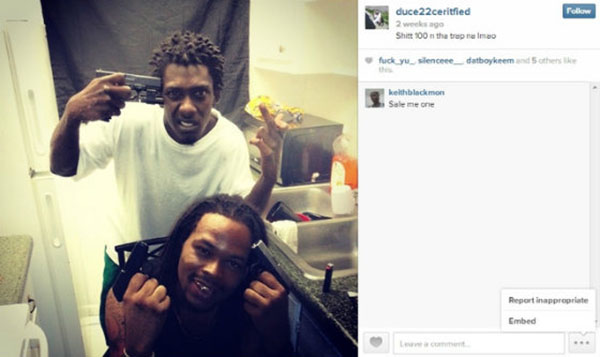 Crime doesn't pay – especially if you brag about said criminal activity on social media sites. Yes, folks, law enforcement is indeed aware of Facebook, Twitter and Instagram, which, in the case of 19-year-old Dupree Johnson, did him in.
Dupree already had a rap sheet as long as his arm, which included grand theft, burglary, and felony possession of a firearm. A Palm Beach County (Florida) sheriff came across his Instagram account and saw Dupree and an associate participating in various nefarious activities.
Palm Beach Court quickly dispatched a search warrant for Dupree's Lake Worth home. There, deputies discovered a Glock underneath his bedspread, and a loaded TEC-9 9mm that had been stolen from a Tennessee gun shop.
But wait, there's more! Authorities also unearthed $250,000 worth of stolen jewelry, electronics, and firearms. Dupree is accused of leading a cadre of thieves through a string of 30 to 40 burglaries of Palm Beach senior centers. He has been charged with 142 counts of being a felon in possession of a firearm and ammo. Johnson is currently behind bars and his Instagram page "Duce22ceritfied" is no longer working.
8

Rapper's Instagram account leads to largest gun bust in NY history
The Instagram account of Matthew Best, also known as aspiring rapper Neno Best, led police to carry out the largest gun bust in New York City history. The cops netted a total of 254 firearms and 19 indictments, after the little-known Brooklyn hip hop artist was found bragging about selling guns on the photos sharing site.
Best posted photos and video of various guns and large amounts of money, and stated that he was selling weapons out of his Ocean Hill recording studio. The posts were quickly removed, but not fast enough. They were spotted by New York Police Department narcotics investigators who then passed the info along to undercover officers. An NYPD investigator soon uncovered a multi-state gun trafficking ring.
9

Urban climber arrested for scaling skyscrapers to take Instagram photos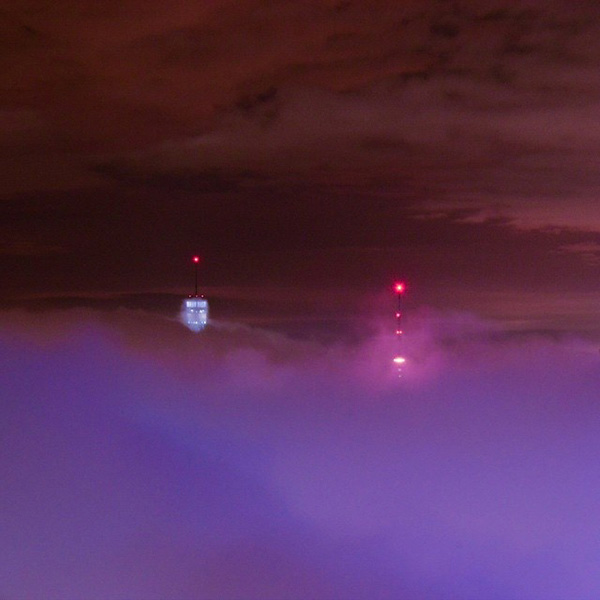 Demid Lebedev, 17, was arrested and charged with criminal trespassing and reckless endangerment after climbing to the top of 432 Park Avenue, capturing unprecedented views from what will be New York City's tallest residential building. The building, which will stand 1,396 feet tall when it is complete, will be the second tallest building in the Western Hemisphere after One World Trade Center.
From that height on the night of Lebedev's climb, the building was surrounded by fog. He said, "I went to heaven and back," in one of the photo's captions.
Will the arrest stop Lebedev from climbing? Hardly. He plans on (legally) scaling more buildings in the New York City area – the Woolworth building, and the Brooklyn Bridge are next on his bucket list.
10

A soldier's selfies may have shown Russia's involvement in the Ukrainian civil war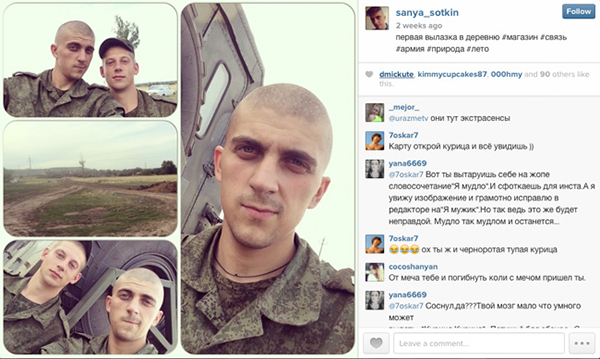 A selfie addicted Russian soldier may have landed Vladimir Putin in hot water after Instagram's geotagging placed the 24-year-old in rebel-held Ukrainian territory.
Did Sanya Sotkin's selfies prove Russia's involvement in the Ukrainian civil war? Images appear to show the then active-duty Sotkin operating in the disputed territory. This is despite Moscow denying any involvement in the conflict which saw Malaysian Airlines flight MH17 tragically shot down, killing all 298 people on board.
There is some dispute as to whether or not the photos were actually taken in the Ukraine. Depending on the location service used and distortion from the vehicle he was in when he posted the picture, his position could have been miles from where the location data shows, across the border to the north or south of the strip of eastern Ukraine he appeared to be in. Additionally, Instagram allows users to manually select the location of their posts. So it remains a question whether Sotkin was actually in Ukraine, or erroneously placed there by bad cell coverage, or just trolling the world when he posted twice during the night in early July. Answers would have to come from an entity with more signals intelligence than Instagram.
The posts drew worldwide attention and thousands of jeering, sometimes abusive, comments along with scrutiny from international media. Apparently, it also landed him in trouble with his superiors.