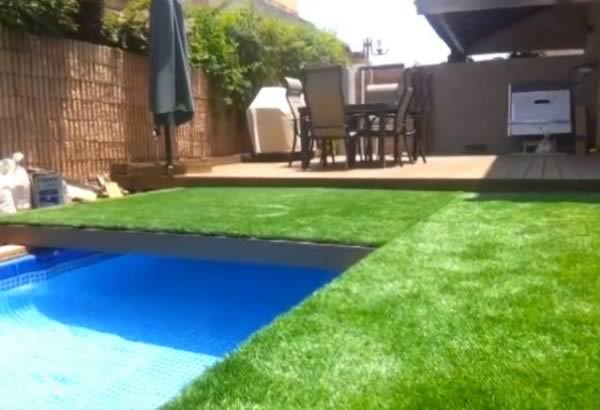 It can be tough to choose between having a lawn or a swimming pool, but engineer and homeowner Gil Klar discovered a way to bring the best of both worlds to his backyard. He installed a sliding astroturf deck that looks like a lawn when closed, but slides back at the touch of a button to reveal a full sized in-ground swimming pool hidden underneath.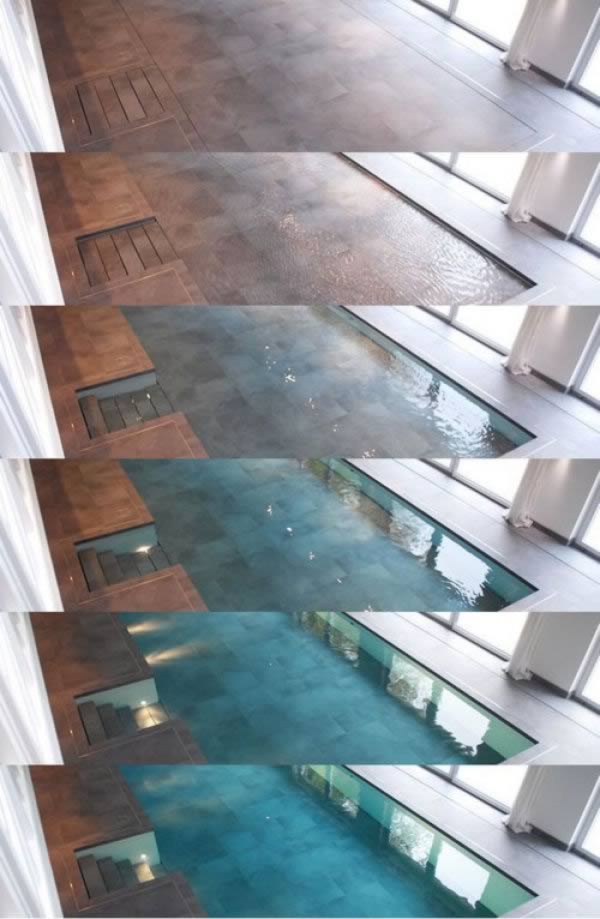 Pools are an amazing way to beat the heat, but they can also be a massive waste of space – especially when they're located indoors. Hydrofloors offer a unique alternative that enables you to transform your pool into a simple marble or concrete floor and back again. The floors are sturdy enough to be used as a garage floor and are beautiful enough to make a stunning ballroom floor. As the floor rises up from the ground, the water drains along the cracks at the sides of the moving floor.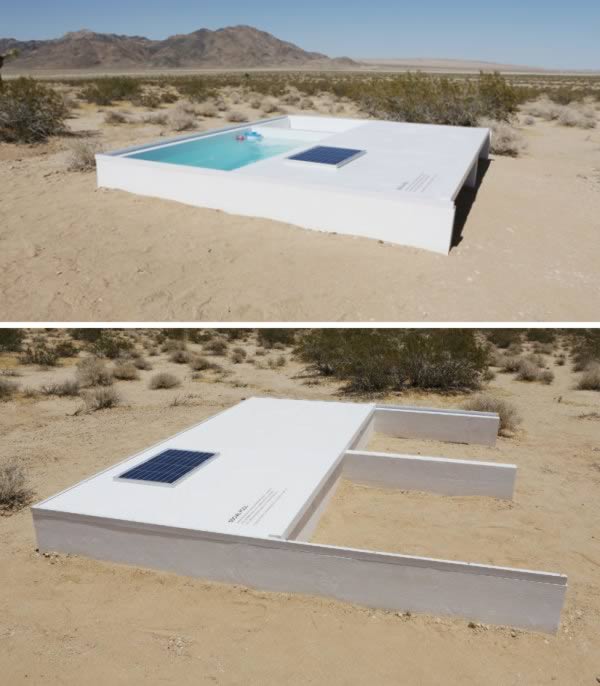 When it's hot, city dwellers begin to have a certain look of desperation and a single-minded determination to access the sweet summer relief of a pool. Well, here's a public pool that's completely free and available to use—provided you can locate the pool itself, which is somewhere in the middle of the 25,000 square-mile Southern California desert.
Social Pool is the work of artist Alfredo Barsuglia, who created the minimalist sculpture with a nod to other monumental works of desert-bound land art, like Robert Smithson's Spiral Jetty on the Great Salt Lake. The eleven-by-five-feet wide pool is hardly a destination in itself—it's closer to the size of a hot tub—but like most art which requires a pilgrimage, it's more about the journey.
GPS coordinates can be obtained, along with the key, by visiting the MAK Center for Art and Architecture in West Hollywood. You can't call to see if the key is there, and you can't reserve it ahead of time. Of the destination, the artist will only say that it requires "several hours of driving from Los Angeles, plus a willingness to walk a long distance to reach the pool from the nearest road."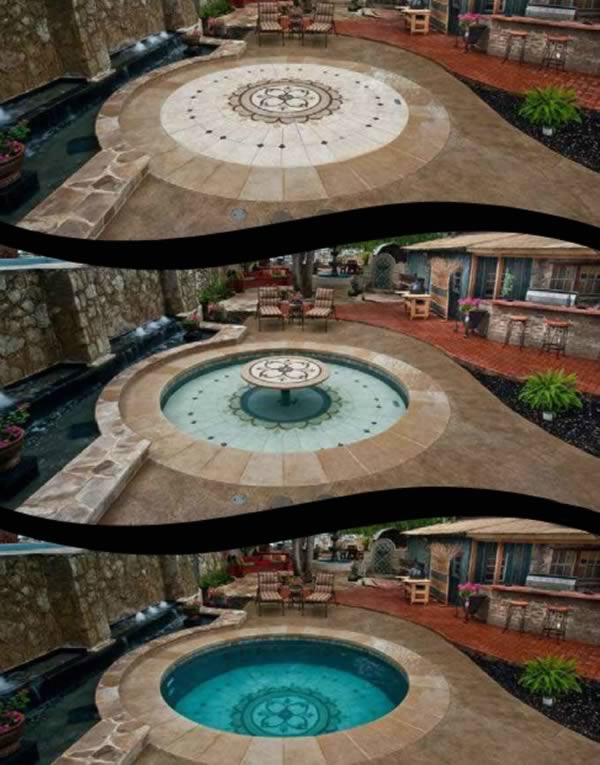 This fantastic pool made by Hidden Water Pools converts to a patio with the touch of a button! Whether it's unique patio surface finishes, special lighting effects, fountains, or splash pads, there are options to fit everyone's desires and budget.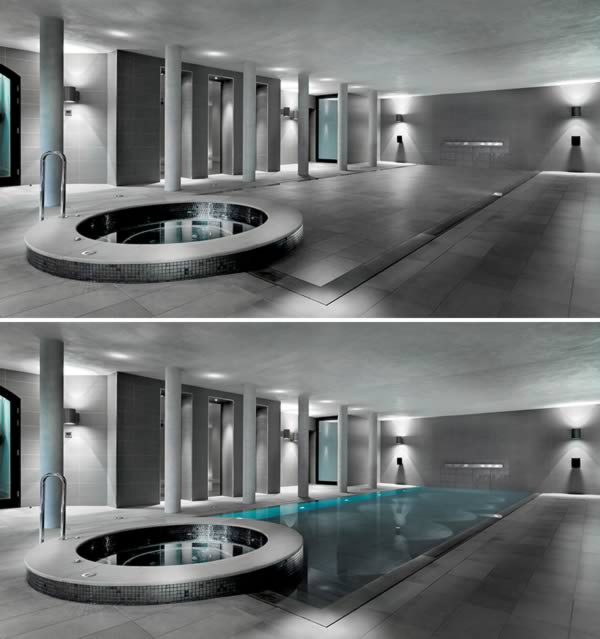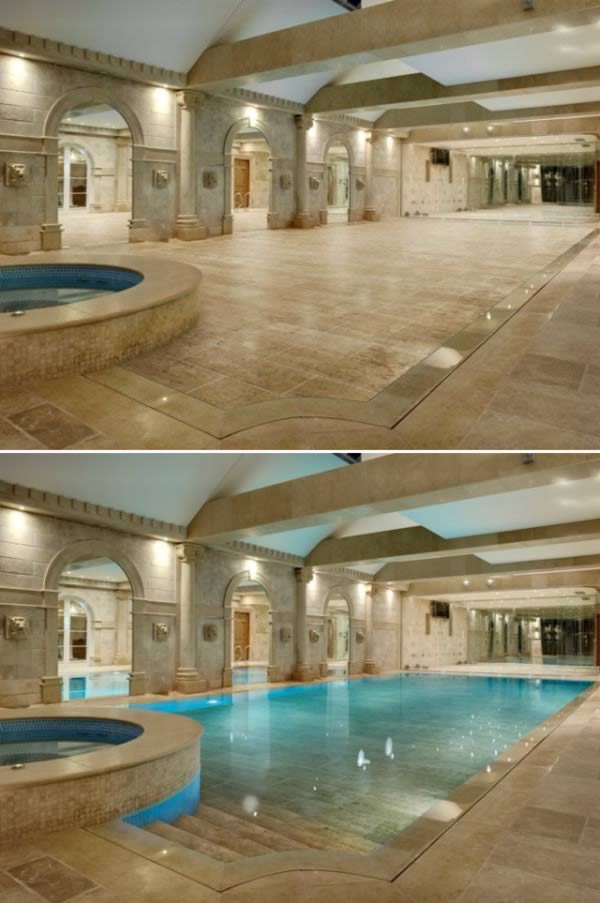 Another work by Hydrofloor.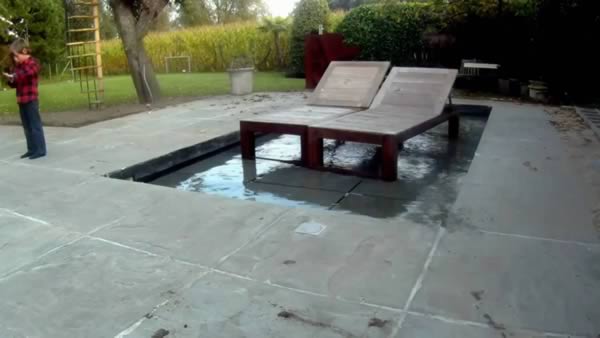 Instead of sliding to unveil the pool, this floor submerses.

Another work by Hidden Water Pools.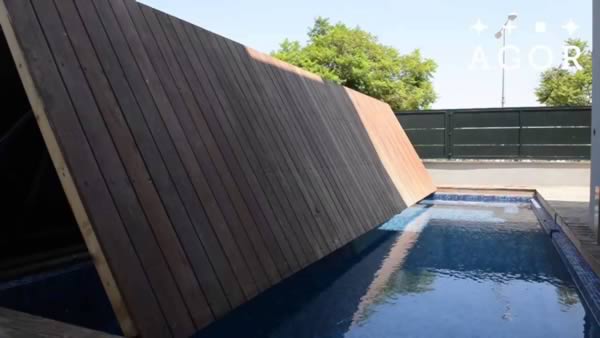 Agor Creative Engineering is a company that has taken it upon itself to design and manufacture customized mechanical swimming pool floors (covers) so that you don't have to worry about safety anymore.
Following the success of its movable and submersible floors for the swimming pool, Agor has now come up with this very creative folding floor.
The modern-looking folding wooden deck, works as a normal pool cover to start with. It covers the pool completely, making the water underneath completely inaccessible. Then with only a touch of a button, the deck slowly folds from the middle to reveal the clear pool for use.
Agor custom builds the pool floors so the price for the folding deck varies according to size of the pool.
Interestingly, the folding floor uses water-based hydraulic mechanism to fold in and out, and when working as a deck, it is capable of withstanding hundreds of kilograms per square meter.