1

Rolling Stone gives teen idol treatment to accused Boston bomber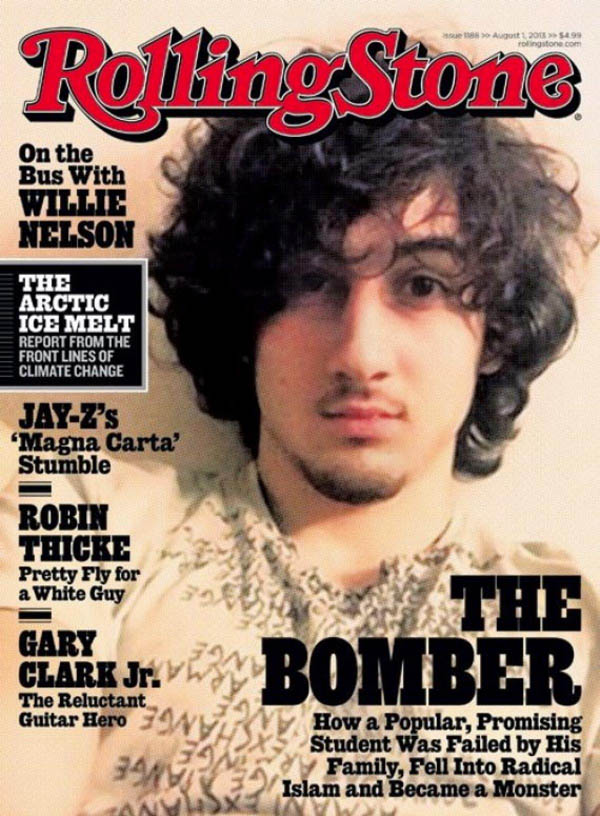 With tousled hair and friendly eyes, Dzhokhar Tsarnaev looks like any teen idol that would normally grace the cover of Rolling Stone magazine, except he's not a pop icon – he and deceased brother Tamerlan are believed to be responsible for the Boston Marathon bombings in 2013.
The Tsarnaev cover triggered outrage, disgust and threats of boycotts. Boston Mayor Thomas Menino called it "a total disgrace" while retail chains CVS and Walgreens refused to sell the issue. Readers cancelled subscriptions and called the glamorization of Tsarnaev a slap in the face to the Boston bombing victims.
Defenders of Rolling Stone pointed out that the magazine doesn't only put celebrities on its cover; in 1970 it ran a piece on Charles Manson, looking very much like a pop icon of his time.
Regardless of the outrage, the Rolling Stone Tsarnaev cover was named the "Hottest Cover Of The Year" by Ad Week magazine, with newsstand sales doubling from 60,000 to 120,000.
2

The "Monster of M? Lai" poses for Esquire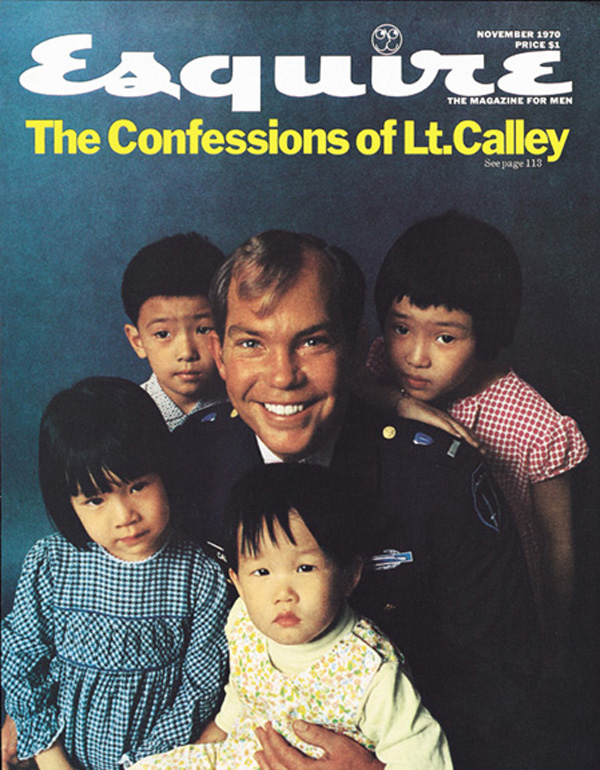 43 years before accused Boston bomber Dzhokhar Tsarnaev was Rolling Stone's cover star, Lieutenant William Calley Jr., a U.S. Army platoon leader who was convicted of murdering 109 unarmed, innocent South Vietnamese civilians in the M? Lai Massacre, posed with Vietnamese children for the November 1970 cover of Esquire magazine.
On March 16, 1968, the men of Charlie Company, 11th Brigade, Americal Division entered the Vietnamese village of M? Lai on a search and destroy mission led by Lt. Calley. According to eyewitnesses, elderly men were bayoneted, women and children were shot in the back of the head, and at least one girl was raped and killed. For his part, Calley was said to have rounded up a group of the villagers, ordered them into a ditch, and mowed them down in a fury of machine gun fire.
Of the 26 soldiers charged, only Calley was found guilty. He was sentenced to life in prison, but that was soon reduced to house arrest. Three years later, Calley was a free man after being granted a pardon by President Nixon.
Prior to being sentenced, Calley posed for Esquire. Designer George Lois knew Calley wanted to plug his book The Confessions of Lt. Calley and convinced him to pose with the Vietnamese kids. He explained, "What you're saying is that you love these kids. After about 10 or 20 photographs, I said, 'Lieutenant, this is terrific. Give me a grin.' And he did. I showed him like a jackal. A lot of people didn't get the fact that I was saying he was a monster. "
3

Time's text only cover becomes an icon of the increasingly secular 60's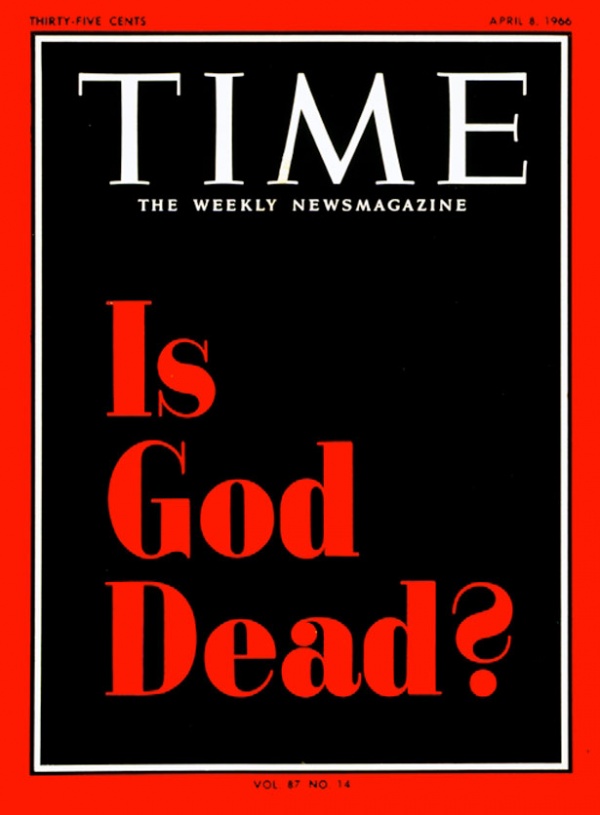 The April 1966 cover of Time magazine accompanied an article that investigated problems facing modern theologians, in making God relevant to an increasingly secular society.
The issue was heavily criticized by the public and clergy alike. Time received around 3,500 letters to the editor — the largest number of responses to any one story and cover in the history of the magazine. Time was denounced as a haven of godlessness.
This iconic cover is also featured in the 1968 thriller classic Rosemary's Baby.
4

A Playboy Playmate breaks racial barriers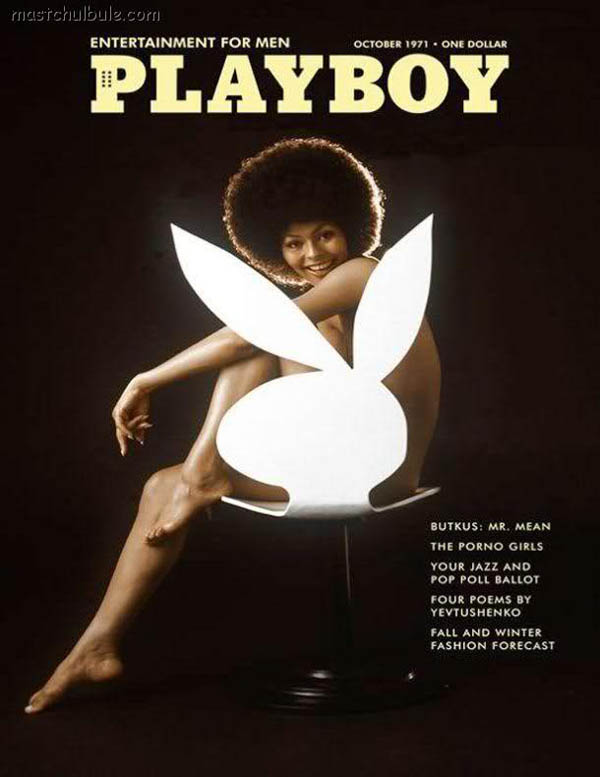 In 1971, model Darine Stern made history as the first African-American model to grace the cover of Playboy magazine.
At that time featuring a woman of color on a major American magazine was rare. Playboy pushed the then controversial idea that African-American beauty was equal to white beauty.
Stern's iconic pose was emulated for Playboy in 2009 by cartoon character Marge Simpson.
5

Time takes image manipulation of O.J. Simpson too far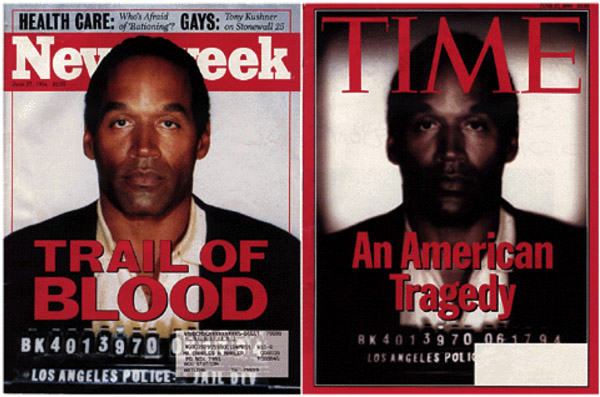 In June 1994 former football star O.J. Simpson was arrested for the murder of ex-wife Nicole Brown Simpson and her friend Ron Goldman.
Time decided to use Simpson's mug shot for the cover of the June 27 issue and asked photo-illustrator Matt Mahurin to artistically alter the image. Mahurin darkened the photo and reduced the size of the prisoner ID number.
Managing editor James Gaines claimed, "The harshness of the mug shot – the merciless bright light, the stubble on Simpson's face, the cold specificity of the picture – had been subtly smoothed and shaped into an icon of tragedy. The expression on his face was not merely blank now; it was bottomless."
The public didn't see it that way, however, and called the modifications racist. Critics claimed the magazine had emphasized Simpson's skin color and gave him a more "menacing" appearance. It didn't help that Newsweek ran an unaltered cover of the mugshot in the same week.
6

National Lampoon pushes animal rights activists to the edge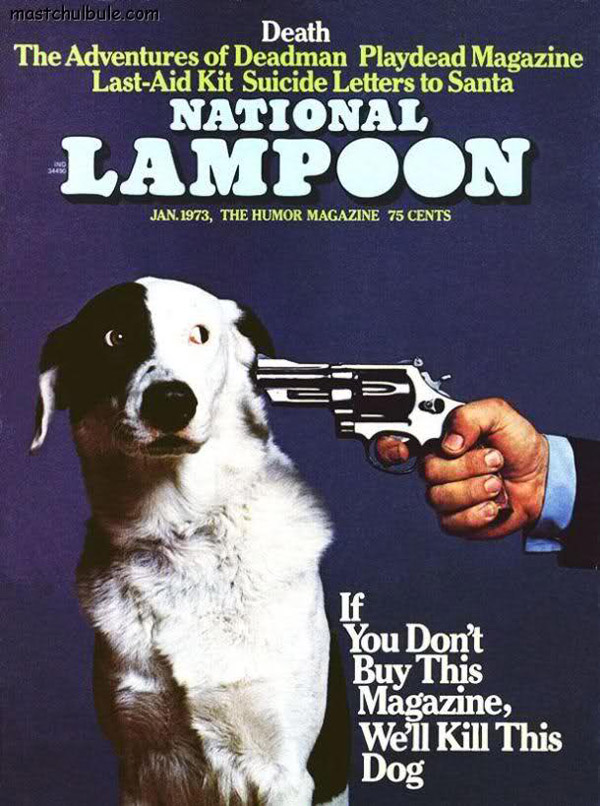 In 2005, the American Society of Magazine Editors selected this National Lampoon cover as the seventh-greatest of the the past 40 years. However, in the days before Photoshop, the cover angered many in the animal rights community with its overtones of cruelty.
Photographer Ronald G. Harris had a tough time getting the dog to look humorous instead of pathetic. His solution? Cocking the revolver – the clicking sound caused the dog's eyes to shift into the position shown.
7

Time breaks social taboos about breastfeeding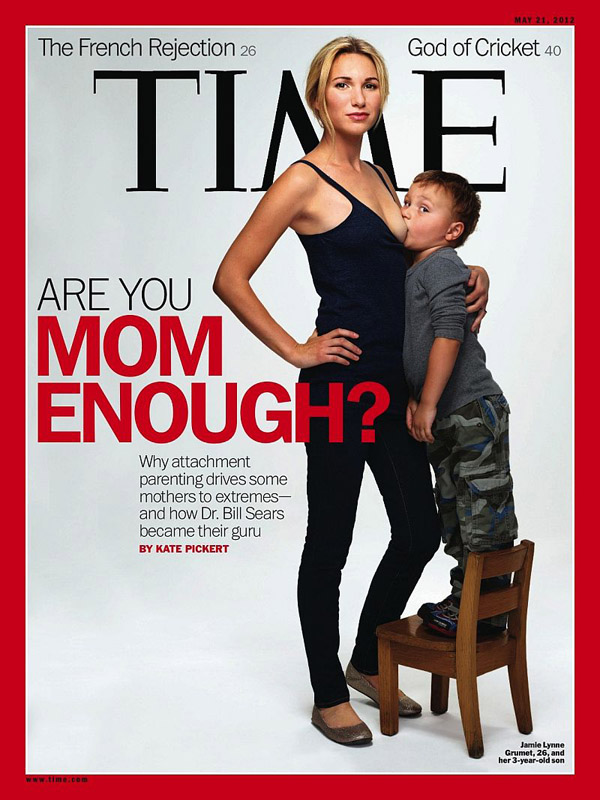 In 2012, Time shocked moms across America with its provocative cover of 26-year-old Jamie Lynne Grumet breastfeeding her 3-year-old son.
Reaction ran the gamut from outrage to support. Some questioned why the magazine used Grumet, a woman pretty enough to be a model, as its cover star to illustrate a story about a style of childrearing – attachment parenting – that's been around for a generation.
Grumet and son were skewered on U.S. television. When the cover appeared on some news shows, Grumet's breast was blurred. Newsstands even covered up the offending image.
8

Bert and Ernie come out in The New Yorker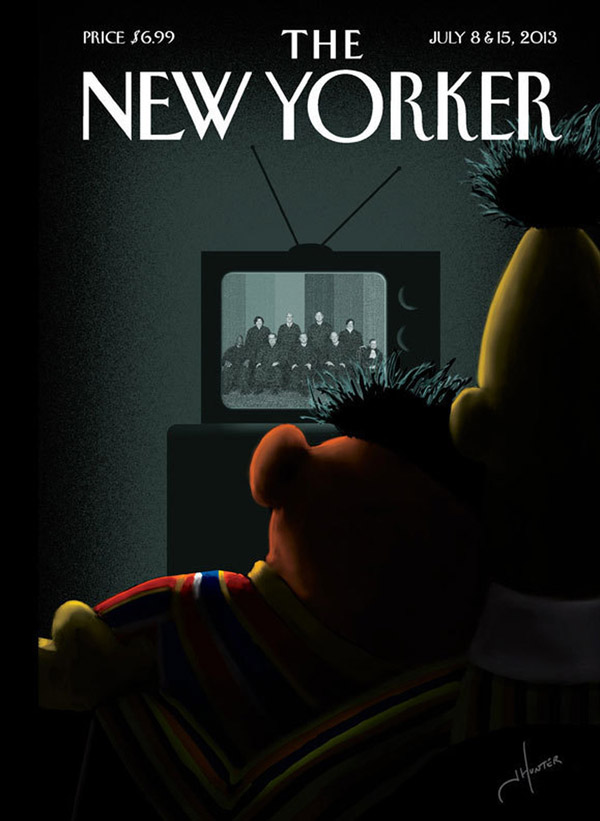 A cover is a considered a success when it stirs strong debate on both sides of an issue and this New Yorker cover from July 2013 is no exception.
The cover features Sesame Street characters Burt and Ernie cuddling on a couch while watching the U.S. Supreme Court rule in favor of marriage equality.
Reaction was swift and strong. Buzzfeed and Huffington Post called the cover "amazing" while New York magazine writer Dan Amira said the cover was more effective than the image of an "out" gay couple would have been.
Not everyone was happy, however. Right-leaning National Review ran it under the headline "Innocence. Lost." and Flavorwire's Tyler Coates wrote the image "infantilized" the gay rights movement.
Sesame Street's creators did not comment on the cover, but have long insisted Bert and Ernie aren't a couple and as puppets do not have a sexual orientation.
9

Rolling Stone presents rapper Kanye West as Jesus Christ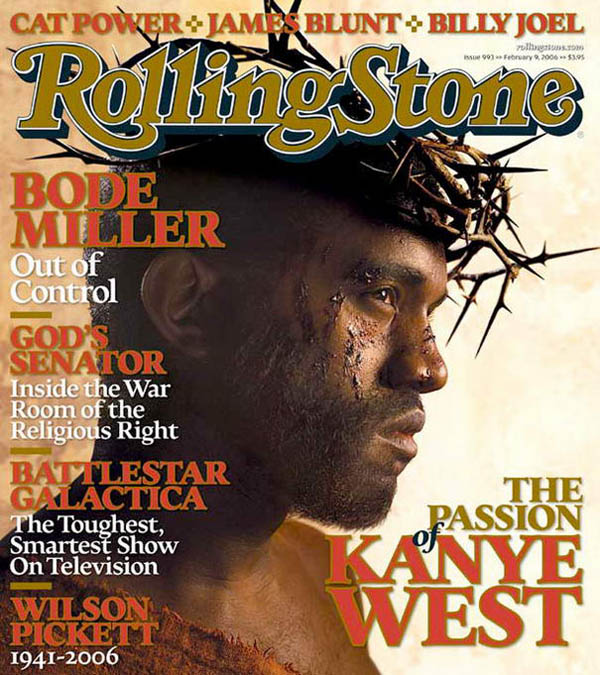 In 2006, rapper Kanye West and Rolling Stone magazine drew fire for depicting West as Jesus Christ, complete with crown of thorns. Photographer David LaChapelle explained that he wanted the cover to be thought-provoking and look exactly like the DVD cover of The Passion of the Christ.
West saw no problem with the comparison and claimed he had a lot in common with Jesus as both men had to "fight for recognition and success."
10

Hitler named Time magazine "Man Of The Year"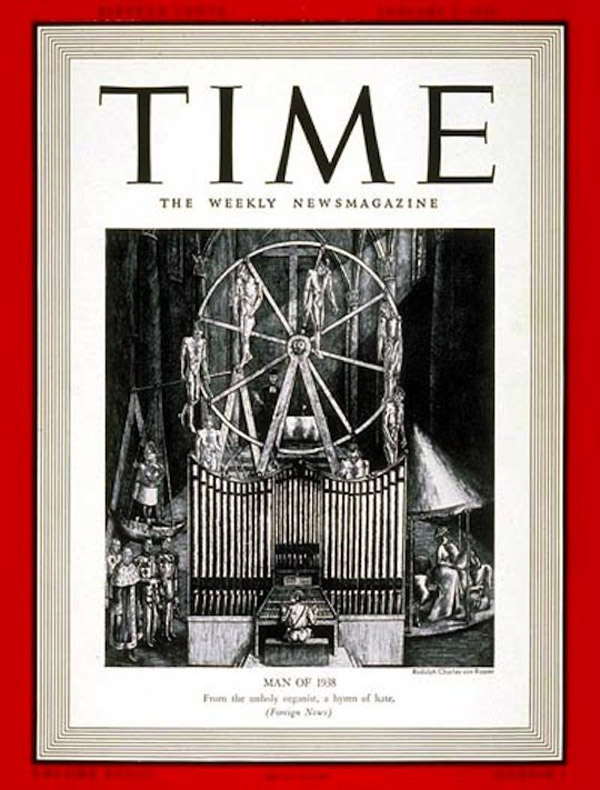 Time's history of controversial covers started with its annual "Man of the Year" issue. For 1938, the magazine chose Adolf Hitler as the person who had most influenced events of the previous year "for better or worse."
The cover picture is Hitler playing "his hymn of hate in a desecrated cathedral while victims dangle on a St. Catherine's wheel and the Nazi hierarchy looks on."
The cover illustrator was Baron Rudolph Charles von Ripper, a German Catholic who escaped Hitler's Germany.
11

Mad magazine flips off its readers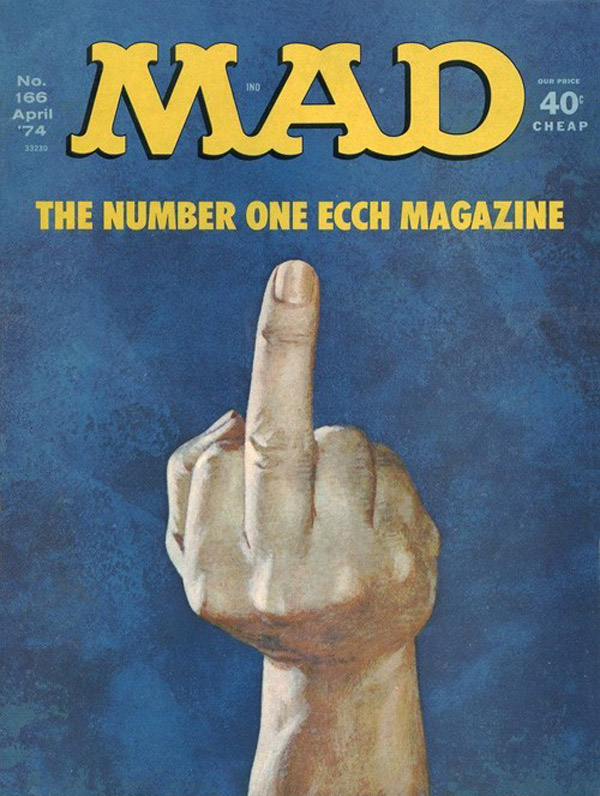 This April 1974 Mad magazine cover was controversial for obvious reasons. Newsstands and stores across the country refused to stock the issues and returned stacks of them to Mad, who put them in storage. So many were returned that 30 years later, Mad gave copies out free to readers who signed up for subscriptions.
12

A kiss is not just a kiss after the Crown Heights Riot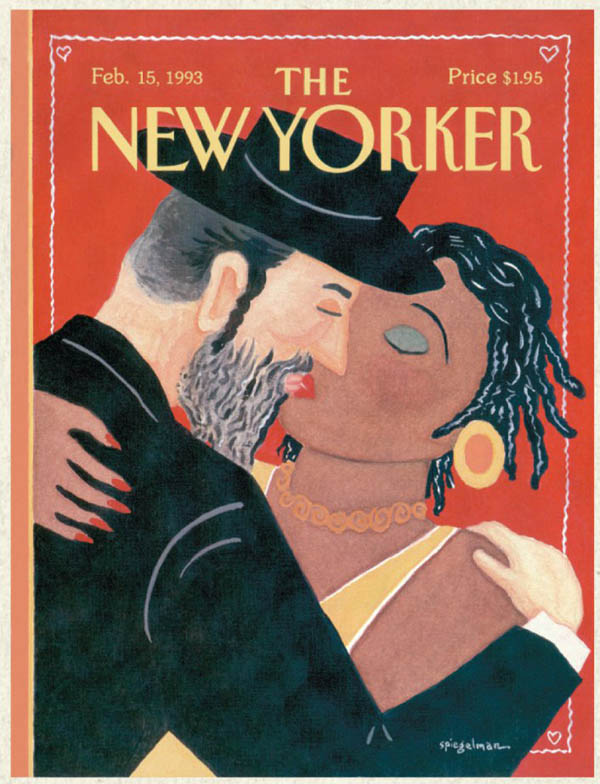 Illustrator Art Spiegelman's 1993 New Yorker cover showed a Hassidic Jewish man and a black woman kissing. It came after tensions between the two groups spurred intense riots in the Crown Heights section of Brooklyn.
New York's Hasidic community was outraged. One rabbi called it a "a tasteless publicity stunt" and "unrealistic" while another called it "nauseating."
Additional critics called Spiegelman a racist for showing a white man kissing a black woman rather than the alternative. "What exploiting?" he asked. "They're kissing each other."