1

Floating Wooden Skateboard Ramp (Sierra Nevada, US)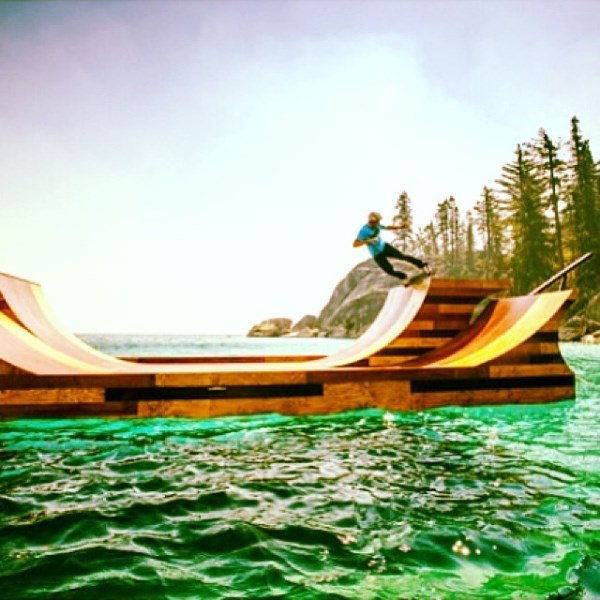 Taking a spin on this free-floating skateboard ramp is not only more thrilling than busting smith grinds at your local skate park, it's also more dangerous, which is why it's floating atop Lake Tahoe and not on the open sea.
This wooden skate ramp barge is the brainchild of pro skater Bob Burnquist, who decided long ago that regular ramps and half pipes were far too boring, so he collaborated with builders Jerry Blohm and Jeff King to create a ramp covered raft any skateboarding castaway would be proud to call home.
2

Floating Forest (Australia)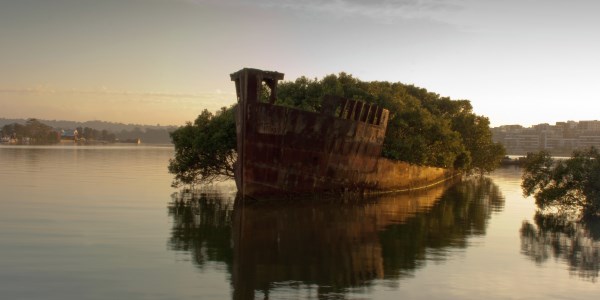 This incredible 102-year-old floating forest is the result of 40 years of mangrove tree growth in Homebush Bay, Sydney. The SS Aryfield is an abandoned ship used in WWII that was left in the bay to deteriorate after the ship wrecking yard closed down.
The SS Ayrfield (originally launched as SS Corrimal), was a collier ship built in England in 1911 and used by the Commonwealth Government during World War II to transport supplies to American troops in the Pacific. It was sold in 1950 and operated as a collier on the sixty-miler run between Newcastle and Sydney, until 1972 when the ship's registration was canceled and it was sent to its final resting place, Homebush Bay.
A bunch of full-grown mangrove trees now call this rusty partly-submerged piece of metal home, creating a new and unique attraction that draws in photographers from all over the world.
3

Floating Swimming Pool (Germany)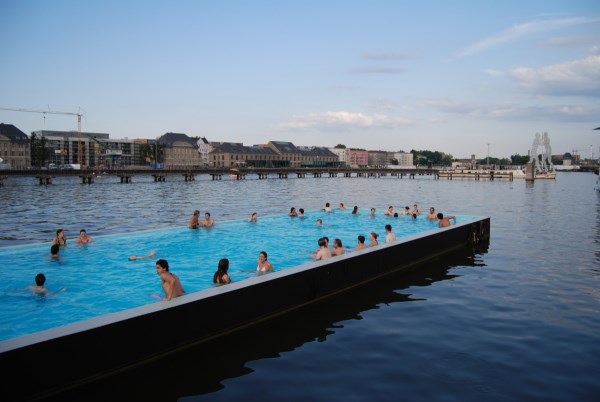 A swimming pool on a river, there's something you don't see every day.
Berlin's floating Arena Badeschiff (that's German for "bathing ship") swimming pool provides the perfect place to spend hot summer days at the bustling German capital. The 105-foot-long pool floats in the river Spree, and it invites the public to relax, sunbathe, do yoga and swim. Arena Badeschiff was developed by AMP Arquitectos, Wilk Salinas, Thomas Freiwald and the artist Susanne Lorenz.
4

Floating Golf Course (Idaho, US)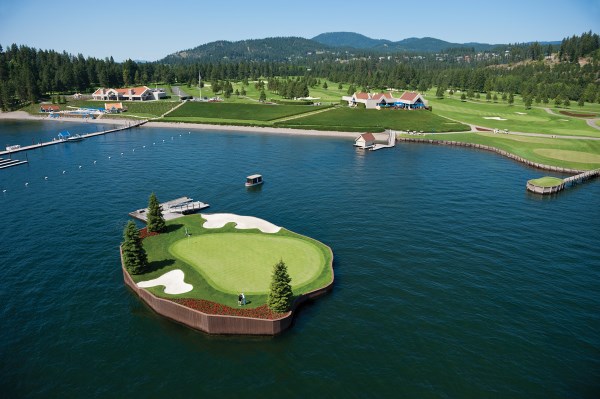 If you like to play golf you're going to love this. A floating golf course that changes location. Driving onto this famous green is always a challenge, not just because it's a par-3 located in a massive lake, but because it moves! Land on the island, and you're a hero. Otherwise, you'll join one of thousands of balls fished out of the water by divers every year. Either way, it's a one-of-a-kind golf game.
You can find this floating golf course at the Coeur d'Alene Resort in Idaho, USA.
5

Floating Cinema (Thailand)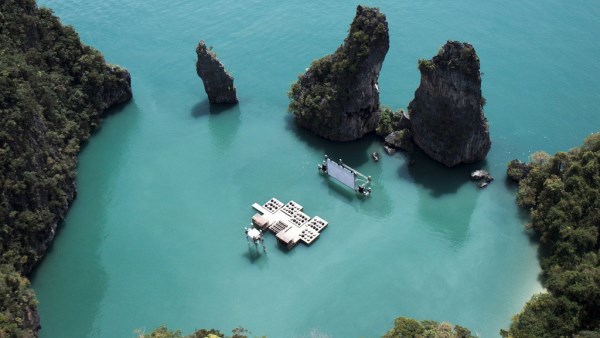 How cool is this? Catch a movie, while surrounded by beautiful turquoise waters, on this floating cinema!
The Archipelago Cinema is an auditorium raft designed to float on the sea, premiered at the inaugural edition of the Film on the Rocks Yao Noi Festival, in Thailand.
The theater was designed by German-born and Beijing-based architect Ole Scheeren.
6

Floating Stadium (Singapore)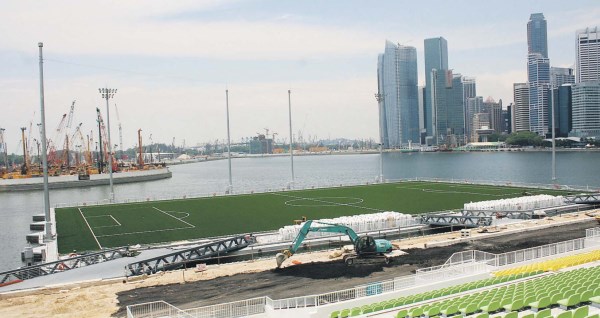 The Float at Marina Bay, also known as Marina Bay Floating Platform, is the world's largest floating stage. It's located on the waters of the Marina Reservoir, in Marina Bay, Singapore.
Made entirely of steel, the floating platform on Marina Bay measures 120 meters long and 83 meters wide, which is 5% larger than the soccer field at the National Stadium. The platform can bear up to 1,070 tons, equivalent to the total weight of 9,000 people, 200 tons of stage props and three 30-tons military vehicles. The gallery at the stadium has a seating capacity of 30,000 people.
7

Floating Opera Stage (Austria)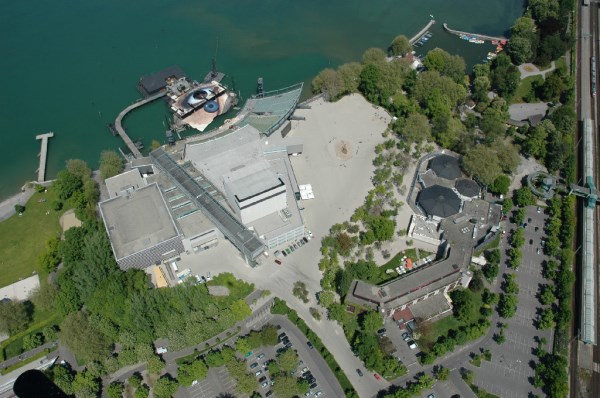 Every two years, the Bregenzer Performing Arts Festival in Austria constructs an enormous floating stage that looks like anything other than an opera stage. The 7,000 seat Seebühne, floats over water on the shores Lake Constance. Past designs include human heads, steam engines, and ice-covered mountains.
8

Floating Market (Indonesia)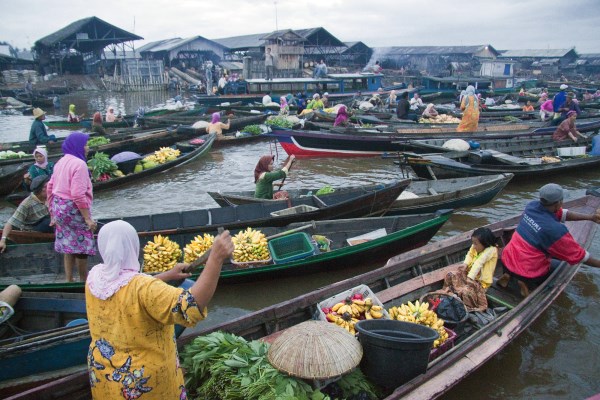 Banjarmasin, South Kalimantan in Indonesia is the city known as the city of a thousand rivers. There you can find their unique and traditional market that is better known as Muara Kuin Floating Market, located in the Barito river waters at the mouth of the river Muara Kuin.
Small boats called jukung bring merchandise with vegetables, fruits, all kinds of fish and household goods available to the floating market.
9

World's Largest Artificial Floating Island (South Korea)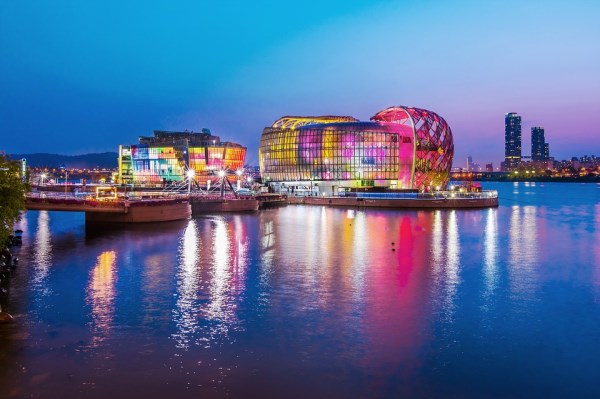 The world's largest artificial floating island has recently been opened in the South Korean capital, Seoul.
The island, under construction on the Hangang (Han River), is the first equipped with an aquatic convention center and is used for concerts, conventions, exhibitions and water sports.
The floating island consists of three man-made inter-connected islets. Islet 1, the biggest of the three, is three stories high and measures 10,845 square meters. It includes a 700-seat convention hall. Islet 2, a three-story structure measuring 5,373 square meters, puts a focus on developing facilities for cultural events. Islet 3, two stories high, takes up a 4,164 square-meter area and is devoted to various aquatic leisure sports activities like yachting. The total number of seats for exhibitions and conventions is 1,400. The islands can accommodate 6,200 people and are set to make the Han River, which 59 million people visited last year, an even more popular tourist spot.
10

Floating Eco Hotel (Peru)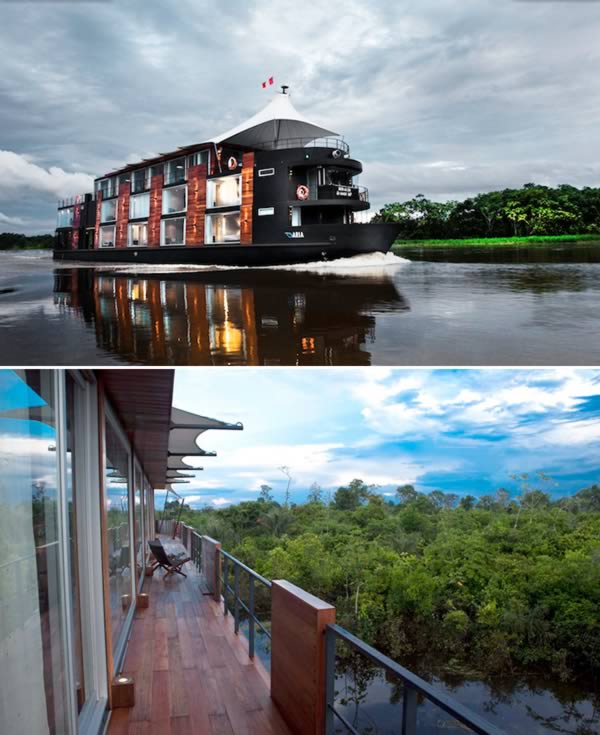 Those wishing to explore the Amazon River can now do so (and make sure they have an environmentally-friendly vacation) by making reservations for Aqua Expeditions' Floating eco-hotel.
Thanks to Jordi Puig, the Peruvian architect who came up with the design for this innovative resort, the hotel can both provide tourists with an enjoyable vacation and keep a close eye on environmental protection by constantly monitoring and cutting down on its ecological footprint.
The hotel can accommodate up to 32 guests (2 in each of its 16 rooms). A lush lounge, an exercise room and an outdoor Jacuzzi also made their way into its design.
The 147-foot boat also takes guests to the remote and beautiful area of the Pacaya Samiria National Reserve, a unique preserved area. The mobile hotel brings tourism to these native areas along the Amazon, without being intrusive and also helps to support local communities and promote environmental conservation efforts in the Pacaya Samiria National Reserve.