Some of us a might be guilty of overaccessorizing our little animal friends, but don't they look cute?
1

Cat in Leather Suit of Armor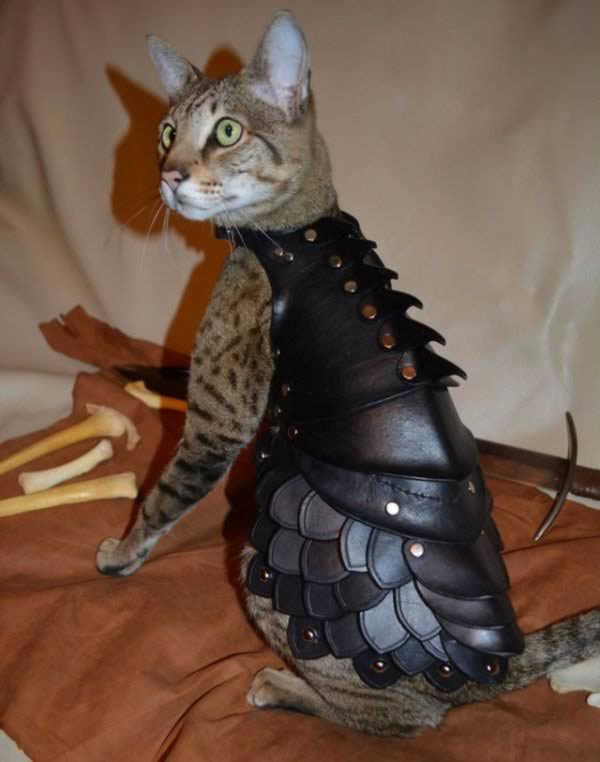 Is your kitty a little gladiator? Then celebrate her purrfect killing methods with this fantastic suit of armor made by Etsy seller schnabuble.
2

Cat Wearing Leggings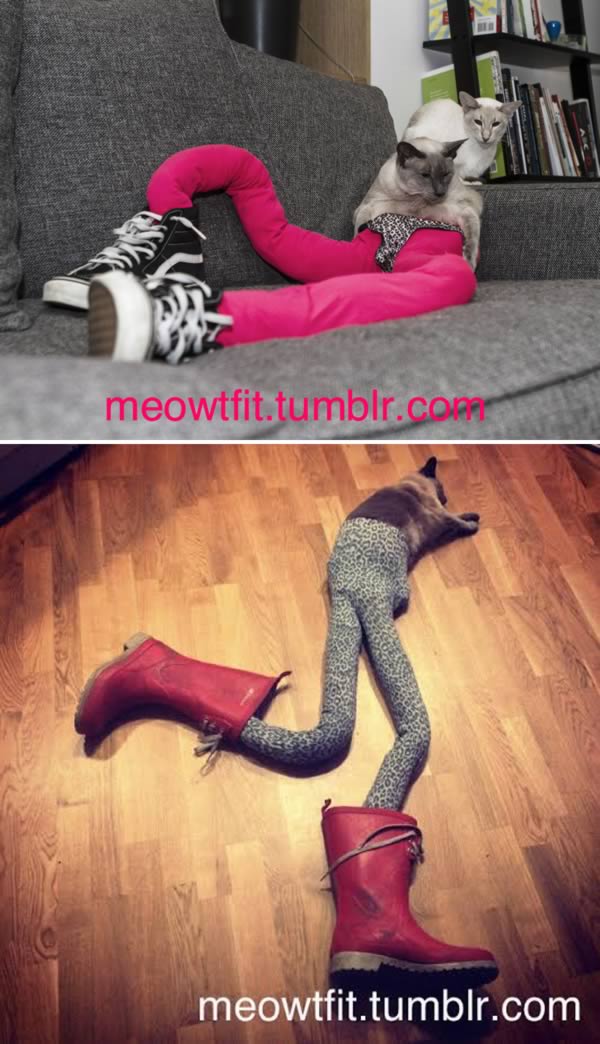 Katja Wulff and her boyfriend Dan Sörensen of Gothenburg, Sweden started the Meowtfit blog on tumblr.. It's photos of their cat, Gucci, wearing tights. Check out their blog for more outfits.
3

Pig in Boots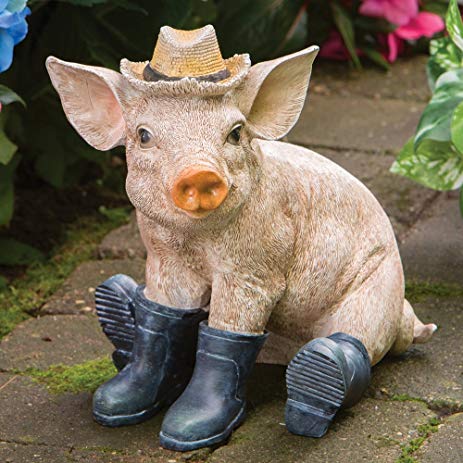 You can't get much happier than a pig in muck, or so we're told. However, when this little piggy arrived in the farmyard she showed a marked reluctance to get her trotters dirty. It is thought she might have mysophobia – a fear of dirt.
Owners Debbie and Andrew Keeble were at a loss, until they remembered the four miniature boots used as pen and pencil holders in their office. They slipped them on the piglet's feet – and into the mud she happily ploughed.
4

Elephant in Jeans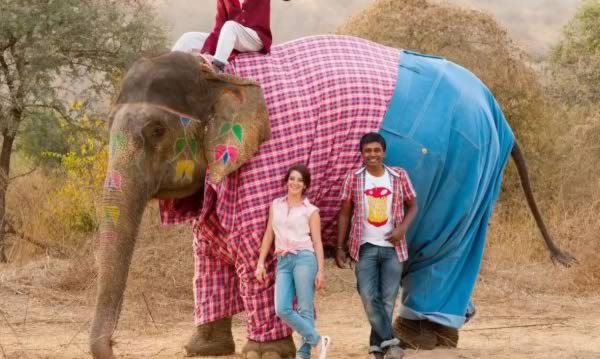 In a bid to promote Denizen's jeans, Lorena Garal and Nawed Kahn traveled to Jaipur to take part in an elephant pageant, although there was a catch—the animal had to wear a pair of Denizen jeans.
In a strange mash-up of east and west, the elephant entering the competition looks like it would fit in more in New York City than India — and it seems like the judges did not take to it either since it did not win.
I think they should totally take the prize only for managing to get such a big animal dressed.
5

Dogs Wearing Pantyhose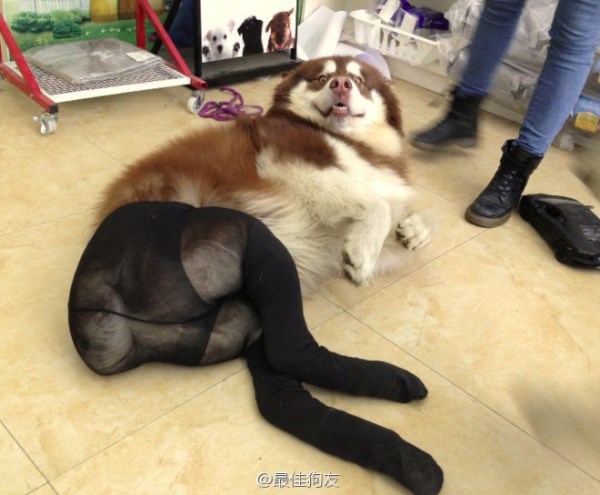 If you find it odd for cats to wear leggings, take a look at the latest canine installment: Dogs wearing pantyhose. It seems to be trending in China, according to Sharp Daily, a Hong Kong news site.
6

Scarf for Cats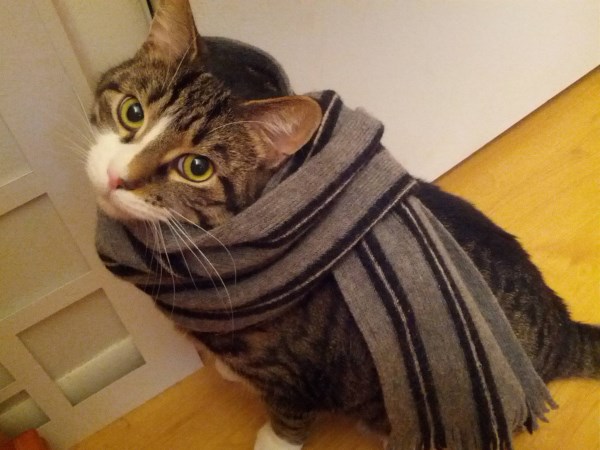 Your cat can get cold, especially if they spend their time roaming around outdoors, which is why they should wear a Knitted Scarf for Cats.
This hilarious yet totally chic neck warmer is sure to look great on any kitty. You might, however, have trouble keeping it on them. This cute item comes from Etsy seller Julia Perez and can be bought on 'theLovestitch' page.
7

Chicken Diapers and Saddles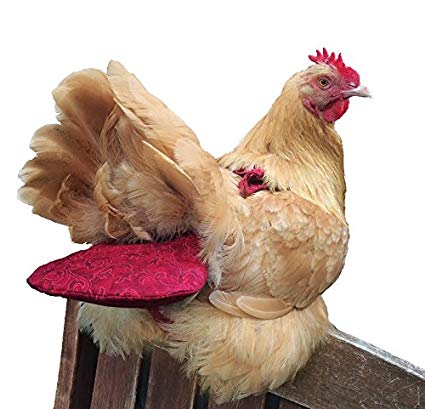 When Julie Baker's backyard birds started spending more time inside, it was tough to keep them clean. So she got innovative. She sewed up a cloth diaper — chicken-sized, of course — added a few buttons and strapped it onto her little ladies.
One thing led to another, and eventually a business was born. Now Baker ships out about 50 to 100 diapers a week to urban farmers around the country. The store also sells saddles.
And she's not the only one. A quick Google search finds several other shops offering custom-sized diapers and leash-ready saddles.
8

Penguins in Sweaters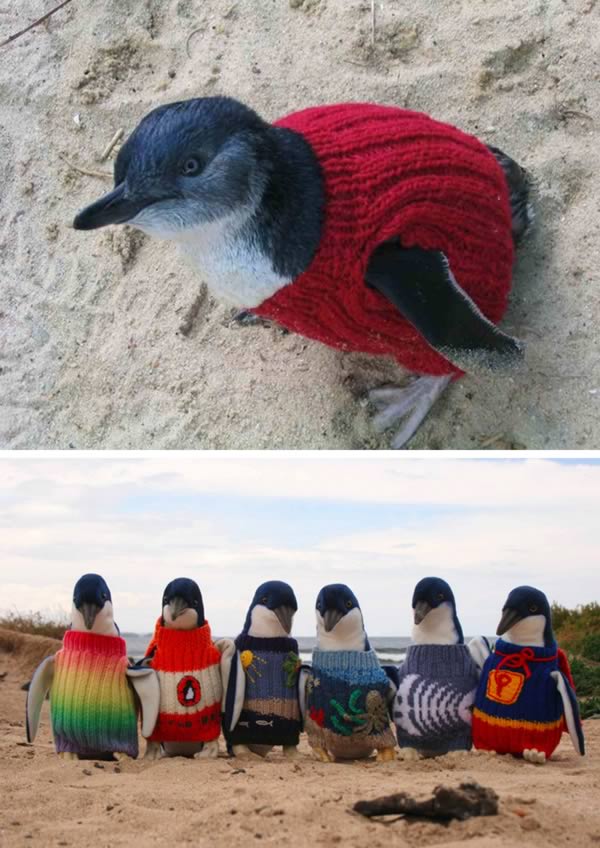 Get ready to squee until you lose your voice!
The Penguin Foundation at Phillip Island Nature Parks rescues the little tuxedoed birds from oil pollution and dresses them up in cute little sweaters. And it's not just for looks, you know?
It only takes a tiny amount of oil to kill a penguin; the oil mats feathers and can lead to death from exposure and starvation. Additionally, penguins can be harmed by preening and ingesting the toxic oil.
That's where the jumpers come in! When oiled penguins are admitted to the park's clinic, they get a jumper to keep them warm and to stop them from preening.
UPDATE: Knits for Nature is an ongoing program that begun after a number of oil spills near Phillip Island in the late 1990s to early 2000s. Please know that they DO NOT urgently require little penguin jumpers for rehabilitation, they have a good supply of these which they use on any rescued oiled penguins and in the event of an oil spill, these jumpers are also sent to other wildlife rescue centres if required. (Thanks, Sue) .
9

Bunny in Bunny Slippers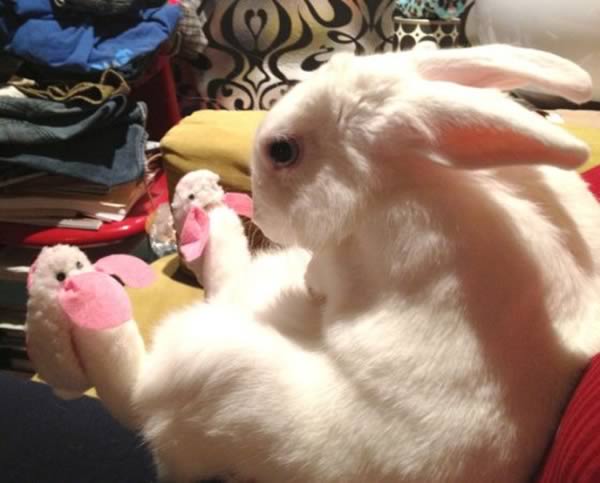 This is Albi Rabbit. He has a website, Twitter, Facebook, You Tube and Instagram – oh, and he also wears bunny slippers to chill out.
10

Turtle in Crocheted Sweater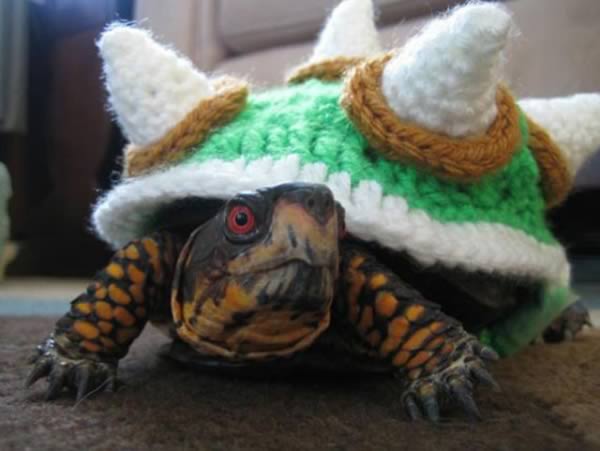 Jennifer Olivarez of Squirrel Picnic crocheted this Bowser (from Super Mario Bros) sweater made for a turtle. Here it is modeled by Myrtle. Lookin' good, Myrtle! If you have a pet turtle and are a little jealous, don't be, Jennifer's been kind enough to provide a tutorial so you can make one, too.