1

The Naked Guy Who Asked Pop Star Miley Cyrus to His Prom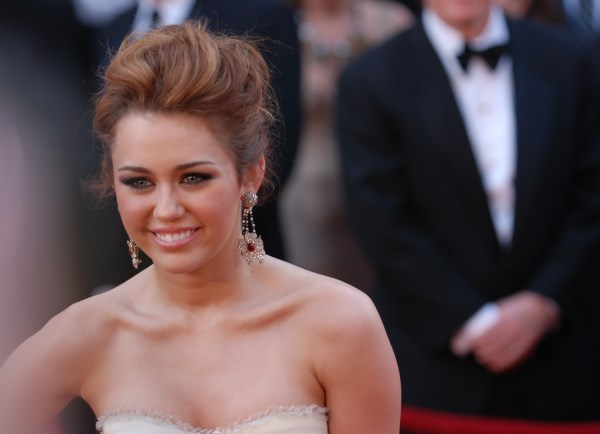 Phoenix, AZ native Matt Peterson recently posted a viral video inviting Miley Cyrus to his be his high school prom date come May 3rd.
The 3-minute YouTube clip begins with the 17-year-old fan wearing a black "Team Miley" T-shirt as he rehashes the two times he met Cyrus. He then strips down naked with only a huge foam finger covering his manhood. Armed with a bouquet of roses, Peterson promises, "we will have a great time."
Did Miley responded to Matt? Yes! However, there's good news and bad news. The bad news – she can't go with him. The good news – she wants to spend some up-close-and-personal time with him in his home state.
2

The Senior Who Asked a Porn Star to be His Date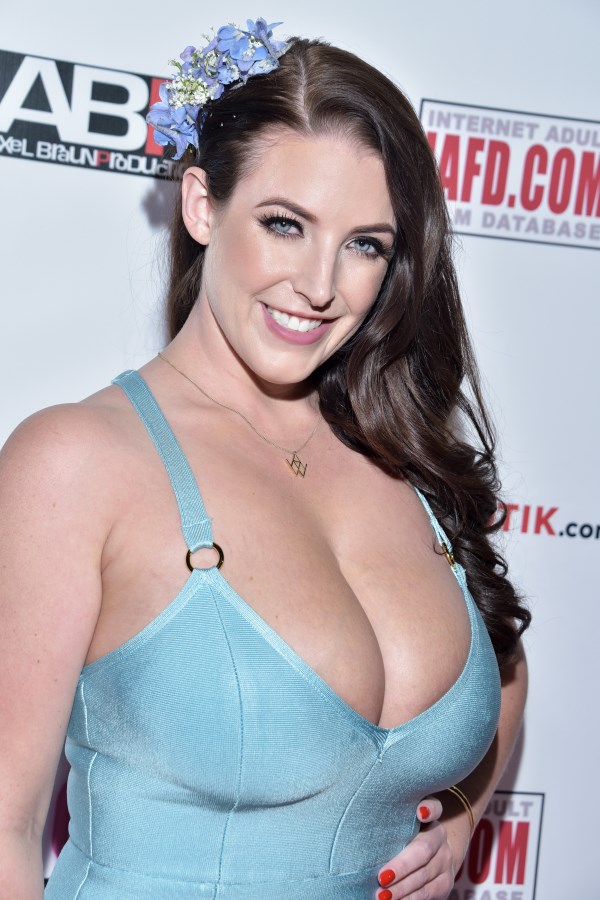 Tartan High School Senior Mike Stone couldn't get a date for the prom in his hometown of Oakdale, MN, so he took to Twittter and popped the question – "Will you go to prom with me?"– to over 600 celebrities. He wooed them with the promise of "dinner, hotel and a massage too."
His exhaustive efforts eventually paid off. Los Angeles - based adult film entertainer Megan Piper,19, agreed to be Stone's date.
Unfortunately for the hopeful teen, his school said Piper's attendance would be "inconsistent with school district policies." Mike and Piper planned their own "alternative prom" and invited the Tartan High School students instead.
3

The Autistic Kid Who Made an Awesome Video Detailing Why Ellen DeGeneres Should be His Prom Date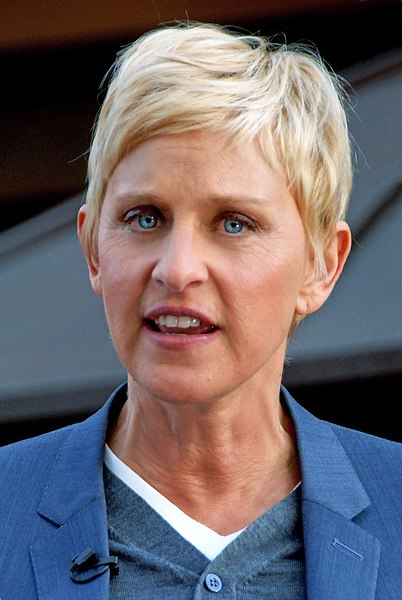 In January 2014, Esteban Barriga, a 17-year-old kid with autism who lives in Maynard, MA, told his mom that he was feeling lonely at school and didn't want to attend his senior prom. Eventually, he came around to the idea, and decided his dream date would be Ellen DeGeneres.
With the help of his family and friends, Esteban made an awesome video detailing why Ellen should be his prom date. Esteban's entire hometown, high school, fire department, police department and local McDonald's all chipped in to help – the spectacular video included a list of reasons for Ellen to consider Esteban's invitation.
We at Oddee.com wish Esteban the best of luck !
4

The High School Student Who Landed a Prom Date With a Maxim Model
In a move sure to inspire hundreds of copycats, Conner Cordova, a 17-year-old Dakota Ridge High School senior, used a series of YouTube videos to convince UFC Octagon Girl and Maxim model Arianny Celeste to be his prom date.
The Colorado teen took shamelessness to new heights to win his dream girl. He recruited UFC fighters to assist him, and danced like a fool in Las Vegas and while wearing a fake mustache.
Arianny's replied a few weeks later – she agreed to go, as long as Cordova had a date for her friend.
Not surprisingly, Cordova didn't seem to have any problems finding someone to fit the bill.
5

Houston Rockets' Forward Declines Prom Invite, But Sends Huge Party Bus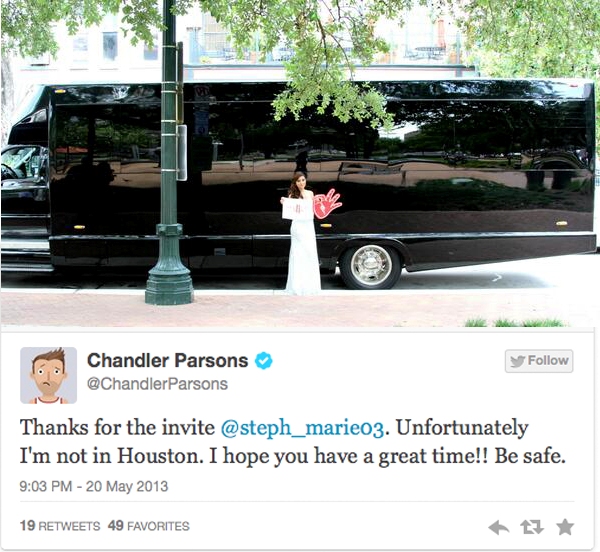 Stephanie Flores took to Twitter to ask Houston Rockets' forward Chandler Parsons to be her prom date. To ensure he would see the prom request, Flores enlisted friends to bombard Parsons with tweets on her behalf.
After at least 15 of her friends sent tweets to the second-year player, she got a response. Parsons couldn't make it. He wasn't going to be in Houston that weekend.
Just getting a response was enough to make Flores' day, but Parsons went the extra mile and sent a surpise – a party bus for her and her friends. She tweeted, "Big thanks to @HoustonRockets @ChandlerParsons for this party bus! You made my prom even more special!"
6

The "Boy Belieber" Who Asked Justin Bieber to Prom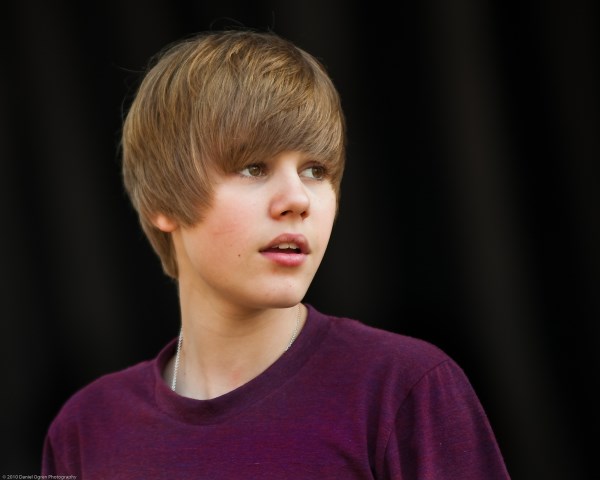 When it comes to attending the prom with a celebrity, most teenagers have an ace up their sleeve. However, Leon Purvis, a 16-year-old high school senior, chose to put all his cards on the table.
Purvis – a self-proclaimed "boy belieber" – posted a video on YouTube asking Justin Bieber to attend his junior prom as his "bro" date. He then to garner more attention through a tireless online campaign that included blog posts.
According to NJ.com, Purvis' prom requests became viral sensation, with celebrities like Perez Hilton and Ryan Seacrest picking up on the story. Despite his best efforts, Bieber didn't respond and Purvis ended up taking a life-sized cardboard cutout of the pop star to the school function.
A year later, Purvis asked two-time Olympic gold-medal winning gymnast Gabby Douglas - named one of Walters' "10 Most Fascinating People" of 2012 - to his senior prom through another YouTube video. Douglas couldn't make it, but responded, ?"@LeonPurvis Thanks 4 my HBD wishes & invite 2 prom. I hav a scheduling conflict sadly I can't go altho I would love 2.Hope u hav a blast!!"
The teenager eventually did get to meet his pop idol, after Bieber's manager reached out to Purvis with two front row tickets to a Philadelphia concert.
7

Student With Neuro-Disorder Asks Scotty McCreery to Prom With a Little Help From Mom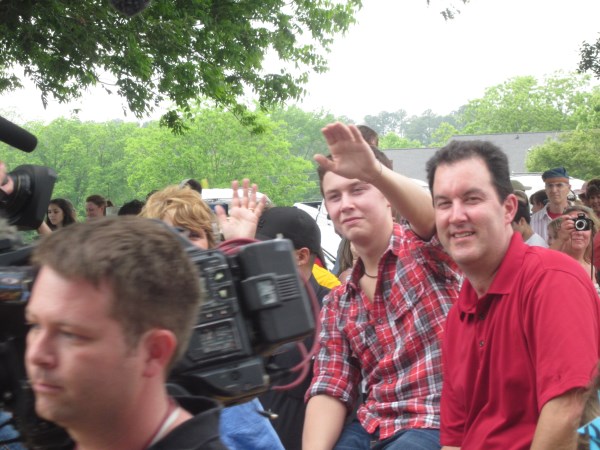 Brooke Dutridge was unlike the other students in her class at Sylvania Southview in Sylvania, OH. Dutridge was diagnosed with Reflex Neurovascular Dystrophy, a chronic pain disorder where the nervous system goes haywire after a simple injury.
Because of the disorder, Dutridge had problems keeping up. She took courses online at home and missed out on a lot of school activities.
Brooke longed to have a somewhat normal senior year. Her family was then on a mission – to get her to prom with American Idol Scotty McCreery!
Brooke's mother created a Facebook event to gain follower support: "For those that know Brooke – will tell you she has a smile on her face as she pushes through what she is dealing with – she does not want her friends to suffer with her or feel sorry for her…. She just wants to be a 'normal' high school senior…. The highlight of Senior year is the Prom – and what better way to make it the best of ever for her is to have SCOTTY MCCREERY escort her! So what can you do? Send Scotty a tweet, write on his Facebook wall and get his attention!"
Brook's mom also shared a video about Brooke's life with friends and family, and tweeted @ScottyMcCreery to get his attention before the big day.
Scott saw her messages, but couldn't go due to his tour schedule. Instead, he offered Brooke tickets to his concert and met her after the show to sign her guitar.
8

The Talented Girl Who Parodied a Nick Jonas' Song to Introduce Herself to Her Would-Be Prom Date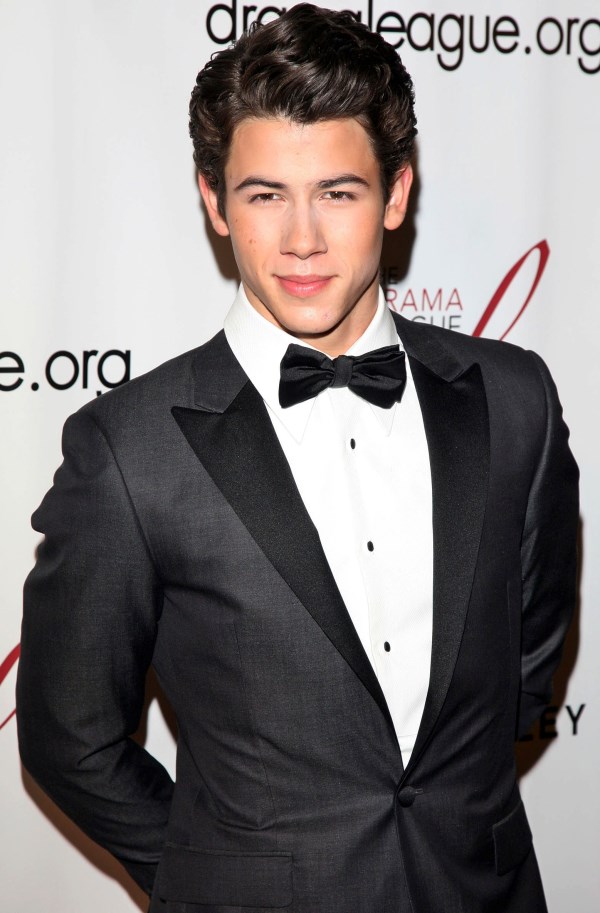 In an effort to snare Nick Jonas with her beguiling intellect and creativity, Ember Langley modified his song, 'Introducing Me," from Camp Rock 2 to introduce herself to her would-be prom date.
The song gained so much popularity that she was interviewed by WABB Studio 10, and The Ace and TJ Show .
Despite her enormous effort and talent, Nick didn't accompany Langley to the prom.
9

The Cancer Patient Who Spent Her Senior Prom With a Top American Football Star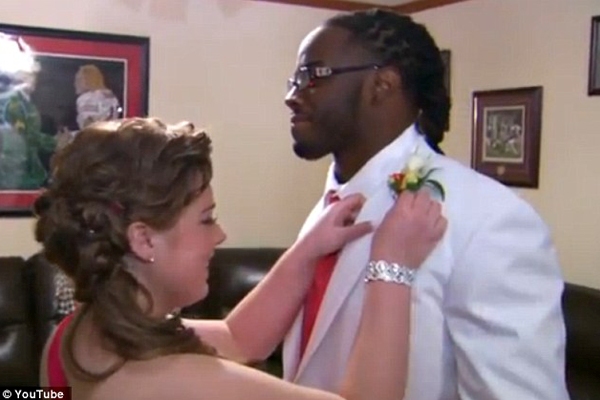 What better way to spend your senior prom after battling cancer than taking a top American football star!
Hueytown High School senior, Courtney Alvis, 17, had undergone treatment for leukemia and didn't have a date for the event. In fact, she didn't even think she was going to go to because she had put on weight through treatment and wasn't comfortable with her body.
A member of Alvis's family contacted a restaurant owner where a lot of the Crimson Tide football players ate. The owner, Agnew Hall, was moved by the girl story and sent and out a couple of texts to the players, but didn't get much of a response. He took a chance and sent a text to running back Trent Richardson.
Richardson was a true gentleman and offered to go with her. Her prom night was a dream come true – she and Travis were the center of attention and she was even chosen to be prom queen!
10

The Girl Who Received a Letter of Thanks from Conan O'Brien for Inviting Him to Her Prom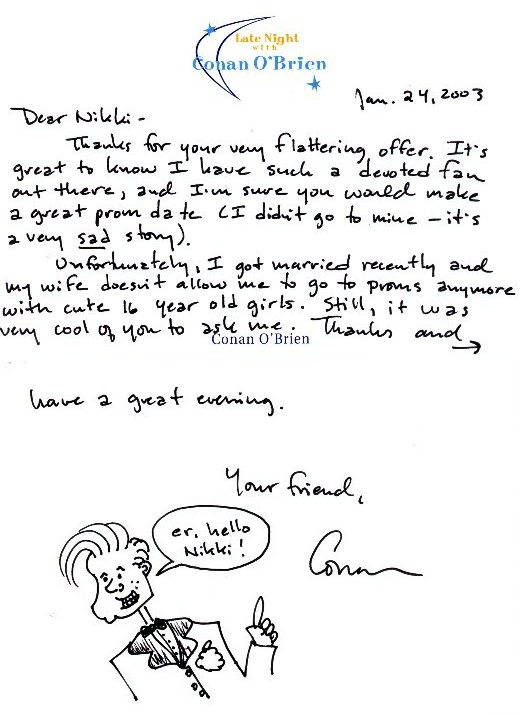 With her prom fast approaching and a date as yet undecided, Ohio-based Nikki Simmons wrote a letter to Conan O'Brien, asking him to her prom.
He wrote her back: "Dear Nikki, Thanks for your very flattering offer. It's great to know I have such a devoted fan out there, and I'm sure you would make a great prom date. (I didn't go to mine — it's a very sad story.) Unfortunately, I got married recently, and my wife doesn't allow me to go to proms anymore with cute 16-year-old girls. Still, it was very cool of you to ask me. Thanks and have a great evening. Your friend, Conan."
Although Conan turned her down, Simmons appreciated the fact he answered the letter, and said she will always be a Conan fan.