1

Guy Reenacts Romantic Movie Scenes with a Dog
Redditor mmsspp's boss brings her dog Wrigley with her to work Monday through Friday, so for the past month they have been reenacting romantic scenes from movies. It all started with a Titanic photo, but things escalated quickly.
2

Kids Reenacting 9/11, Katrina, and Other Major News Stories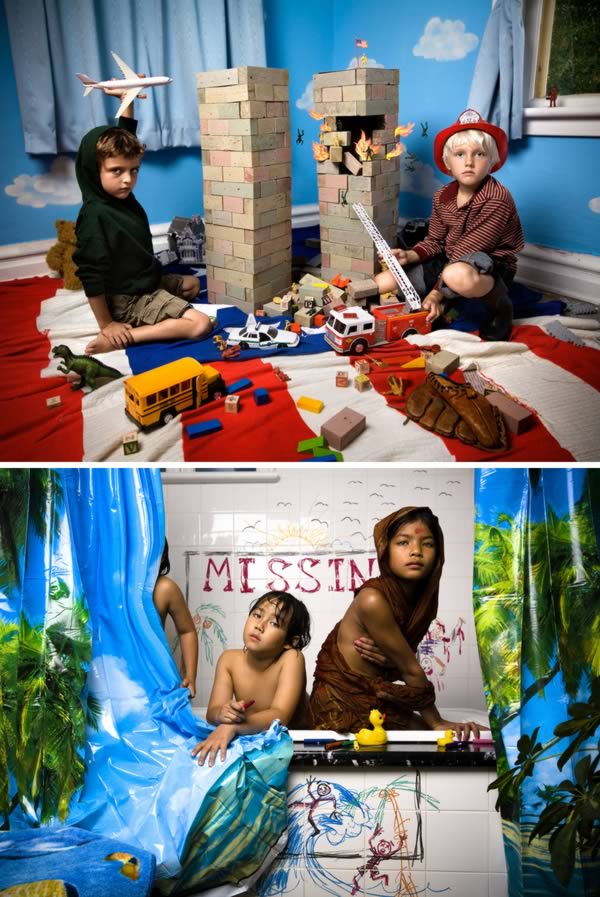 Canadian photographer Jonathan Hobin's series "In the Playroom" is guaranteed to make you uncomfortable. His work is a series of images that depict children reenacting major current events and headlines of our time, including major news items such as 9/11, Hurricane Katrina, the North Korean missiles, and the Jonbenét Ramsey trials. The collection juxtaposes the often devastating themes with the high-spirited setting of a kid's playroom.
3

Dad Reenacts His Wedding Photos with His Daughter in Memory of His Late Wife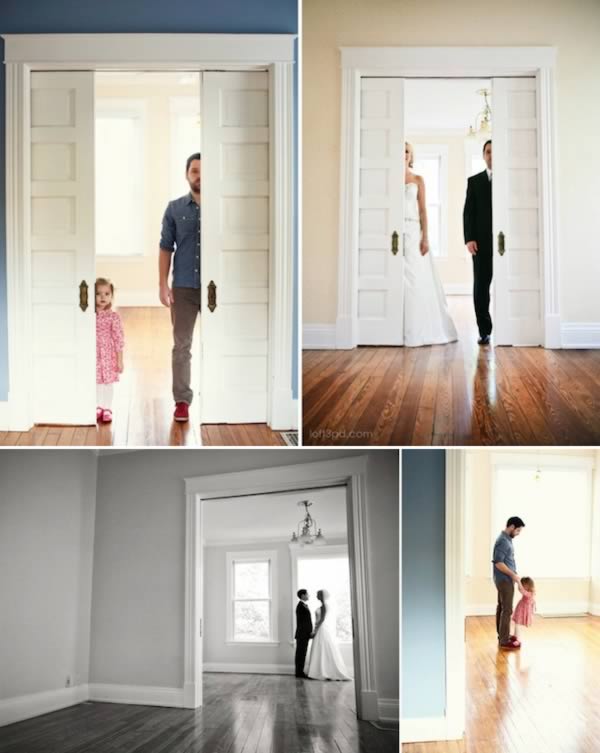 In 2011, Ben Nunery lost his 31-year-old wife Ali to lung cancer. They had been married for almost five years and had a one-year-old daughter together.
A few months ago, Ben realized that he needed to move out of the home he had shared with his wife. In fact, the two purchased the home just one day before their wedding, and since the home was empty the couple decided to have their wedding portraits taken inside the home. With the natural light coming through the large paned windows and illuminating vintage hard wood floors and colonial style French molding, the photos were gorgeous.
Before letting the home go, and with the house empty once again, Ben decided to recreate the photos that are now so precious to him with his new life partner – his 3-year-old little girl, Olivia.
4

Old Married Couple Reenacts Up in a Photoshoot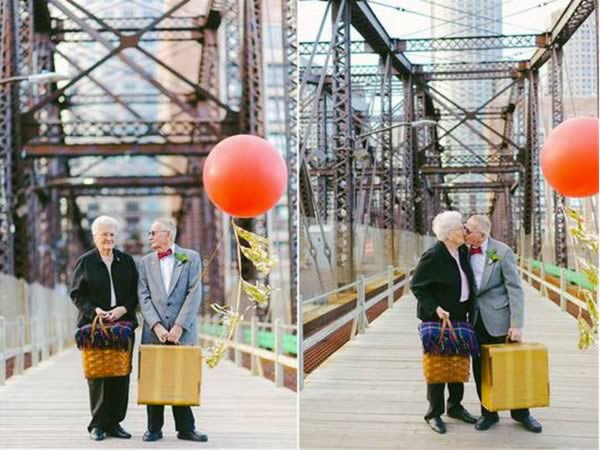 Sixty-one years is definitely a long time to be married. To celebrate their diamond anniversary plus one, the grandkids of Donald and Dorothy Lutz staged an adorable photoshoot inspired by the opening scene of the world's saddest/most uplifting movie, Up.
The Lutzes met during World War II when they became pen pals after Donald shipped out, and then fell in love through their letters. They have never seen the movie Up, but they were asked to do the shoot by their grandson's wife, Lauren Wells, and her photography partner, Cambria Grace, who had a bundle of leftover balloons from a photoshoot.
With props like a bowtie and a picnic basket, the couple posed on the Old Northern Bridge in Boston. The adorable images — intended as an anniversary gift — quickly went viral. In true grandparent fashion, they have asked for all of the Internet comments to be printed out so they can send them to friends who don't have computers.
5

Mother Reenacts Photos of Real Role Models with Her Daughter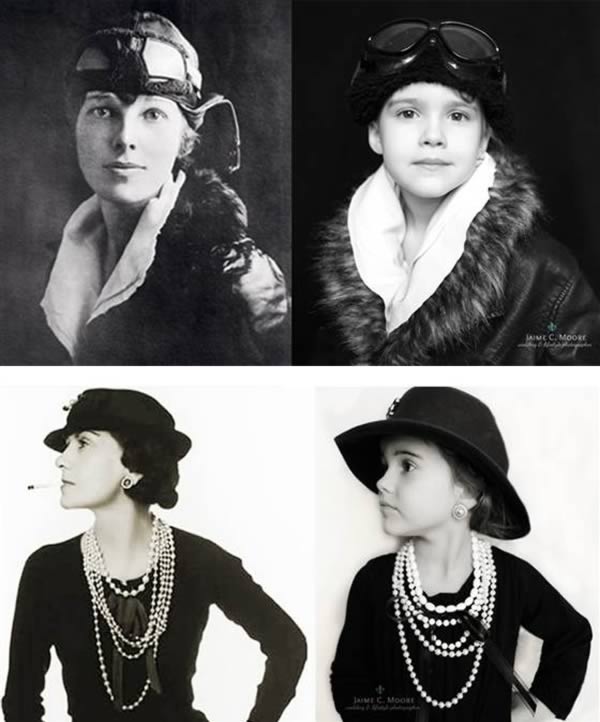 Most little girls won't grow up to be princesses, but they can become doctors, astronauts, and even presidents. That's the message that photographer Jaime Moore hopes to instill in her daughter, Emma. For the girl's fifth birthday in May 2013, Moore had her play dress-up in a series of photos emulating five influential female historical figures, Amelia Earhart, Coco Chanel, Susan B. Anthony, Helen Keller, and Jane Goodall. There's not a single fairytale princess among them.
The idea behind the "NOT just a girl" photo album struck Moore after she tried to find inspiration to commemorate her daughter's birthday. Moore, a wedding and lifestyle photographer, completed the photo shoot in three days, with each portrait session taking only about 15 minutes.
6

Blogger Recreates Baby Pictures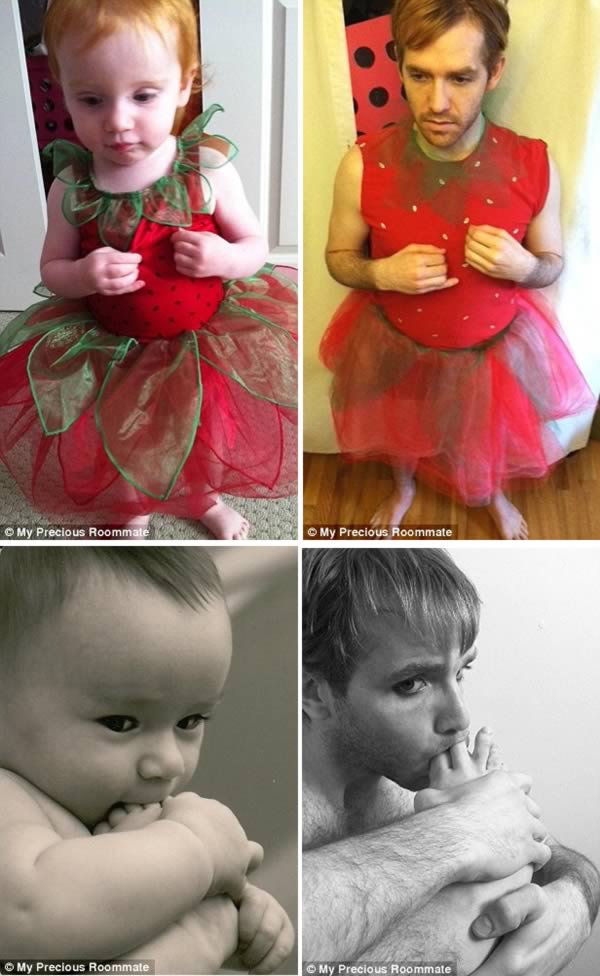 In a hilarious parody of Facebook's overwhelming number of baby pictures, two New Yorkers decided to reenact the cute images that are posted daily by friends and family by using a grown man in place of an adorable infant.
The blog "My Precious Roommate" features hundreds of photos taken by Molly Thomas of her roommate, actor Mick Bleyer, sucking pacifiers, wearing bibs and tutus, and even splashing in the bath. The pair started the site in June 2011 after a friend posted a photograph on Facebook of her newborn in a washing basket.
7

Photographer Reenacts Kids' Drawings of Their Grandparents

Yoni Lefevre, a designer in the Netherlands, asked children to draw pictures of their grandparents. Then, with props and costumes, she made those drawings come to life in photographs. The project was called "Grey Power."
8

Parents Recreate Famous Movie Scenes with Their Baby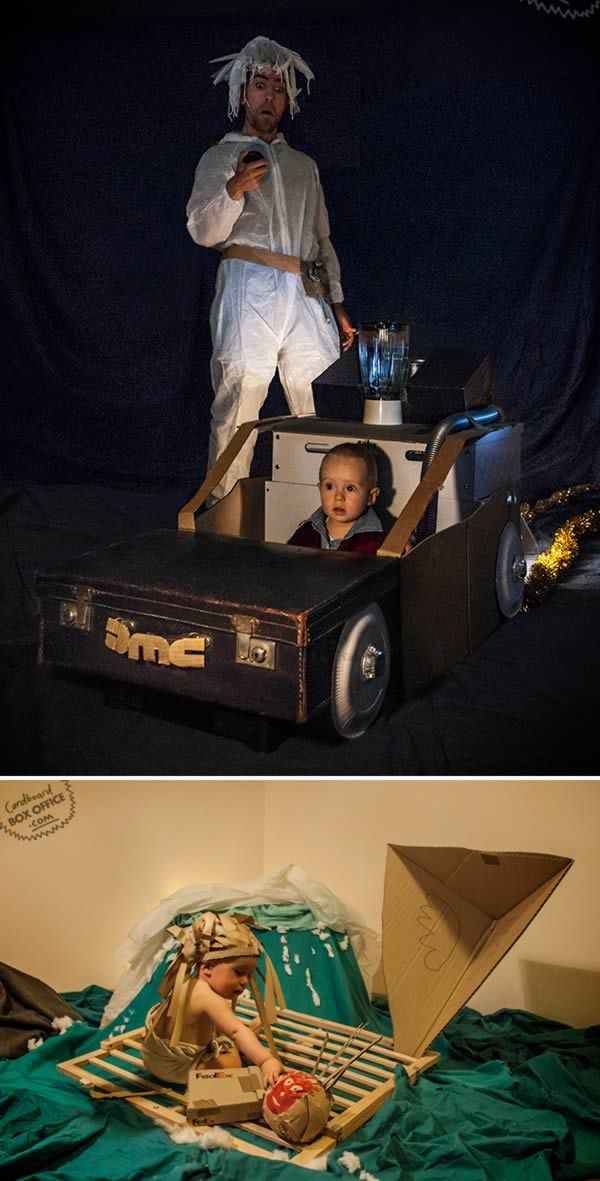 Every parent wants to capture every moment with their baby, but your baby's pictures probably aren't all that fascinating to everyone else you know no matter how many likes you get on Facebook. On the other hand, Lilly and Leon of Cardboard Box Office figured out a clever way to make their baby's pictures entertaining to just about everyone. That's because they recreate famous movie scenes with their baby using household objects, and the resulting images are both adorable and hilarious.
Pictured above are the recreation of Back to the Future and Cast Away.
9

Couple Reenact Breaking Bad in an Engagement Photoshoot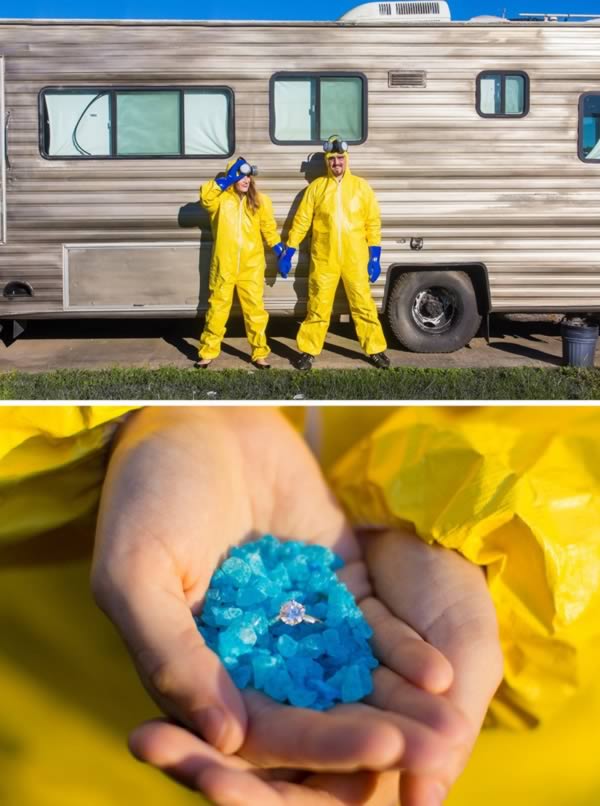 Hannah Schuster and Mackey Macaluso became Walter and Jesse for a day in an awesome engagement photoshoot inspired by the hit TV series Breaking Bad. The couple were photographed by the bride's best friend, photographer Ashley Eubanks, with props provided by Macaluso.
10

Ducati Dealership Recreates a Sexy Photoshoot with Male Mechanics
A Ducati dealership in Portland has attracted attention online by posting a new ad campaign highlighting the absurd nature of "sexy" motor shoots.
The pictures were a recreation of their original ad campaign featuring a standard female model format, complete with leather jacket, sexy poses, and heels.
In "Asphalt and Rubber," motorcycle blogger Jensen Beeler claims that the publication "passed on running the photos" from the original campaign until "something interesting happened" when the dealer "did a follow-up shoot, this time with men from around the shop."
The photos have struck a chord online, with some viewers finding them hilarious and some finding deeper meaning about the objectification of women in motor sports. At the very least, it shows originality and a good sense of humor from the dealership.