1

First Married Man to Give Birth (2007)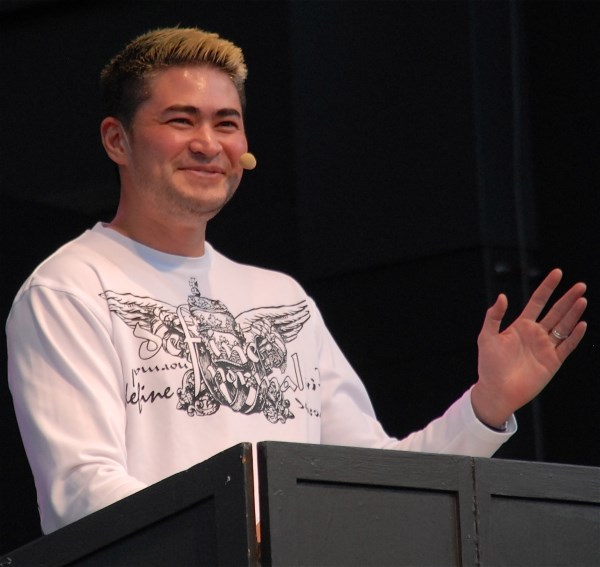 Thomas Trace Beatie, a trans man, had gender reassignment surgery in 2002 and became known as "The Pregnant Man" after he became pregnant through artificial insemination in 2007.
Thomas Trace Beatie was born on January 20, 1974 in Honolulu, Hawaii. At the age of 10, he started to identify with the male gender. However, as a teenager Beatie was a female model and Miss Teen Hawaii USA pageant finalist. At 23 years of age, he began testosterone hormone treatment to make the transition to living life as a man.
In March 2002, Beatie underwent a gender reassignment procedure. However, he kept his internal reproductive organs intact because he wanted to have biological children, and sterilization was not a requirement to undergo a valid sex change.
Beattie married Nancy Gillespie in a legally valid opposite-sex marriage in Hawaii on February 5, 2003. Beatie chose to become pregnant because his wife Nancy was infertile, doing so with cryogenic donated sperm.
Beatie's first pregnancy resulted in an ectopic pregnancy with triplets, requiring emergency surgery and resulting in the loss of all three fetuses. Since then, Beatie has given birth to three children.
In 2010, Guinness World Records recognized Beatie as the world's "First Married Man to Give Birth."
Unfortunately, the couple filed for divorce in 2012.
2

First Man to be Mummified in the Style of the Ancient Egyptians (2010)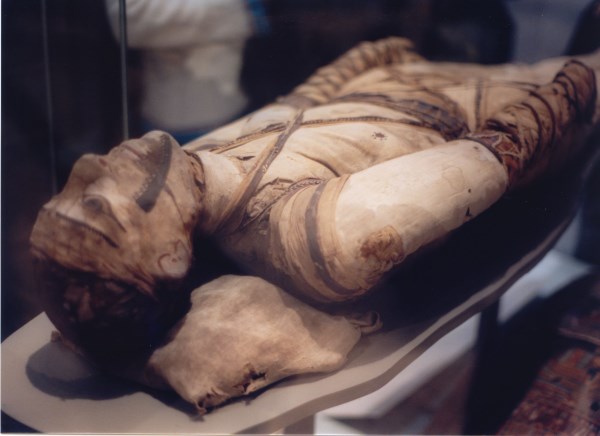 In 2010, a team led by forensic archaeologist Stephen Buckley mummified Alan Billis using techniques based on 19 years of research of 18th dynasty Egyptian mummification.
Mr. Billis, a former British taxi driver who passed away from lung cancer at the age of 61, had volunteered for the experiment before his death.
Billis, who loved watching documentaries, agreed to have his body preserved after seeing an advertisement from a television company looking to film the process. They wanted to use the techniques that preserved Tutankhamun's body after his death in 1323 BC.
Over a period of several months following his death in January, Mr. Billis' internal organs were removed and kept in jars, with the exception of his brain and heart. His skin was covered in a mixture of oils and resins and bathed in a solution of Natron, a salt found in dried-up river beds in Egypt. After a month in a glass tank at the Medico-Legal Centre in Sheffield, which houses the city's mortuary, his body was removed, placed in a drying chamber, and wrapped in linen bandages in a style mimicking that of the Egyptian Pharaohs. His brains were not removed through his nose, a practice that was not carried out in ancient Egypt, contrary to popular belief.
The process has been hailed as a success by experts, making Billis the first person in over 3,000 years to be mummified in the style of the ancient Egyptians.
3

First Man to Travel to All 201 Countries Without Flying (2012)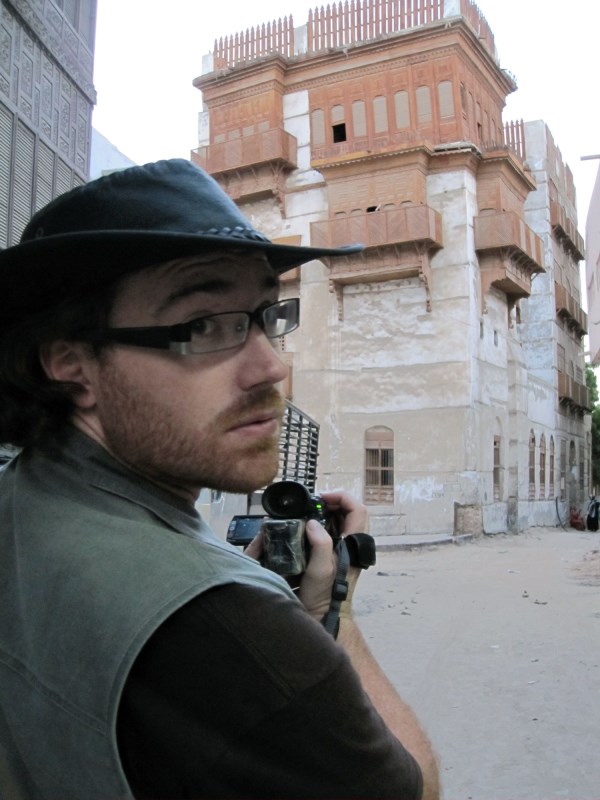 In November 2012, Graham David Hughes, a British adventurer, became the first person to travel to all 201 "countries" in the world without flying.
After 1,426 days, four full passports, and countless buses, trains, and boats, Hughes, a filmmaker, television presenter, and Guinness World Record holder, had visited all United Nations member states and Taiwan, Vatican City, the Palestinian territory, Kosovo, the Western Sahara, and the four home nations of the United Kingdom.
The entire journey, which cost an average of $13 a day, utilized trains, busses, taxis, or ships, but at no point did he travel by air, meaning that he created a new Guinness World Record.
Graham's personal video log of his trip has been converted into a television series called "Graham's World" on the National Geographic Adventure channel. It is an eight part series covering Graham's first year of traveling to every country in the Americas, Europe, and most of Africa from January 2009 - December 2009. Highlights of the trip included imprisonment in the Republic of the Congo, getting caught sneaking into Russia, and running the blockade into Cuba. He was arrested in Estonia and Cameroon and spent jail time in Congo and Cape Verde.
Graham completed his expedition on Monday November 26, 2012 after entering South Sudan.
4

First Man to Journey into Outer Space (1961)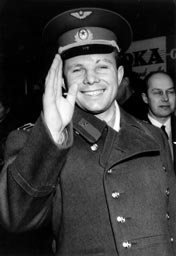 On April 12, 1961, Soviet pilot and cosmonaut Yuri Gagarin became the first human to journey into outer space when his spacecraft completed an orbit of the Earth.
Gagarin was born in the village of Klushino, near Gzhatsk (renamed Gagarin in 1968 after his death), on March 9, 1934.
In 1950, at the age of 16, Gagarin entered into an apprenticeship as a foundryman near Moscow and also enrolled at a local "young workers" school for seventh grade evening classes. After graduating in 1951 from both the seventh grade and the vocational school, he was selected for further training at the Saratov Industrial Technical School, where he studied tractors. Also, Gagarin volunteered for weekend training as a Soviet air cadet at a local flying club, where he learned to fly. He earned extra money as a part-time dock laborer on the Volga River, as well
After graduating from the technical school in 1955, Gagarin was sent to the First Chkalov Air Force Pilot's School in Orenburg. In 1960, after much searching and a long selection process, Yuri Gagarin was chosen along with 19 other pilots for the Soviet space program. Out of the twenty selected, the eventual choices for the first launch were Gagarin and Gherman Titov due to their performance during training sessions as well as their physical characteristics; space was limited in the small Vostok cockpit, and both men were rather short. Gagarin was 1.57 meters tall. Finally, Gagarin boarded the Vostok I on April 12, 1961.
After the flight, Gagarin became a worldwide celebrity, touring widely abroad. He visited Italy, Germany, Canada, Brazil, Japan, Egypt, and Finland to promote the Soviet Union's accomplishment of putting the first human in space.
On March 27, 1968, while on a routine training flight from Chkalovsky Air Base, he and the flight instructor died in a crash. Their bodies were cremated and the ashes were buried in the walls of the Kremlin on Red Square.
5

First Man to Cross Niagara Falls on a Tightrope (1859)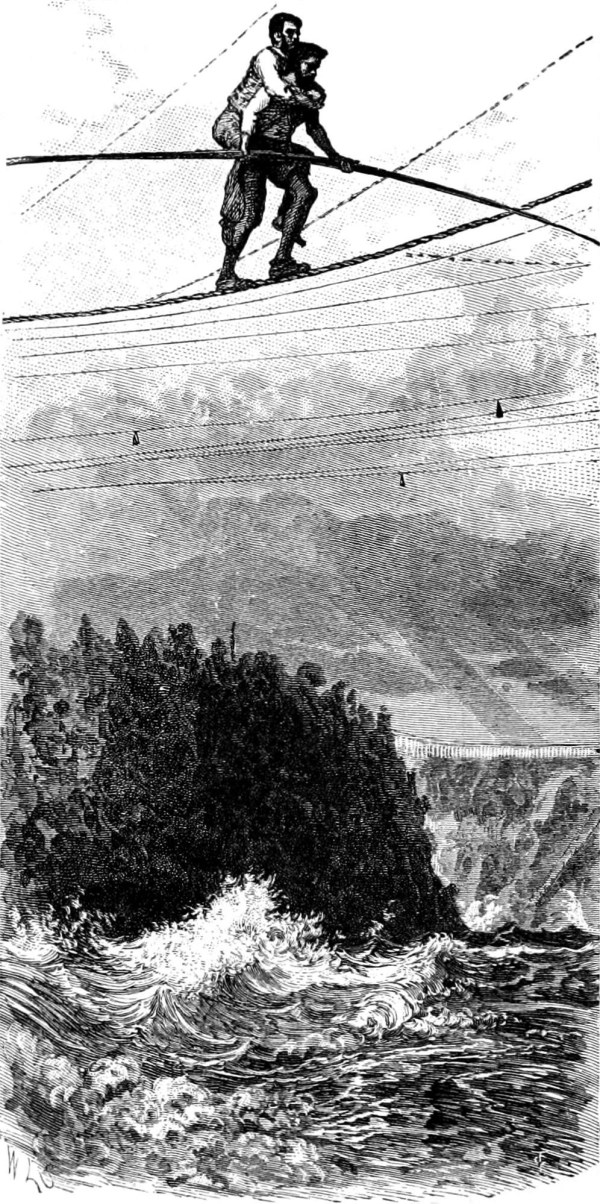 On June 30, 1859, Jean François "Blondin" Gravelet became the first person to cross Niagara Falls on a tightrope.
Blondin was born on February 28, 1824 in St. Omer, France. When he was 5-years-old, after just six months of training as an acrobat, Blondin made his first public appearance as "The Boy Wonder," due to his superior skill and grace.
Blondin always had the idea of crossing the Niagara Gorge (located on the American-Canadian border) on a tightrope, near the location of the current Rainbow Bridge.
He accomplished this on June 30, 1859, and a number of times thereafter, always with different theatrical variations. He's done it blindfolded, in a sack, on stilts, while trundling a wheelbarrow, while carrying a man (his manager, Harry Colcord) on his back, sitting down midway while he cooked and ate an omelet, and standing on a chair with only one chair leg on the rope.
On September 6, 1873, Blondin crossed Edgbaston Reservoir in Birmingham. A statue built in 1992 on the nearby Ladywood Middleway commemorates his feat.
Blondin kept performing into his seventies, and became a living legend on an international scale. Demonstrating that an old performer can indeed learn new tricks, he developed a cycling act on the tightrope. He made his final appearance in 1896, the year before he died, in Ireland.
Despite placing himself at great danger throughout his career, Blondin died serenely in his bed at his Ealing home on February 19, 1897. The cause of death was listed as diabetes. He was buried in Kensal Green Cemetery in London.
6

First Man to Reach Both Poles and Summit Everest (1958)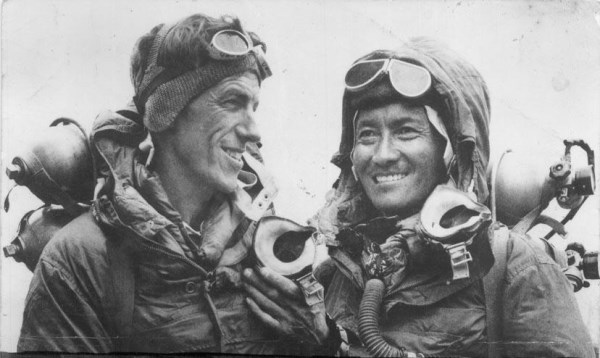 Sir Edmund Percival Hillary, a New Zealand mountaineer, explorer, and philanthropist, was the first person to reach both poles and summit Everest.
Hillary has born on July 20, 1919, in Auckland, Dominion of New Zealand.
During his youth, he became interested in mountaineering while in secondary school, making his first major climb in 1939, reaching the summit of Mount Ollivier. He served in the Royal New Zealand Air Force as a navigator during World War II. Prior to the 1953 Everest expedition, Hillary had been part of the British reconnaissance expedition to the mountain in 1951, as well as an unsuccessful attempt to climb Cho Oyu in 1952.
On May 29, 1953, Sir Hillary and Nepalese Sherpa mountaineer Tenzing Norgay became the first climbers confirmed to reach the summit of Mount Everest. They were part of the ninth British expedition to Everest, led by John Hunt. Hillary was named by Time magazine as one of the 100 most influential people of the 20th century. As part of the Commonwealth Trans-Antarctic Expedition, he reached the South Pole overland in 1958. He subsequently reached the North Pole.
As expected, Hillary climbed ten other peaks in the Himalayas on further visits in 1956, 1960–1961, and 1963–1965.
Following his ascent of Everest, he dedicated much of his life to helping the Sherpa people of Nepal through the Himalayan Trust, which he founded. Through his efforts, many hospitals and schools were built in this distant region of the Himalayas.
On April 22, 2007, while on a trip to Kathmandu, he was reported to have suffered a fall. He was hospitalized after returning to New Zealand.
Hillary died of heart failure at the Auckland City Hospital on January 11, 2008.
7

First Man to Score Points in the NBA (1946)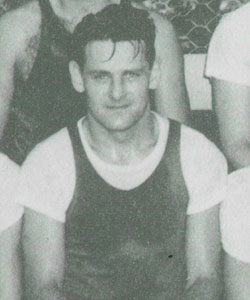 History was made on November 1, 1946 when the Knicks traveled to Canada to take on the Toronto Huskies, the first game in what was then the Basketball Association of America, which a few years later became the NBA.
On that occasion, the Knicks won the game 68–66, but by the time that first shot went through the hoop, Ossie Schectman had already made a name for himself on the court.
Schectman played guard for the New York Knicks during the 1946 season, and while his stats will never pop off the page, he scored one of the most significant baskets in the history of the game: the first one.
Oscar Benjamin "Ossie" Schectman was born on March 30, 1919, in Kew Gardens, New York.
On July 30, 2013, Schectman died at age 94 in Delray Beach, Florida.
8

First Man to Circumnavigate the Globe (1522)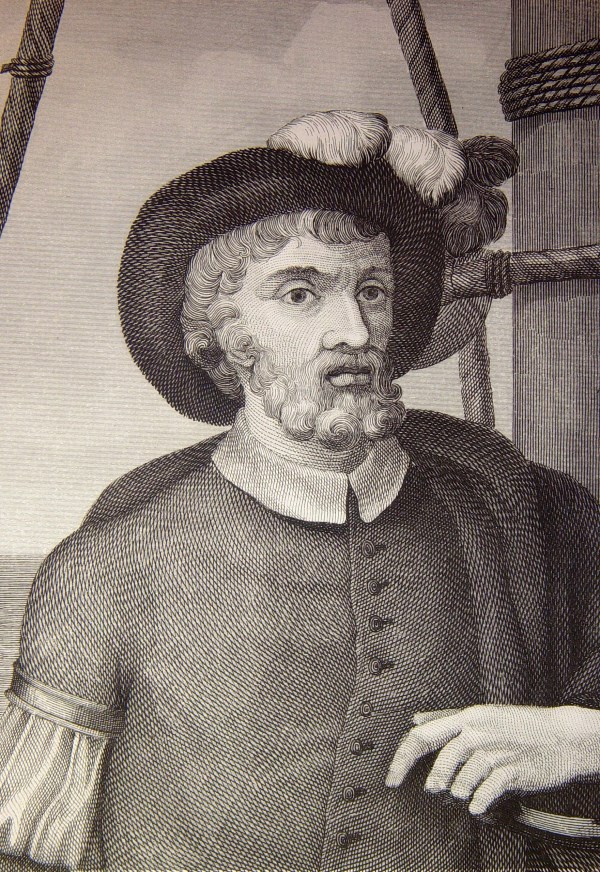 On September 6, 1522, the Spanish Basque explorer Juan Sebastián Elcano completed the first circumnavigation of the world after a journey of three years and one month.
Elcano was born in 1476 in Spain. He fought in the Italian Wars, and in 1509 he joined a Spanish expedition. He later settled in Seville and became a merchant ship captain. After violating Spanish maritime law, he sought a pardon from King Charles I of Spain by participating as a subordinate officer for the Magellan expedition to the East Indies.
After five months of hard work, he was made captain of the galleon. Elcano served as a naval commander of Charles I and took part in the expedition to the Philippines. In 1519, they set sail from Spain with five ships and a crew of 241 men. After a series of unfortunate events, Magellan was killed in the Battle of Mactan on April 27, 1521.
Elcano, along with 17 other European survivors of the 240 man expedition, continued the westward voyage, arriving in Spain on September 6, 1522.
According to Pigafetta, an Italian scholar, the voyage covered 14,460 leagues (about 81,449 kilometers), so Charles I of Spain rewarded Elcano with a coat of arms and an annual pension.
Elcano went back to sea, where he died of malnutrition in the Pacific Ocean on August 4, 1526.
9

First Man to be Called an Olympic Sex Symbol (1972)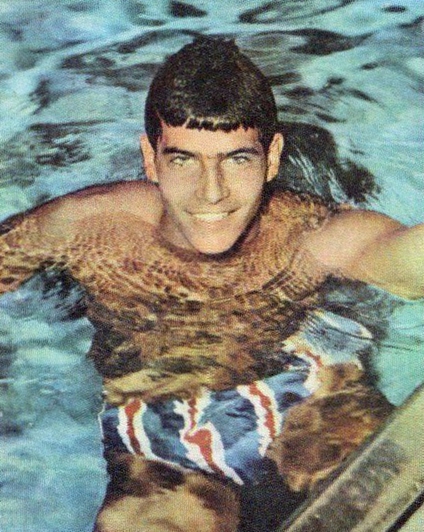 Mark Spitz was the most successful athlete at the 1972 Summer Olympics. He was named World Swimmer of the Year in 1969, 1971, and 1972 by Swimming World magazine. He was the third athlete to win nine Olympic gold medals. Since the year 1900, no other swimmer has ever gained as great a percentage of all the medals awarded for Olympic events, a record that stood unbeaten for 36 years until countryman Michael Phelps grabbed eight in Beijing.
His great fame as a successful athlete, and his "perfect body," led him to appear in print advertisements and commercials. He earned $7 million (at least $50?million today) from ad campaigns and television shows. As a result, Spitz, at 22-years-old, was the first male Olympic star to become a global sex symbol following the picture of him showing off his seven medals from Munich in 1972.
Spitz was also a former dentistry student who wanted to be a Hollywood star. However, his film career never took off, and to make matters worse, his performance in the 1992 Games ended in failure. Even so, he still earns large checks from media appearances, obviously without the brown mustache and gray hair, in addition to his real estate company in Beverly Hills and hobbies such as sailing.
10

First Man To Pose Nude in a Magazine (1972)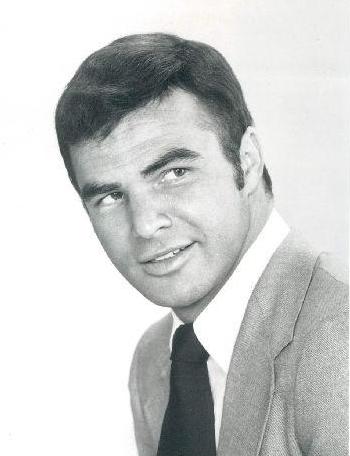 In April 1972, Cosmopolitan magazine ran a nude centerfold photograph of legendary Hollywood star Burt Reynolds lying naked across a golden brown bearskin rug. The issue created great controversy, selling out the first day it hit the newsstands, propelling Cosmopolitan to the forefront of American pop culture at the time.