1

Superhero Window Cleaners Surprise Children at the Hospital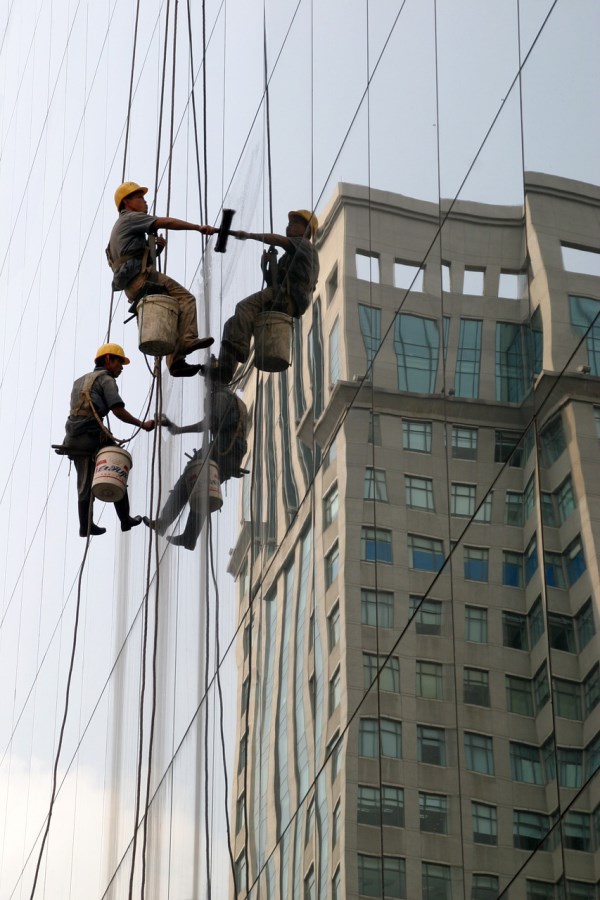 Superheroes with window washing skills assembled to use their superpowers for good, putting smiles on young patients' faces at the Penn State Hershey Children's Hospital. Superman, Spider-Man, Batman, and Captain America joined forces to surprise and greet sick children as the superheroes descended down the glass windows of the hospital.
The facilities coordinator at the hospital had noticed the superhero window washing trend at other hospitals, so he approached Northeastern Building Maintenance Systems about doing something similar at the Penn State Hershey Children's Hospital. Miller said that the company embraced the idea, even buying the costumes for the team.
These iconic superheroes have been busy, bringing smiles to a lot of faces. Last fall, Spider-Man and Captain America made an appearance at Le Bonheur Children's Hospital in Memphis, Tennessee.
Young patients at the Children's Hospital of Pittsburgh have also woken up to comic book heroes rappelling down their windows, and at the C.S. Mott Children's Hospital in Ann Arbor, Michigan, a cast of characters, including the Hulk, converged on the windows to the excitement of parents and children.
2

Superman Fan Catches a Shoplifter while Dressed as the Superhero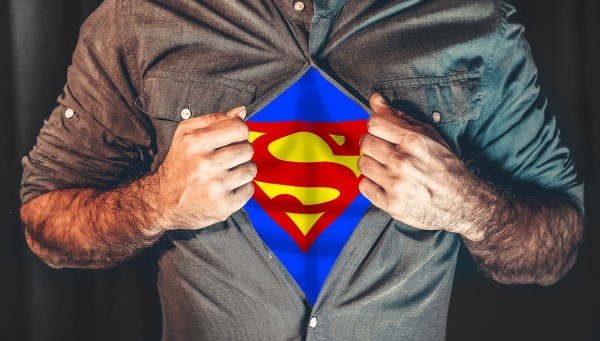 A Superman fan emulated his superhero when he foiled a crime by tackling a shoplifter while dressed as the Man Of Steel.
Luke Junior, 24, was wearing the distinctive blue and red caped outfit as he took part in a charity fundraising event outside a shop. When he spotted a thief running out of the store and being chased by staff, he grabbed hold of the shoplifter and made a citizen's arrest.
Mr. Junior, who was already nicknamed Superman after previously pulling two men from a car accident, held on to the thief until two police officers arrived at the scene outside the Heron Foods frozen food shop in Sheffield, South Yorks.
3

Man Dressed as a Power Ranger Helps Carry Bags and Babies Up and Down the Tokyo Subway Stairs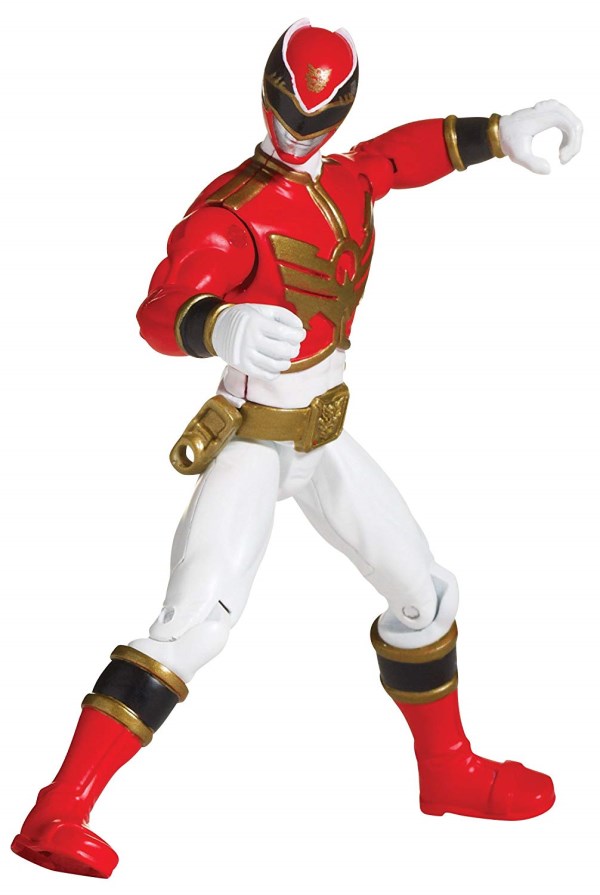 In a green outfit with silver trim and a matching mask, a superhero waits by the stairs of a Tokyo subway station, lending his strength to the elderly passengers by lugging heavy packages and helping mothers with baby strollers.
Tadahiro Kanemasu, a slender 27-year-old, has spent three months being a good Samaritan at the station on Tokyo's western side. Like many in the city, it has neither elevators nor escalators and a long flight of dimly lit stairs.
Inspiration came from the children he met at his job at an organic greengrocer, which also prompted the color of his costume. He picked up the green Power Rangers suit and two spares at a discount store for 4,000 yen each.
Since Kanemasu can set aside only a couple of hours each day for his good deeds, he hopes to recruit others in different colored suits. He already has inquiries about the pink and red Power Rangers.
4

Man Running 5,000 Miles Dressed as the Superhero The Flash to Raise Money for Sick Kids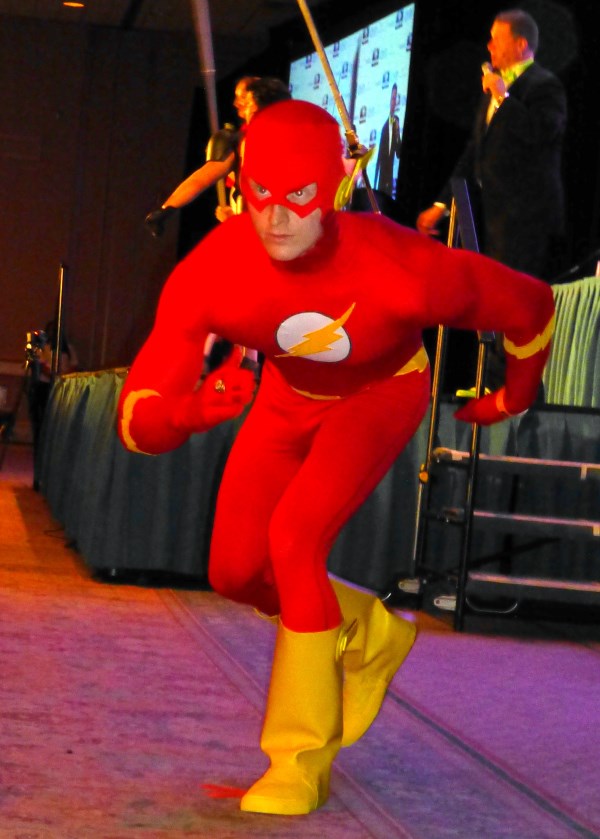 An adventurer is running 5,000 miles across Canada dressed as the comic book superhero The Flash to raise money for sick children. Jamie McDonald, 26, is one-third of the way through his 275-day odyssey, and aims to be the first to accomplish the feat without a support team.
A childhood sufferer of the potentially fatal spinal condition syringomyelia, Jamie holds a world record for static cycling after pedaling non-stop for 265 hours last year. Now, Jamie is camping by Canadian roads. He aims to reach Vancouver by December.
So far, he has raised £2,000 of the £60,000 goal for Great Ormond Street and other charities through his Virgin Money Giving page.
5

Two Men Dressed as Superheroes Rescue a Cat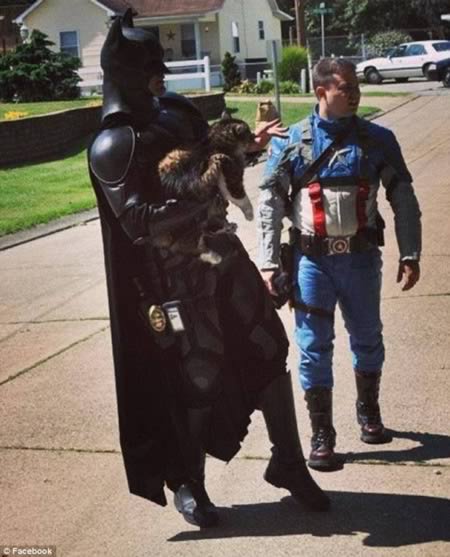 When a West Virginia home caught fire, trapping a kitten inside, it was Batman and Captain America who came to the rescue. John Buckland, dressed as Batman, and Troy Marcum, dressed as Captain America, saw smoke at a house nearby when they were entertaining children as part of their business.
They ran to the house along with another bystander, kicked in the door, and broke out a window so some smoke could escape. Buckland, a former firefighter, says he crawled into the front room and felt something furry. He grabbed the animal, ran outside, and gave it mouth-to-mouth resuscitation.
Buckland is the owner of "Heroes 4 Higher," a company designed to "bring a positive motivational message for the children that may help shape their future."
6

British Batman Turns in an Evildoer to the Police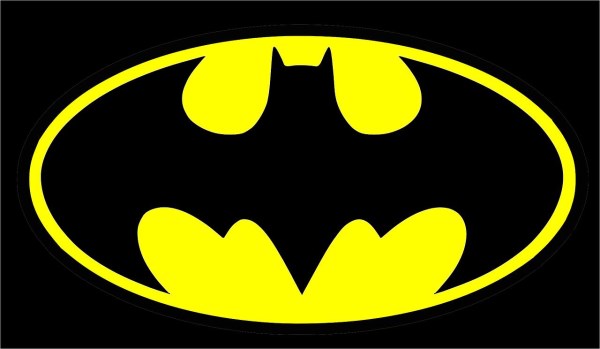 CCTV images of a caped crusader delivering a wanted man to Bradford police caused much amusement and wild speculation as to the identity of the hero behind the mask.
After delivering the suspect to the Trafalgar House police station, the lycra-clad superhero disappeared into the night. Police were unsure of his identity and it led to much speculation. Finally, the crime fighter broke his cover to explain how he ended up marching into the police station in the early hours of the morning and handing police the man, who was wanted on allegations of burglary, fraud, and breaching a court order.
Stan Worby, 39, confirmed that he was the Dark Knight. Worby, a Chinese takeout driver from the Wyke area of the city, said he drove his old friend Danny Frayne, 27, into the long arms of the law after returning from Bradford City's Capital One Cup game against Swansea at Wembley Stadium, which he had attended in fancy dress.
However, Stan Worby has now found himself on the other side of the law after being arrested and charged with burgling a garage. In a further twist, he is accused of carrying out the crime with the very suspect he brought to the police in his Caped Crusader costume.
7

Teen Superheroes Help Police Nab Alleged Pedophiles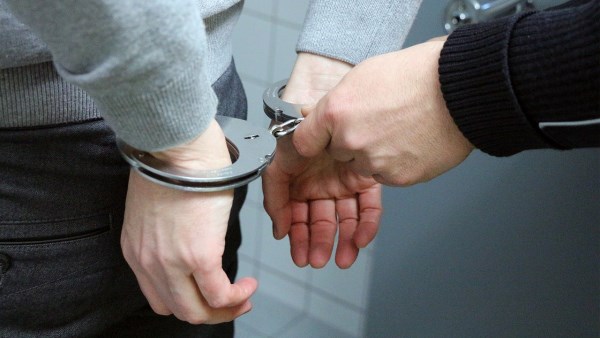 Police say that suburban Vancouver teens dressed as superheroes helped them charge three men with child luring. However, they are quick to discourage the type of vigilante justice the teens used in their "To Troll a Predator" video series, which they posted to YouTube.
The boys, ages 17 and 18, posted profiles on popular dating sites, then told men who contacted them that they were underage girls. If the men still wanted to meet, they showed up dressed as Batman and The Flash, filmed the encounters, and posted them online.
8

Man Dressed as a Superhero Lectures Passengers on Train Etiquette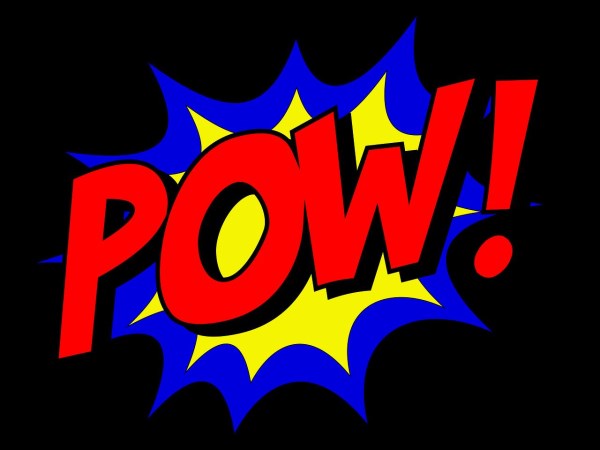 A man dressed in a red superhero outfit boarded a train and proceeded to lecture passengers on giving up their seat to those in need.
Witness Xiang Yi was in the same carriage and wrote, "'Justice' entered the train carriage I was in today. He gave a lecture on how Singaporeans always pretend to sleep when they do not want to give up their seat on the MRT, and how he wants them to change. He also talked about not jaywalking and stuff."