According to Kraft, about 25 billion Oreos are eaten annually…that's 70 million every day. It was only natural that people came up with the most caloric, crazy, and delicious desserts using these beauties as an ingredient.
** WARNING: DO NOT READ THIS IF YOU ARE TRYING TO GO ON A DIET. **
1

Peanut Butter Oreo Fudge Cream Parfaits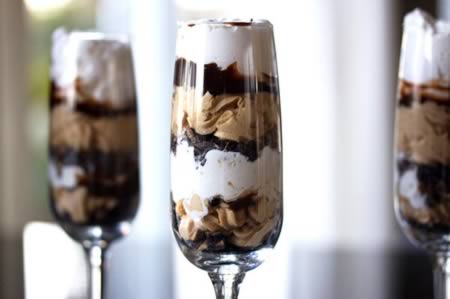 Peanut butter lovers should brace themselves… Since 2012, Oreo offers a cookie comprised of a thin Oreo wafer topped with a generous amount of peanut butter filling and covered with a chocolatey fudge coating. So, self-taught Pastry Queen Josie Tavares decided to create these yummy Peanut Butter Oreo Fudge Cream Parfaits. Check the link for her recipe.
2

Oreo Banana Pudding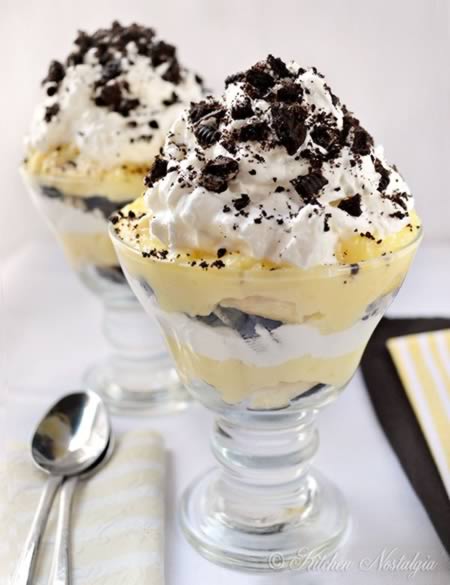 Yummy! Plus, the recipe is so simple that even the worst chef can't screw it up! All it takes is instant banana pudding, Cool Whip, sliced bananas, milk, and a one-pound bag of Oreo cookies. But just to be on the safe side, use two bags.
3

Largest Ice Cream Cake… with Oreo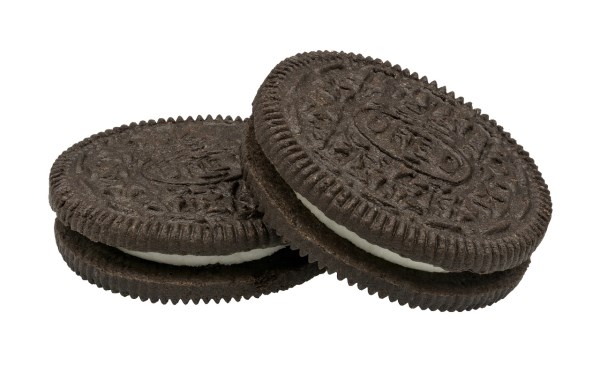 To mark the 30th birthday of the chain's beloved ice cream cake, Dairy Queen Canada made history with its gigantic 10.13 tonne ice cream cake, containing more than 20,000 pounds of ice cream, over 200 pounds of sponge cake, more than 300 pounds of icing, and OREO crumble. It set the new world record for the largest ice cream cake.
4

Oreo Cupcakes with an Internal Milk Glass
Sweet lovers will adore this brilliant concept that was discovered by our blogger Jill Harness . It's an Oreo cupcake with Oreo frosting topped with homemade Oreos and served with a glass of milk which is built inside. This ingenious dessert marvel is made possible with the help of those delightful chocolate liqueur cups. Combining cupcakes, Oreos, and a tiny glass of milk is totally my kind of treat.
5

Oreo Wedding Cake

What better way to say "I do" than with an Oreo Cookie & Toblerone Wedding Cake? Here we have a 3-tier chocolate mudcake masterpiece covered in buttercream, with each layer filled with dark and milk chocolate Toblerone ganache. The cake was expertly made and designed by Daniela from Miss Prim & Mr. Proper.
6

Chocolate Chip Cookie N' Oreo Fudge Brownie Bar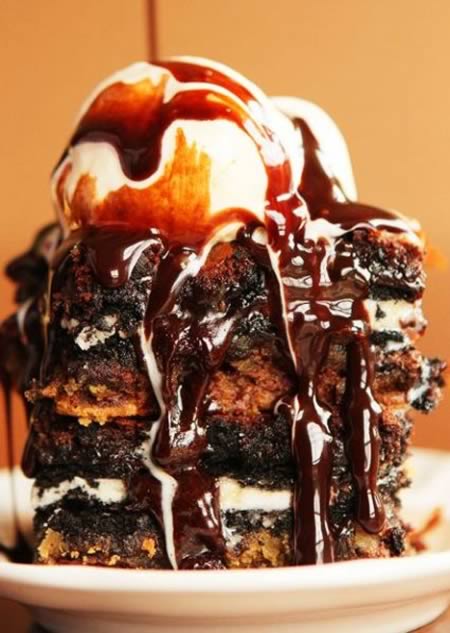 Take a look at this beautiful, ridiculous, indulgent, outrageous, illegal in 48 states, totally wonderful, ultimate layered Oreo and brownie treat. It is, without a doubt, completely and utterly insane, and I so want it.
These dangerously decadent chocolate chip cookie 'n brownie bars combine the best of a gooey chocolate chip cookie, a warm fudgy brownie, and an extra sweet double stuffed Oreo. All you need is a basic chocolate chip cookie recipe (using a little less flour than you normally would), some double stuffed Oreos, a family-sized brownie mix for a 9×13 pan, and some hot fudge chocolate topping for good measure. Follow the link to read the whole recipe.
7

Chocolate Covered Deep Fried Triple Double Oreos

Nick of Dude Foods created these amazing fried double Oreos! He took triple stacked double Oreos and dipped them in chocolate. Then, like any sensible chef, he deep fried them. After all, anything can be deep friend and therefore, logically, everything should be deep fried.
8

Oreo Dream Extreme Cheesecake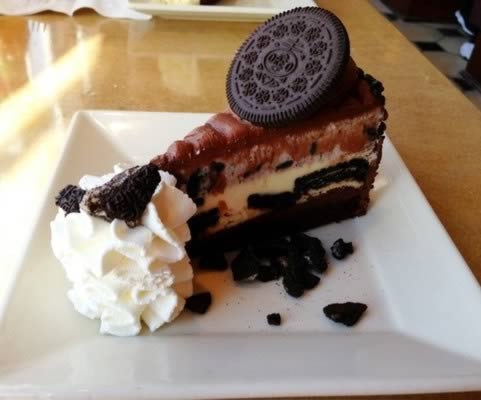 To celebrate National Cheesecake Day in 2012, The Cheesecake Factory served up their new Oreo Dream Extreme Cheesecake. Extreme is definitely the operative word in that title. The mousse-layered cheesecake, with fudge and Oreo cream, is studded with baked-in Oreos, topped with milk chocolate icing, and encrusted in chocolate chips.
Heavy is a good way to describe this sugar monster, both in terms of sheer weight (seriously, a slice feels like it weighs five pounds) and the effect it has on your stomach. We also found the Oreo chunks to be a little jarring because they were such a contrast to the overall creaminess. Of course, none of these factors were disconcerting enough not to devour the entire utterly delicious thing in one sitting. If only Oreos had any nutritional value whatsoever, because a slice could work as meal replacement for the next few days.
9

Oreo Martini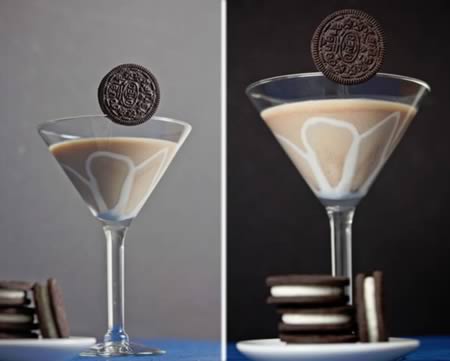 Combining two of my favorite ingredients, Oreo and alcohol, the Double Stuffed Oreo Martini is nothing short of genius! Containing both crème de cacao and tres leches liqueur, it's quite close to tasting just like an Oreo cookie.
10

Panda Oreo Muffins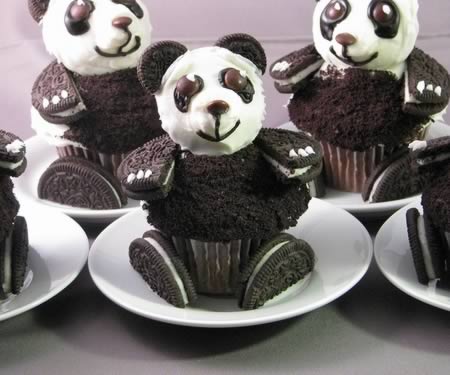 What are more adorable than pandas? What is yummier than an Oreo? Take a look at these fun and delicious Oreo muffins with a panda shape.