1

The Owner Who Distributed Hilarious Flyers with the Photo of an Amazon Thief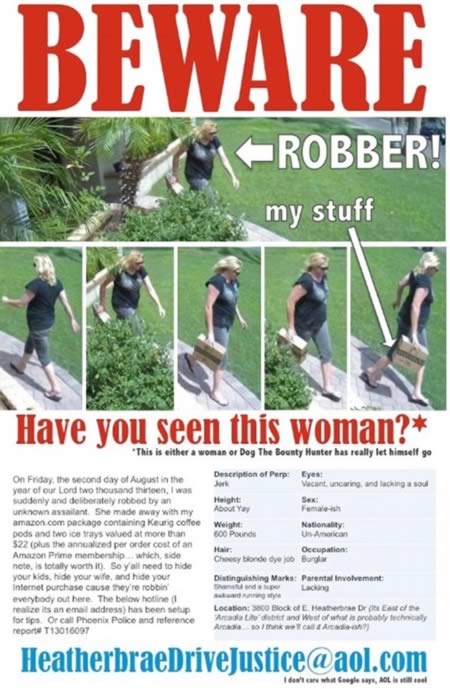 After his Amazon shipment was brazenly stolen from his front porch, Tim Lake of Arcadia, Arizona was determined to catch the thief. He had footage from a surveillance camera and decided to craft a tongue-in-cheek poster to find the "un-American" criminal.
The poster describes the suspect as a "jerk" of "about yay" height with eyes that are"vacant, uncaring, and lacking a soul." Their nationality is "Un-American" and their occupation is "Burglar."
2

The Thief Who Robbed a Billboard Owner and Got His Face on Billboards All Over the City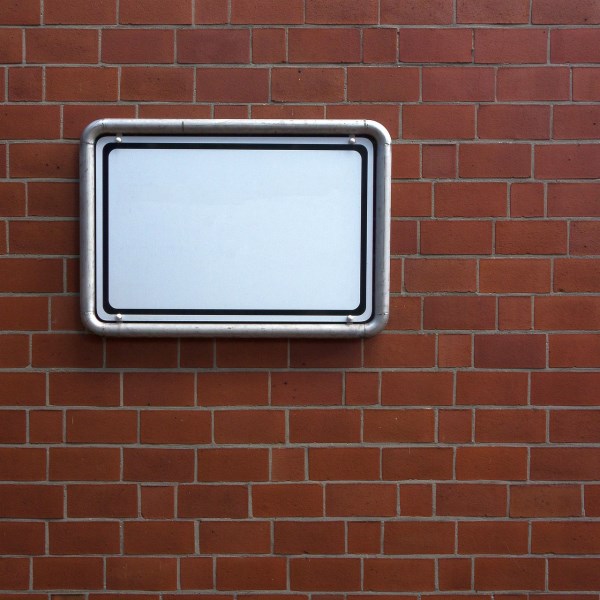 The number one rule of burglary is "don't get yourself photographed." Meanwhile, another important rule is "don't make an enemy of someone who owns billboards all around your city." Unfortunately for one New Zealand thief, he broke both those rules.
The thief was caught on camera stealing expensive equipment, but he'd picked the wrong target – because now the billboard company he was stealing from has plastered his image around Aukland, New Zealand's largest city, seeking his capture. The unidentified thief was photographed by a suspicious onlooker as he uncoupled 15 electrical transformers used to boost the lighting on a billboard in Auckland.
The photographer knew the pillaged sign belonged to Mark Venter, who runs OTW Advertising, one of New Zealand's oldest billboard companies. So, when the photographer offered pictures of the thief in action it cost Venter nothing to mount the images on four city billboards with following inscription: "Who is this Thief? Reward $500."
Police Sgt. Roy Simpson said several calls to police and to Venter had named the same man as the possible thief, and he was now being sought by police.
3

The Blogger Who Got Revenge on a Phone Thief by Posting His Pictures on Tumblr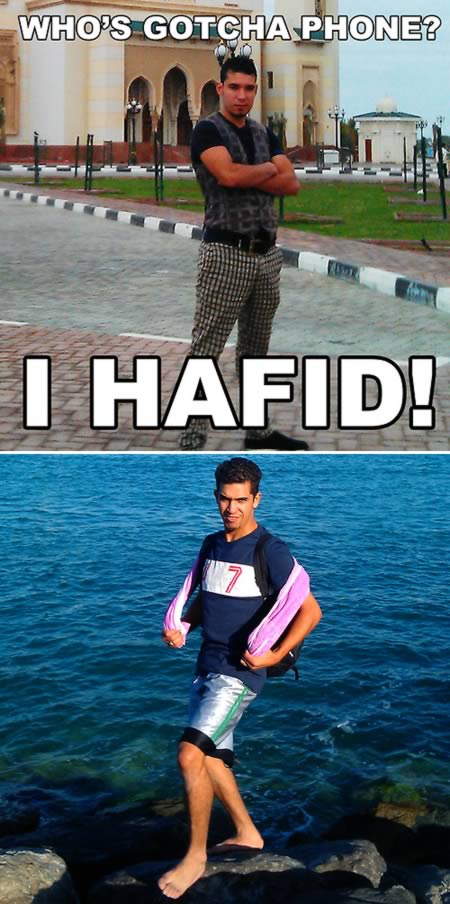 A tourist who had her phone stolen during a late-night drunken swim has had the last laugh, posting pictures that the thief took on her device on tumblr.
In the Life of a Stranger Who Stole My Phone , the unnamed blogger reveals how she parted ways with her smartphone when she and her friends went for a late-night swim after a night out in Ibiza, Spain last month. Unfortunately, when the group came back all their stuff was gone with no sign of the thieves in sight.
However, the thief failed to disable the file-sharing app Dropbox and so she receives a copy of every photograph taken on her iPhone. Now, in the ultimate payback, she's chronicling the life of "Hafid," who she knows lives in Dubai after pictures emerged of him in front of the city's skyline.
In her blog, she says, "This is the inspiring story of Hafid from Dubai, the douchebag who stole my phone. He forgot to switch off the camera upload function, that's why we will enjoy a deep insight into his life."
4

The MacBook Owner Who Tracked Down a Thief by Using an App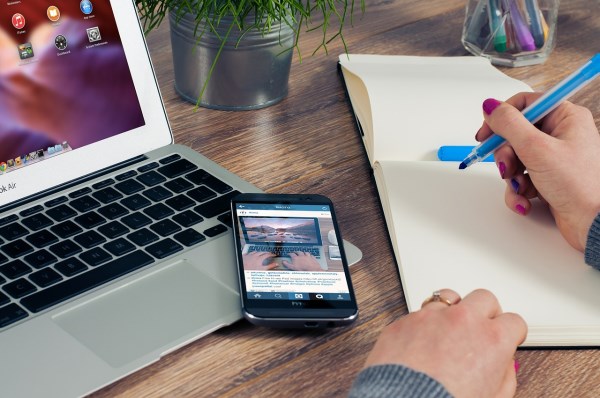 Joshua Kaufman's MacBook was stolen from him in 2011. Luckily, he had installed a $15 app on his laptop called Hidden, which can track your computer "anywhere on the planet" and even take pictures of the people currently using your property. Though the Oakland Police were previously unable to help Kaufman due to a lack of resources, they were certainly interested once the Tumblr he launched last week went viral and got the attention of Good Morning America.
Amazingly, Kaufman's MacBook was located last night and returned to him today. However, you can check out all of the pictures of "This Guy" doing various things with and to Kaufman's laptop, including deleting his account.
Note: Some people claim that this may just be a rather clever marketing scheme to promote Hidden.
5

The Walmart Shoplifter Who was Ordered to Wear a sign stating, "I am a Thief"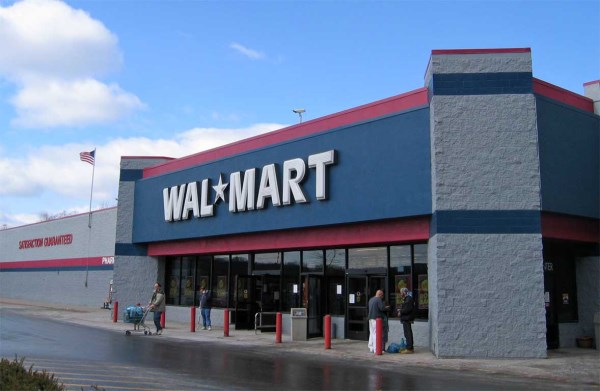 Shoppers entering the Wal-Mart Supercenter in Attalla, Alabama got a reminder not to try anything funny; Two shoplifters stood outside with signs reading, "I am a thief, I stole from Wal-Mart."
Attalla City Judge Kenneth Robertson Jr. ordered the two people to wear the signs for four hours each during two successive Saturdays. One of the shoplifters, Lisa King Fithian, 46, wore the sign from 11 a.m. to 3 p.m. to avoid a 60-day jail sentence. Another convicted shoplifter was at the store from 3 p.m. to 7 p.m.
Fithian maintained her innocence. She said her conviction was based on a misunderstanding; She said she was taking a $7 item to the service desk because it would not scan.
6

The Woman Who Used Facebook to Get Incredible Revenge Against a Phone Thief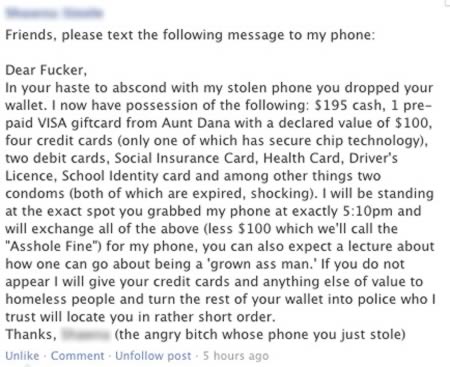 With that message, the victim has become the (slightly terrifying) perpetrator. It's like that old Klingon proverb, "Revenge is a dish best served via text message." Assuming that he doesn't have to rely on Apple Maps to get him back to the scene of the crime, this guy should probably take her up on her offer. Then he should use the $95 dollars he has left to buy some pants with more secure pockets.
7

The Victim Who Used a Sexy Decoy to Lure a Fugitive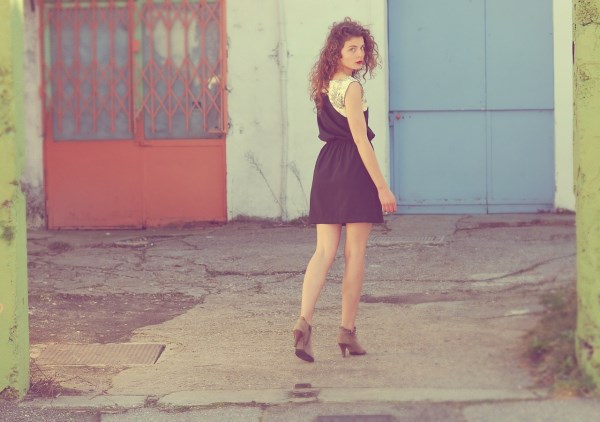 When wanted fugitive Randall Goins was being hauled through Seatac airport by Bounty Hunters live on KIRO 7 W, Goins may have wondered how they found him hiding out in Florida. One of Goins' former employees told KIRO 7 that, months after he disappeared from Snohomish County, she lured him out of hiding by using a sexy decoy on Facebook.
"He owes me $3,500 in unpaid wages," said Victoria Laird Cortes, who worked for one of Goins' debt collection services. "Even though he was gone, I knew he was still on Facebook, under his own name," Cortes said.
The alluring fictitious decoy was named Tatiana La Coneja, which is Spanish for "The Rabbit." She was invented by Cortes, who assembled composites of sexy, come-hither poses of women from Puerto Rico. "Tatiana" described herself as a model and an exotic dancer. "I sent him a friend request, and he accepted within two minutes," Cortez said.
Goins flirted with "Tatiana" for days, making offers to meet her and sending pictures of himself holding wads of cash. Cortes figured Goins set up another business in Florida under another name.
Cortes used the Facebook page to get control back, offering to meet him at the Fort Lauderdale airport. When he took the bait, she says she tipped off bounty hunters to capture him.
8

The TV Show that Staged a Trap to Catch Would-Be Robbers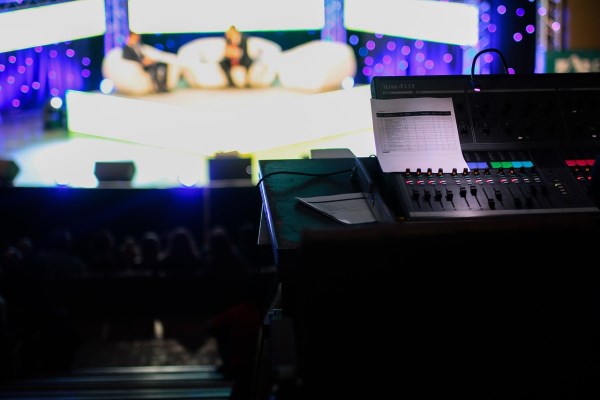 A while ago, the British TV show Swag (created by Madonna's ex-husband Guy Ritchie) staged a trap for would-be thieves. They parked a cargo truck with its door open, revealing a tempting assortment of goodies inside. When the bandit went in for a quick steal, they closed the door and unraveled the cargo truck's covering to reveal a mobile cage!
9

The Homeowner Who Exacted Revenge Against a Snow Shovel Thief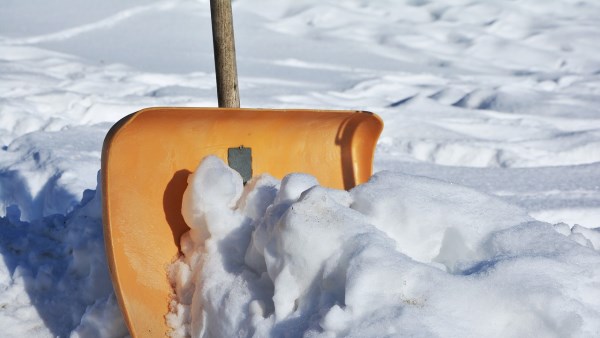 Don't mess with David Welles, because it's his business. He's got a huge setup of security cameras around his house, and they caught quite the drama outside his Humboldt Park residence during the height of the blizzard.
First, somebody took his snow shovel. In a video that he's pieced together, you can see a woman walking her dog outside, checking out her snow-covered car. She quickly grabs a snow shovel off Welles' front porch, then goes back to her car to shovel it out. That's all well and good, Welles says, but then she disappeared with the shovel.
It was payback time.
So, he covered her car in snow with his snow blower. Welles says it was not his intent to harm her vehicle, just make it difficult for her to extricate it. Nearly 200,000 people have viewed the video he posted online. To some, he's a hero; to others, he's a villain.
A few days later, the shovel mysteriously returned to Welles' property. It was found propped against his garage. The thief's identity is still unknown. He had a good use for the shovel; Welles wanted to dig a snow igloo for his small daughter. That's why he was so mad in the first place.