1

NASA VOYAGER 2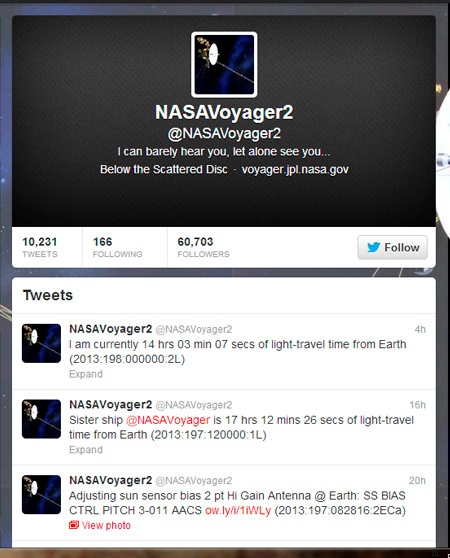 The twin Voyager 1 and 2 spacecrafts continue exploring where nothing from Earth has flown before. In the 36th year after their 1977 launches, they each are much farther away from Earth and the Sun than Pluto.
The primary mission was the exploration of Jupiter and Saturn. After making a string of discoveries there - such as active volcanoes on Jupiter's moon Io and the intricacies of Saturn's rings - the mission was extended. Voyager 2 went on to explore Uranus and Neptune, and is still the only spacecraft to have visited those outer planets. The adventurers' current assignment, the Voyager Interstellar Mission, will explore the outermost edge of the Sun's domain.
If you're following its unofficial Twitter account (@NASAVoyager2), with 60,678 followers, you can pinpoint the probe's current location. Of course, unlike the fake inanimate objects on Twitter, it is dead serious in tone.
2

San Francisco Fog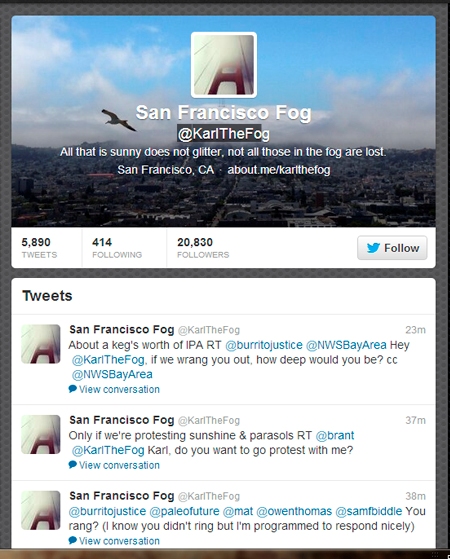 We don't know why the city's fog would send messages to us, but those tweets of San Francisco's fog aren't to be missed.
The handle @KarlTheFo brings tweeting about the weather to an extremely ridiculous level. However, everybody knows it has more than 20,800 big fans who are following it.
3

Anne Hathaway Nipples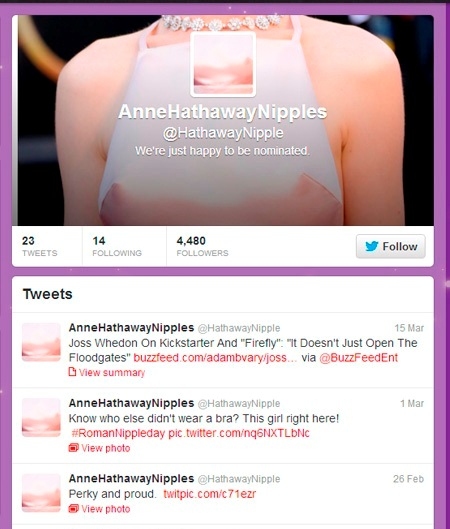 Anne Hathaway, who won the Best Supporting Actress Oscar this year for her role in Les Miserables, was trending on Twitter long before she won the award thanks to the Prada dress she picked, which showed a little more than intended. Hathaway wasn't wearing a bra, causing her nipples to poke through her gown, which led to a very funny Twitter handle almost immediately after her arrival at the Dolby Theatre in Los Angeles.
Instantly, the Twitter account @HathawayNipple was created; "Anyone else feeling chilly?" read the first tweet.
Now, this handle has over 4, 400 followers on Twitter and tries to inject itself into current events.
4

My Toaster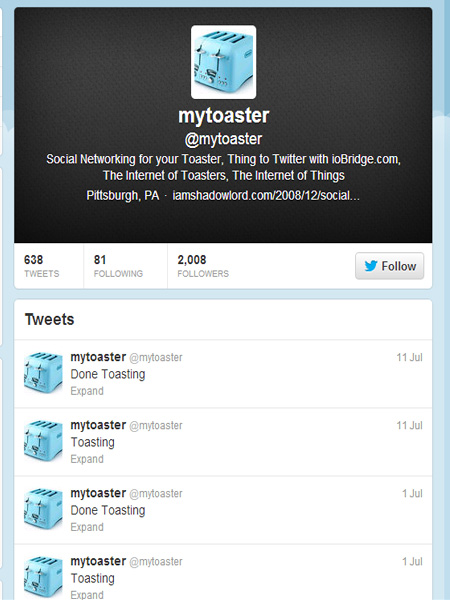 Mytoaster boasts a remarkable number of 2000 followers for simply tweeting "Done Toasting" and "Toasting" every morning. Each tweet gets retweeted by at least a handful of followers. Seems like they would retweet anything this days.
5

The 91 Freeway
If you're one of many who are stuck in traffic in Southern California every day, this particular account, with 351 followers, will make you feel your misery as often as it pleases.
When asked how an account existed, The 91 Freeway explains, "No, I don't know how a freeway controls a twitter account and has thoughts. That's for Science (or Religion, if you're in OC) to determine."
6

Big Ben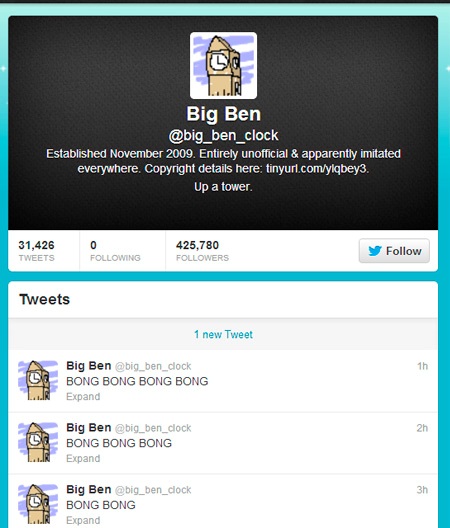 The grandfather of inanimate objects on Twitter is the Big Ben account, which has been running for almost four years and has racked up almost half a million followers.
What is so special about this account? Like other novelty Twitter accounts that exist solely for comedy purposes, the reason for the Big Ben account's existence is just a joke. Every hour on the hour, the account tweets the number of bongs to indicate the time. It's pointless and yet weirdly compulsive, having an average of 3,200 retweets per day.
So, an unofficial Twitter account that only says "BONG" has 425,781 followers who want to see a bunch of the word of "BONG" and maybe can use it to tell the exact time.
7

The Scream Painting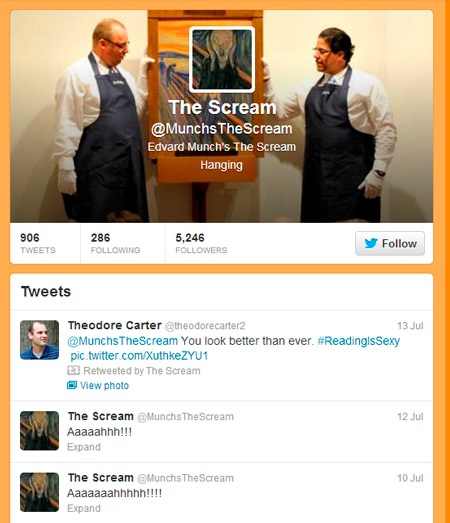 The artistic leader of inanimate object Twitter accounts is based on one of the most famous Expressionist paintings in the world. Edvard Munch's 1893 work "The Scream" seems to have a lot of modern-day problems to shout about: Aaaaaaahhhhh!!!!
Curiously, every twitt of the handle @MunchsTheScream only says, "Aaaaaaahhhhh!!!!" Nevertheless, it has more than 4,200 followers.
8

The Orange Cone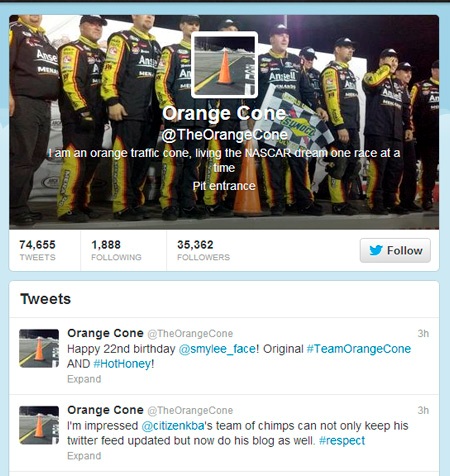 The handle @TheOrangeCone is a hoot to follow on Twitter. It declares, "I am an orange traffic cone, living the NASCAR dream one race at a time."
This orange icon, with 35,360 followers, is often tweeting texts it receives from NASCAR workers, racers, and other celebrities related to the topic.
9

The Blue Whale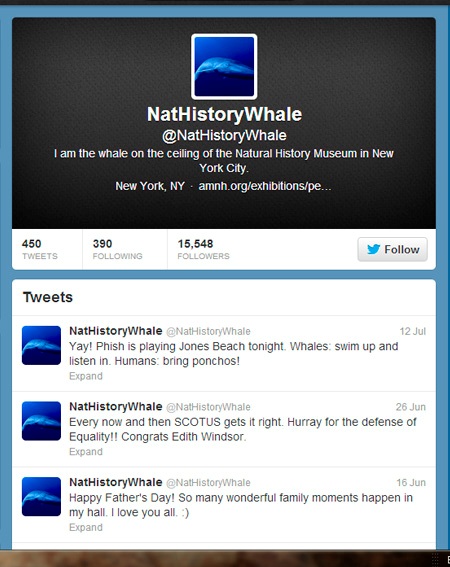 The American Museum of Natural History in New York City has an incredible exhibit on marine life, complete with a 94-foot-long replica of a blue whale made of 21,000-pounds of fiberglass that is hanging from the ceiling.
Blue whales are loud; their deep sounds can be heard 620 miles away, so it makes sense that this one feels the need to tweet after visiting hours.
10

Breast Cancer Aware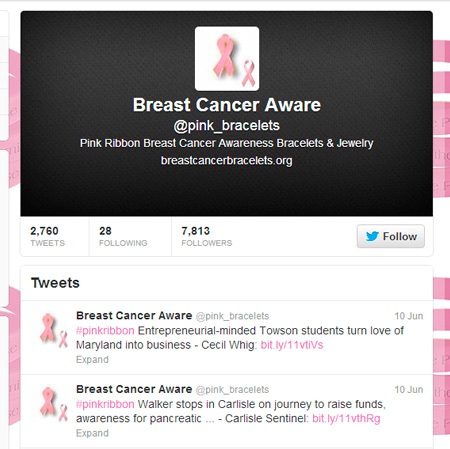 Inanimate objects can be a source of information, too. The handle @pink_bracelets, with more than 7,800 followers, deals with serious issues, stories of support, and personal triumphs over breast cancer.
11

The Tweeting Seat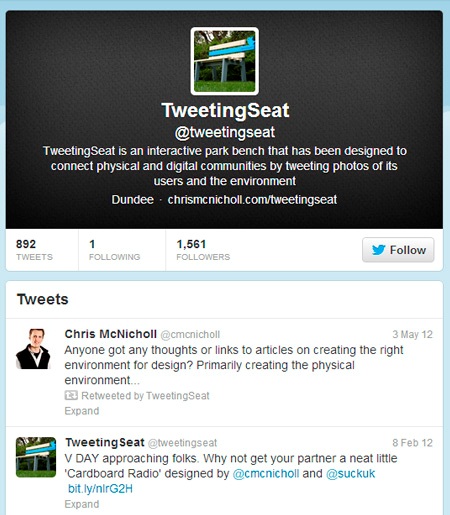 The handle @tweetingseat, created by UK product designer Chris McNicholl, is an interactive park bench with almost 1,600 followers that has been designed to connect physical and digital communities by tweeting photos of its users and the environment.
12

Drake's Knee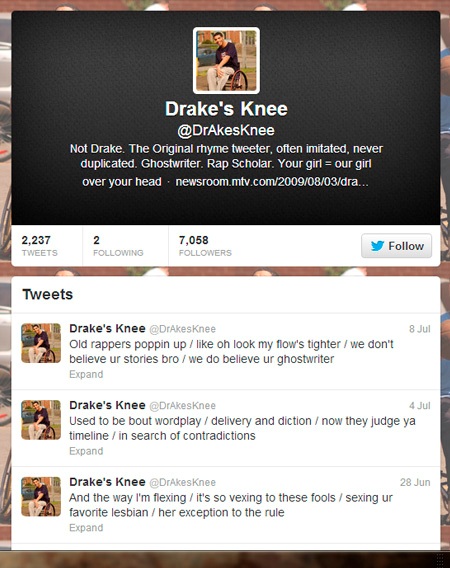 The handle @DrAkesKnee, with more than 7,000 followers, is dedicated to the knees of American rapper Drake. The tweets are full of mad verses and lyrics that imitate the singer's trademark freestyling.
13

The Famous Crab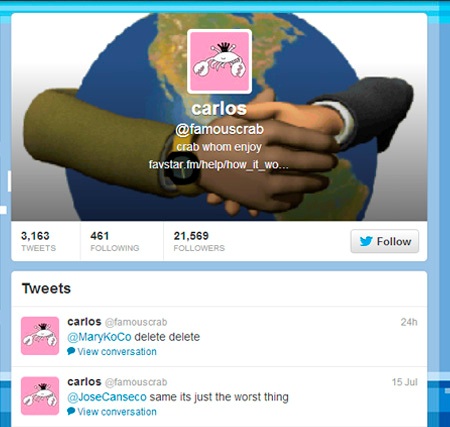 Who is this Famous Crab? His name is Carlos. He basically just tweets nonsensical stuff. Nonetheless, its handle @famouscrab has more than 21,500 followers around the world. In this case, the expression "holy crab!" really comes in handy.