1

The waitress who asked for ID and got handed her own stolen driver's license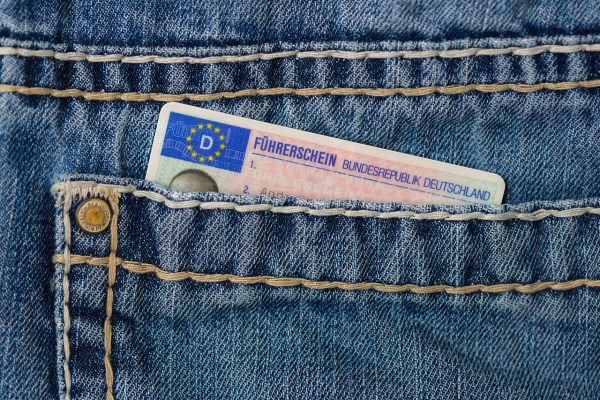 Brianna Priddy, a waitress at an Applebee's in Lakewood, Colorado, lost her wallet one night. She began the laborious process of replacing its contents and ensuring that her identity wasn't stolen. Alas, someone used it to write hundreds of dollars in bad checks in Priddy's name. Fortunately, her driver's license came back to her when she asked a customer who wanted to buy an alcoholic drink to show a photo ID. The patron handed Priddy her own missing driver's license.
"But I didn't say anything. I handed it back to her and said sure I'll be right back with your margarita. [I] went straight to the phone, and called the cops," Priddy said. Priddy acted like nothing was wrong. Lakewood police arrived in minutes.
The woman accused of using Priddy's stolen ID faces felony charges including theft, identity theft, and criminal impersonation.
2

The woman who was looking for directions on virtual map and found her boyfriend cheating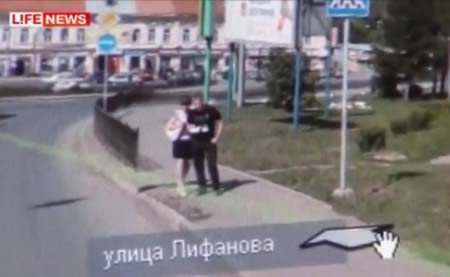 In Russia, Yandex Maps is used like Google Maps. Marina Voinova of Perm, Russia, looked up an address and used the "street view" part of Yandex to see where she was going. That's when she saw a picture of her boyfriend standing on the street -with another woman!
"When Sasha came home, I immediately called him to the computer and asked him to find that address in the map," said the girl. "When the image loaded, Sasha's face changed in color. I looked in his eyes, waiting for explanations." Alexander did not deny anything and confessed. The young man explained that he cheated on Marina not because of big love but due to his stupidity.
Yandex does not blur faces in their street view images unless the person requests it. It's a little too late for Sasha.
3

The married couple who was photographed together 15 years before they met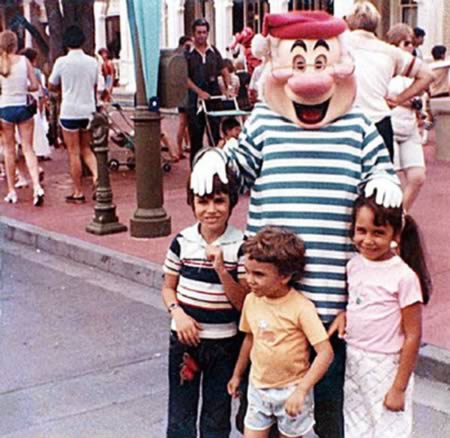 The odds are astronomical: 30 years ago, when Alex and Donna Voutsinas lived in different countries and long before they met and married, they were captured in the same photo at Disney World. That's Donna in front on the right. Alex is in the stroller in the background immediately behind Mr. Smee.
That fateful realization came just one week before their wedding in 2002. Alex and Donna had been going through old family snapshots. There, in the blurry background of a picture of 5-year-old Donna was 3-year-old Alex being pushed down Main Street at the same moment in 1980 by his father. The senior Voutsinas' distinctive jet-black hair with its white tuft caught his eye. "My mother pulled out albums from the same trip. My dad is wearing exactly the same outfit." Other pictures from that trip showed Alex on his dad's shoulders. The boy in the background of Donna's picture and the boy in those pictures were the same.
4

The man who rescued a baby from dumpster and then found out he's actually the father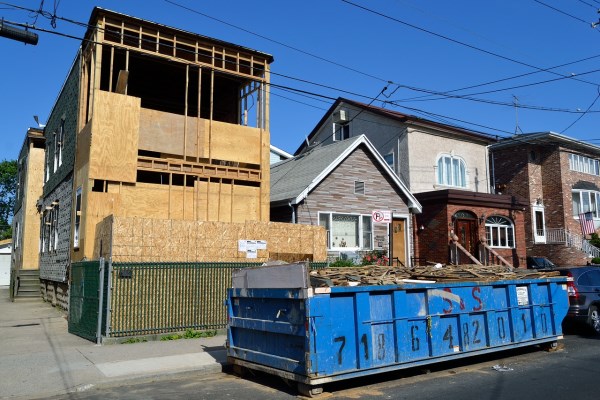 A man who jumped into a Calgary dumpster to rescue a newborn that had been discovered by another passerby says he later found out that the baby boy was his son. The infant was found in a garbage bag in a trash bin at a townhouse complex. The man, who claims to be the father of the baby, said he was unaware that his girlfriend was even pregnant.
"I pulled into my parking spot and hadn't even got to the back of my truck and a girl said, 'I think I hear a baby in the dumpster.' So I, you know — no knowledge at this time that this is my kid whatsoever — I went running over," he said. "And I jumped in and I removed the stuff and I personally opened the bag. My first sight of my baby was covered in garbage."
The man and the woman who first heard the infant called 911, while another passerby used his shirt to keep the child warm. The baby was taken to a hospital and is in stable condition in the neonatal intensive-care unit at Foothills Hospital.
Police questioned the man after the rescue, and later that evening informed him that he was the child's father. "It was the most shocking thing I've ever encountered in my life - to find that out from police is not something I'd ever expected to happen," he said.
5

The adopted son who found birth mom at his workplace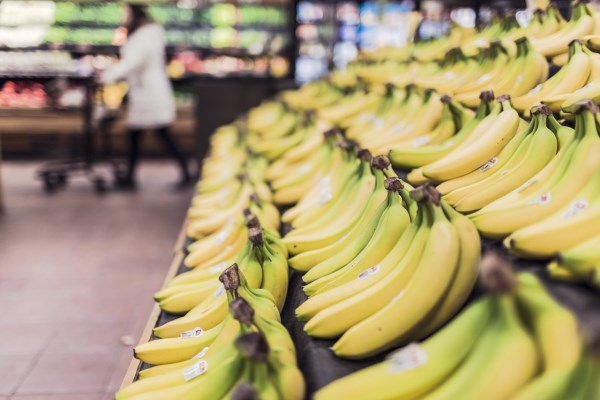 For years, Steve Flaig, a delivery truck driver at a Grand Rapids Lowe's store, had searched for his birth mother. He later found her, working the cash register at the front of the store. For several months, Flaig and his mother, Christine Tallady, had known each other casually as co-workers.
It was a tough decision for Tallady, unmarried at the time, to give him up when he was born on Oct. 5, 1985, but "I wasn't ready to be a mother," she said. Flaig had always known he was adopted. It was never hidden from him by his adoptive parents and they supported him when he began to search for his birth parents.
When Flaig turned 18 he asked DA Blodgett for Children, the agency that arranged his adoption, for his background information. A couple of months later it came and it included his birth mother's name. He searched the Internet for her address and when it came up empty he gave up the search. However, around the time of his 22nd birthday he again took out the paperwork from DA Blodgett and realized he had been spelling his mother's surname wrong as "Talladay." He typed "Tallady" into a search engine and came up with an address less than a mile from the Lowe's store.
He mentioned the coincidence to his boss, and she said, "You mean Chris Tallady, who works here?" She had been working at Lowe's for two years. She was hired in April as head cashier.
6

The father who posted a photo of his long lost daughter only to find out she was behind him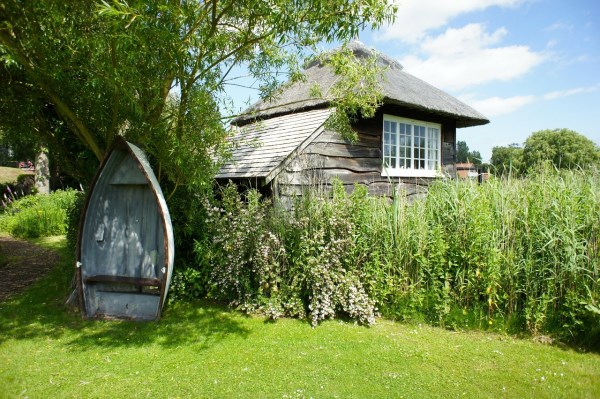 A father posed for a picture in a desperate attempt to find the daughter he had not seen for ten years – unaware that she was just a few yards behind him. Michael Dick scoured the streets of Sudbury, Suffolk, and looked through the electoral register searching for Lisa, 31. After drawing a blank, he went to the Suffolk Free Press newspaper, which ran a story on his search.
The paper took a picture of Michael and his younger daughters Samantha, 22, and 10-year-old Shannon for the article. Lisa, a mother of three, discovered her father, 58, was trying to find her when friends mentioned the story. When she looked at the photograph, she realized she and her mother were just a few meters behind them and got in touch.
Lisa, Mr Dick's daughter from his first marriage, moved to Sudbury with her mother as a baby after her parents split up. She was amazed to spot herself in the picture behind her father and two half-sisters. Lisa said, "I was completely shocked. Me and my mum had been standing in that exact place where the picture was taken about a minute earlier, and you can see us in the picture walking away. It is incredible." Lisa, who now lives in Colchester, Essex, had only gone to Sudbury on the day the picture was taken to visit her mother.
7

The American family who found their web photo used as Czech advertisement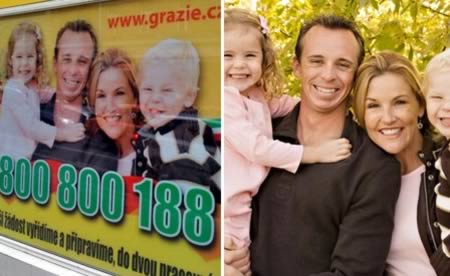 When the Smiths of Missouri – an all-American family with the regulation two blond children – posed for their Christmas photo, little did they know they would end up on a billboard thousands of miles away in the Czech Republic. Six months later a family friend of Jeff and Danielle Smith was travelling in Prague when he spotted some familiar faces beaming out of a poster advertising a grocery store's home delivery service. He took a photograph and emailed it to his friends in St Louis – kindly translating the caption that promises "we will prepare and deliver your requests in two business days".
The picture was indeed of the admirably white-toothed Smiths and their two smiling children. Danielle had been so proud of the image taken by a photographer friend, Gina Kelly, that she had not only sent it out as a Christmas card to family and friends, but also posted it on her blog and other social networking sites, including Momlogic where she identifies her children as "sweet and sassy Delaney" and "loveable and crazy Cooper." Danielle has expressed her surprise at the news of their international fame: "Interesting. Bizarre. Flattering, I suppose. But quite creepy."
The shop owner was equally shocked. Mario Bertuccio, who runs the Grazie store in Prague, said he found the image on the internet and thought it was computer-generated. He has promised to remove it and email an apology to the Smiths – and said if they lived nearer he would send them "a bottle of good wine."
She had no idea the image could be used, she said, and would not have given her permission, but admits she was naive in putting up a high-resolution version on the website. She won't be doing that again – but said she would continue to post images of her family. The smiley Smiths have now gone global. The site has registered 180,000 hits but Danielle writes that she is blocking the small percentage "who are commenting only to say that a member of my family (or all of us) are ugly."
8

The woman who lost her wedding ring and found it 16 years later in a carrot from her garden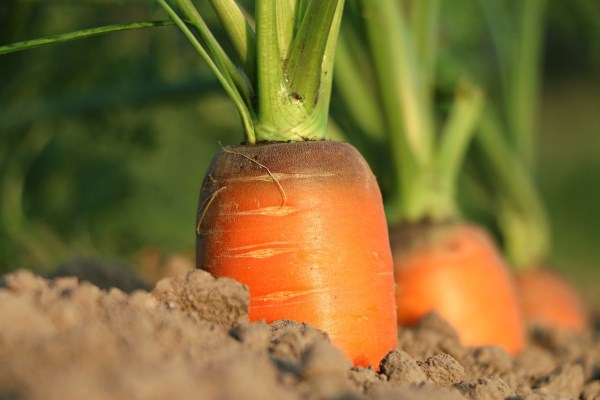 Lena Pahlsson was in the middle of an epic baking session, just before Christmas of 1995, when she removed her wedding ring and placed it on the kitchen counter. At some point during the day, the ring disappeared and Lena and her husband, Ola, looked everywhere for the lost jewelry item. When they remodeled their kitchen a few years later, they even took the opportunity to search behind all of the appliances and under the floorboards, but to no avail. Finally, the couple gave up hope on ever finding the ring.
Sixteen years after the ring disappeared, Lena was outside, pulling up the last of the carrots in her garden when she noticed something strange about one of the carrots. The tiny vegetable had a strange thing wrapped around it. When she looked a little closer, Lena realized the carrot had grown inside of her wedding band. After a quick cleaning, the white gold band adorned with diamonds looks as good as new again.