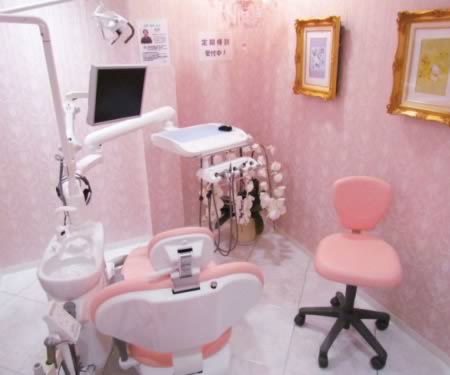 There are Hello Kitty restaurants, hotels, hospitals, and more, so why not a dentist office? For those that just can't stand the sterile environment of the standard dentist clinic, the Hello Kitty dentist office is a welcome alternative...even if it means having to travel to Japan just for a teeth cleaning.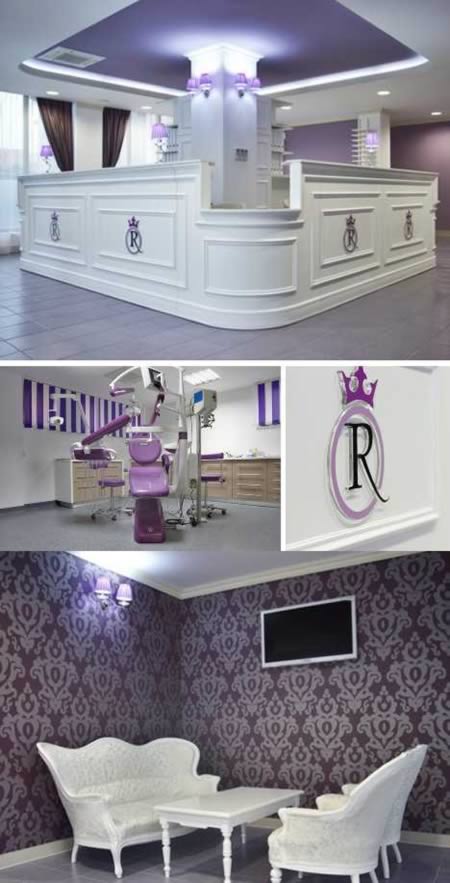 It's good to be the king, and at Royal Dental in Bucharest, Romania, everyone's treated like royalty! Well, maybe not, but at least their dental needs are treated amidst office decor that would make Marie Antoinette feel right at home. Designed by EZZO, Royal Dental dazzles its staff and patients with a princely color scheme featuring bright white walls & fixtures highlighted by majestic purple trim.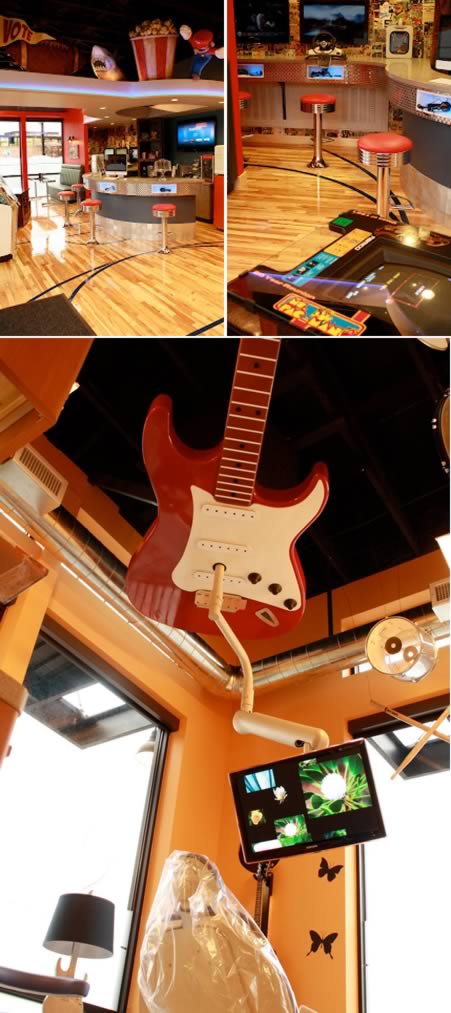 Designed from the ground up for teens, DFT - Dentistry for Teens - features a technology counter for MAC browsing, smoothies, online music and game play. Props from My Studio Line create the movie theater like cloud above the counter. There's a bank of Video Game screens for XBox and Playstation amongst the comic book wall. A vintage Ms. Pacman table console and a DVD jukebox offer entertainment. The rock n' roll operatory features a 9 foot guitar, video gaming and movie viewing on the patient's video screen. Dentistry for Teens was designed by Aaron Christensen, owner of EmbellishmentsKids.com.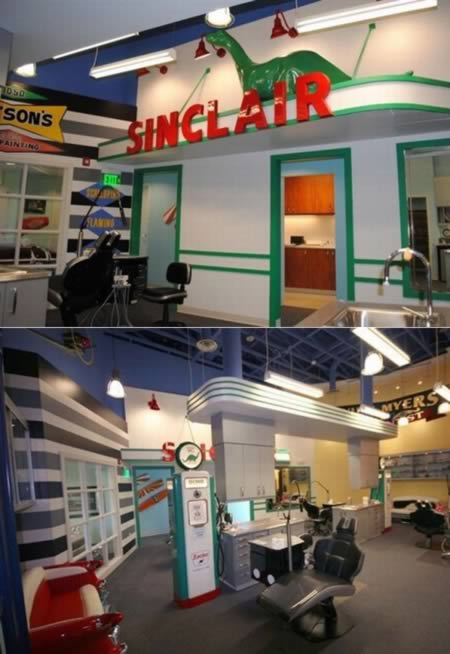 In a tribute to the past, this orthodontist office in Arkansas resembles a 1950s diner and car service station. Hot rod enthusiast Dr. David Myers built all of the furniture by hand, and the office features a 1947 Mercury coupe for the reception desk and a 1956 Olds 98 and pink 1959 Cadillac as couches.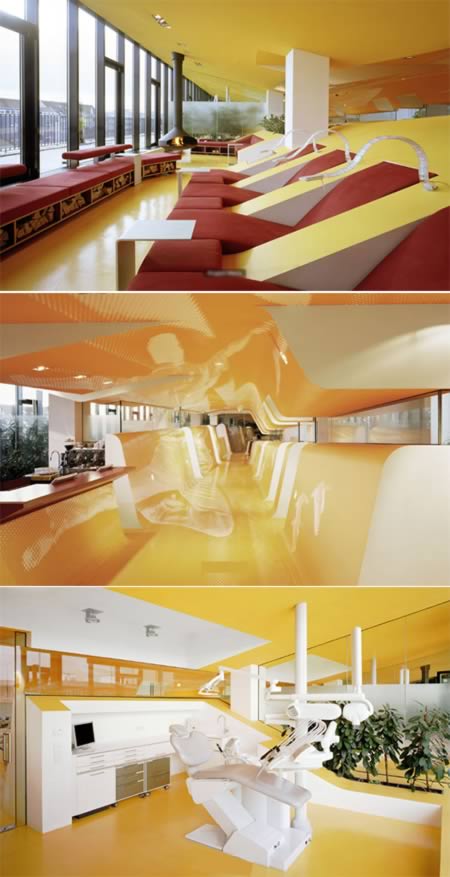 The dentist KU64 on Kurfürstendamm in Berlin-Charlottenburg is designed by Graft architects with a modern and futuristic concept. Owned by Dr. Ziegler, this dental clinic devises a radically new morphology for a medical setting. The interior uses striking color, an inspiration between orange, white red and smooth lighting, resulting in a stunning and amazing dental interior. Anamorphic images in white are silk screened onto the orange surface and can only be deciphered from distinct viewpoints. While moving through the clinic, the surface's appearance continuously changes. Furniture and topographical volumes double as storage space, and technical equipment is seamlessly integrated into the contours of the interior.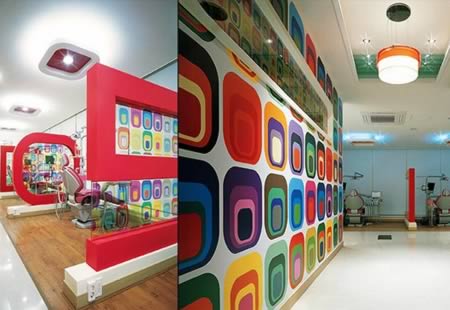 This is a really cool dentist's office design.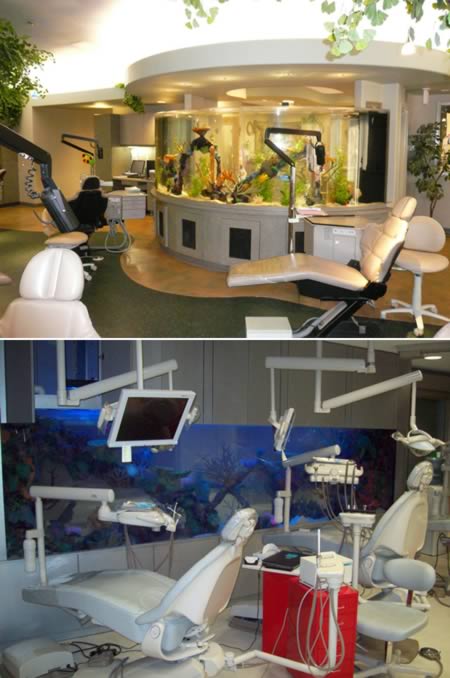 A dental office is the perfect location for a custom aquarium, providing soothing relaxation for patients. By SeaView Aquariums.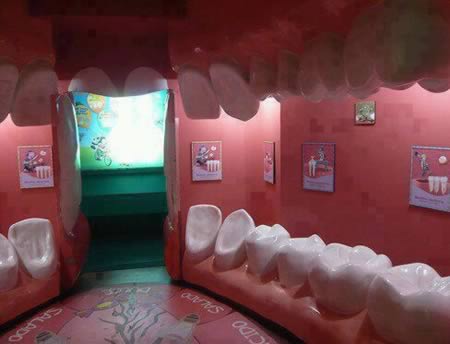 That would look like a great clinic. Actually, it's Colgate's massive installation on dental hygiene at Museo de Los Ninos by Geoff Sowrey.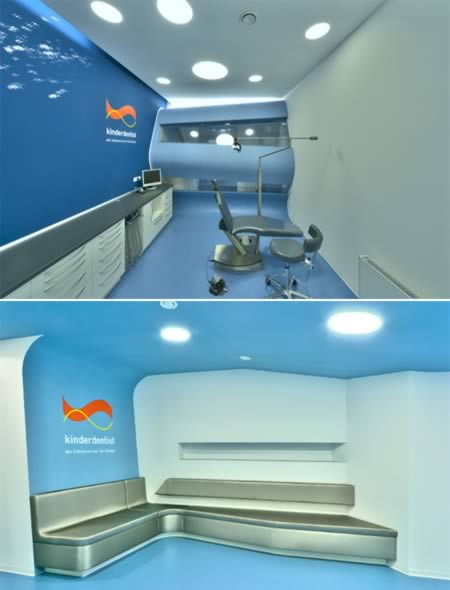 These cool images are from the fabulous Kinderdentist in Berlin. Designed by Brad Pitt's favourite architecture firm, the super-creative and multi-functional GRAFT, this is the kind of place that makes us want to be kids again. Never thought we'd say that about a dental office, but what can we do? Why exactly is it that adults' dental offices don't look like this?
Kinderdentist is an underwater world of play and adventure with a 12 foot visual wave drawing the guests into a world of blue hues and pixilated schools of fish. You feel as if you were under water in a submarine, just waiting for exciting things to happen, and yes, kids' teeth get fixed there, too.
Children's Dental Care is the pediatric dentistry practice of George Hankerson, DDS, and Brent Kvittem, DDS. After building two office suites in multi-tenant buildings, the partners decided to develop a building to their own specifications. They found a prime location in a newly constructed shopping complex offering pad sites. The site they chose permitted construction of a multi-tenant commercial building designed around their pediatric dentistry practice.
The doctors sought interior design with strong appeal to young patients. With help from designer Diane Pahl Strapko, they choose to extend a jungle theme beyond the typical kid's corner. Working with a mural artist and a museum display company, Diane created long curving walls for a panoramic jungle scene with a bamboo hut, stone bench, and a sculptural tree as a focal point.
The doctors recognized that young patients often continue seeing them into their late teens; consequently, the office interior is designed to appeal to a range of ages. Colors and patterns complementing the jungle theme continue throughout the office, resulting in a coordinated interior appropriate for young and old.