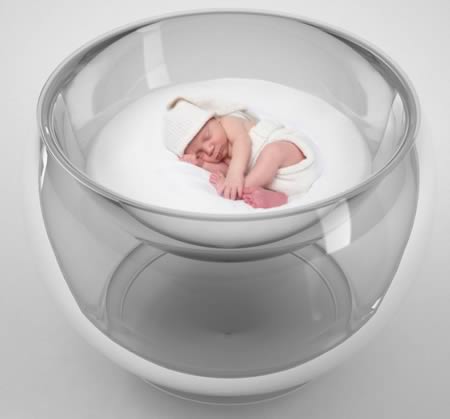 This oddly transparent crib called the Bubble Baby Bed was designed by Lana Agiyan. It's designed to rock in a circle, like a top, without tipping over, and return to center thanks to a weighted bottom. It looks like you're raising a space baby, and maybe you are (lay a trail of Reeces Pieces to find out for sure). The clear plexiglass is easy to clean (which is good because it's going to get way more fingerprints and dirt on it than, say, a regular wooden crib) and the crib can be used as a toy storage container when the child outgrows it. Or you could just use it to hold the world's largest bar of soap because it looks like a soap dish.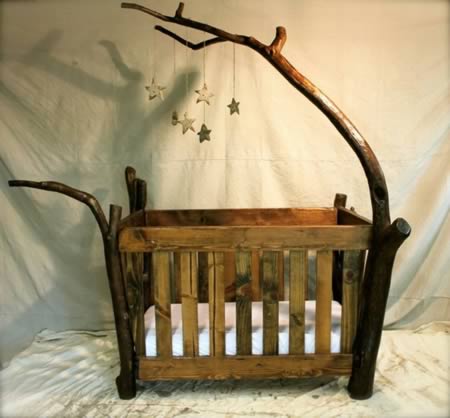 Rustic charm for your baby's room.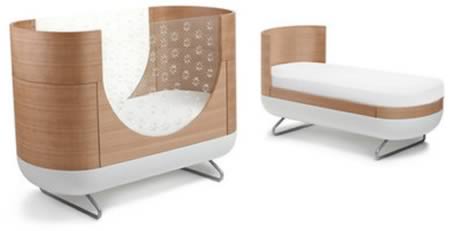 Check out this uber-cool crib by Australian company ubabub. Eco-friendly, safe, and modern, the hippest of babies could slumber well in one of these. Called the "pod," this crib can even convert to a toddler bed when your baby is ready for that. The only downside is they're pricey (about $1,900) and only currently available in Australia. They're planning to expand to other countries though.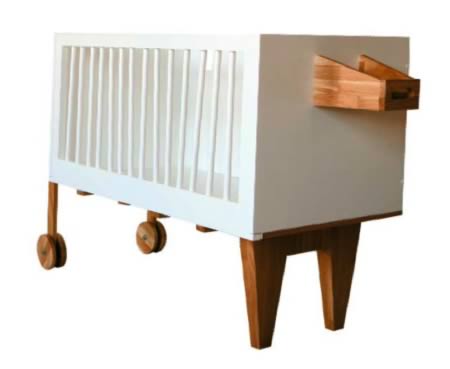 Probably the most playful and spunky crib you will ever see – the Spanish pair Ninetonine came up with the Zebra Crib, that looks like an abstract Zebra which would actually run across the room like it was galloping across the Savannah.
Highly modernistic, the Zebra crib features two stationary legs, two wheeled legs, and a head (or tail) that can serve as a handle for easy transport. Its side rails are eccentric compared to the vertically straight norm. They're not standing vertically uniform, but there isn't enough space for the baby to slip through. Made from oak and pine, the Zebra crib is a designer crib built to survive even the jungle.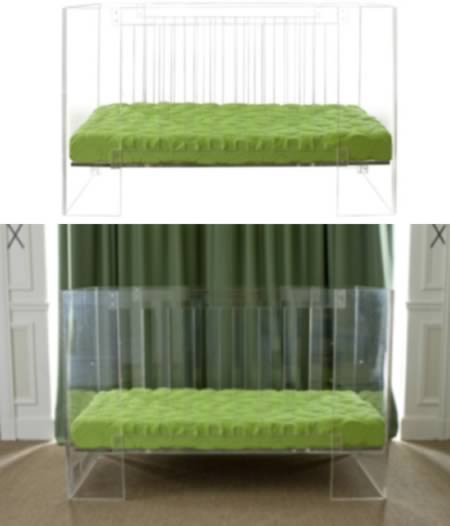 At Nurseryworks, unique cribs are the rule, not the exception. The brand new, limited edition Vetro crib is made entirely of recyclable clear acrylic (which is why it's hard to see here), with three adjustable mattress heights and a fixed side rail. It's ridiculously pricey--$3500--but it also converts to a toddler bed, so the Hollywood moms can justify it. Plus it'll look like your baby's sleeping on a puff of air. Heh.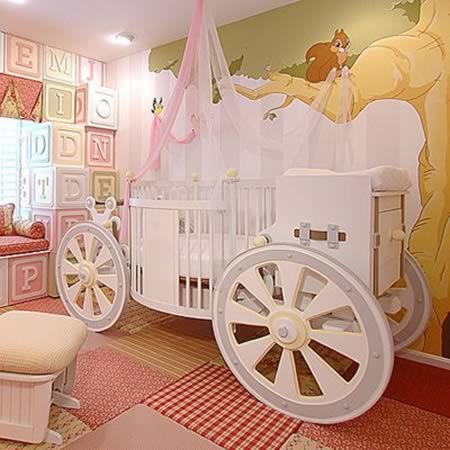 What little princess wouldn't want to lay her head down in this spectacular crib that includes what appears to be storage and a changing table? I like the blocks on the wall, too, which might be clever cabinets to store baby books and toys, or simply delightful decor.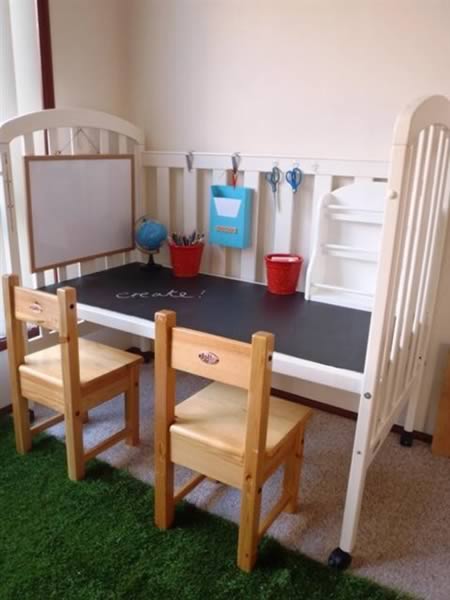 Repurpose that outgrown crib by turning it into a desk for the kids! From A Little Learning for Two, via Pinterest.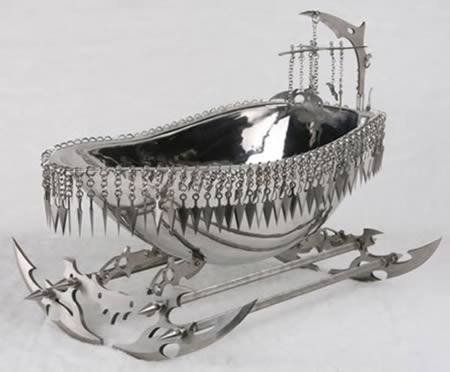 Chinese artist Shi Jinsong created sculptures depicting baby accessories which would fit right in as toys for the Addams Family or for a future Terminator baby. The Na Zha Baby Boutique exhibition included this Sadist's Cradle that is perfect for a child with supernatural powers. Deadly sharp blades and gleaming stainless steel offer lethal luxury in this outrageously unsafe line of baby products.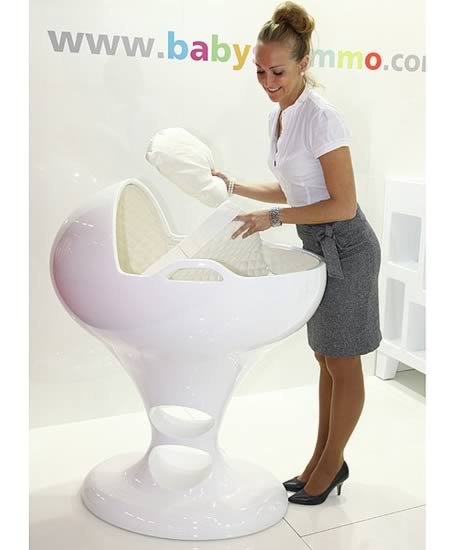 Which came first — the baby or the bassinet? With the Baby Suommo Dodo ($3,625), you might have to rethink the answer! The womb-like design is pricey but sure to capture the attention of everyone in the room!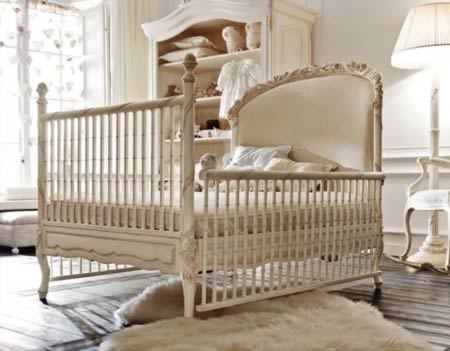 I don't have much information about this crib, except if there is a King Crib, this is it!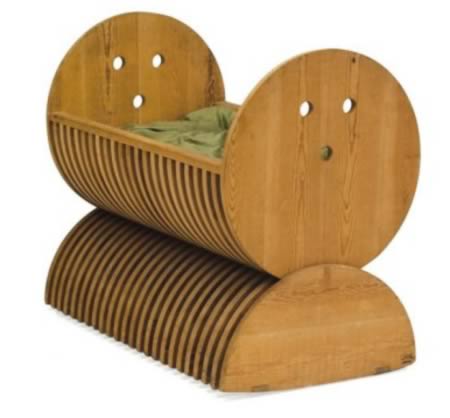 Natural pine crib, by Mario Ceroli for Poltronova, 1968.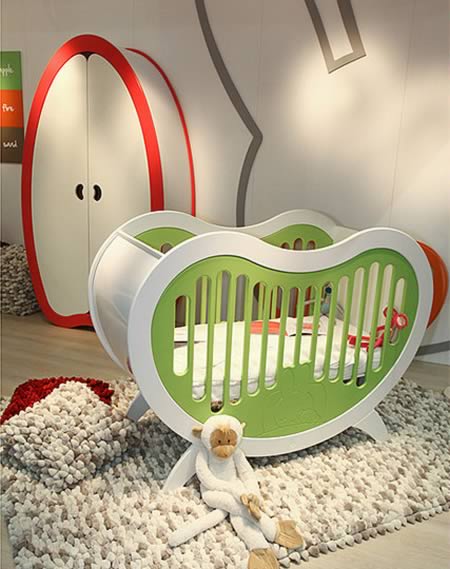 Dutch BeanEasy's Dream crib ($1,540) is designed to maximize airflow while saving mama's back by positioning the mattress at an easy-to-reach height. Available in nine colors, the collection also includes a bean-like changing table and armoire.