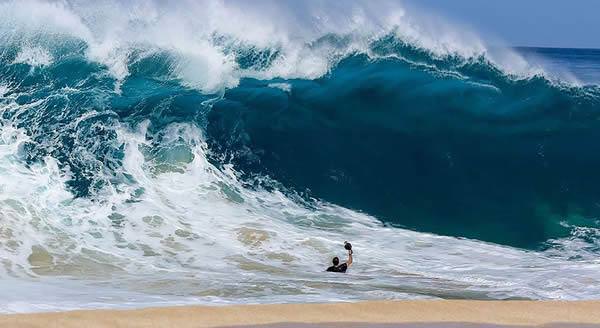 This breathtaking picture was captured seconds before this daring surfer was engulfed by a monster wave. The spectacular shot was taken by surfer-turned-photographer Clark Little, who captured the incredible scene on Ke Iki beach, in Hawaii. The massive shorebreak was more than 10 ft. tall, but luckily, the surfer survived unscathed.
Such shorebreaks, which are caused when a wave hits shallow water at sand level, are powerful enough as they break, to drag down unsuspecting surfers and have been known to cause neck and back injuries. But Mr. Little, from Oahu, Hawaii, was not afraid to jump into the water to capture the incredible power of the ocean on camera.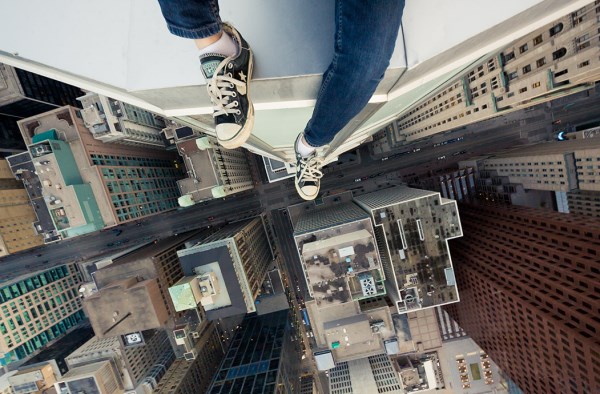 Camera-wielding thrill seekers have found a new way to get high. It's called rooftopping – a recent photography craze in which snap-happy daredevils scale skyscrapers to catch a rare glimpse of the world below. Photographer Tom Ryaboi, 27, is one of the trend's pioneers. The Toronto, Canada native says he's climbed more than 100 buildings.
This young woman is sitting on her knees on top of a large metal statue. She is not in a park. She is outside an office building high above New York City. The young woman reached the statue by climbing through a window on the sixty-first floor. She wanted to get a better picture of the city below.
The woman is Margaret Bourke-White. She was one of the leading news reporters of the twentieth century, but she did not write the news; she told her stories with a camera. She was a fearless woman of great energy and skill. Her work took her from America's Midwest to the Soviet Union and from Europe during World War Two, to India, South Africa and Korea. Through her work, she helped create the modern art of photojournalism.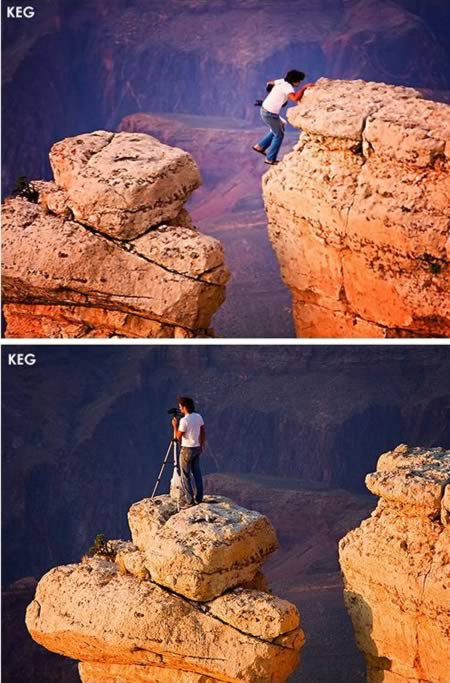 This is a case of 1 photographer photographing a 2nd photographer. The following photos were taken by Hans van de Vorst from the Netherlands, at the Grand Canyon, Arizona . Here is the description:
"Look carefully at the photographer. He has a camera, a tripod and also a plastic bag, all on his shoulder or in his left hand. Only his right hand is available to grab the rock and the weight of his stuff is a problem. He lands low. Both his right hand and right foot are slipping. At that very moment, I take this shot. He then pushes his body against the rock, waits for a few seconds, throws his stuff up on the flat rock, climbs up and walks away, presumably to a bathroom to change his shorts."
This great white shark image was captured by Amos Nachoum, an underwater expert who guides courageous scuba divers to encounters with the large creatures. Mr. Nachoum photographed this 14 ft.-long predator from just a few feet away in the waters off the coastal Mexican resort of Guadalupe. Despite the proximity of a mouthful of razor-sharp teeth, Mr. Nachoum insisted he was not in any danger.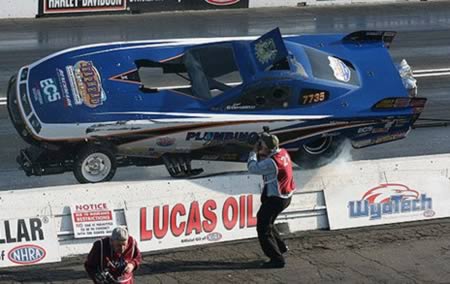 We all know racing cars is dangerous, but there are things that can be done to prevent injuries. Let's say you're a photographer (or anyone for that matter) and a 250-mph drag car comes hurtling at you, clearly out of control. If you have any respect for life, you'll probably run, or at least start moving away from the wreck that's sure to injure you badly if you are caught in it. Seems logical enough, right? Well don't tell Andy Wilsheer that.
Wilsheer apparently takes his job way more seriously than his life. During a drag race at Pomona Raceway in California, Steve Gasparrelli's Ford Mustang spun off, right at the start of the race, and immediately began crashing towards a row of photographers protected only by a small temporary barrier. Most of the photographers, fearful for their lives, scurried out of the way. Andy Wilsheer did not, and while his courage was boneheaded at best and near-fatal at the worst, it did allow him to obtain some amazing photos and also gain the respect of people everywhere for his gutsy performance.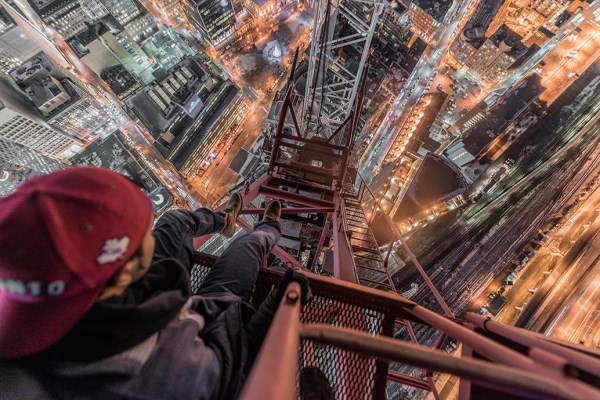 Another picture from Tom Ryaboi: vertigo inducing.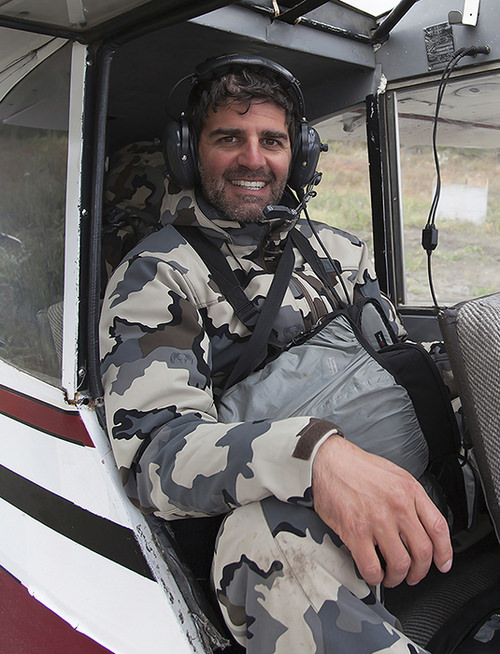 With their teeth clenched and a look of sheer determination etched on their faces, these courageous climbers take rock climbing to dizzying new heights. The daredevil climbers are captured clinging precariously to rock faces and wedging themselves into the tiniest of nooks and crannies in a bid to conquer some of the world's most incredible cliffs.
The vertigo-inducing images were captured by Master of Mountains, Paul Bride, who risks his life to secure the stunning shots.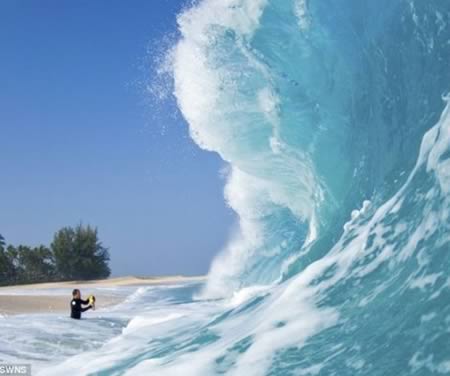 Another amazing picture from photographer Clark Little.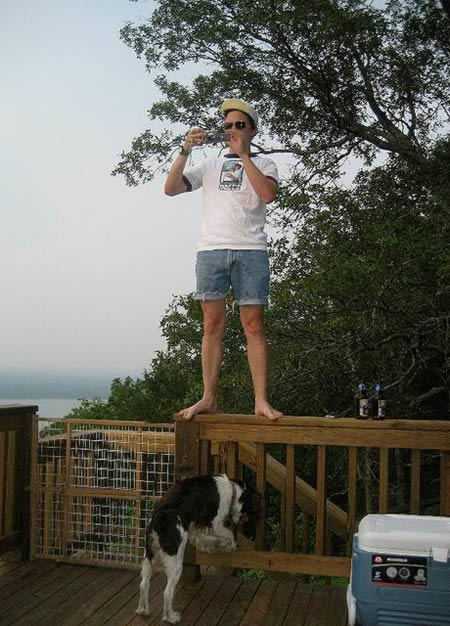 His girlfriend said, "You better be careful. Just remember, if you fall... you're gonna die with those shorts on." By flickr user kerryvaughan.
P.S. Don't drink and shoot.