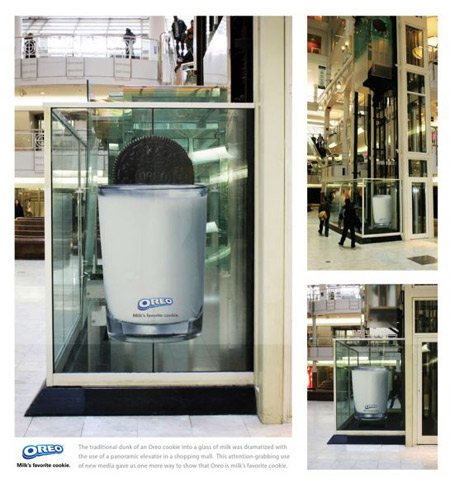 The traditional dunk of an Oreo cookie into a glass of milk was dramatized with the use of a panoramic elevator in a shopping mall. This attention-grabbing use of new media gave us one more way to show that Oreo is milk's favorite cookie.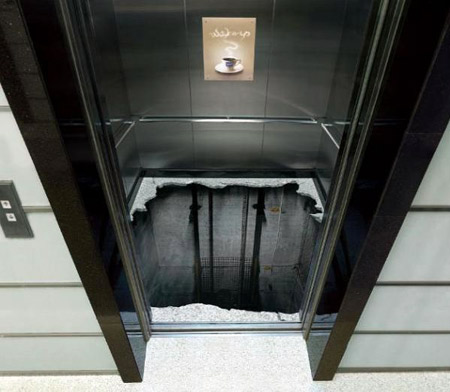 To promote the beneficial jolt of coffee to a country bent on tea like China, a shot of adrenaline like this is much needed. When the doors opened, people were shocked to find the lift had no floor. They would suddenly wake up, much like the effect of drinking a cup of Maxwell House coffee.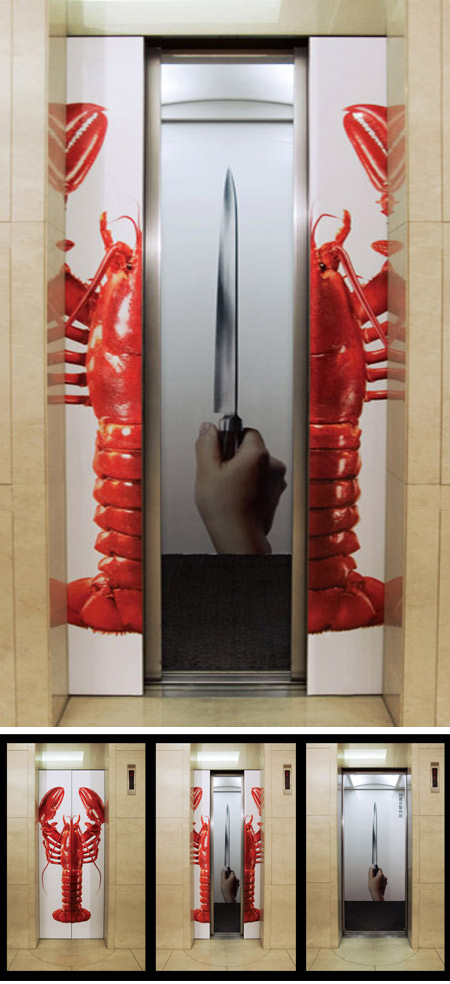 Kagatani Knife. Advertising Agency: GREY Tokyo / G2Tokyo, Tokyo, Japan.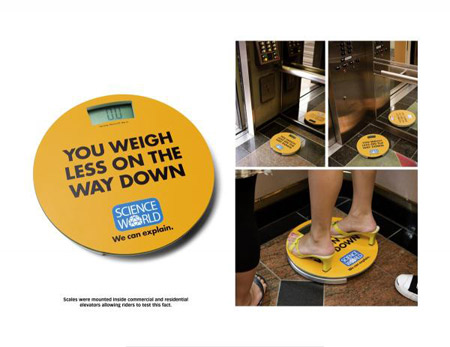 The ad titled Scale, done by Rethink advertising agency for Science World in Canada, is to prove that science can be fun and interesting with a simple fact - "You weigh less on the way down". Scales were mounted inside commercial and residential elevators allowing riders to test this fact.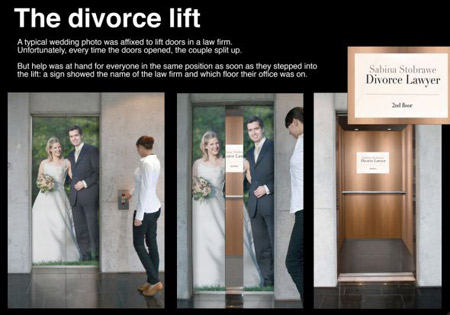 A typical wedding photo was affixed to lift doors in a law firm. Unfortunately, every time the doors opened, the couple split up. But help was at hand for everyone in the same position as soon as they stepped into the lift; a sign showed the name of the law firm and which floor the office was on.
Advertising agency Wirz/BBDO, Switzerland placed miniature buildings on the floor of elevators, giving the impression of free falling to anyone who went down in the elevator to get them in the mood for skydiving.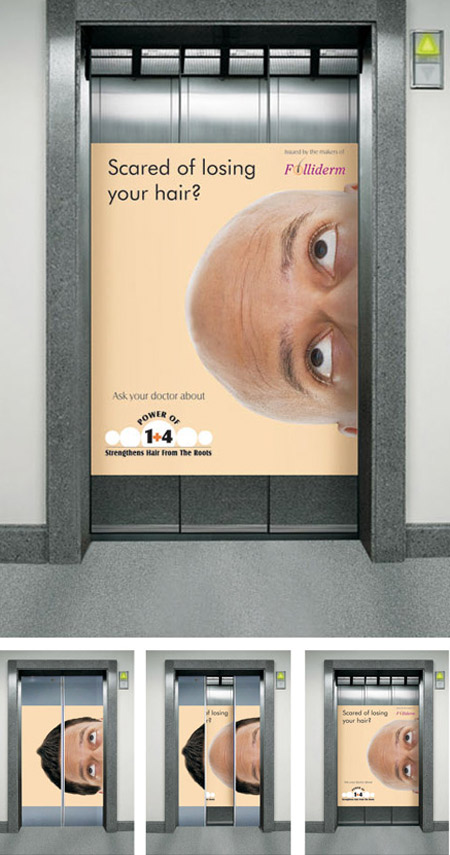 Scared of losing your hair? Use Folliderm!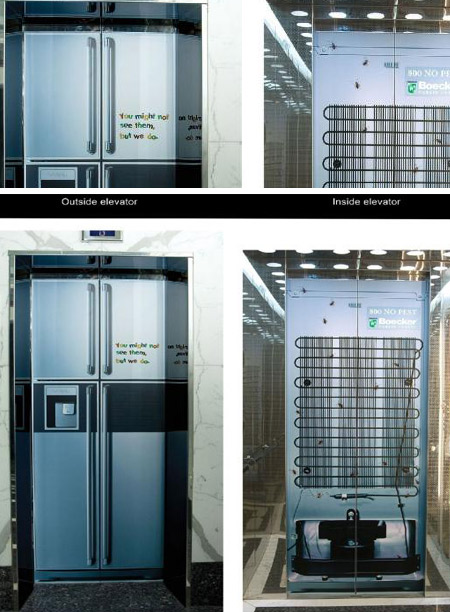 This ad hits us with the idea of your beloved fridge being invaded by nasty insects. "You might not see them, but we do." Call us to get rid of them!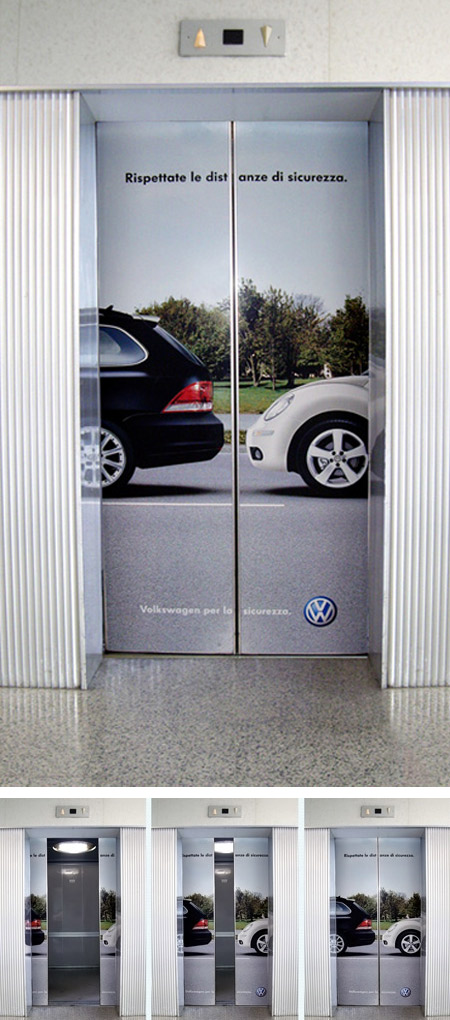 In orden to raise sensitivity about safety on roads, Volkswagen planned a billboard and ambient-media campaign inside main hospitals of Northern Italy.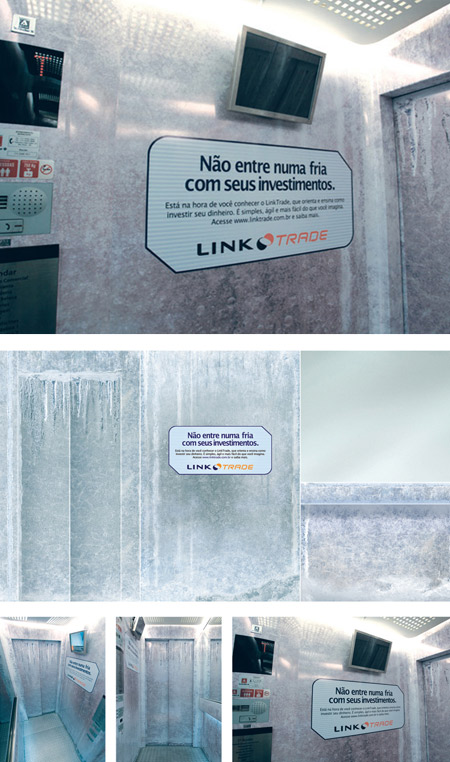 Link Trade Stock Market: Frozen elevator. Don't go cold turkey when getting into trouble with your investments. It's definitely something new, an investment company advertising through a "frozen" elevator.