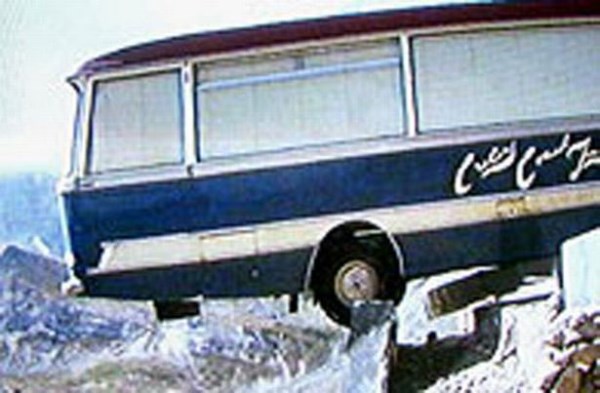 A motorist had a lucky escape when his van careered off a mountain road. In a scene straight out of The Italian Job, Daniel Lyons was left hanging in mid-air after his vehicle plunged down the rock face in Colorado and dangled on a precipice.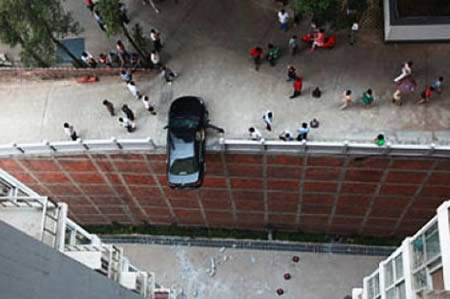 A Chinese couple had a lucky escape when a driver hit the accelerator instead of the brake and nearly shot off a 50ft rooftop carpark. A security guard at the car park, in Changsha, capital of Hunan Province, said the couple worked for a company nearby. They arrived for work, as usual, one morning but while maneuvering into a space, their black Chevrolet suddenly started shooting backwards. The car smashed through a perimeter wall before coming to a halt teetering dangerously over the edge of the building.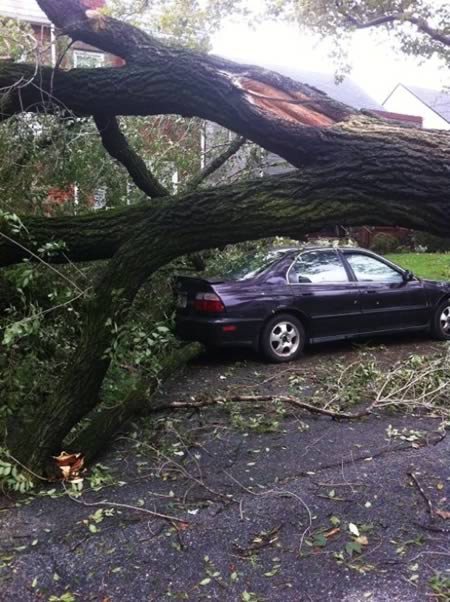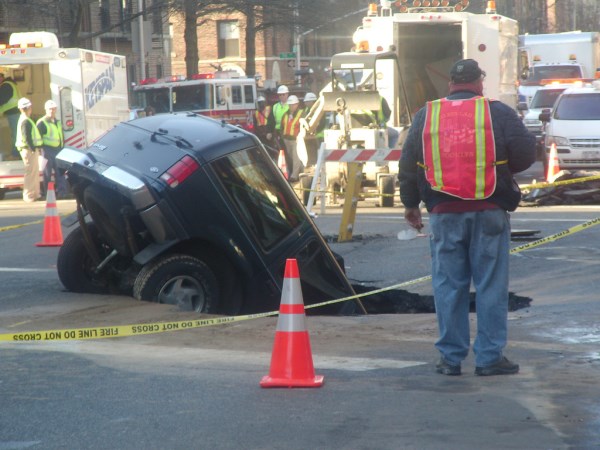 A motorist had a lucky escape after his car was swallowed by a sinkhole as he travelled along a busy motorway. The vehicle was trapped, with its front wheels sunk into the chasm, when the gap, measuring about 13ft-wide, suddenly appeared. The sinkhole – which is the eighth discovered in China in the past two weeks – happened in Nanchang City, capital of Jiangxi Province.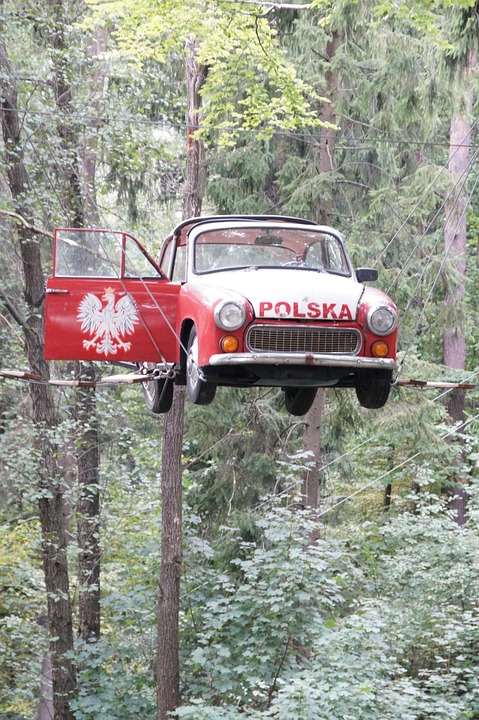 It makes you wonder how in the world they got into such strange positions.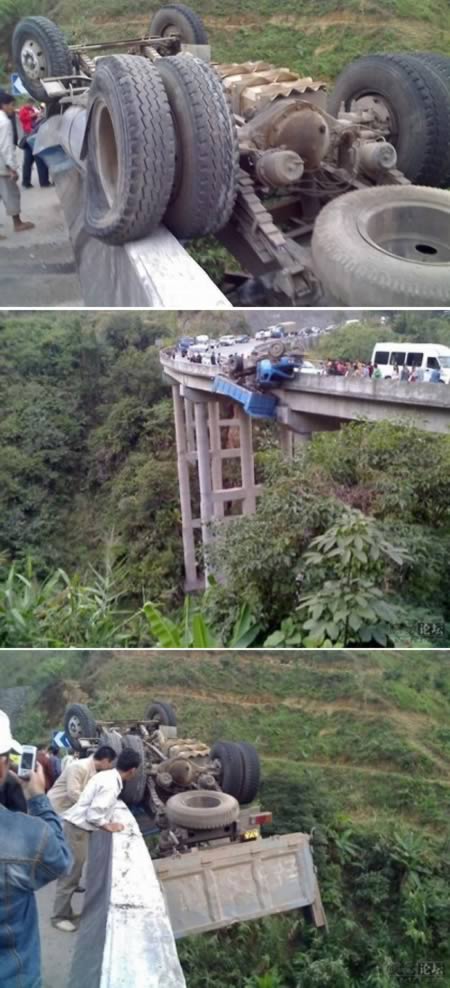 The driver of this truck must have seen his life flash before him as his wagon somehow balanced on the edge of a bridge above a 200ft deep gorge. Rescuers in China managed to pull the driver to safety as his truck miraculously hung on by a punctured tyre and some torn metal near the fuel tank.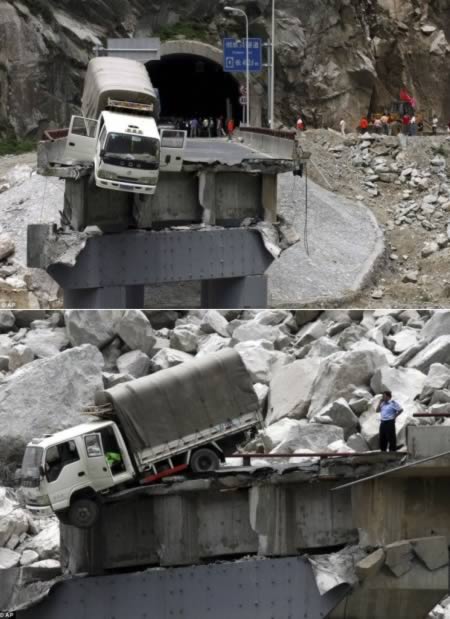 Im not sure who the driver of this truck prays to but whoever it may be they were certainly looking out for him the day he got caught up in a landslide in the Sichuan province of China. Talk about a lucky escape – his truck is teetering on the edge of the collapsed bridge, just managing to stay balanced looking as if it could topple over at any moment.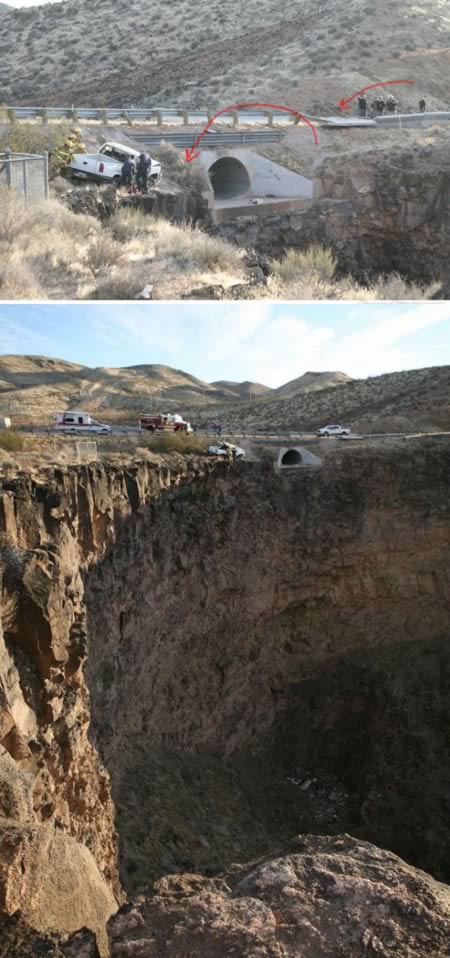 It looks like an ordinary car accident, bank over the railing and fall across the concrete conduit. It is nothing special until you've seen the whole picture.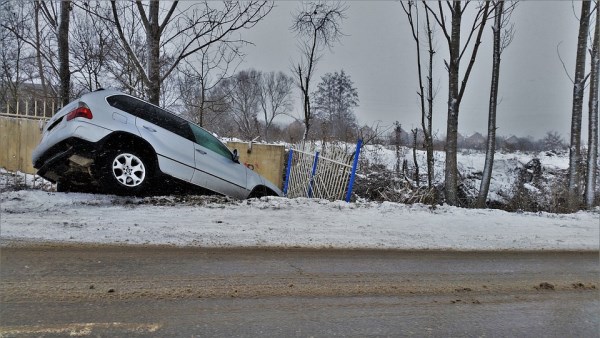 A woman avoided disaster by an inch after nearly driving her car off a roof. The woman in question, 57-year-old Shan Dan, was attempting to reverse park when she accidentally stepped on the accelerator rather than the brake in an elevated car park in Changchun, capital of northeast China's Jilin Province.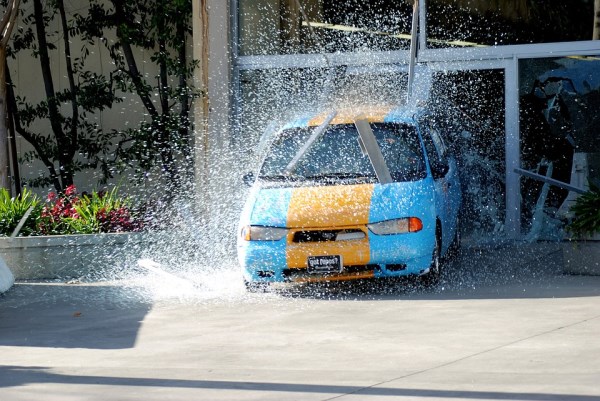 A car teeters on the edge of a flyover in Tianjin, China, after the driver swerved in an effort to avoid hitting another car. The vehicle came to rest with two wheels hanging over the edge of the road, with a 5-metre drop to the ground below it.