1

Naked Shopping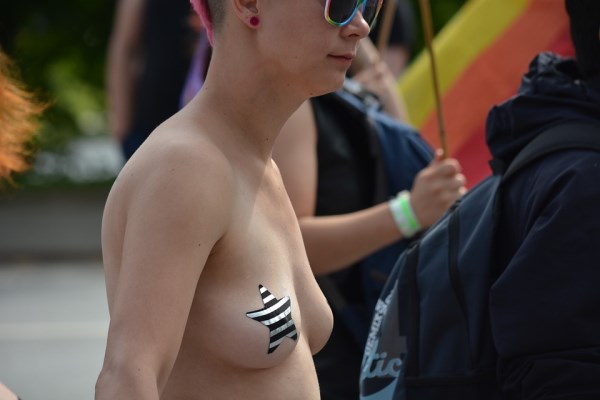 This shopping center had some decidedly under-dressed shoppers during one special weekend… as hordes of underwear-clad women competed to win $145 gift vouchers. Lakeside Shopping Center in Essex gave the prizes to the first 100 women to turn up in nothing but their bra, panties and high heels. After getting the gift card the girls who had dared to bare were then encouraged to hit the shops and buy themselves a new outfit. However, while women had already got a pair of hight heels on, a surprisingly high number of them headed straight for the shoe shops… which must have made their walk home interesting.
2

Naked Sledging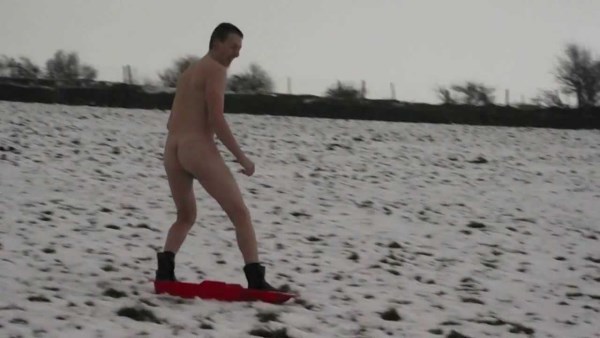 Thirteen men and 13 women dressed only in panties and helmets to protect their heads, took to the 90 metre long iced snowy piste to battle it out in the famous sledging race, a team event, which attracted over 17,000 visitors. The winners were a trio of hotel workers form the local area and they took home the title of 'Naked Sledging World Champion' as well as a shared prize of £1,000. It was the third year the contest has taken place.
3

Naked Rugby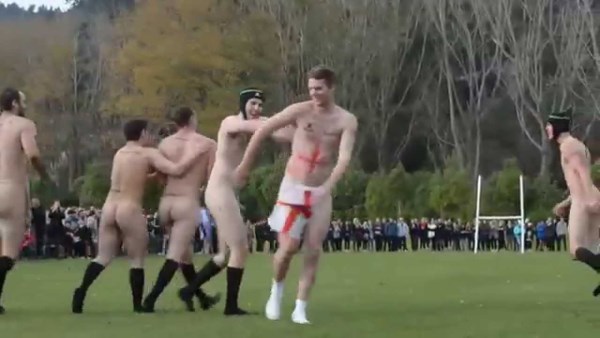 Rugby players aren't afraid of anything, including playing naked! A match in the nude over the weekend in Dunedin, New Zealand, went off without a hitch, except for chilly weather and a streaker! The nude rugby international, which started as a celebration of New Zealand's national nude day, was held as a warm-up – although temperatures were reportedly cold enough to prove embarrassing – to the forthcoming match between the All Blacks and France. Needless to say, there were plenty of tackles flying about with only one interruption … when a fully-clothed streaker ran on to the pitch. Naked rugby ain't for everybody.
4

Naked Reading at Oxford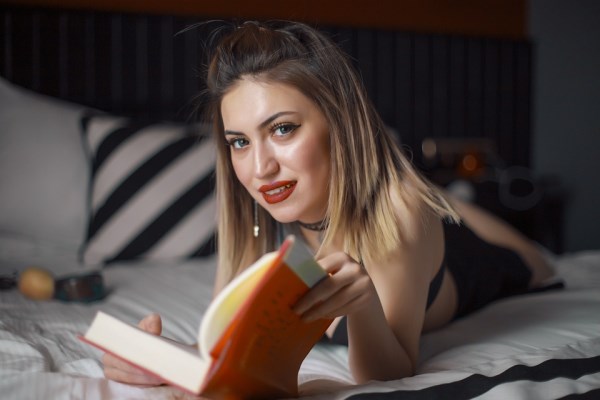 In a bit of controversy on campus, the Breakfast Club–a group of about 40 male and female Worcester College students–get together in the library on Wednesday afternoons to do group revision… with a bit of stripping. The "Half-Naked Half-Hour" began in 2009 when Breakfast Club students decided it would be fun to partially disrobe in the Oxford campus library to break "the monotony of a long day's revision" and "cool down during the hottest periods of the day." Unfortunately for them, librarians sent an email to the college saying the practice was 'unacceptable' and 'a distraction to other readers'. And therefore, prohibited the practice.
5

Naked Roller coaster Riding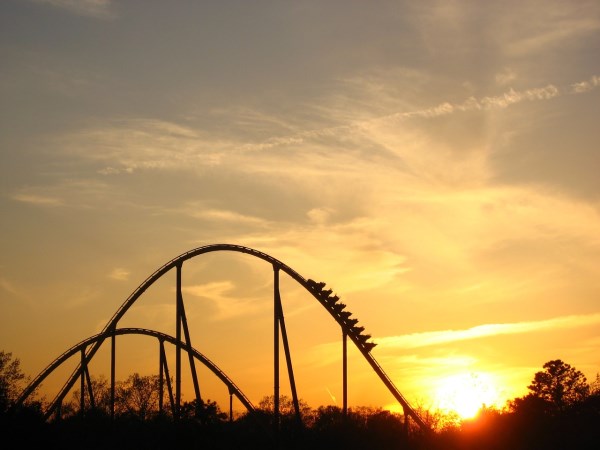 In 2010, more than 100 people stripped off their clothing and went for a roller coaster ride in the UK to raise money for a local hospital while setting a world record. There were 102 enthusiasts who went for a clothing-free ride on the Green Scream roller coaster at Adventure Island, in Southend, Essex. The roller coaster ran three times to ensure all of the nude people had a ride. The event raised more than £22,000 for Southend Hospital Charitable Foundation's Bosom Pals Appeal. Philip Miller, who runs Adventure Island, said: "People have travelled from all over the UK to take part and we've heard some amazing stories from so many who have been directly, or indirectly, affected by cancer and wanted to give something back."
The previous record, of 32 naked people on a roller coaster, was set in 2004, on the Nemesis roller coaster at Alton Towers, Staffordshire.
6

Naked Mud Wrestling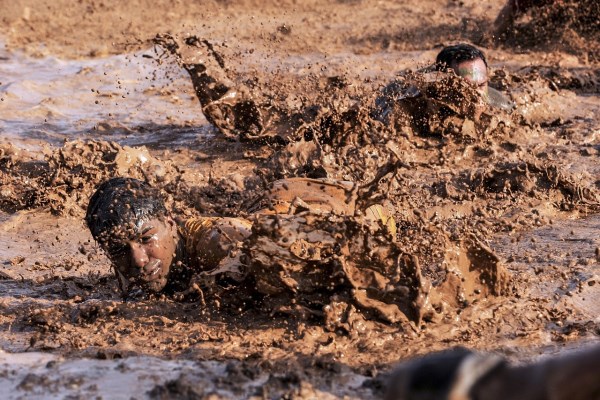 In eastern Japan in the cold month of February a number of nigh naked Japanese men (why can't it be women?) gather in a cold muddy pond to wrestle and throw mud at each other. They are performing an old planting ritual. Mud is seen as a lucky symbol because the presence of it ensures a hopefully bountiful rice harvest. The participants also smear mud on the faces of the spectators to give them good luck.
7

Naked Hairstyling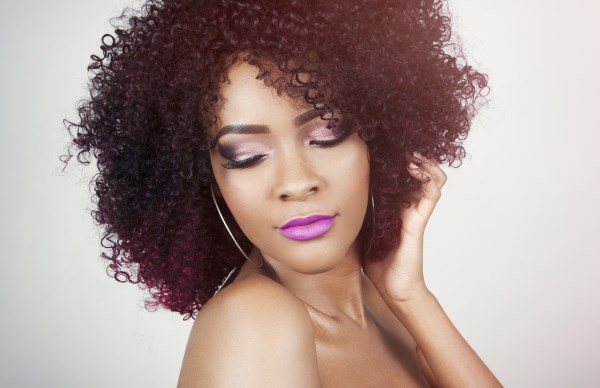 A gentleman's hair salon Down Under has found a novel way to boost business - all its lady hairdressers are topless. The idea for Hotcuts came from Polish-born owner Wojtek Wasilewski, 26. But it took him 18 months to find four girls, hairdressers, who were willing to go semi naked as they brandished their scissors. Wojtek said: 'I wanted to make the salon like a gentlemen's club. 'Business is booming. The phone has been ringing off the hook. 'I'm not surprised. They are stunning girls.'
8

Naked Wedding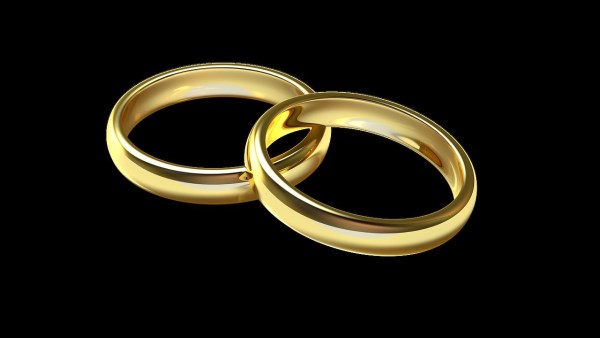 It might not be what Prince William and Kate Middleton had in mind, but this couple from Austria have turned the other cheek to tradition and gone for a full-blown naked wedding. Melanie Schachner, 26, and Rene Schachner, 31, tied the knot in the buff in Feldkirchen after trying to find a way to make sure they would never forget their wedding day. With just a veil for the bride and a top hat to cover Rene's wedding tackle for the official photos, the pair got hitched in a register office service in front of friends and family before celebrating in a castle.
Maybe they got inspiration from Aussie couple Ellie Barton and Phil Hendicott, who conducted their nuptials in the nude back in 2009. They won a radio competition which awarded them a free wedding - as long as they both wore nothing at all. However, their 250 wedding guests were not required to go starkers.
9

Naked Bike Riding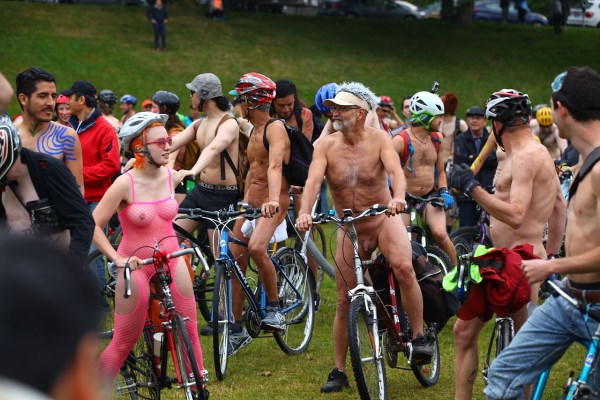 London may have had the Sky Ride, but Philadelphia went one step better - or, at least, nakeder - as hundreds of nude cyclists rode through the city. The throngs of naked and partially-naked cyclists took to the streets for the second annual Philly Naked Bike Ride in an effort to promote bicycling awareness and cleaner air. And certainly, it's hard not to be aware of bicycling when hundreds of naked cyclists are bearing down on you. Some of the riders went completely naked, while others covered up slightly with underwear, swimming costumes or elaborate body paint. The cyclists rode over a pre-planned route of several miles through the city.
10

Naked Workout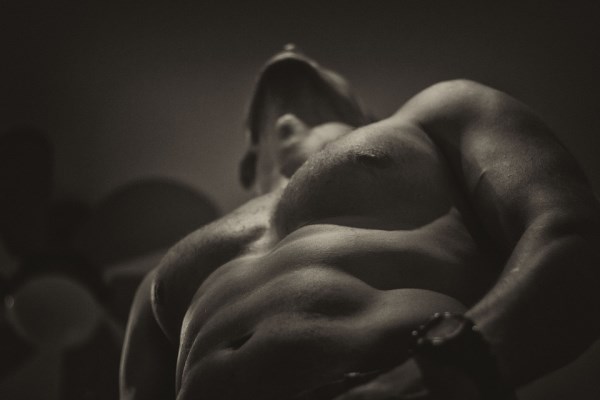 A gym in Spain's Basque region has come up with an eye-catching way of battling the recession. It began offering naked workouts, for nudists. Easy Gym in Arrigorriaga is the first of its kind in Spain, pioneering the peculiar practice of stripping while keeping fit. The gym did its research before opting to chase the nudist euro. It discovered that two local swimming pools already offered popular monthly sessions for bathing in your birthday suit. Every year, in nearby Sopelana, there is a mass naked run along the sands.
Sceptics suggest that running full tilt in the buff might not be entirely enjoyable, though. Sports underwear, they point out, was invented for a reason. But the gym owner denies her concept is impractical. Easy Gym stresses it does provide towels for comfort and "to prevent slippage" on the equipment. But some sporting types are clearly unconvinced by the concept.