A flashmob is a group of people who assemble suddenly in a public place, perform an unusual and sometimes seemingly pointless act for a brief time, then disperse, often for the purposes of entertainment and/or satire. Flashmobs are organized via telecommunications, social media, or viral emails. The term, coined in 2003, is generally not applied to events and performances organized for the purposes of politics (such as protests), commercial advertisement, publicity stunts, that involve public relation firms, or paid professionals.
1

Glee Flashmobs Hit, in Seattle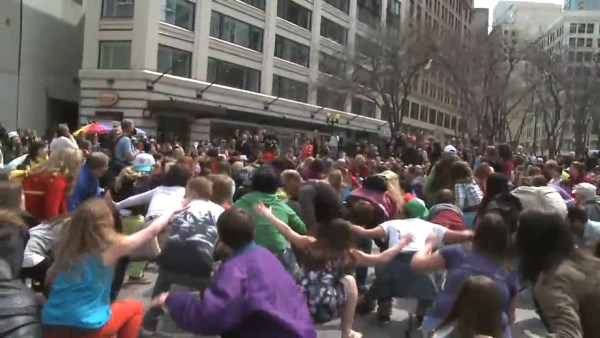 If you were out and about in Seattle in this April, you might have encountered more dancing and music than expected. You can thank the TV show "Glee" and Seattle's propensity for flash-mob participation for that.
"Glee" flash mobs broke out in several spots around the city on Sunday, April 10th in the afternoon.
2

Supermarket Flashmob, in Manchester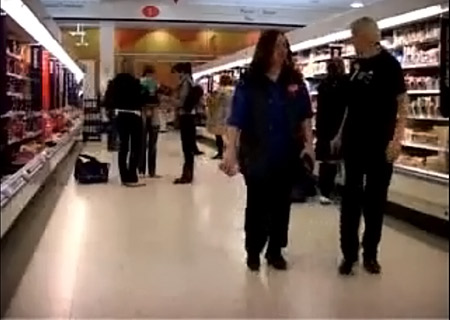 On 14th March 2007, around 50 people attempted a mass freeze frame in a Manchester supermarket lasting four minutes. Five cameras captured the event.
3

Flashmob for Pregnant Women Breakdancing in London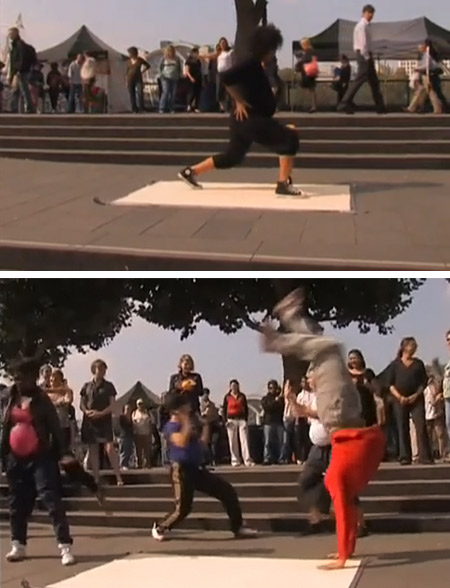 If you think this is dangerous, try giving birth in poor countries without a midwife, hospital or medicine. This flashmob is one of a series happening in Paris, Berlin, Utrecht and across Canada in 2008 to highlight the scandal that millions of women in poor countries and around the world aren't getting the healthcare they need for a safe and healthy pregnancy.
4

Bollywood Hero Flashmob in Times Square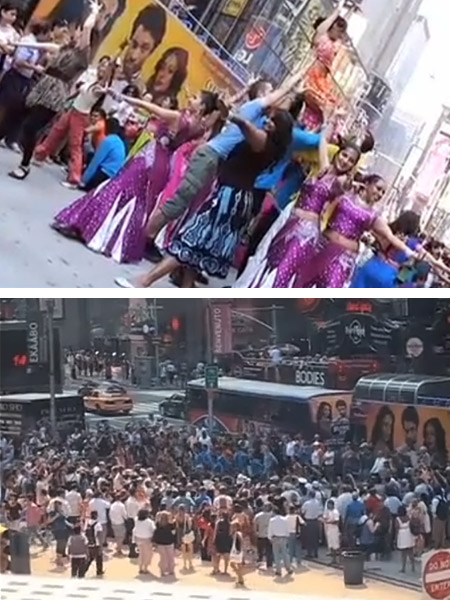 On August 4th, 2009, dozens of Bollywood dancers suddenly began to dance in the middle of Times Square to support Bollywood Hero, a 3 part mini-series on IFC. Bollywood Hero stars Chris Kattan, Neha Dhupia, Pooja Kumar and the show's choreographer Longinus Fernandes (Slumdog Millionaire) were in attendance.
5

Beyonce's 100 Single Ladies Flashmob Piccadilly Circus in London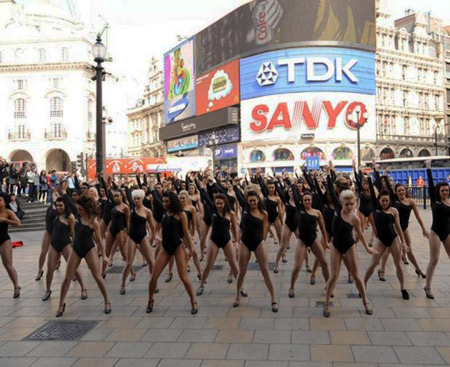 100 Single Ladies stopped traffic with Beyonce's famous leggy dance in Piccadilly Circus, to celebrate the announcement by Trident of its free Beyonce gig in November of 2009.
6

13.957 People Dancing Thriller in Mexico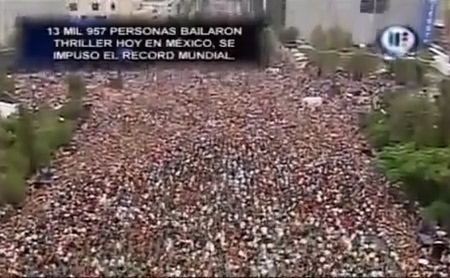 Thousands of Michael Jackson's Mexican fans have won the world record for most people to dance to the song "Thriller" simultaneously in one place. Jamie Panas of Guinness World Records says that 13,597 people performed the dance routine on Aug. 29 of 2009, which would have been Jackson's 51st birthday. The fans, many dressed as zombies, danced to "Thriller" in Mexico City led by a Michael Jackson impersonator in sunglasses, a sequined black jacket and a white glove.
7

Flashmob Beach in Australia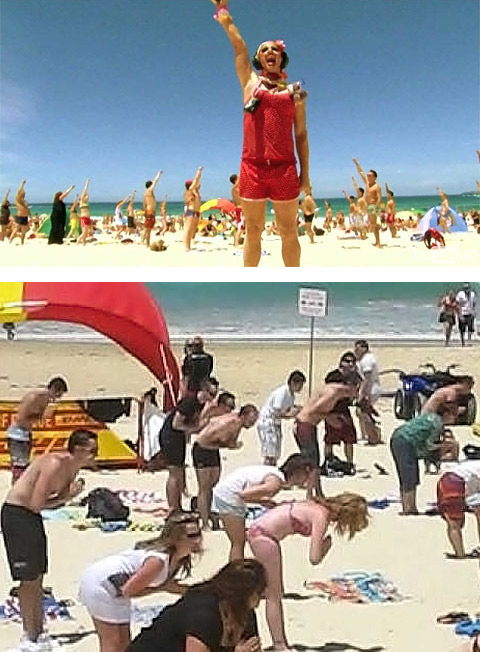 Over 100 dancers surprised Bondi Beach with a Flashmob on Sat, Nov 14th 2009, organised by DJ Dan Murphy and starring one of Australia's most famous & delicious drag queens – Joyce Maynge.
8

Flashmob Dance at Central Station in Sydney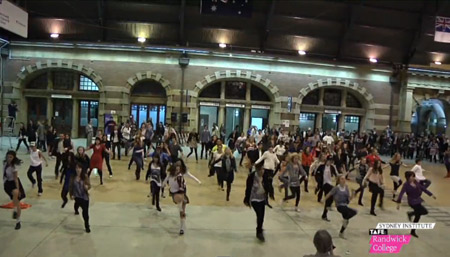 Flashmob for charity surprised train commuters. 'The Move Movement' is a charity program developed by the Westmead Medical Research Foundation (WMRF) that promotes a healthy active lifestyle, in the prevention of diseases. The 'Make Your Move' flashmob event was organised by the Event Management students from the Ultimo College and filmed by the Film and Television (screen) students from Randwick College, TAFE NSW Sydney Institute.
9

Flashmob Waka Waka in Piazza Duomo, Milano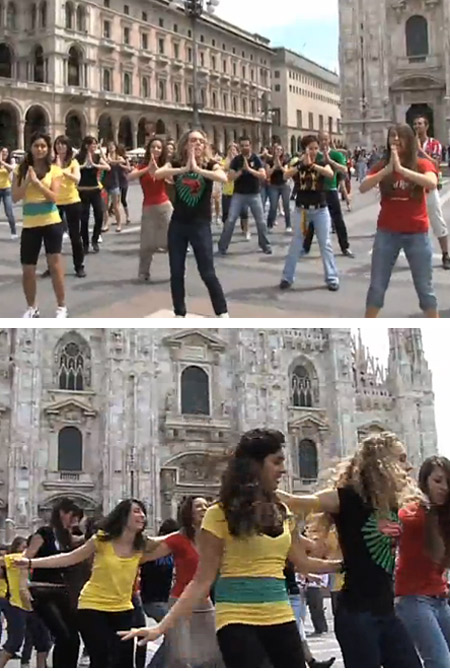 The Italian fans of Shakira staged a flashmob in honor of the hymn of the World Cup 2010 - Waka Waka (This Time for Africa) by Shakira In 19/06/2010. In this video you can see the dress rehearsal in the morning in Piazza Duomo, where the tourists were also involved.
10

Black Eyed Peas - "I got a feeling" Oprah Chicago Flashmob- Oprah's 24th season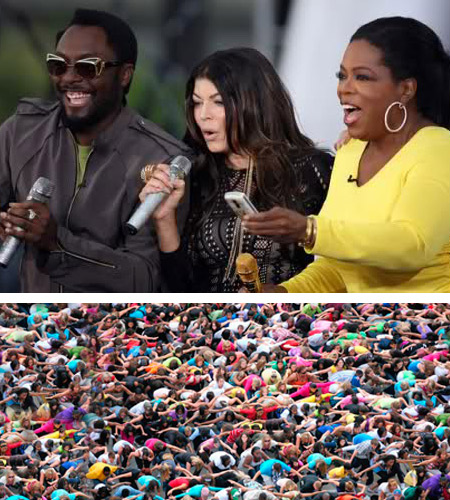 During The Oprah Show's 24th season kickoff party in 2010, Harpo staff and more than 20,000 people pulled off a massive surprise for an unsuspecting Oprah. The entire crowd performed a choreographed piece to the Black Eyed Peas' "I Got a Feeling," and Oprah was not only shocked, she was thrilled! Award-winning director Michael Gracey says the interaction between the Black Eyed Peas and the crowd is what made the flash mob so extraordinary.