1

Bike Chain Chandelier
Bicycle chains. They don't exactly invoke images of lavish grandeur, but Mexican-Brazilian artist Carolina Fontoura has taken these unsung heroes and elevated them quite literally into lighting pieces worthy of the finest of dining rooms. Normally found full of grease and caught on the occasional pant leg, here we find the humble bicycle chain reinvented into none other than posh decor, inspired by old time Victorian chandeliers.
2

Barcode Chandelier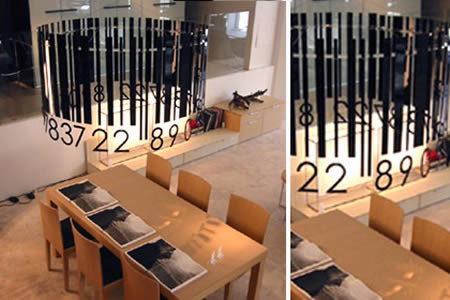 The Barcode Chandelier is an oversize chandelier based on the ubiquitous bar code graphic. It's laser cut with black and transparent acrylic and looks absolutely amazing.
3

Tampon Chandelier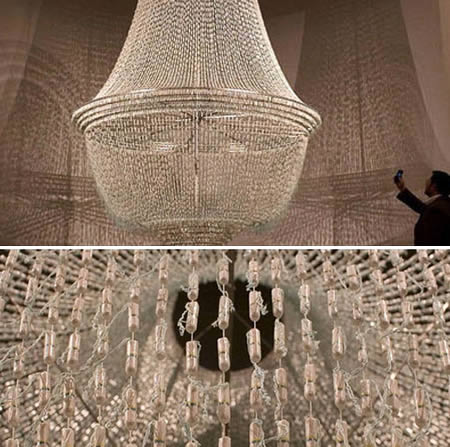 This tampon chandelier has such a wow factor that it was impossible not to include it in this list. We would like to recommend keeping it far away from any dining areas.
4

Wire Chandelier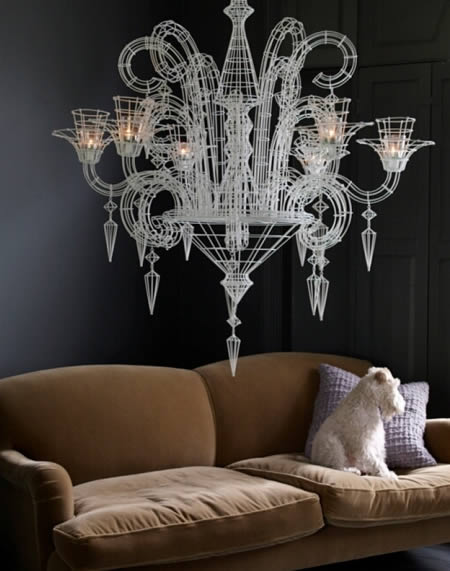 Even if you never had an interest in chandeliers before, it's impossible to deny that this Wire Chandelier can really grab your attention. Plus, it would look good just about anywhere–from the swankiest mansion to the dumpiest double-wide. Although, if you see one of these hanging in a trailer, chances are that the police will be kicking in the door any minute. Price: £1,300 ($2653.51)
5

Antler Chandelier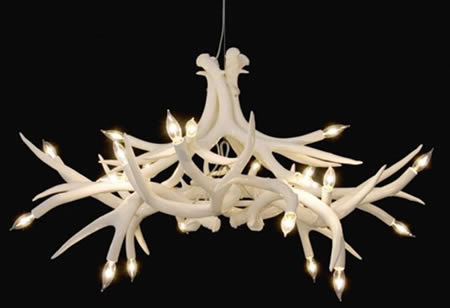 You don't need to be a hunter to appreciate this wild design. Fortunately for Bambi and other friends of the forest, no animal was harmed in the making of this chandelier. The Antler Chandelier by SuperOrdinate is a ceramic reproduction of deer antlers with classic flame light bulbs at their tips. Providing light and a conversation piece for your next dinner party, the Antler Chandelier will look brilliant above your modern dining table. This lighting by SuperOrdinate is also available in smaller sizes and wall sconces.
6

Milk Crate Chandelier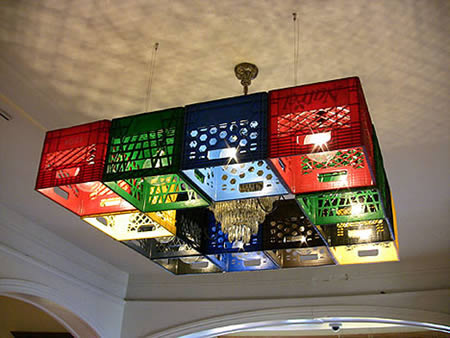 Here's an interesting way to reuse (illegal or not) milk crates - turn them into a milk crate chandelier. The light patterns on the walls and ceiling can be pretty interesting.
7

Sticker Chandelier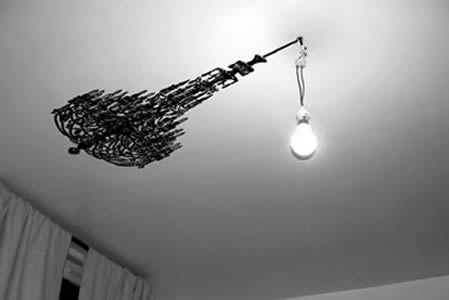 The "Luster" Chandelier Silhouette Sticker gives viewers the impression that your boring old ceiling lamp is casting the shadow of an elaborate chandelier. Needless to say, the Luster is only for the select few that posses a quirky personality, a high level of commitment to weirdness, and a decent amount of cash to blow on useless objects. This sticker is about U$ 130.
8

Disco Balls Chandelier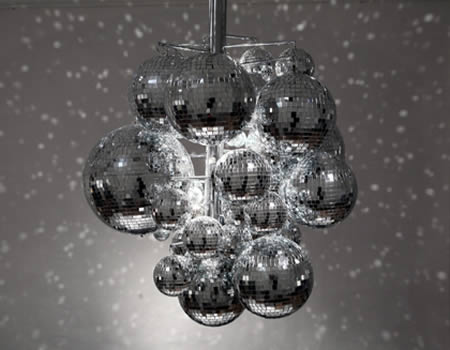 Chandeliers are one thing that can add a touch of class or glamour to any house or any place. Until and unless your roof isn't too low to have them, I guess, they are one of the coolest thing to decorate your house with. This glitzy chandelier from Swedish design house FRONT looks simply spectacular. Just imagine this one lightning up your place in the dark, guess it would be all that shiny magic playing around the house then. This chandelier has a number of disco balls and the sizes vary which actually adds to its charm. All I can say is...Shiny disco balls.
9

Tide Chandelier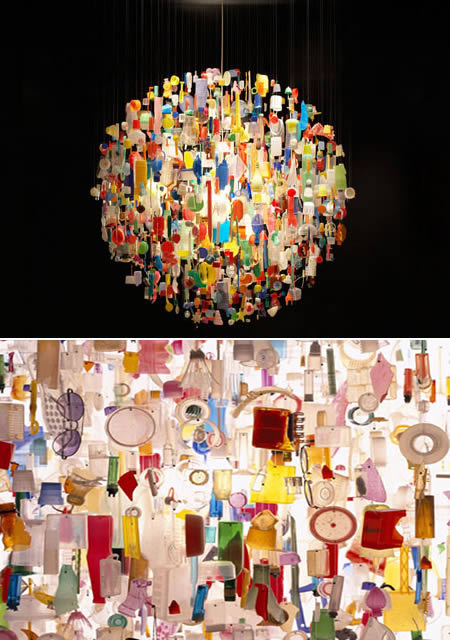 London-based designer Stuart Haygarth knows now to turn mass amounts of trash into awe-inspiring treasure. With training in design and photography, Haygarth conceived of the Tide Chandelier while collecting debris that had washed up on the shores of the Kent coastline. The enormous light fixture, measuring nearly five feet in diameter, is composed of a cornucopia of clear plastic refuse, from water bottles to sunglasses.
10

Silverware Chandelier
Ok, so it may not be the best Feng Shui to be standing under forks with sharp points coming at you, but I still think the 'Hungry' Silverware Chandelier by Fabbian is super fabulous, especially over a kitchen island. Let's just ditch the forks. The rounded knives can stay.
11

Gummy Bear Chandelier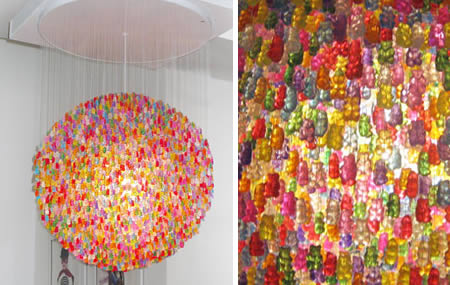 I've seen some pretty impressive candy art before, but this chandelier will light up your room with a unique flavor of its own. Now the company that makes this is a firm called Jellio which surprisingly enough specializes in off-the-wall designs like Gummi Glasses and Rubik's Cube Tables. The gummi bears themselves are actually made out of 1? acrylic bear treats, so don't think about grabbing one off the light when you need an occasional sugary pick-me-up, because something tells me they won't taste as good as they look. The ceiling plate is made from powder coated aluminum and the chandelier sports an impressive 31? diameter. It is also powered by a 50 watt compact fluorescent bulb (you can go higher if you want to for especially bright Gummi bear friends). You better have this thing thoroughly secured to the ceiling though, because it weighs in at 50 lbs. Not exactly something you can throw up with some tacks or stickies.
12

Penis Chandelier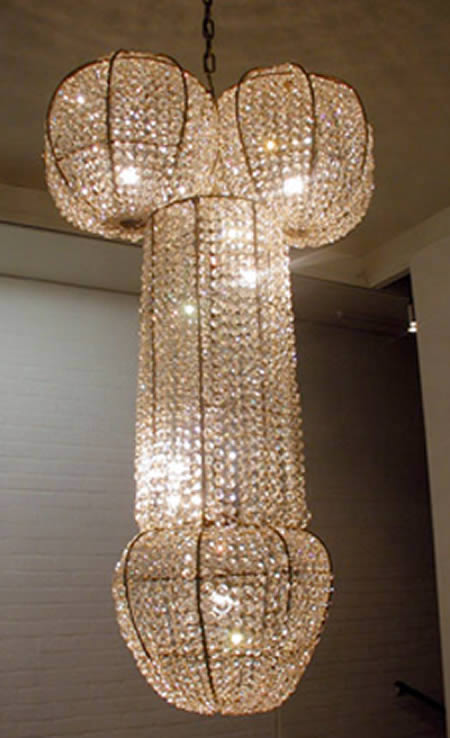 Penis Shaped Chandelier by Rock and Royal.