From a gold fish sink to a martini shaped one, meet another ten of the coolest sink designs we've seen.
1

Splashing in the Splash Sink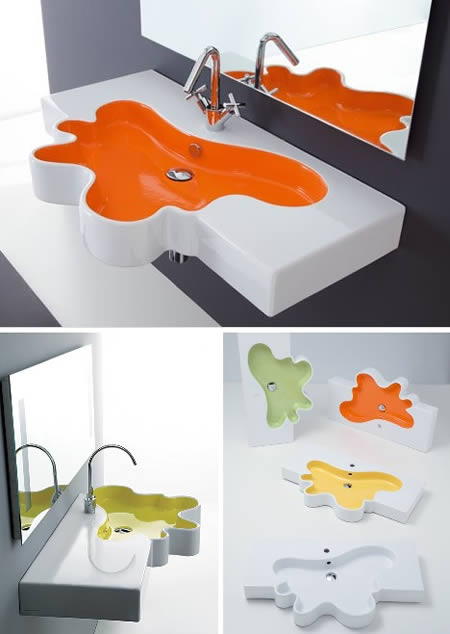 Disegno Ceramica has introduced a line of sinks and bathroom fixtures that show off a playful form while making no sacrifices when it comes to function. The most attractive is the Splash Collection comprising a shower base, wall hanging wash basin and a pedestal sink. Three colors plus white are available.
2

Poor Little Fish Sink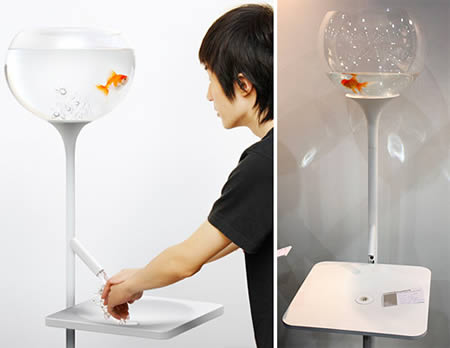 This particular gadget illustrates how important it is to conserve water. When you are using this sink to wash your hands, the fish loses its real estate if you take too much time. Yes, the water level in the fish bowl will actually go down if you are scrubbing your hands too long. In case you are wondering, there are safety features so the fish won't have all of its precious water taken away. Just to let you know, you are not using the same water that a fish is inhabiting. It's just made to appear that way. The truth is the fish water drains underneath the sink, and then will return to normal.
This Poor Little Fishbowl sink is still a concept from Chinese designer Yan Lu, and it really isn't made to replace every sink. In fact, I would best classify it as some sort of art project with a very obvious message.
3

Waterfall Sink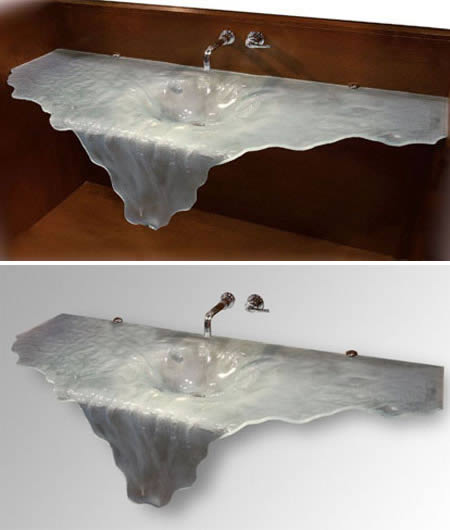 Want to draw your guest attention to your sink? This waterfall sink from CBD Glass might be the answer, just look at the picture. The wall-mounted glass waterfall sink is an extraordinarily versatile and beautiful architectural element for the way we live today, enhancing the elegance and style of any bathroom.
4

Sperm Shaped Sink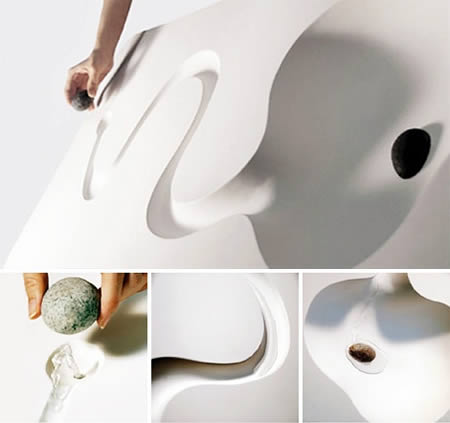 The Origins Washbowl by the Nothing Design group is designed to make you think about the origins of life. They're claiming that this sink is supposed to look like a river flowing downhill into a pond but come on, it's a freakin sperm sink. Look at that strong swimmer tail. This one is gonna make it to the egg.
5

Martini Sink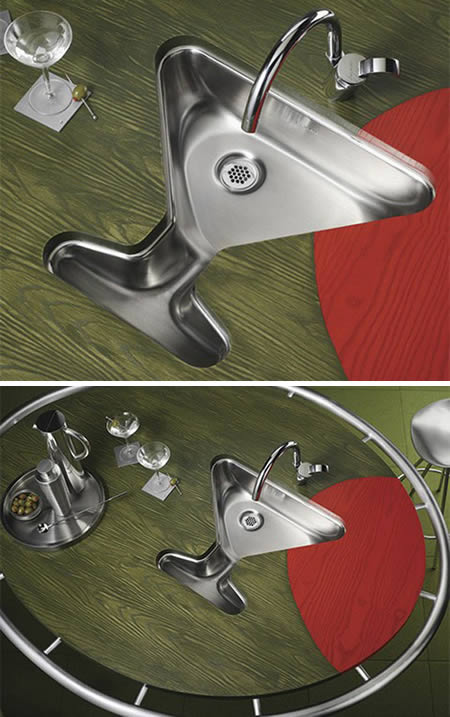 Too crazy over Martini? Then this cool Mystic Martini Bar Sink is for you, fittingly set in an olive-hued counter top, you will make yourself the biggest Martini fan.
6

Crevasse Prep Sink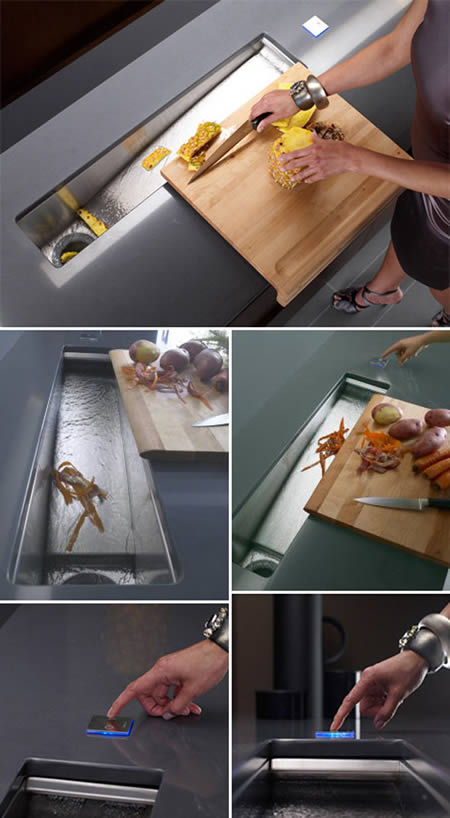 Time for this modern sink. The Crevasse Prep Sink comes with a touch control for switching and temperature control. Slice your food, flick the unwanted stuff with little effort and see them go down the drain.
7

Foglio Sink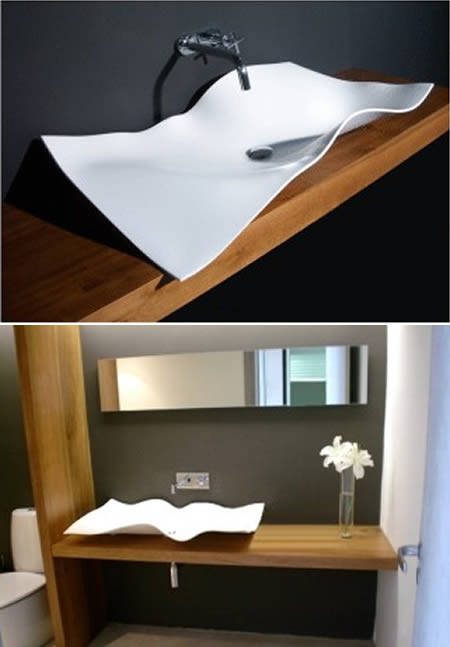 Here is a unique bathroom sink designed by Ricardo Antonio. Called the Foglio toilet basin, this design was created for Brascor Countertops of Brazil. Constructed of corian, this unique shape adds a cool touch to modern bathroom design.
8

Soccer Sink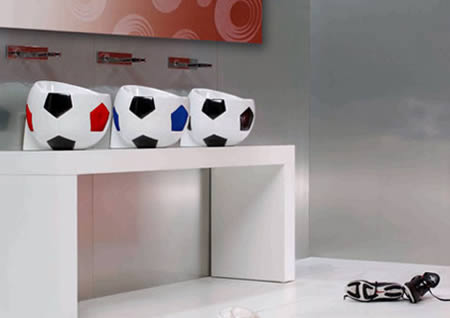 Cool idea for the ultimate soccer fan.
9

Ripple Faucet & Sink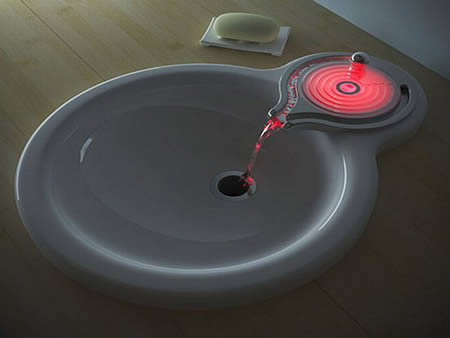 Inspired by the beauty of ripples created in still waters, the Ripple Faucet created by Smith Newnam and Touch 360 Studio makes your daily interaction with water fun by establishing a visual relationship between the two. The frosted metal surface seats a metal ball with an array of electromagnetic sensors, detecting the ball's position and simply by moving the ball in or out from the water you get to control the water pressure while moving it around controls water's temperature. The beautiful unit allows the ball to glow either red or blue to indicate the water temperature which is flash heated and mixed to give you the perfect lukewarm water you desire!
10

Tire Sink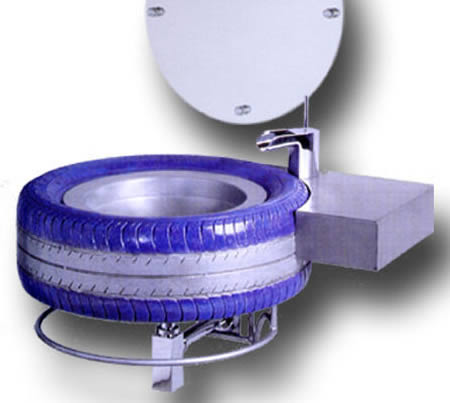 A fabulous urban design, the Kobe Tire Console combines contemporary style with environmentally responsible design. The innovative Kobe Tire Console makes recycling a key point of the entire design. The Kobe features a 24" reclaimed tire painted with blue and white stripes and lined with a small copper bowel, for a cheerful robust basin. Beneath the tire suspends a curving towel rail in a galvanised-like finish that reinforces the rough urban style. The Kobe Tire basin is inset to a small wall mounted shelf into which the open channel faucet is set. A single slender control releases a flowing stream of water that churns through the open spout and arches into the basin. The final accent is the circular mirror studded with four hub-nuts. A fabulous urban design that transforms common everyday items into a distinctive contemporary bathroom console that embraces environmentally sound design. Available from Bristol and Bath, the Kobe Tire Console offers contemporary style you don't feel guilty about.