1

Honda Billboard with SMS and Bluetooth Interaction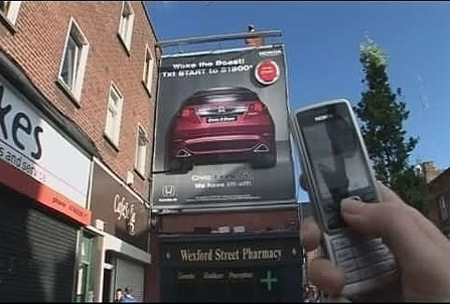 This billboard appeared in Dublin for Honda, where customers could "start" the car by texting to an SMS shortcode and could also download information by Bluetooth. The campaign was created by GT Media and JC Decaux using technology provided by Púca.
2

McDonald's Piccadilly Circus Sign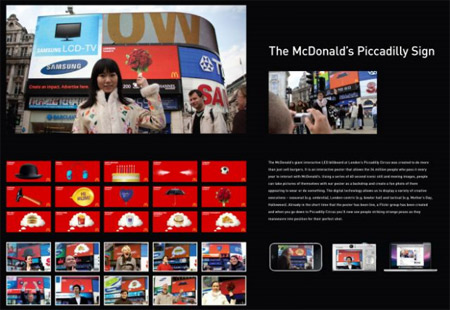 McDonald's has recently launched a new interactive sign where passers-by can interact with images displayed on McDonald's giant LED screen, so visitors can take an interactive role at one of London's most photographed locations.
3

Nike's UNICEF Interactive Billboard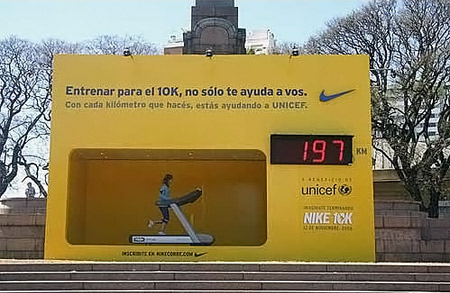 Nike demonstrates that even in philanthropy, it stands for athletes. In an interactive billboard (by BBDO) publicizing a charity 10k run in Argentina, the athletics powerhouse invites passers-by to have a run on a treadmill that logs a communal kilometer count. For each kilometer run, Nike donates a set amount to UNICEF, urging that Training for the 10k doesn't only help you. For each kilometer run, you will be helping UNICEF.
4

Big in Japan Interactive Billboard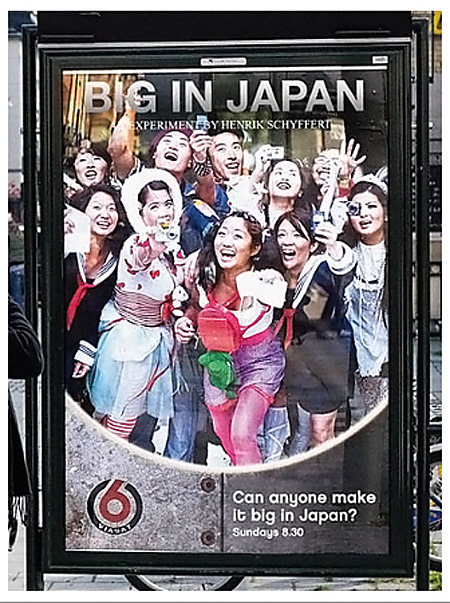 Big in Japan is a reality TV powering Swedish in Japan. In order to promote the broadcast of channel TV6 Office, the agency has installed an interactive screaming which takes pictures, thus simulating a delirious Japanese crowd whenever a passer-by was captured by the billboard.
5

Billboard for a Lingerie Store Bustop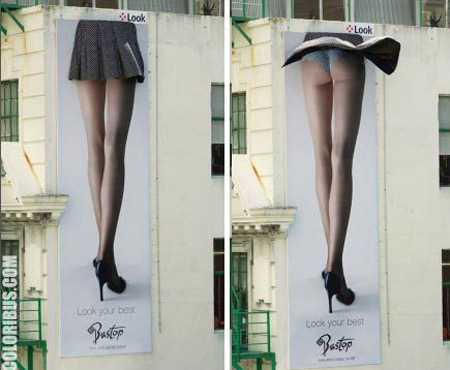 Billboard is the best advertising system, because it allows the advertiser to create and actual 3D advertisement that can interact with the environment it is placed in. The brand is a lingerie clothing company and when wind blows past the billboard it lifts up the skirt and reveals one of their underwear products underneath.
6

Nikon Interactive Billboard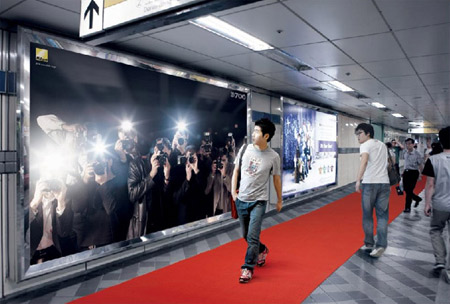 At a busy Seoul subway station, Nikon mounted a huge interactive, light-box billboard displaying life-like images of paparazzi. Huddled together as if at a premiere, the "paps" appear to be jostling and competing for the best celebrity snap. The celebrities in this case were the passers-by, who automatically triggered a deluge of flashing camera lights as they walked past the billboard. The accidental superstars then followed the red carpet all the way out of the station and into a mall - directly into the store where they could purchase the new D700. Mission accomplished.
7

Nokia Interactive Billboard at Lisbon Airport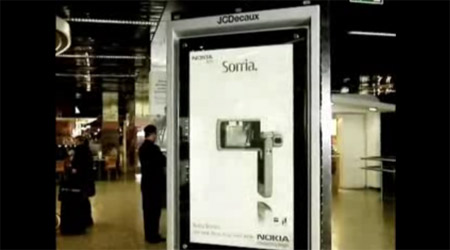 YDreams developed a billboard for Nokia's N90 campaign that combines video, animation, graphics and text with a gripping x-factor: interactivity. The applications takes audiences by surprise by snapping their pictures and displaying them on the billboard. It also lets them download content such as images, videos and music onto mobile devices via Bluetooth or infra-red technology.
8

Adobe CS3 Interactive Billboard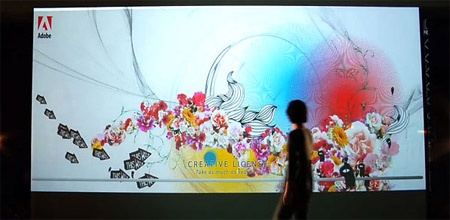 For the 3rd release launching of their Creative Suite Adobe Software, Adobe came up with a great "Out of Home" promotional solution.
As pedestrians walk past the wall, infrared sensors will lock on to the person closest to the wall, who will then be able to control a projected slider button at the bottom of the wall. As the selected pedestrian continues walking and moves the slider along, the wall will start displaying colorful animation and playing music, effects that will grow or recede at the pace that the person advances or retreats.
9

BBC World Interactive Billboard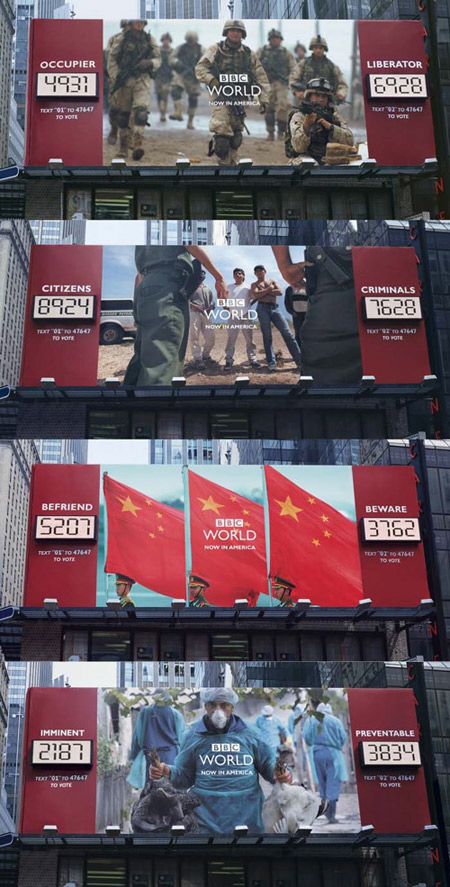 BBC World created some very innovative and engaging ads to promote the launching of BBC World in America. A billboard was setup with challenging questions that passers-by were invited to respond to by texting a message. The billboard tallied the results in real time.
10

"Slower is Better" Interactive Billboards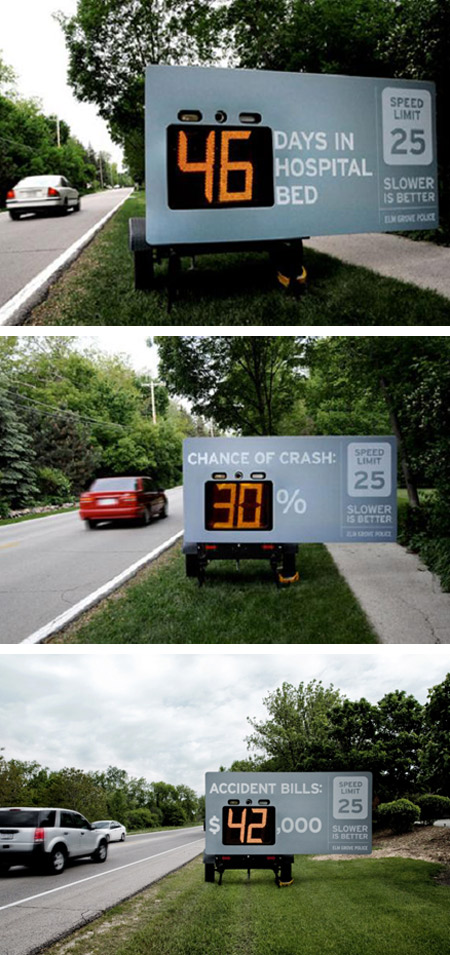 Elm Grove Police Department in Wisconsin developed an outdoor campaign to promote the concept, "Slower is Better." Interactive billboards were placed by roads where speed had become an issue, feeding back to motorists the possible implications of their driving habits. The die-cut signs were placed over roadside radar trailers and were triggered by speeds above 25 mph.
11

HBO / Big Love: Audio Billboards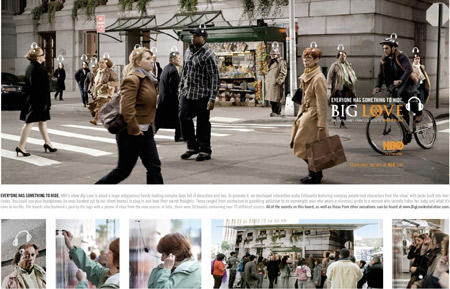 Interactive audio billboards featured everyday people walking on a city street. A jack built into each person's head invited passers-by to use headphones to plug in and hear their secret thoughts, which ranged from the innocuous to the dramatic. The boards also featured an HBO-branded jack with audio promoting the new season. Installations ran simultaneously in NYC (42 panels in the Times Square subway station) and LA (Hollywood & Highland and Venice Beach).
12

Mini Billboard Interactive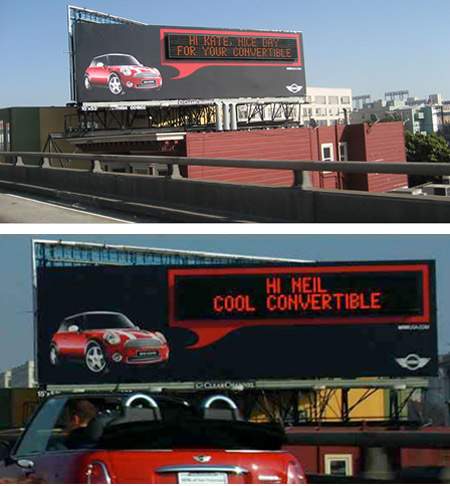 The boards in a sign in San Francisco, which usually carry typical advertising, are programmed to identify approaching Mini drivers through a coded signal from a radio chip embedded in their key fob. The messages are personal, based on questionnaires that owners filled out: "Mary, moving at the speed of justice," if Mary is a lawyer, or "Mike, the special of the day is speed," if Mike is a chef.