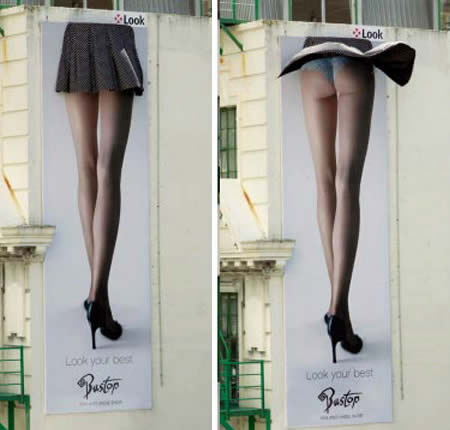 In this clever billboard for a lingerie store "Bustop", the skirt lifts up when the wind blows.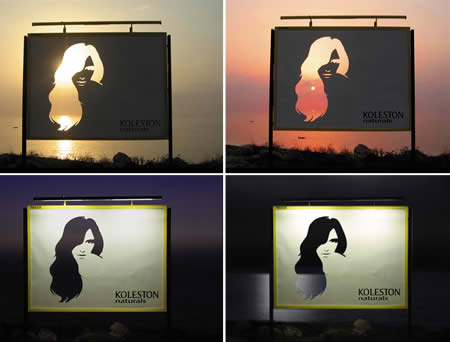 This creative billboard campaign for "Koleston Naturals" uses its background natural view to illustrate the fact that this woman's hair dye is made from natural ingredients.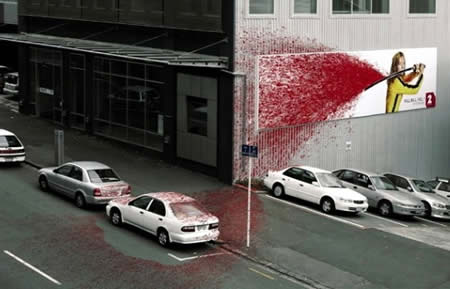 Near a busy intersection in Auckland, New Zealand, this billboard was placed to promote a local channel's screening of "Kill Bill." The billboard features Uma Thurman swinging a sword, which is splattering blood onto the building, the street and even some parked cars.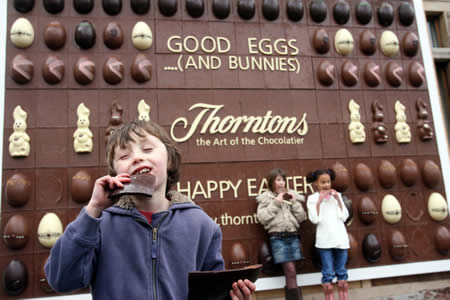 The world's first edible chocolate billboard didn't last long, as it was consumed by shoppers within three hours of going up. British chocolate company Thorntons unveiled this 860 pound (390kg) billboard made of pure chocolate in London. The billboard was 14.5 ft by 9.5 ft and was made from 10 chocolate bunnies, 72 giant chocolate eggs and 128 chocolate panels.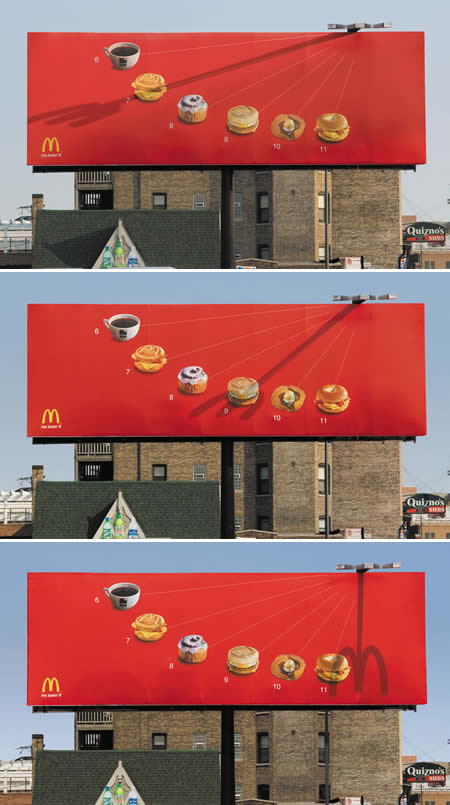 Designed by ad agency Leo Burnett with the input of an engineer, this creative McDonald's Billboard, placed in Chicago, features a real sundial whose shadow falls on a different breakfast item each hour until noon, when the shadow of the McDonald's arches are dead center.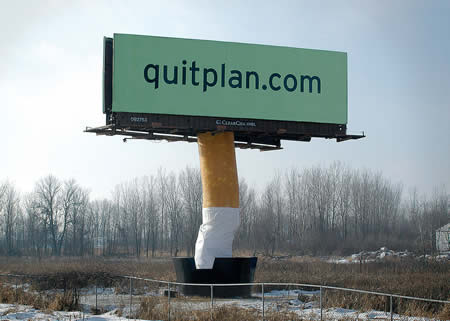 Minneapolis ad agency Clarity Coverdale Fury came up with this creative billboard for QuitPlan.com.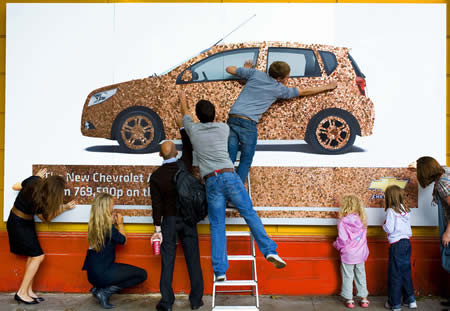 This 20-foot unique billboard that consisted of 20,000 pennies was created to advertise the 769,500-penny starting price of the new Aveo. Though it didn't take long for hundreds of opportunistic by- passers to take off the coins and to be precise the penny-billboard only lasted for a mere 30 minutes.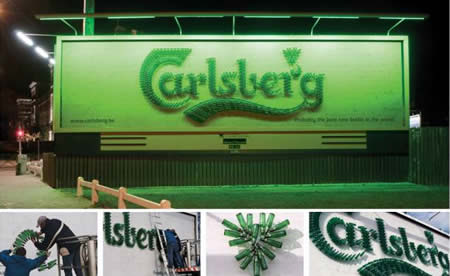 Eco advocates and beer drinkers alike will all appreciate what went into repurposing these 500 used bottles for this highly creative billboard for Carlsberg.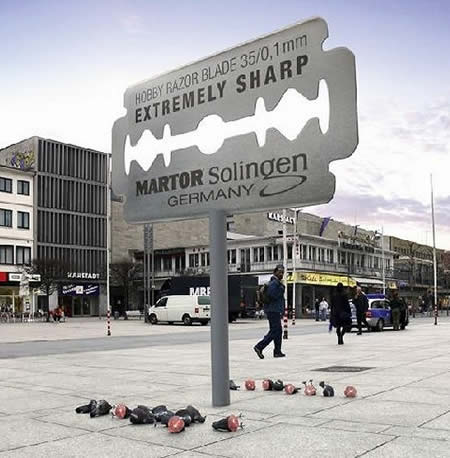 An idea as sharp as the extremely sharp razor german company Martor Solingen is trying to sell. This giant razor with sliced birds scattering in half underneath it might seem cruel but sure does guarantee some curious onlookers.
In the heart of downtown Toronto lies the ever expanding Dundas Square, where Tylenol posted this large backlit board with an eye catching execution of a man suffering from a bad headache. To emphasize his pain, a large wrecking ball, suspended from a 3D crane above the board, has smashed through, and stuck in the man's forehead.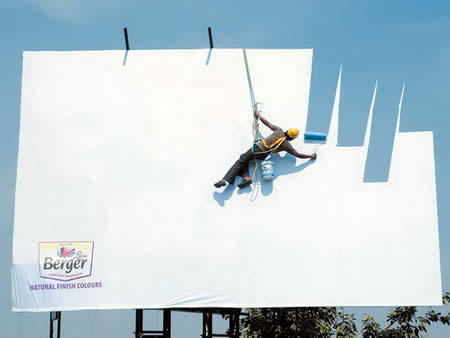 There can be no better way to depict how "natural" the Berger paints supposedly are. Ad agency JWT Mumbai designed this hoarding where a painter seems to be actually extending the blue colour of the sky on to his canvas.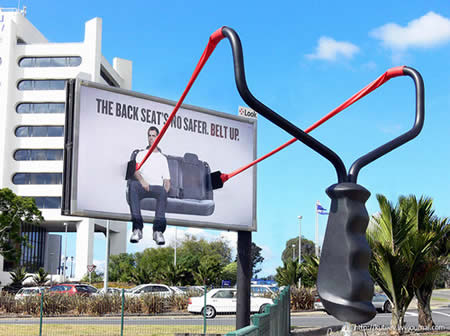 Here is a unique way to remind people to buckle up in the back seat. Created by Clement BBDO in Austalia, this billboard displays a huge slingshot in 3d which appears to propel a passenger into the air. The message is clear, belt up or your body will be slinked.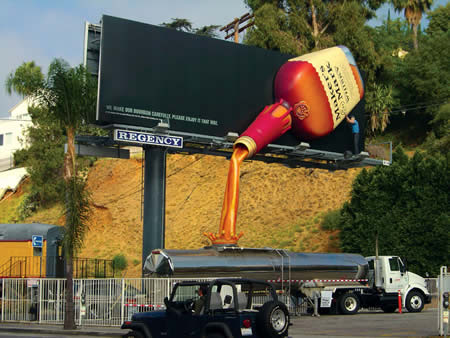 This highly creative billboard was made for Bourbon whisky Maker's Mark, implying that their whisky is so good you need an 18-wheeler full to satisfy.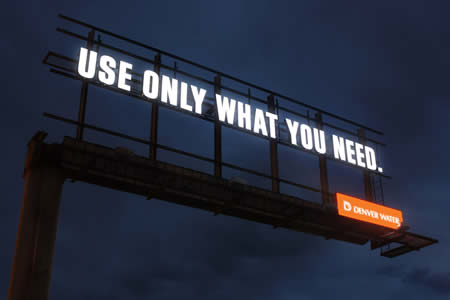 This billboard was carried out as part of a campaign for Denver water, which promotes water conservation as it appeals "use only what you need", so the billboard itself proves the point.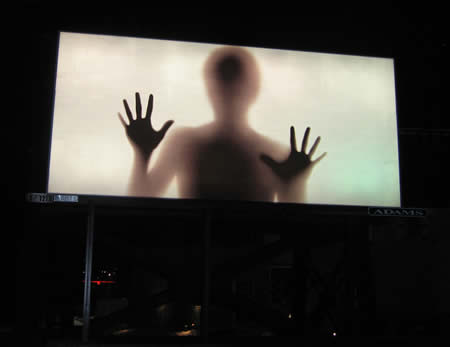 A creepy, yet creative billboard in Ann Arbor, MI. The ad agency and advertised brand are unknown.