1

Car covered with Bottle Caps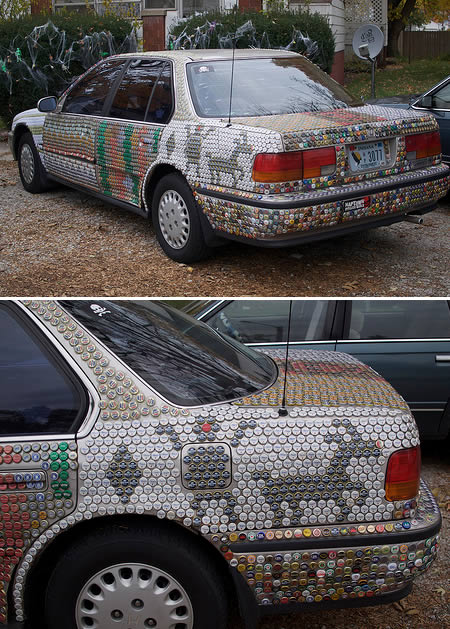 Stephanie made her 1993 Honda Accord into an art car – covering it with bottle caps she collected over the winter.
2

Car covered with Crystal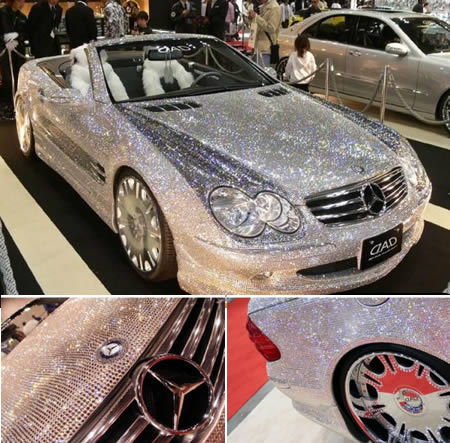 This car was shown out at a World car exhibition. The SL 600 Benz is fully covered with 300,000 Swarovski crystal glass and the worth of this car is approximately US $ 1 Million. (Thanks Neon)
3

Car covered with 500 yards of Seat Belts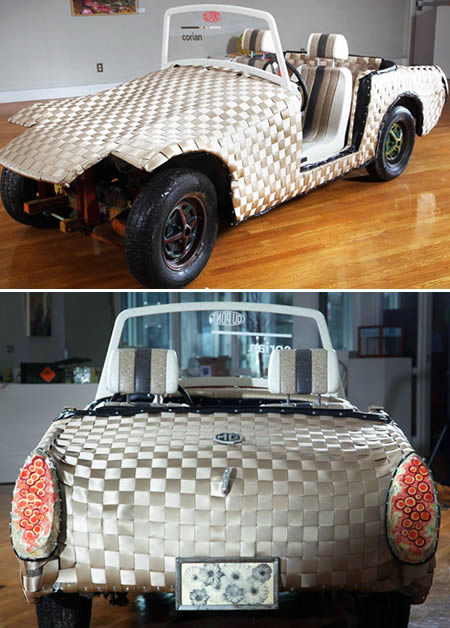 The two artists set their sights on a 1960's MG Midget that was used as support for firewood, in an American backyard. Their project was all about 'recycling, reusing, repurposing and sustainability' so they decided to give their Midget a woven look. And what better material to use than overstock seat belt material (over 500 yards of it). After weaving the body, the two simply bolted it to the car's metal skeleton.
4

Car covered with 4,500 car toys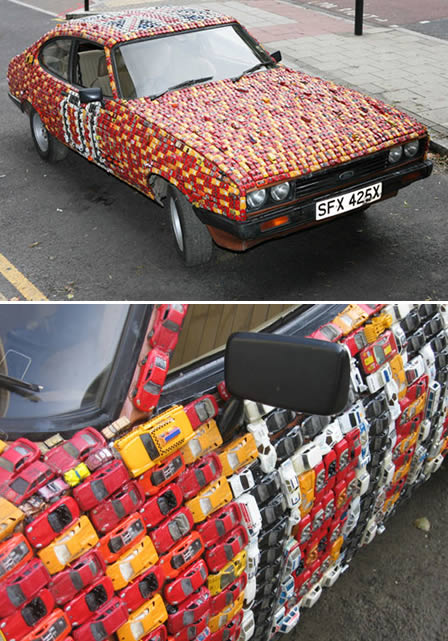 Artist James R. Ford covered an old Ford Capri with about 4,500 toy cars to create General Carbuncle (inspired by the General Lee from Dukes of Hazzard!).
5

Car covered with Circuit Boards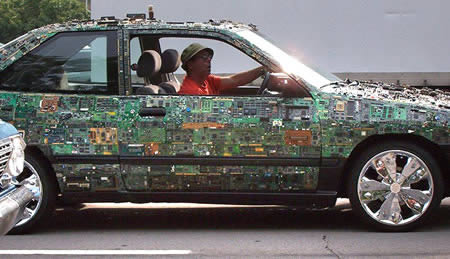 Some people make clocks, sculptures, paintings out of circuit boards, but it takes a true geek to cover one's car with them!
6

Car covered with 6,000 Pens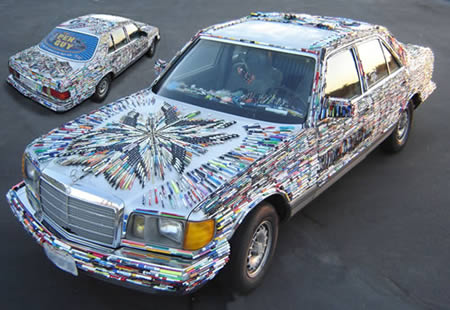 Costas Schuler created this Mercedes Pen art car, by gluing 6,000 pens to his 1981 Mercedes!
7

Car covered with 200kgs of Chocolate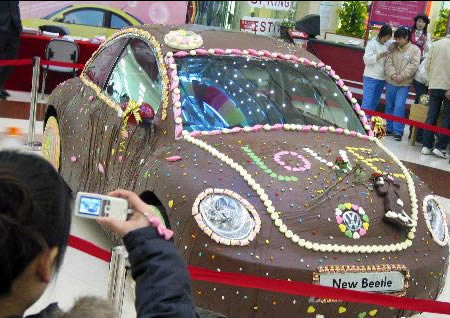 A Chinese car dealer covered a car in 200 kgs of melted chocolate. It was spread over the VW Beetle after it was wrapped in cling film. Seven people worked overnight to make sure the chocolate car was ready to go on display on Valentines day. The car attracted many viewers and lovers to the dealer in Qingdao city.
8

Car covered with Keyboard Keys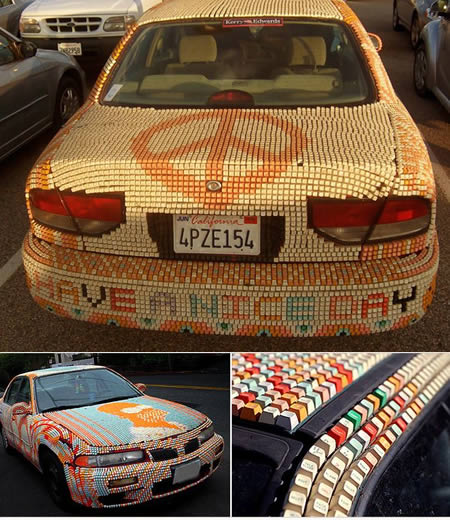 Ok, you have already seen photos of cars covered in diamonds, toys, pens and chocolate, but have you ever seen a car covered in keyboard keys? Absolutely stunning idea and probably the favorite car of every geek. On the engine cover there's a "keyboard-Homer" and on the back of the car a "Peace symbol" made with keyboard keys only.
9

Car covered with 1,763 pounds of shattered glass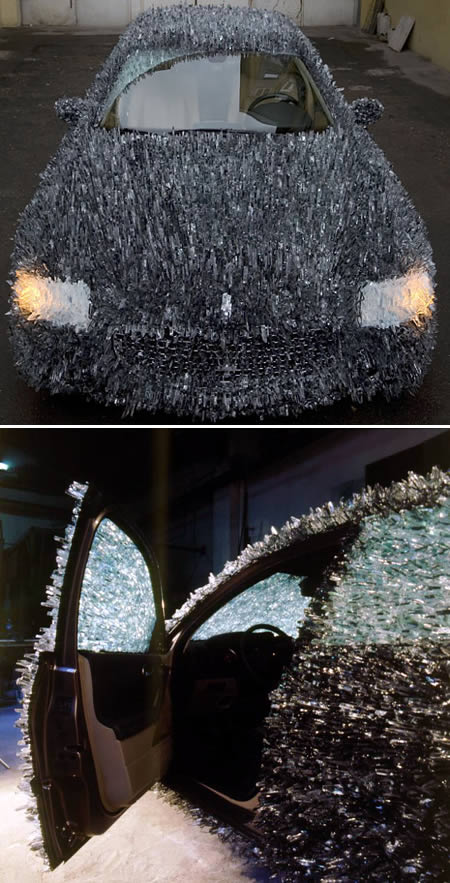 This Maserati Quattroporte was created by Italian artist Luca Pancrazzi, a car covered with 1,763 lbs. of shattered glass. Wow! There are definitely a few things you wouldn't want to do with this car: 1)Fall on it 2)Collide with it 3)Come near it. But it's beautiful in a weird kind of way.
10

Car covered with Buildings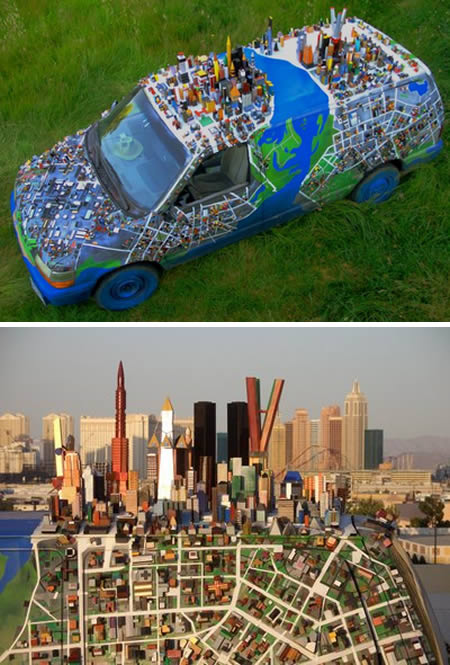 Gary Siebel is the mastermind behind seven art cars starting in 1985 with his first one called vanishing perspective. Since then his has created and amazing collection of art cars that seem to have a common tread, land scapes.
11

Car covered with Snakes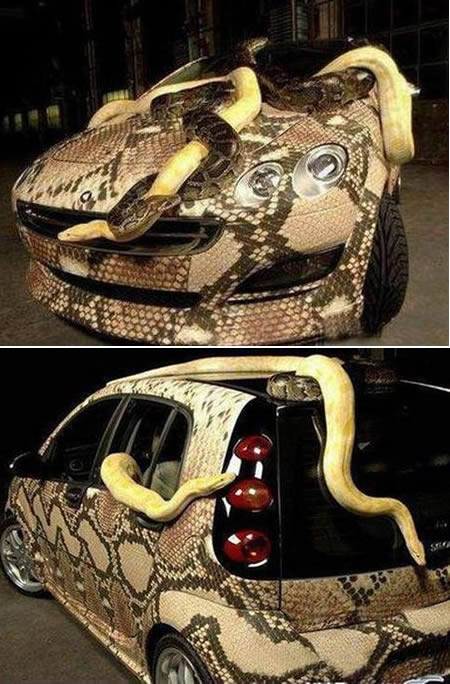 Completely transformed into a snake car, the body of this sinister looking car is covered with what looks like snake shells and a number of snakes (obviously fake) complete the effect in the interior and exterior. The snakes can be moved around and placed according to the owner's wish.
12

Car covered in 14,000 Post-It notes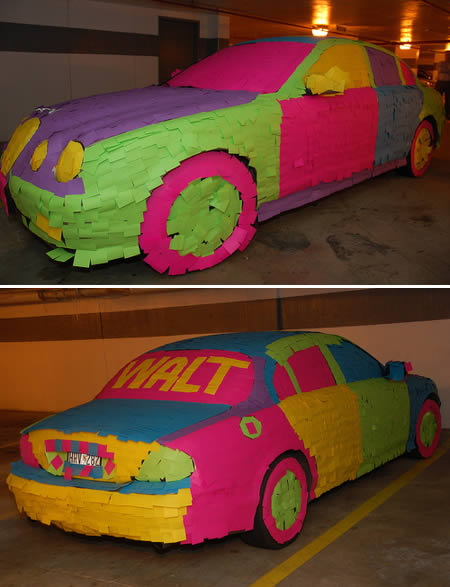 Scott Ableman, who works for InPhonic, and a dozen of his co-workers snuck out to the parking garage and covered another colleague's prized Jaguar in Post-it notes. Always parking his Jag in a faraway corner "so not to be hit or dinged," Walt, the owner of the Jaguar, was an obvious target. Two hours and 14,000 magenta, lime-green, neon-yellow, purple and electric-blue Post-its later, not one inch of the car was left bare.