Meet some of the most bizarre and unique necklaces you can actually wear or give to your loved one for Valentine's or any other special occasion.
1

Eco-friendly Necklaces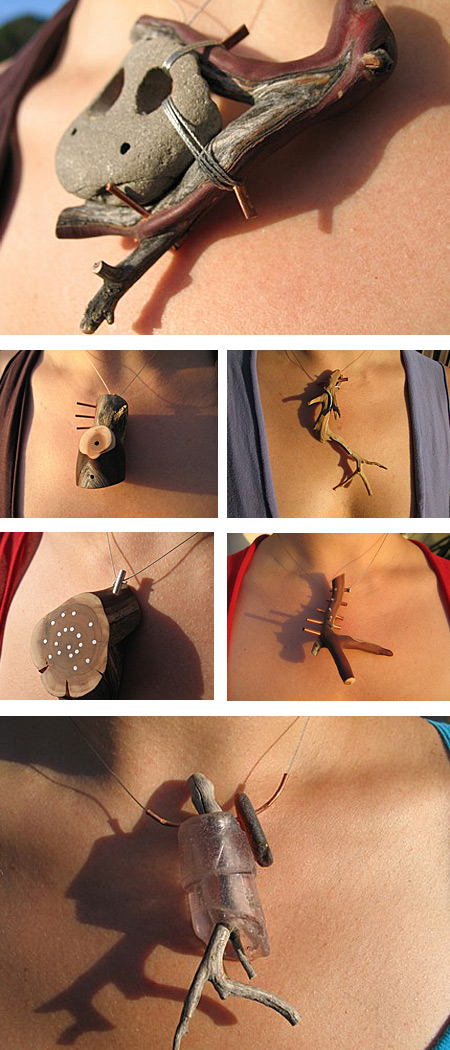 These unique necklaces are part of a limited-edition collection of one hundred necklaces designed by sculptor Paige C. Moore. They are made from a variety of natural materials mixed with found objects to create completely unique and eco-friendly works of art. Price: $120.00
2

Silver Chairs Necklace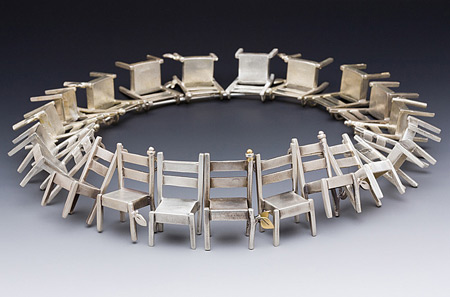 This is a necklace made of 21 sterling silver chairs with 18 karat gold accents.
3

Ice Necklace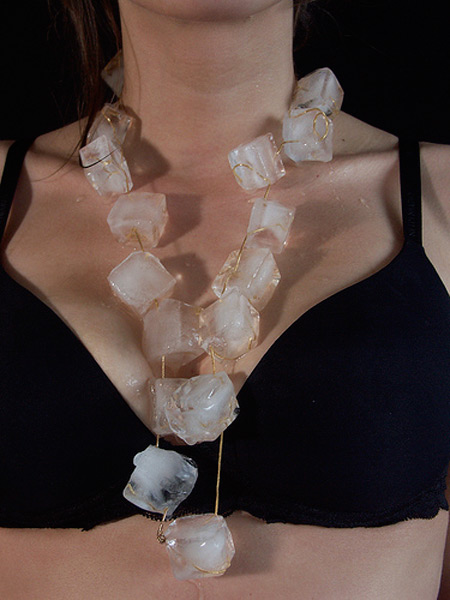 On a hot balmy day this jewelry is sure to keep you cooled off. With either a necklace or a ring to wear, you can keep you body parts cool while looking stylish.
4

Zip-it Necklace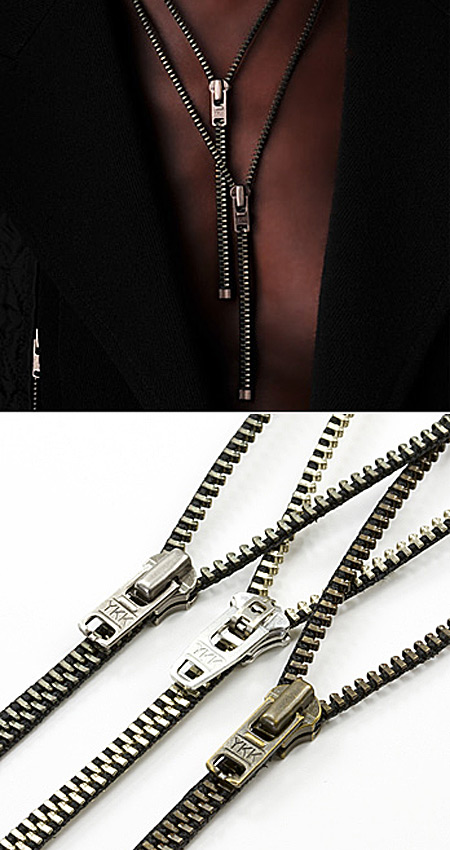 Are you desperate to tell someone to 'zip-it'? Now you can do it nicely with this range of unisex zipper necklaces by Cynics.
Handmade from real zippers which can be zipped to your desired length, they are available in three colors - get the Polished Silver one for extra length. Price: $57
5

Gamer Charm Necklaces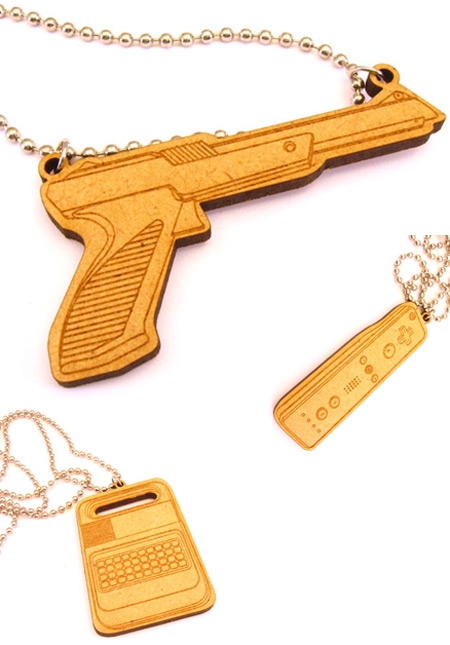 Created by San Antonio's NBsCloset, each one of these tech-inspired pendants is custom cut and etched from fiber board using a laser beam.
6

Faucet Necklace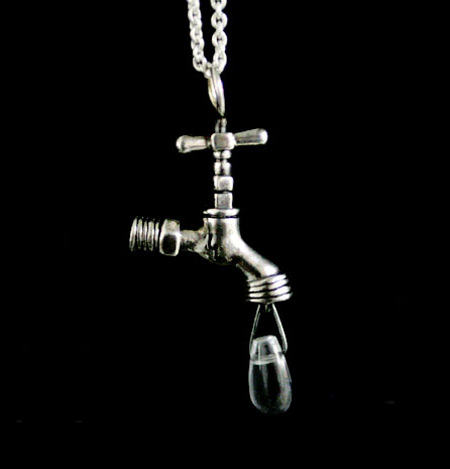 Designer Linda Loudermilk created this funny faucet pendant, just in case you may need water on your way! Price: $149
7

Speckled Quail Egg Necklace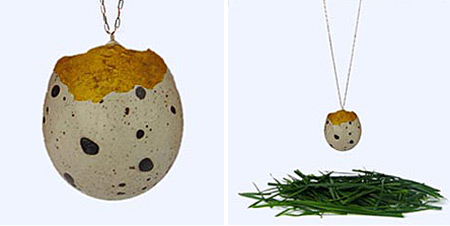 This is one of the Stephanie Simek's latest eerily unusual necklace, this time she made the pendant using an actual quail egg, which she purchased from a woman who raises quails in her backyard in Texas.
The inside of the egg is lined with 23k gold leaf, which gives off a buttercup-like glow and the pendant hangs on a lightweight 18" 14 karat gold chain. Its innate frailty and delicate nature makes it very feminine piece. Price: $125
8

Origami Peace Crane Pearl Necklace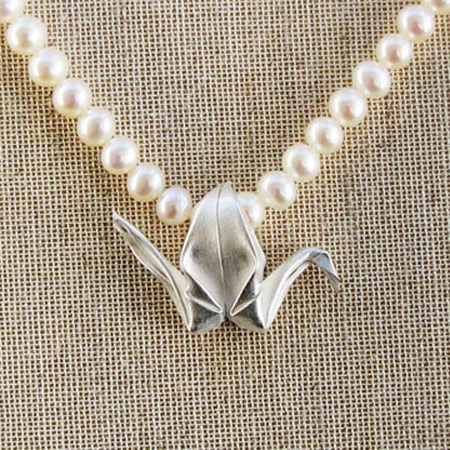 This necklace features the classic crane, an ancient symbol for longevity because of its extraordinarily long life span. A beautiful necklace to personify a wish for longevity may all your hopes and dreams come true. Price: $190
9

Pencil Shaving Necklace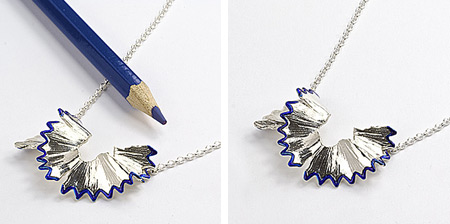 For all the people who have tried to save a beautiful pencil shaving, here is one that you can keep forever.
Bring out the artist within! Handmade in sterling silver with love by Victoria Mason, the pencil sharpening pendant is also a fabulous gift for anyone who loves to draw, paint, write, or even just admire art. Price: $189
10

Mix Tape Cassette Necklace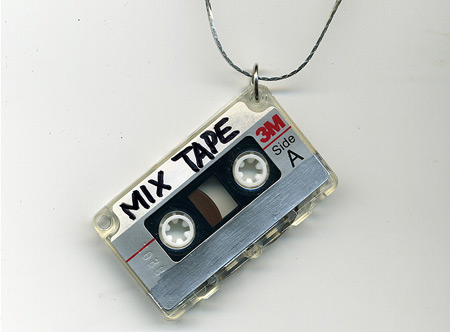 For those who want to remember and go back in time to the 80's, this is a mix tape cassette surprisingly small necklace; measuring 2.25" x 1.25" it feels very comfortable.
11

Toilet Paper Necklace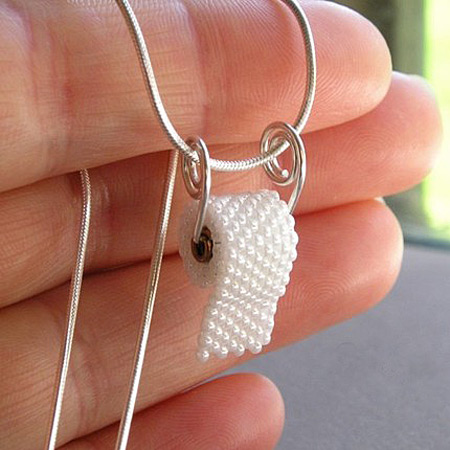 This is a funny way to be prepared for those emergency cases where you need to use the restroom and find out you have nothing left on the toilet paper holder. Too small though.
12

Tie and Clothes Silver Necklaces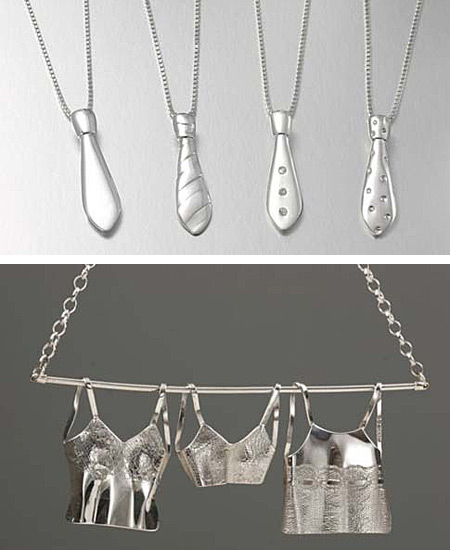 Made from silver, these cute necklaces are unique and handmade. The little Silver Ties will look great with either evening or day wear and the Clothes Necklace will be a wonderful piece to own and wear as it is also an investment for the future.
13

Shank Necklace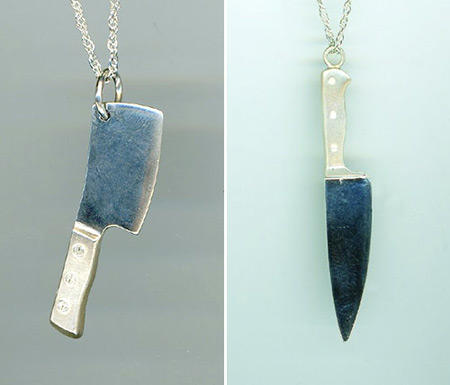 Embrace your inner butcher with these knives necklace models.
14

Statement Necklace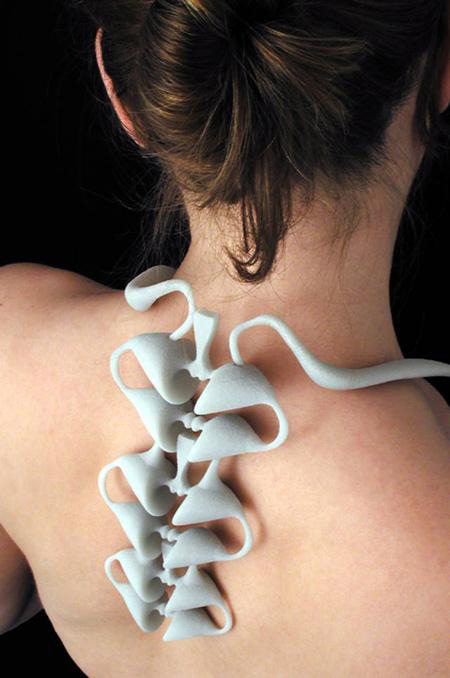 Temple University art student Molly Epstein created this super cool Vertebrae necklace out of SLS 33% glass-filled nylon. This is definitely a statement. Would you rock the Vertebrae necklace?
15

Tiny Scissors Necklace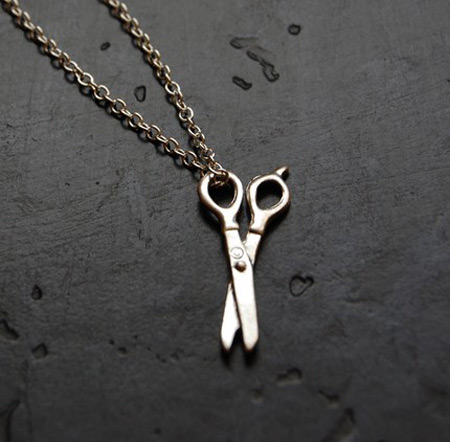 A beautifully detailed Tibetan silver scissors charm dangles from a silver chain.