1

Clock Sticker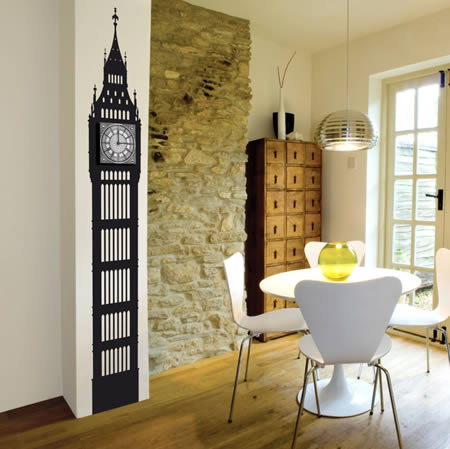 Designed in the famous shape of Big Ben, this giant wall sticker provides more than just a decorative form of wall art - it's a working clock, too. The elaborate sticker comes with a working clock face with quartz movement, with black metal hands, and operates on one AA battery. If you've not got room for a full-size grandfather clock, but have got a suitable area of wall free (you'll need 295mm x 2000mm), then this could be the perfect solution.
2

Garage Door Stickers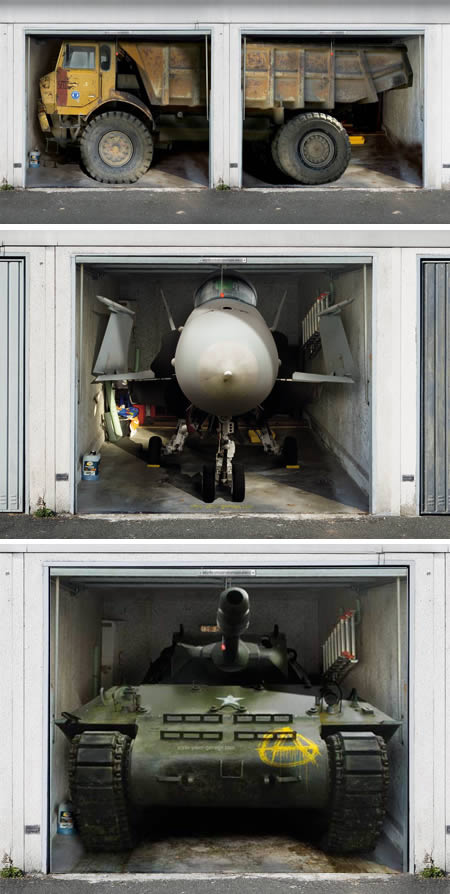 Even an ordinary garage will draw as much attention as a super star does if you decorate the garage door with these 3D stickers created by the German company StyleYourGarage. Finished in high-quality material, these garage billboards will not become deformed even if they're exposed in the sun or rain.
3

Chandelier Sticker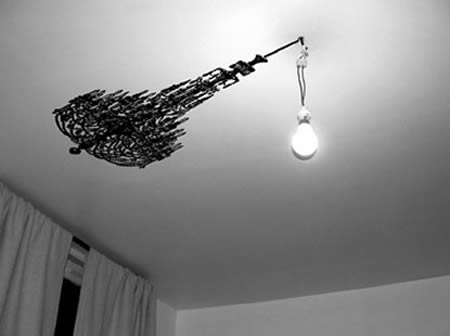 The "Luster" Chandelier Silhouette Sticker gives viewers the impression that your boring old ceiling lamp is casting the shadow of an elaborate chandelier. Needless to say, the Luster is only for the select few that posses a quirky personality, a high level of commitment to weirdness, and a decent amount of cash to blow on useless objects. This sticker is about USD130.
4

Laptop Stickers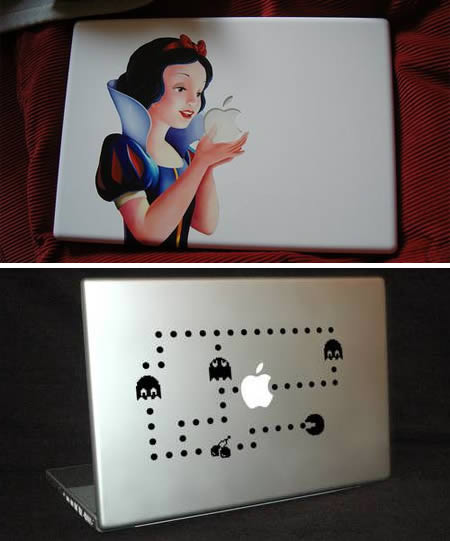 These creative stickers are all you need to separate yourself from other laptop owners.
5

Anti-Theft Car/Bike Stickers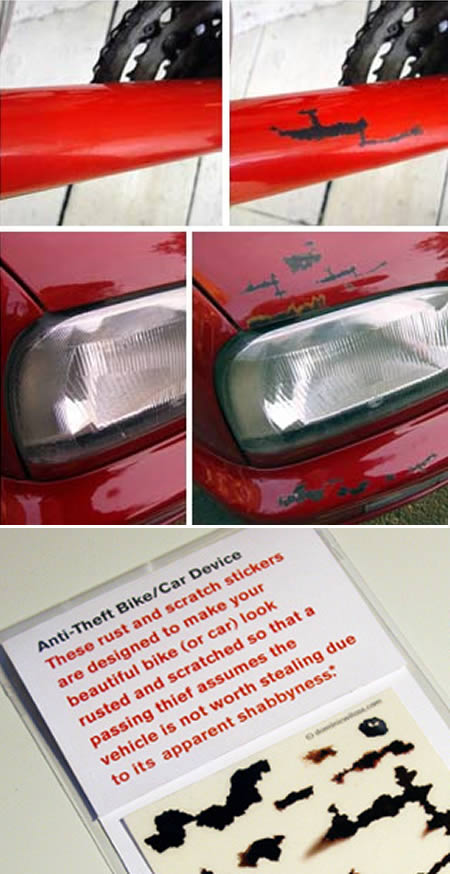 How can we protect our bikes/cars from being stolen? Just try these stickers. They can make your beautiful bike/car look rusted and scratched. I believe that no thief would like wasting time on it.
6

Mirror Stickers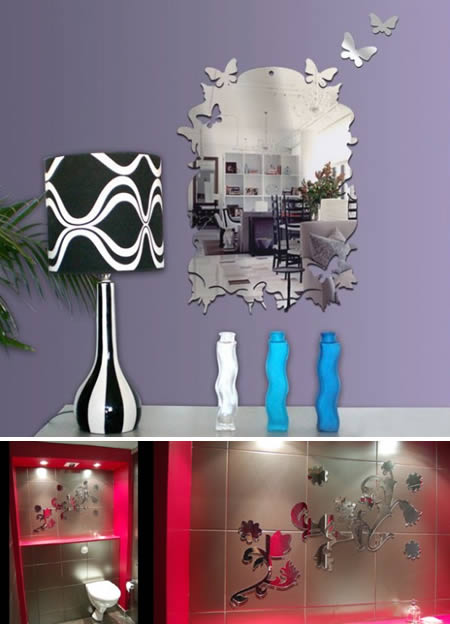 Stickers by Tonka Design are not only interesting decorations but also have practical functions. They are also wall mirrors. Thanks to laser cutting these decorative mirrors are available in the most surprising shapes. They are very thin and easy in fixing as traditional ones so you can place them on any wall, door or even cupboard.
7

Bathroom Stickers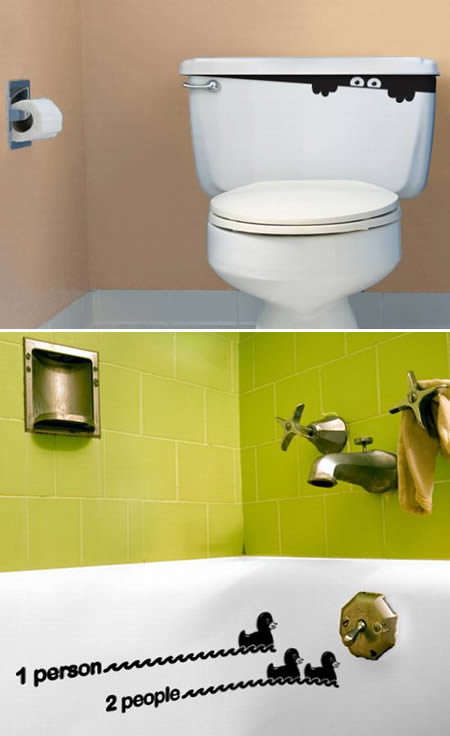 These funny vinyl stickers by Hua2 when applied to the smooth walls, windows, furniture, sanitary ware not only give your bathroom a unique touch but also amuse you each time you use it. Easily removable, these humorously cool vinyl stickers leave no mark or impression that one frets while applying.
8

Swimming Pool Stickers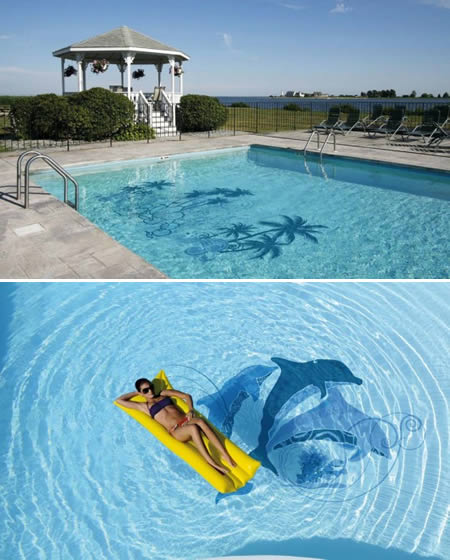 If you have a swimming pool and are looking for something to decorate it and add a unique touch to it then you might like sKine stickers. They are very similar to usual vinyl stickers but they are made from water and UV resistant materials. Thanks to that these stickers can be sticked on any swimming pool bottom. These creative decorations are very easy to use and you even needn't to drain the water.
9

Anti-slip Stickers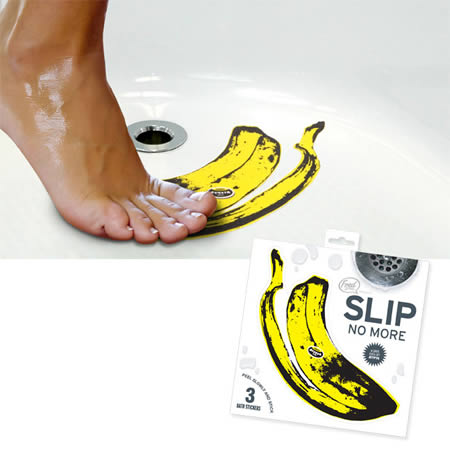 The bathroom is no place for slapstick slip-and-fall routines. To ensure a sure-footed shower, peel these bananas and apply them to the floor of your bathtub or shower stall. Turns out, bananas ARE good for your health. Three life-size stickers in each peggable package. Designed by Ivan Duval and Jean-Sebastien Ides of Atypyk Paris.
10

Headboard Stickers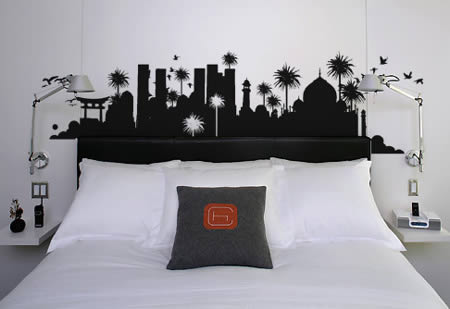 Design company Yeda offers an interesting selection of stickers from the baroque to graphic compositions, from animals and other stylized, to add a touch of originality to your bed. Instead of buying a regular headboard you should try these creative stickers to personalize your bedroom.